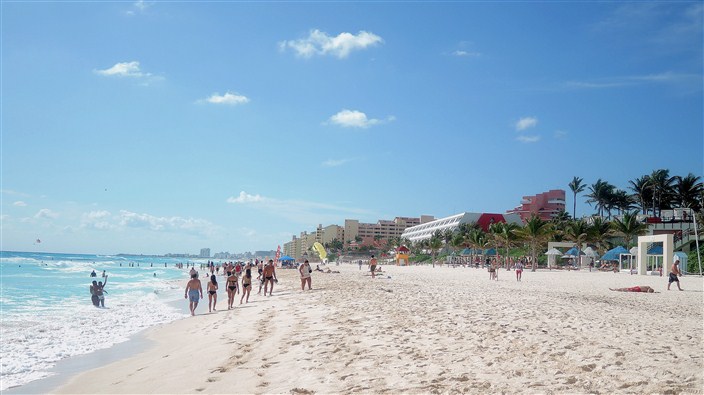 (On the beach in Cancun)
Fiftieth birthdays don't roll around very often – once in a lifetime, last time I checked – so when my wife Irina's fiftieth came along we decided to celebrate it in our favorite fashion: by traveling somewhere. Since her birthday falls in January and we live in a cold, wet, northern climate, our choice of destinations came down to A) cold and snow, such as a ski resort, or B) head somewhere sunny and warm. After a couple of straight months of leaden, dripping Seattle skies, and with neither of us being skiers, we chose option B more or less by default.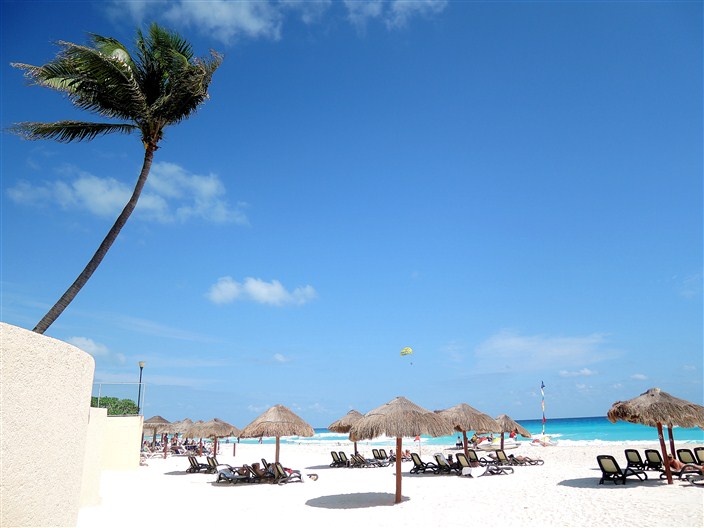 (Emporio hotel beachfront)
After selecting plan B, it became a choice between Hawaii or Mexico. We'd been to Hawaii once before a few years ago – a trip detailed on this site –  and although we would both like to return sometime, the lure of the unknown and untried won out. Now I'll be the first to admit that Mexico has never been very high on my list of longed-for travel destinations. We've all heard the stories of Mexican drug wars and cartels and don't drink the water and don't eat the food unless you want to spend your vacation sitting on the commode. Well, I'm as susceptible to gringo paranoia as anyone, so my resistance level to going south of the border was pretty high. Add in the fact that I'm not really one for laying around on the beach for a week getting drunk and neither is Irina, so why go to a tropical beach resort? We both like active travel, getting out, seeing the sights, interacting with the locals and soaking up as much culture and atmosphere as we can find.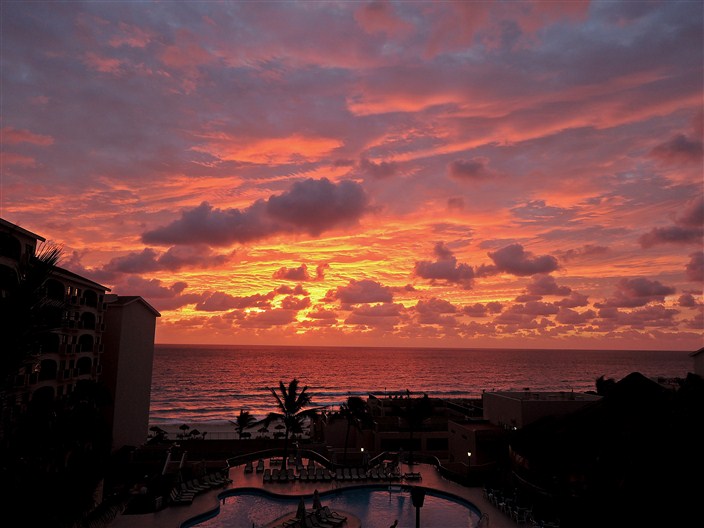 (A variety of sunrises)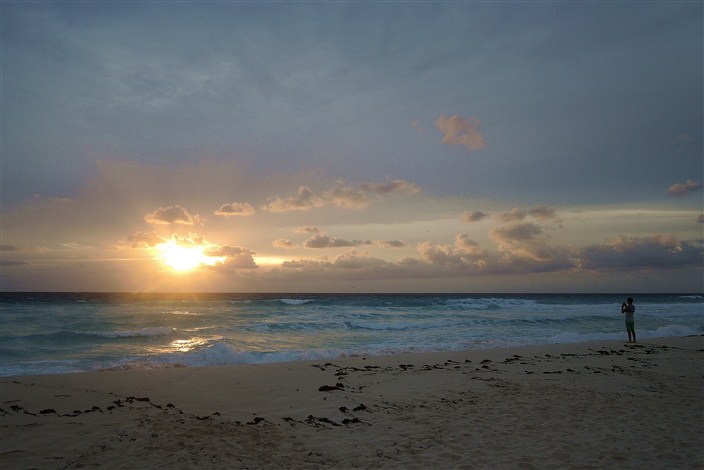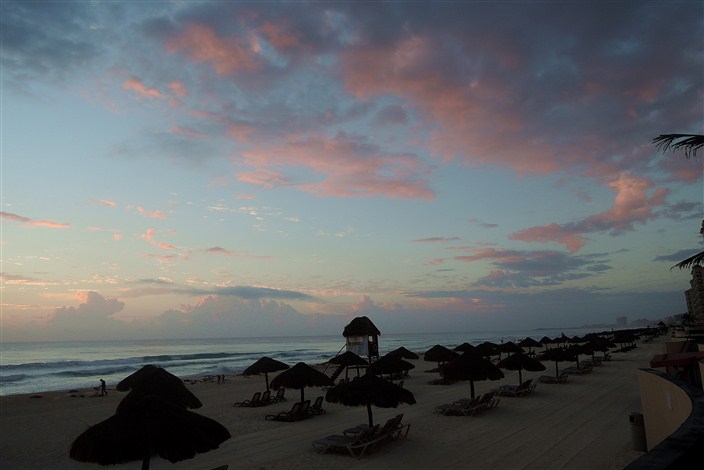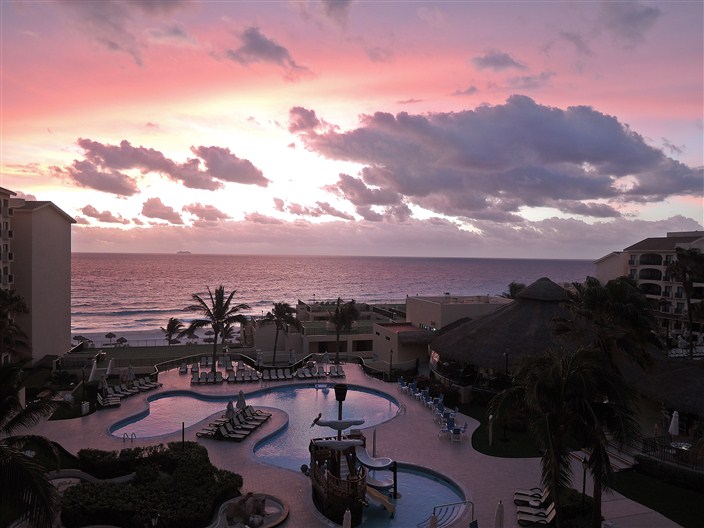 Well, long story short, my initial resistance was overcome and I'm happy to report it was all good. No Montezuma's revenge, no running gun battles or kidnappings or torture witnessed, the people were friendly and helpful to a fault, the food was wonderful, the sights were amazing and yes, we'd both go back again. Proof once more, if it was needed, that travel will always broaden you (and I don't mean just your waistline) and deflate your prejudices and pre-formed opinions about other people and places.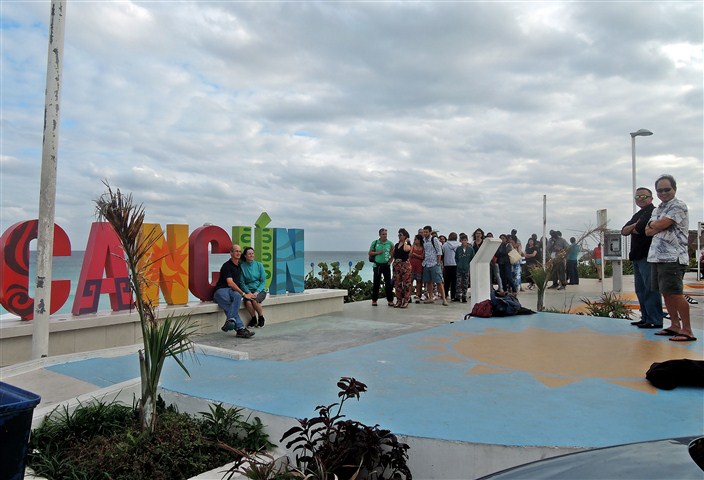 (A popular spot to have your photo taken)
Getting to Cancun from Seattle couldn't be easier now that both Delta and Alaska Airlines have direct, non-stop service. This was actually one of the factors in our decision to visit Cancun over other Mexican destinations. We'd considered Puerto Vallarta and other spots along the Pacific Coast of Mexico as they're a bit closer for us, but none of them had direct flights. A bigger reason, though, was the attraction of the Mayan ruins in the Yucatan Peninsula not far from Cancun. Nothing of that sort exists on the Pacific coastal areas.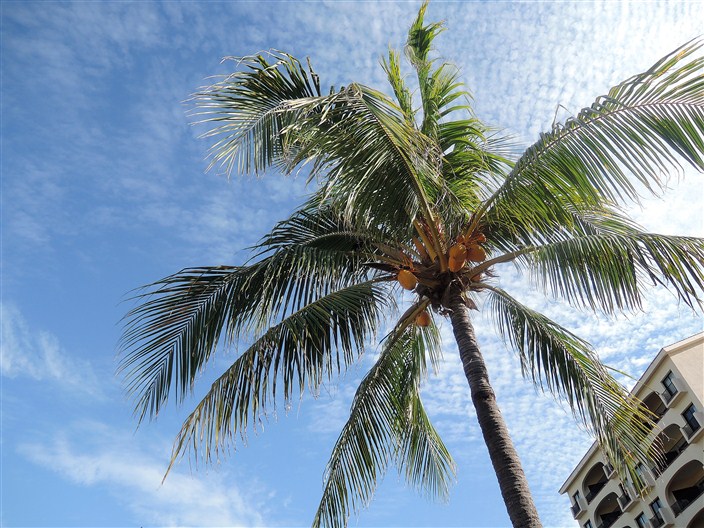 (Local fruit trees – pick your own?)
We all know the best travel stories tend to be the ones where things go horribly wrong but in the end everything works out fine. Well, sorry, but this isn't one of those stories. Fact is, pretty  much everything went off without a hitch. Okay, I overpaid for our taxi from the airport to the hotel on our arrival. That's about the worst thing that happened the entire trip. In my defense, they more or less have you captive. The airport is eight or ten miles from the hotel zone and there's no local bus service to do it cheaply. So it's a taxi or shuttle bus or you're hoofing it. I opted for the shuttle and paid too much. My advice – with hindsight – is take a taxi, haggle them down and try to find someone else to share the taxi with and split the cost.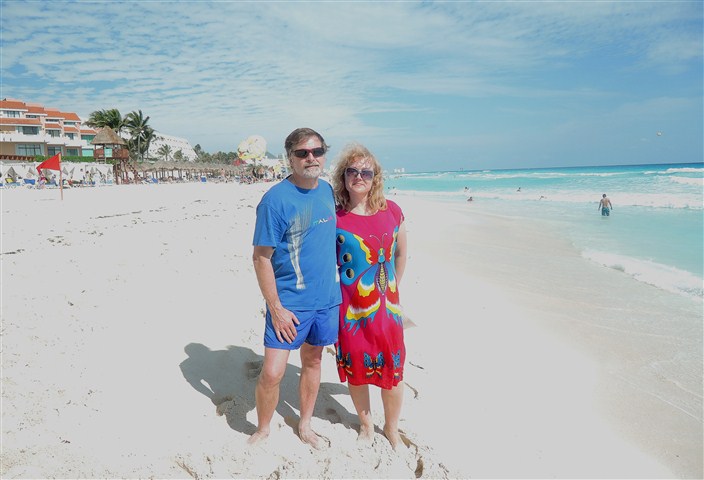 (Sand between our toes)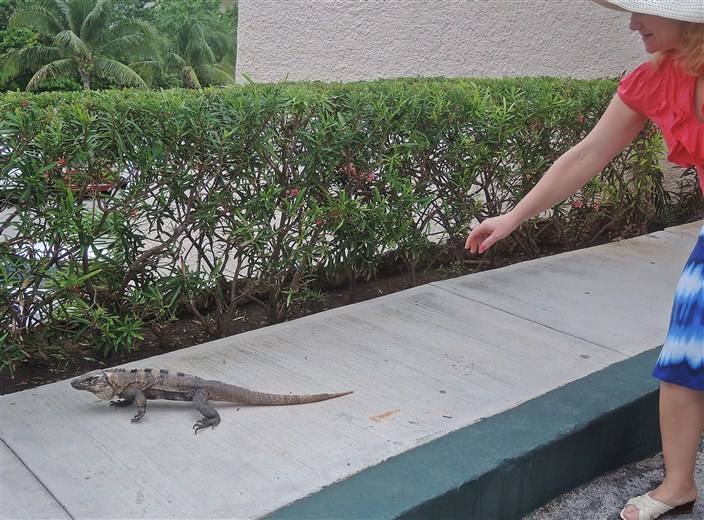 (Interacting with the local wildlife)
Here I have to say a few kind words about our hotel, the Emporio, and no, they aren't paying me anything for the plug. Maybe they should. Anyway, it was fabulous all the way. We had a spacious two-room suite with a kitchen, and a large balcony with a great view of the grounds, swimming pools, and ocean. We ate breakfasts on the balcony, lounged there and had a drink or two in the afternoons and evenings while enjoying the breezes and the view. The staff were all very friendly and enthusiastically helpful. I know, that's their job and they're looking for tips, but if the enthusiasm was fake, they did a good job of making it seem genuine. They even encouraged and complimented my fumbling attempts at dredging up and using my 45 year old high school Spanish. Donde es el bano?
(A room with a view…and it's ours)
If you're going to a resort area like Cancun, your first and most important choice is do you go with the all-inclusive hotel or not. There are pros and cons to both. We opted for the non-inclusive deal. To us, the all-inclusive packages only make sense if you're going to spend all your time at the resort consuming mass quantities of food and drinks. Not for us, thanks. Neither of us drink much, and if I've paid for what is basically a 24 hour all-you-can-eat buffet then I'm going to be constantly bellying up to the trough trying to get my money's worth. And no matter how good the food might be, it's the same stuff all the time, whereas some of our best experiences on the trip were discovering and trying different restaurants in town.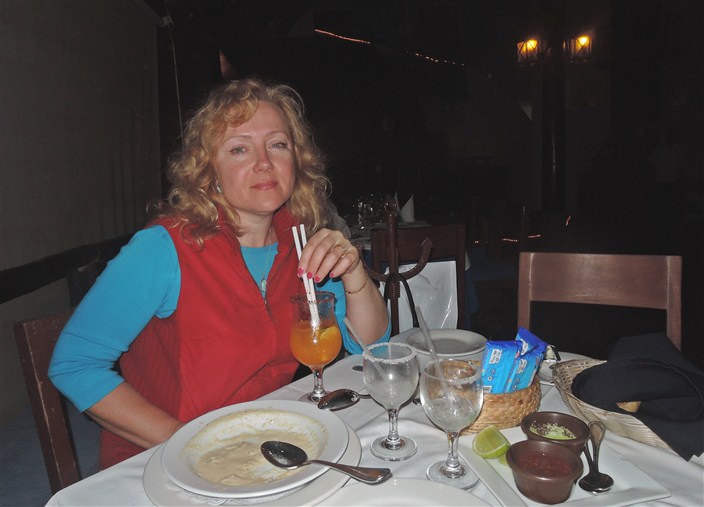 (A woman and her margarita)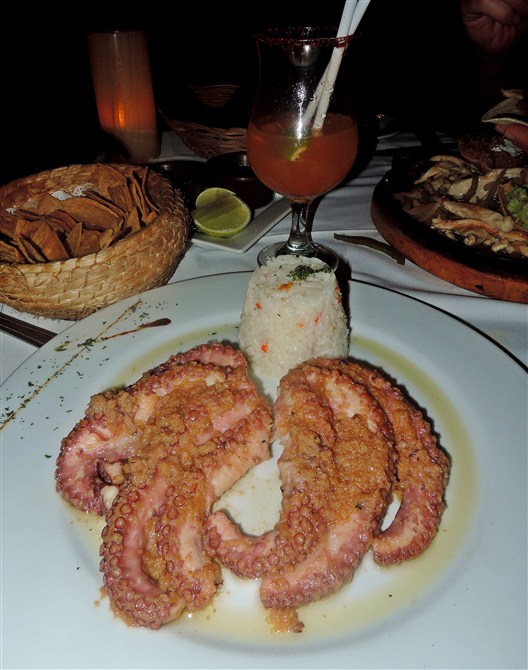 (Octopus for dinner, anyone?)
Now, on to the beach. It's the main reason why you came here, isn't it, to get away from that midwinter dreariness and cold? Well, the beaches are indeed spectacular. Soft, fine-grained white sand, gorgeous turquoise colored water at the perfect temperature for swimming. Okay, full disclosure. We didn't actually swim so much as struggle to stay upright in the nearly constant crashing waves and undertow. Not that there's anything wrong with that. It was fun, but a bit exhausting. Twenty or thirty minutes and we had to get out and take a breather. Also the wind was blowing virtually nonstop and with temps topping out in the mid 70's at best, this meant staying in the water was often warmer than getting out of it.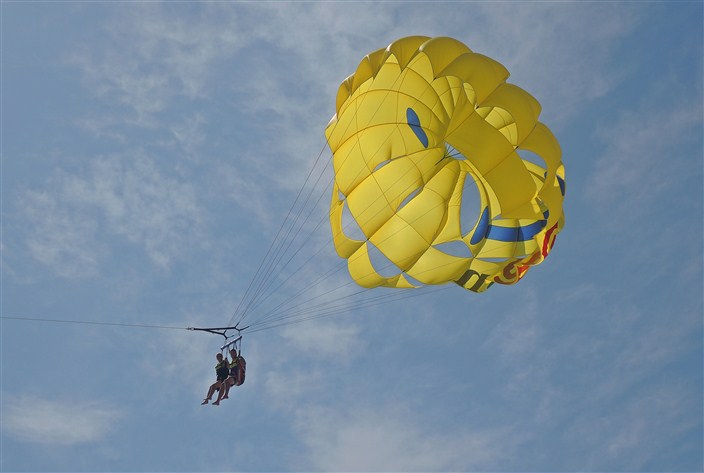 (Parasailers over the beach)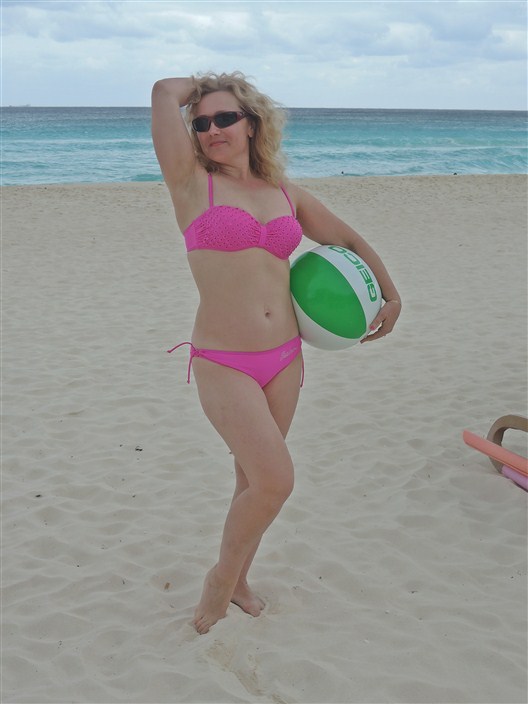 (My favorite swimsuit model posing on the beach)
There's lots to do on the beach besides just working on your tan. Parasailing and jet ski vendors are everywhere – overpriced of course, like everything else in the tourist zone, but you didn't come here thinking it was gonna be cheap, did you? One activity that won't cost you anything extra is people watching. You can either park your butt on a beach chair and watch the parade pass by or, as we did, stroll the beach and check out the endless variety of shapes and sizes of folks willing to expose just about everything they have. Sometimes this is quite pleasant; other times you wish you could hit the delete button in your brain and unsee what you just saw.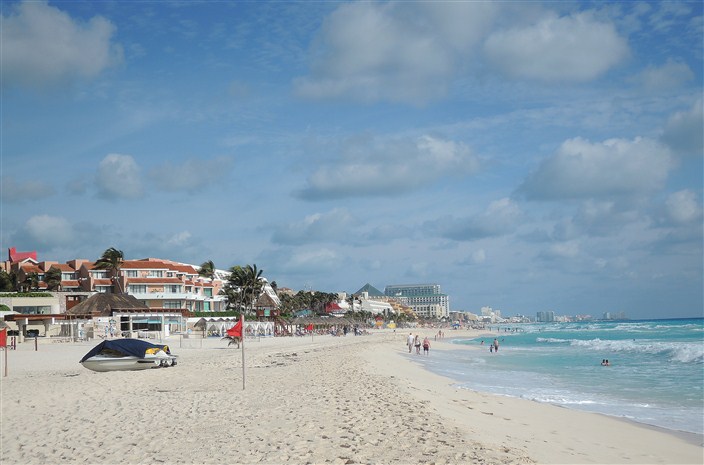 (View to the north, nothing but sand, surf and hotels as far as the eye can see)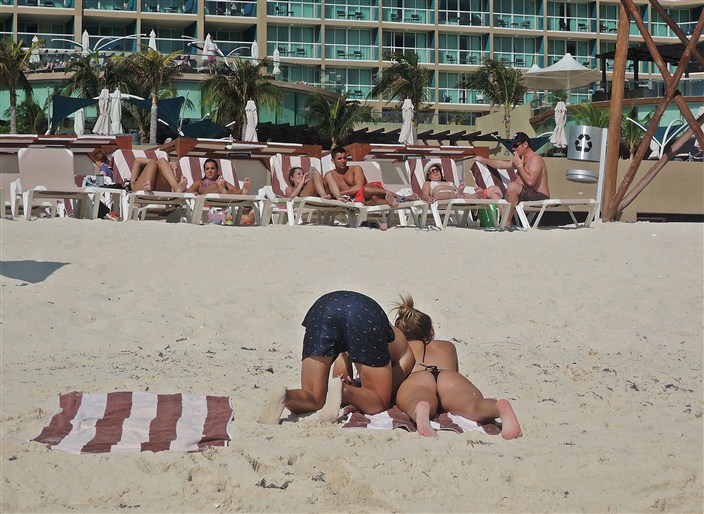 (An unusual tanning pose?? Sticking your head in the sand?? Who knows?)
Now I'm hoping this won't sound like whining – I'm really not – but…the weather could have been better. Warmer, at least. However, I realize Cancun is still in the northern hemisphere and January is "winter" for them. But we figure 70 to 75 Fahrenheit is a heck of a lot better than 40 to 45, and scattered sunshine is better than none. The locals were wearing jackets and sweaters while I was walking around in shorts and a t-shirt. Next time, we were told, come in March for the best weather and temperatures. Apparently after the middle of April it starts getting too hot for pasty white Northerners like me. I don't doubt it. We had one semi-hot day when visiting Chichen Itza, which is further inland on the peninsula. It probably topped out in the upper seventies, maybe 80, and that was plenty hot enough for me.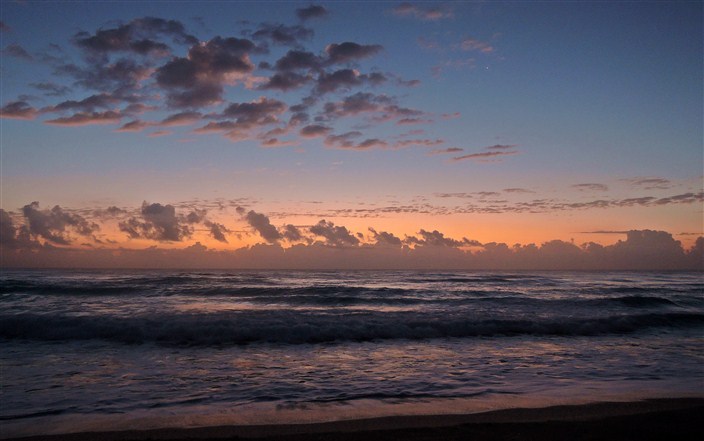 (One last sunrise)
Speaking of Chichen Itza, that will be the focus of our next article. Until then, happy trails.