| | | | |
| --- | --- | --- | --- |
| Canadian Rockies Part 5 - Calgary | | | |
Written by Greg Prohl
Wednesday, 04 November 2015 11:36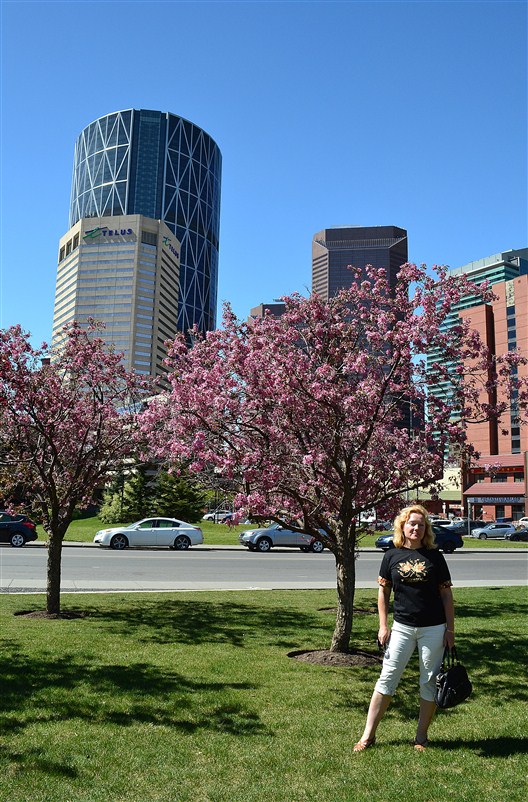 (Welcome to Calgary)
After spending five days exploring the vast untamed natural beauty of the Canadian Rockies in Banff and Jasper National Parks, we decided it was time to head into town for a couple of days worth of city fun, so it was off to Calgary.
Calgary is Alberta's largest city and the gateway to Banff National Park, which is only about a 90 minute drive to the west. The town began life in the 1870's as Fort Calgary, established at the confluence of the Bow and Elbow rivers as the westernmost outpost of civilization, primarily to bring some law and order to the wild frontier of western Canada. Prior to the arrival of Captain James Macleod and his force of Canadian Mounties in 1876, the area was overrun by whiskey traders and as lawless and dangerous as Tombstone, Dodge, or any of the more famous outlaw towns of the American west.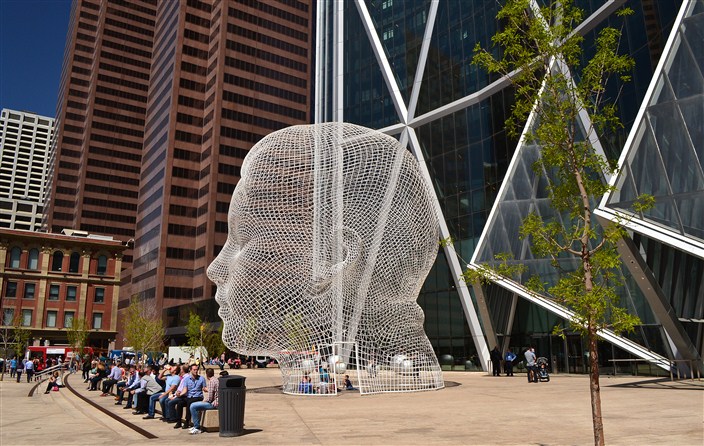 (A really big head. Public art in downtown Calgary)
In 1883 the Canadian Pacific Railway reached the area and Calgary began to grow into an important commercial and agricultural centre. Calgary was officially incorporated as a town in 1884, and in 1894 it was incorporated as "The City of Calgary" in what was then the North-West Territories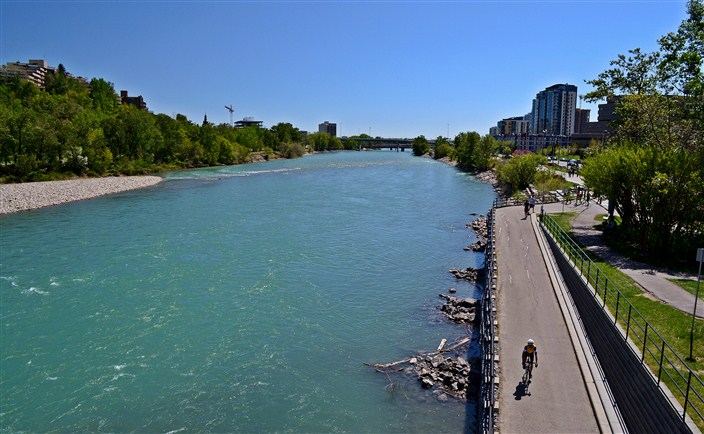 (Pathway paralleling the Bow River)
| | | | |
| --- | --- | --- | --- |
| Canadian Rockies Part 4 - Jasper National Park | | | |
Written by Greg Prohl
Thursday, 08 October 2015 08:21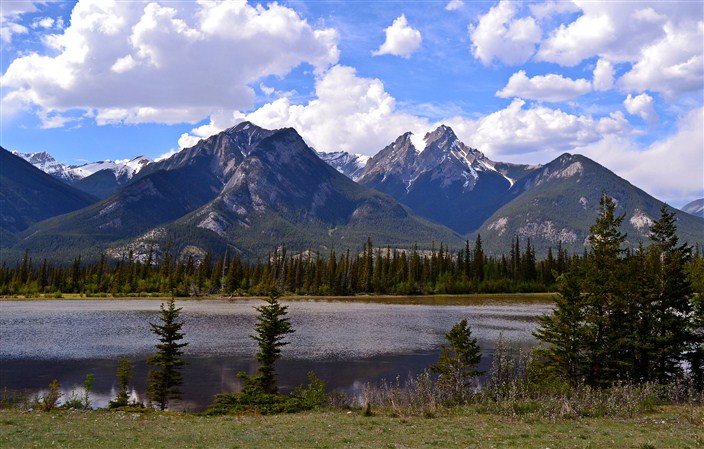 (Jasper National Park)
Jasper National Park is situated immediately to the north of Banff National Park in Alberta. The two are basically conjoined twins, one gigantic park with no natural boundary separating them, nor much of any other way to tell them apart. For us, it was simply a matter of passing through a ranger station and continuing on our way driving north along the Icefields Parkway.
If there is any appreciable difference between the two parks, it would have to be in the number of visitors. Banff N.P. lies farther south and has the heavily traveled Trans-Canada Highway 1 cutting right through the heart of it. This is Canada's major east-west arterial. With the park's southern boundary less than a hundred miles west of Calgary, getting to Banff N.P. is an easy day trip along Highway 1 for the million-plus people living in the metropolitan Calgary area. Accordingly, Banff N.P. receives something on the order of five million visitors annually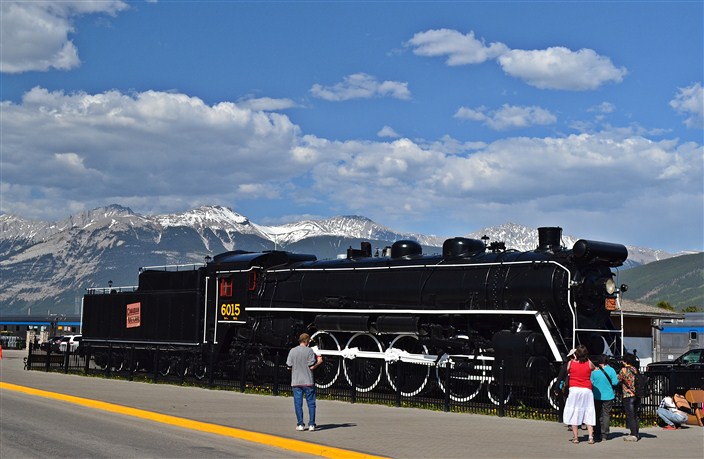 (Retired steam locomotive in downtown Jasper)
Jasper National Park, by contrast, is more geographically isolated from large urban population centers. It's about a three hour drive west of Edmonton, the closest big city, and receives approximately two million visitors annually. Granted, this is still a lot of people, but it simply feels a lot less crowded than Banff. The park was established on September 14, 1907 as Jasper Forest Park, and was granted national park status in 1930. Jasper N. P. is the largest national park in the Canadian Rockies, spanning 4,200 sq mi.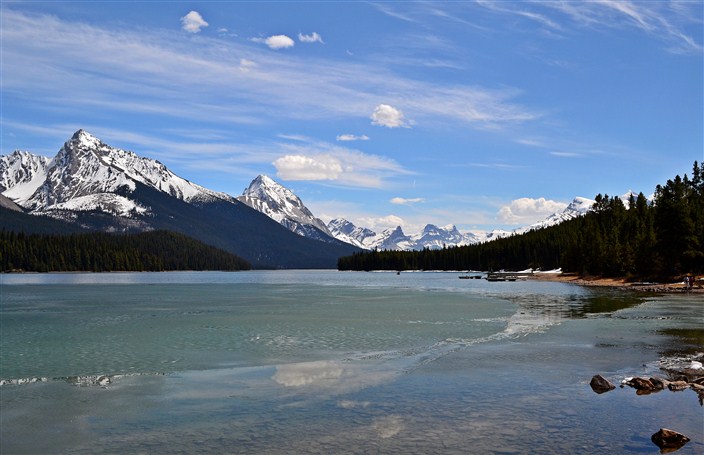 (Maligne Lake)
| | | | |
| --- | --- | --- | --- |
| Canadian Rockies Part Three: The Icefields Parkway | | | |
Written by Greg Prohl
Wednesday, 09 September 2015 04:02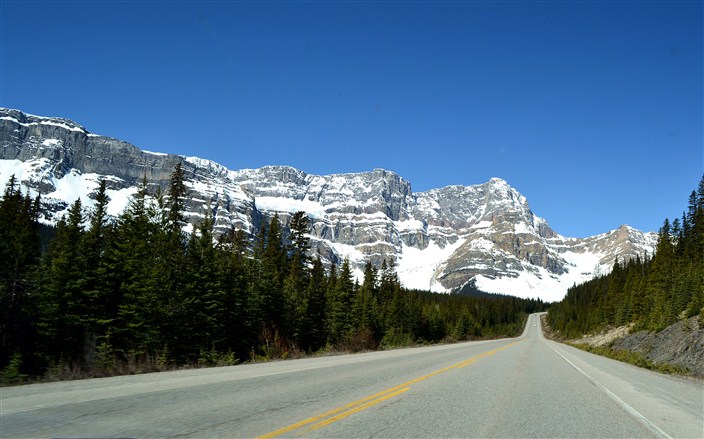 (A typical view driving the Icefields Parkway)
If you love driving scenic mountain highways, have I got a trip for you. Highway 93 (commonly referred to as the Icefields Parkway for reasons abundantly obvious when you take the trip) which runs from Lake Louise in Banff National Park to the town of Jasper in Jasper National Park, will exhaust your supply of superlatives. This one has absolutely everything you could ask for: serrated peaks, hanging glaciers, cascading waterfalls, pristine lakes and rivers, forests without end, wildlife sightings, sweeping valley vistas, you name it, you got it.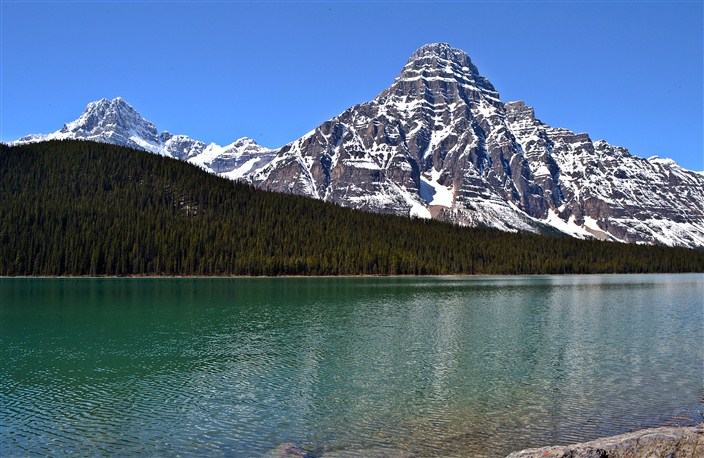 (One of many alpine jewels along the Parkway)
At 230 kilometers in length (140 miles) the Icefields Parkway packs more spectacular views per mile than any comparable road this traveler has ever driven. It honestly is a challenge to keep your eyes and attention on your driving, not just occasionally but nearly all the time. Within the first half hour I'd lost count of how many times I stopped the car to gawk and take photos. Luckily, two factors made this relatively easy to do. One, we were there in May and traffic was light; two, there are plenty of pull-outs along the way designed specifically for this purpose, and I think we took advantage of every single one.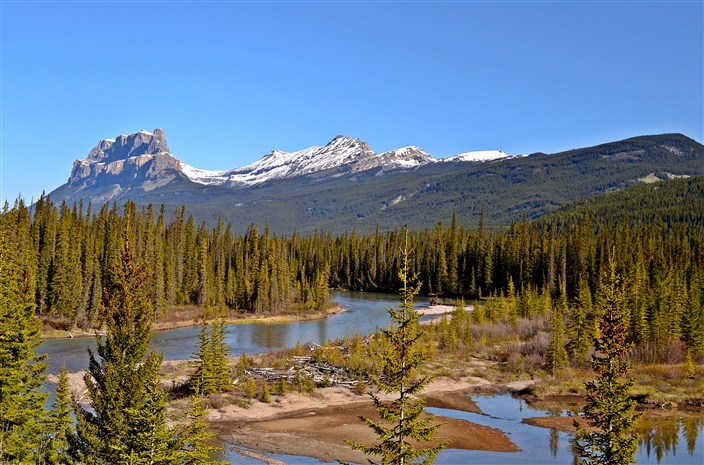 (The Bow River near Banff)
<<

Start

<

Prev

1

2 3 4 5 6 7 8 9 10 Next > End >>


Page 1 of 31