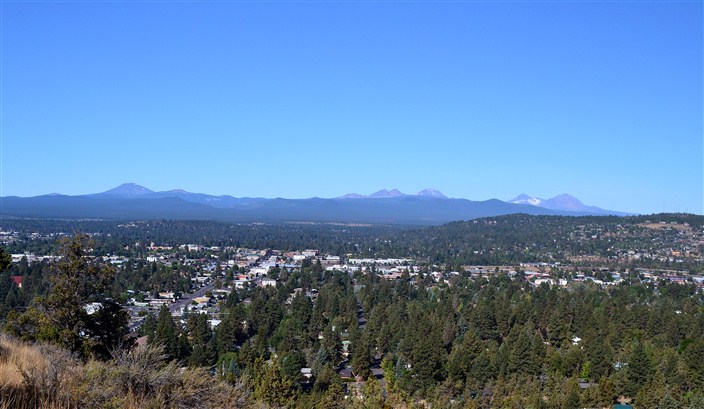 (Bend, Oregon seen from Pilot Butte)
As a traveler, it isn't always necessary to circle the globe to find somewhere of interest to visit. Sometimes the best trips can be to your next door neighbors. Case in point, our recent journey just a little bit south of home to the great state of Oregon.
I'd driven through central Oregon once before about ten years ago and retained fond memories of the trip. Since my wife, Irina, had never been there, it seemed like the time was ripe to revisit the area. We chose the city of Bend as our destination, mostly because if you're headed to central Oregon, Bend really is the Rome of the region: all roads lead there.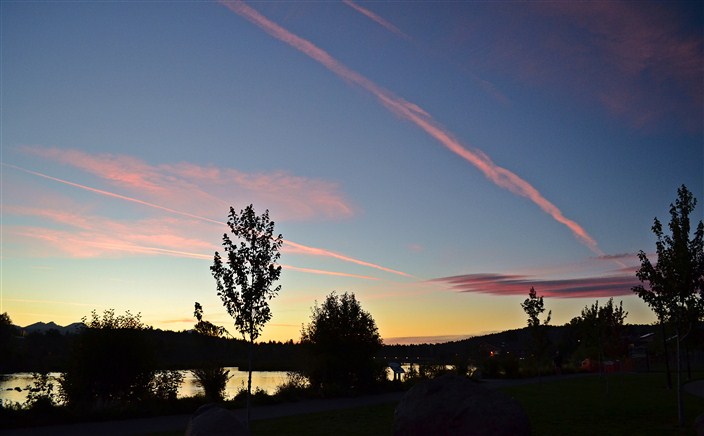 (Sunset dinner beside the Deschutes River)
I'm probably going to sound a bit like the Bend tourism board here, but it really is a year-round outdoor mecca. There's fabulous skiing and snow sports in the winter centered around nearby Mt. Bachelor, and in the spring, summer and fall, every variety of land or water based recreation you could possibly want to indulge in beckons you outside. Hiking, mountain and/or rock climbing, golf, cycling (especially mountain biking), fishing, canoeing, kayaking, paddleboarding, white water, still water, lakes or rivers, they've got it all. And they have the perfect sunny, dry climate to enjoy it.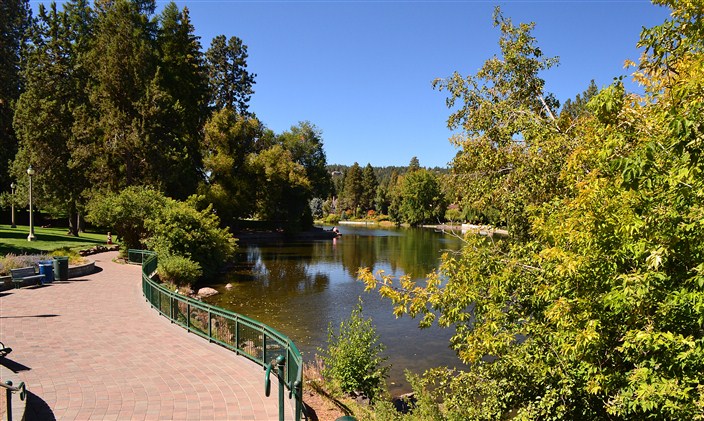 (Drake Park along the Deschutes River)
Geographically, Bend straddles the ideal middle ground just east of the Cascade Mountains and just west of the high desert country of eastern Oregon. It can get very hot in the summers, but the low humidity keeps it bearable for the most part. And if you want to get away from the heat it's a short drive to a myriad of hiking trails and lakes where you can cool off in the vast evergreen forests of the Cascades.
Of course it doesn't all have to be about the outdoors, and if it's nightlife you're interested in, Bend has plenty of that to offer as well. For a city of only 80,000 people it boasts a lively restaurant/bar scene, and they've earned a reputation as the brewpub capital of not just the region, but the entire country, with more microbreweries per capita than anywhere else.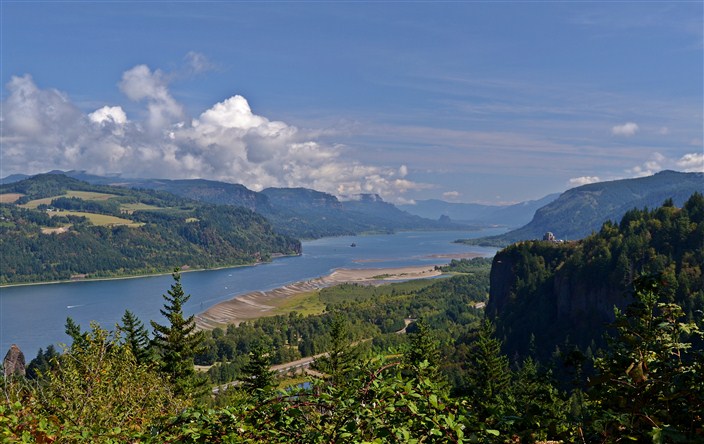 (Columbia River Gorge from Chanticleer Point, with Vista House atop Crown Point in the distance)
If you're coming to the area from the north and/or west, as we did, the best and most scenic route is to head east through the Columbia River Gorge. Traveling east from Portland on I-84, exit near the town of Troutdale and drive Highway 30 east. Stop at Chanticleer Point for a magnificent view of the gorge and the Vista House atop Crown Point in the distance. Then get back in your car and drive a few winding miles and stop again at Vista House. It's popular and often crowded but worth the hassle to go inside and learn about the history of the area.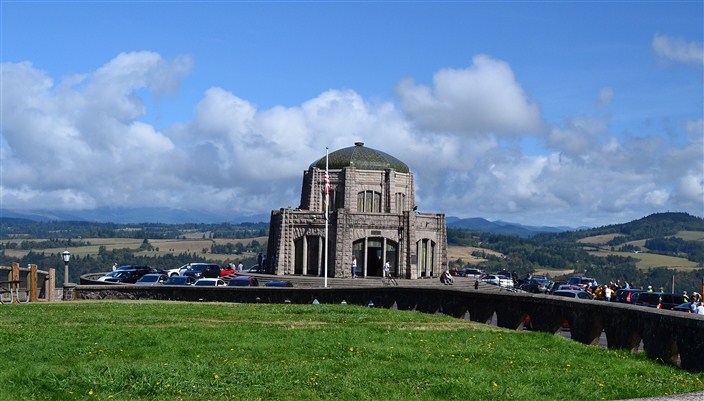 (Vista House at Crown Point)
Continue east on Highway 30 and you'll pass a series of waterfalls, all of them worth stopping for. The largest and most famous of the lot is Multnomah Falls, a splendid and graceful cataract of water plunging in two major steps, split into an upper falls of 542 feet and a lower falls of 69 feet, with a 9 foot drop in elevation between the two, so the total height of the waterfall is conventionally given as 620 feet. Again, you'll have plenty of company along the short trail to see it, but it's a don't miss sight if you're in the area.
(Ranch country along Highway 197 heading south toward Bend)
Back on the road, continue east to The Dalles where you will exit I-84 and head south on Highway 197, which eventually intersects with Highway 97 and leads you directly into Bend. This is ranch country, dry, rolling hills with occasional glimpses of snow-capped peaks to the west.
So now you're in Bend. What are you going to do? Well, as readers of this site probably know by now, for us it means strapping on our hiking boots and hitting the trailheads. We only had a couple of days but did our best to cram as many hikes as we could into the time alloted.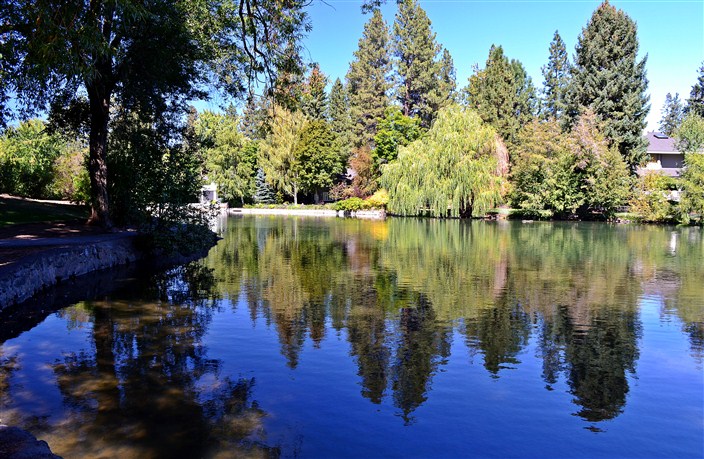 (The Deschutes River in Bend)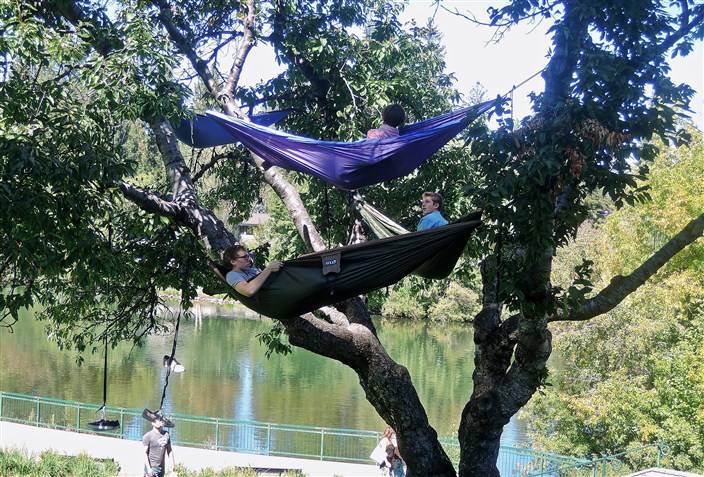 (Relaxing in Drake Park)
Our first stop was Pilot Butte, located right in the middle of town. Pilot Butte is a 500 foot tall volcanic cinder cone which features two different footpaths to the top, from where the entire city of Bend is visible, as well as several major Cascade peaks. Most prominent are the Three Sisters, Broken Top, and Mount Bachelor, all of which are located about 20 miles to the west.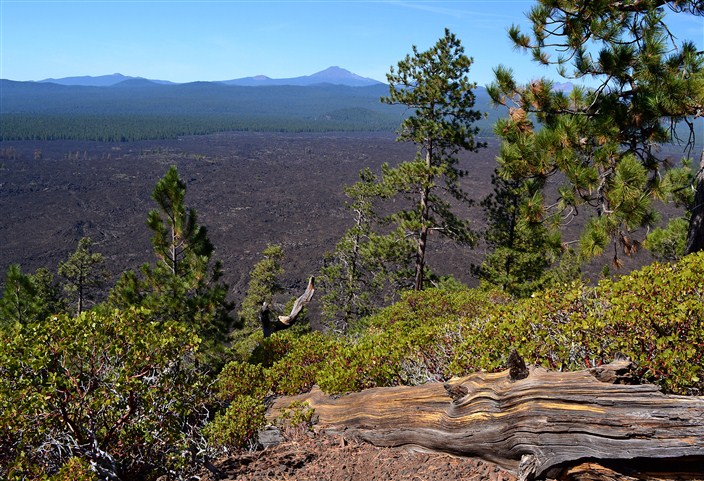 (View from atop Lava Butte)
Our next stop was Lava Butte 20 miles south of Bend, another volcanic cinder cone, this one featuring a small caldera atop. Back in the sixties, NASA trained their astronauts here as part of their preparation for the moon landings. It's easy to understand this when you see the desolate lava-rock-strewn landscape surrounding Lava Butte.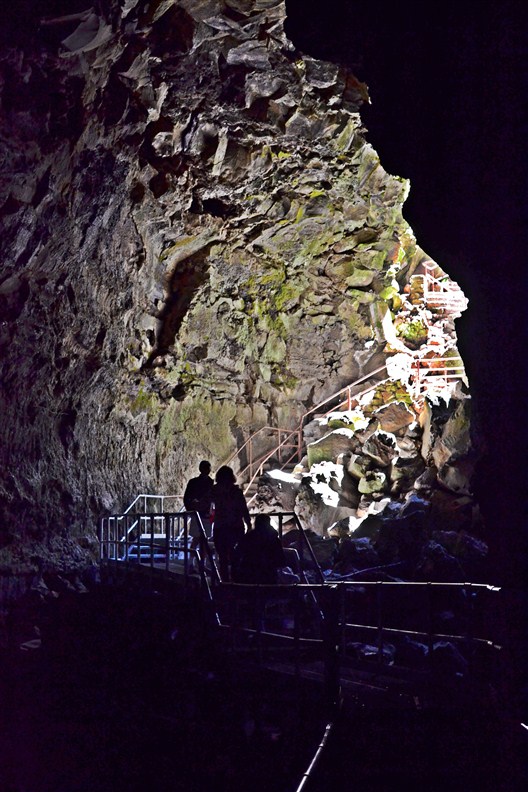 (Steps descending at entrance to Lava River Cave)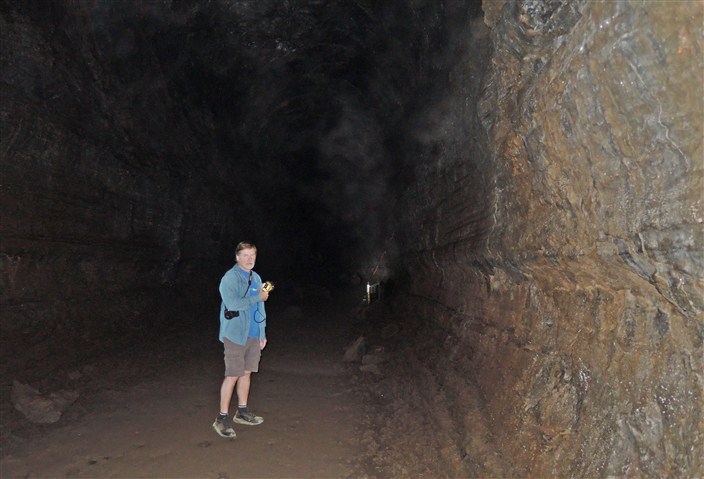 (You really want to go in here?)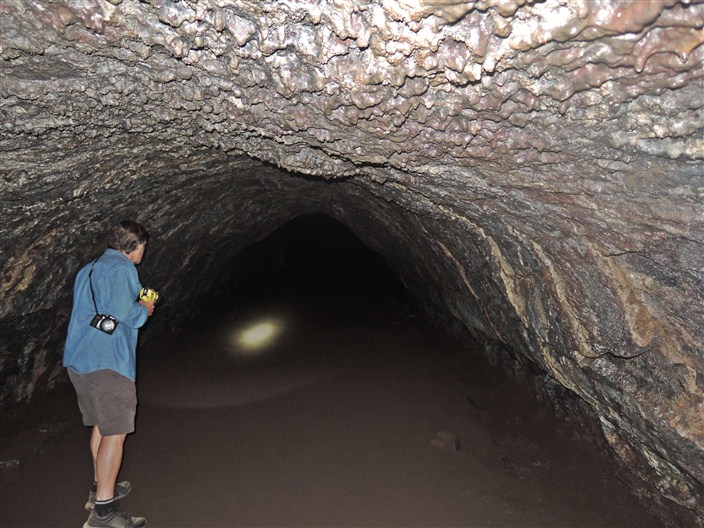 (Seriously? In there?)
In the same vicinity is the Lava River Cave, an excellent example of a lava tube and part of the Newberry National Volcanic Monument,. At 5,211 feet in length, the northwest section of the cave is the longest continuous lava tube in Oregon. It's also a spooky place to go for a walk if you're not accustomed to caves. Dress warm if you go, it's a constant 45 degrees F inside, damp, and of course, you are ensconced in absolute pitch black darkness. Spend the five bucks to rent one of their super bright hand lamps or you will be stumbling your way through the length of the cave. Regular flashlights just won't do the job.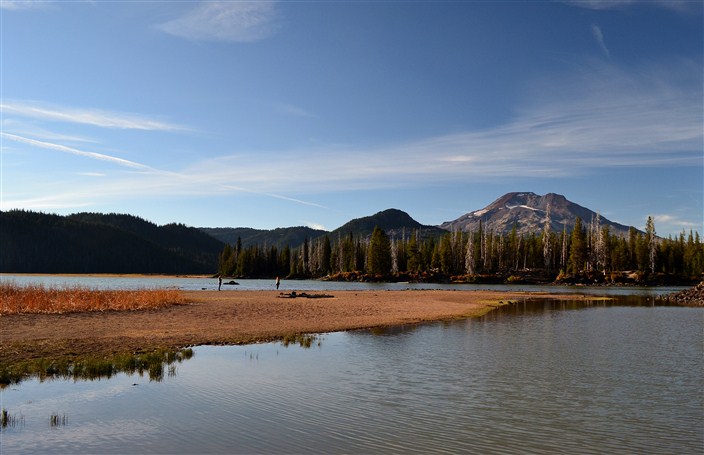 (Sparks Lake)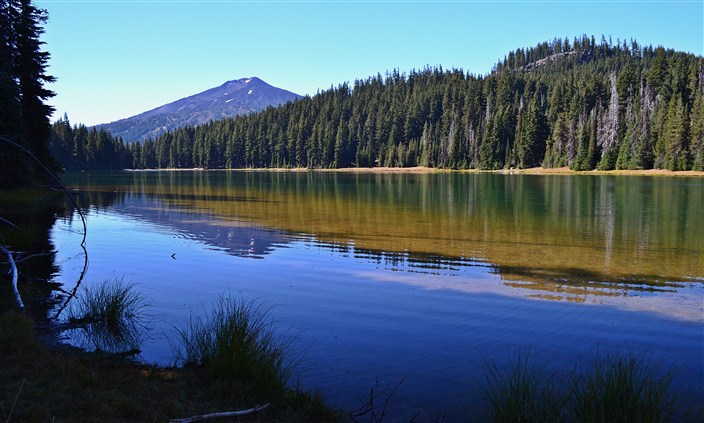 (Todd Lake)
There are a handful of sparkling high country lakes dotting the landscape  southwest of Bend like a string of alpine jewels. They include Devil's Lake, Elk Lake, Hosmer Lake, Sparks Lake, and Todd Lake. We had time to visit and walk around the latter two. We particularly enjoyed Todd Lake. It's easy to reach, only half a mile off the main road with plenty of parking and they say the fishing is fine, though we didn't attempt to snag any ourselves. It's an easy amble to loop around the lake in either direction. Take a lunch, set a spell and soak in the views and let your cares drift away into the lake's cool, crystal waters. You won't want to leave any time soon.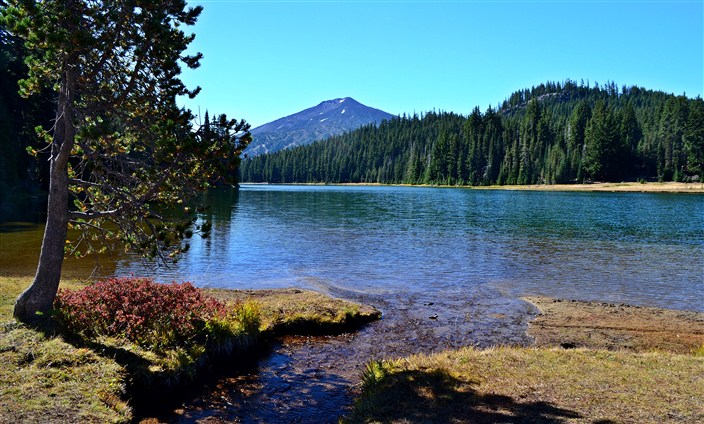 (Todd Lake)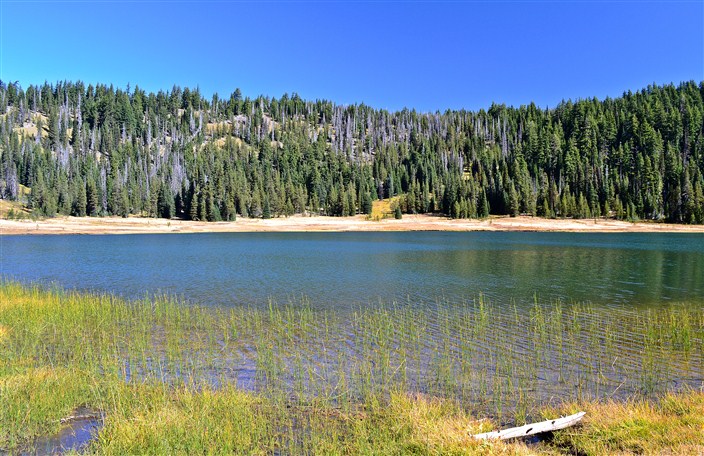 (Todd Lake)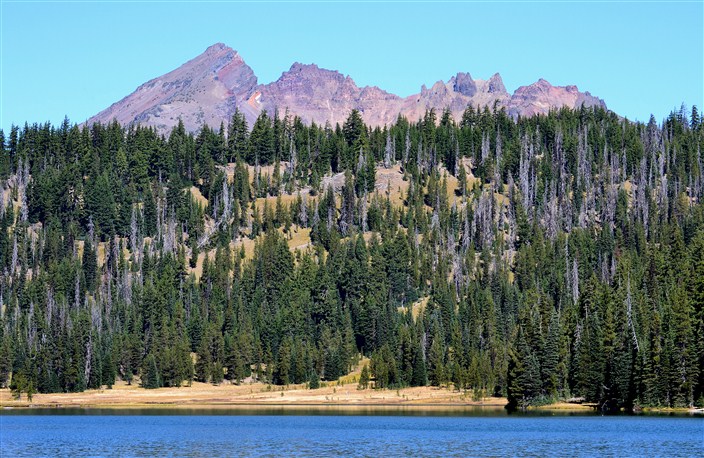 (Todd Lake)
All too quickly, though, it was time for us to head home, but on our way out of town along Highway 20 we stopped to explore the pristine waters of the Metolius River. There is a hiking trail paralleling both sides of the river and the trails are accessible from any number of points along the way. We chose to drive to the fish hatchery and park there. You can walk as far or as short a distance as your time availabe and the soreness level of your feet dictate. Unfortunately, after two days of nearly constant hiking, my doggies were begging me to stop abusing them. Still, it was hard to turn back and force ourselves into the car to head home. We consoled ourselves with the knowledge that Central Oregon isn't all that far away from us and we could return sometime soon and explore the delights of this beautiful country again.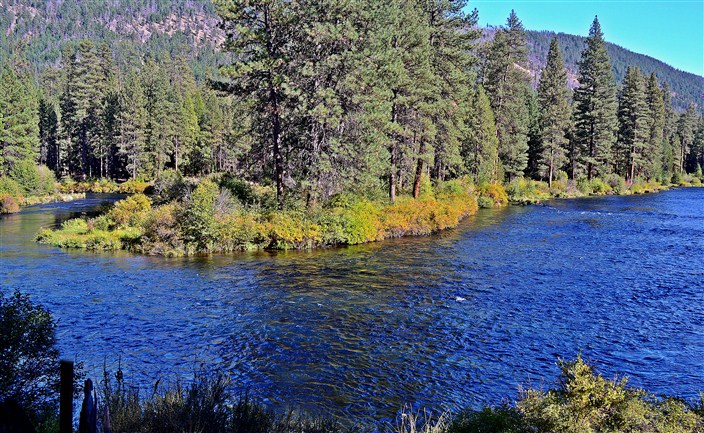 (Hiking along the banks of the Metolius River)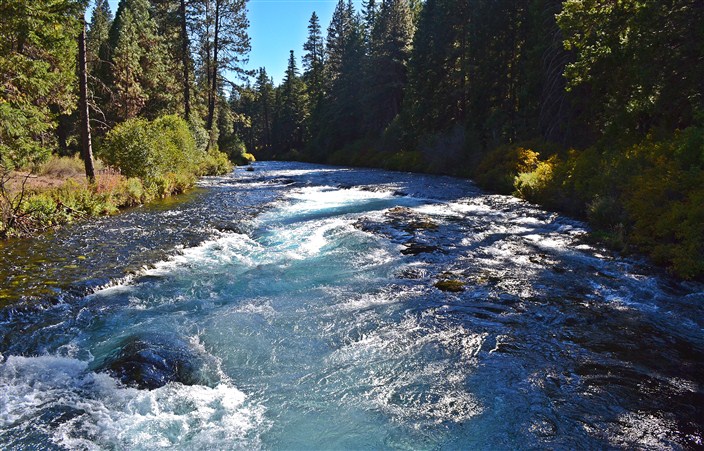 (The beautiful Metolius River)