So it's the ending of February and you're sitting at work or at home and staring out the window at yet another cold, gray, rainy day in a seemingly endless succession of them. Some days it feels like the dreariness will never end and that summer travel you have planned for five or six months from now might as well be five or six years, right? So what are you going to do about it besides daydreaming and feeling sorry for yourself? Time to snap out of your funk and chase those midwinter blues on down the road. How, you ask? Well, that's what this article is all about.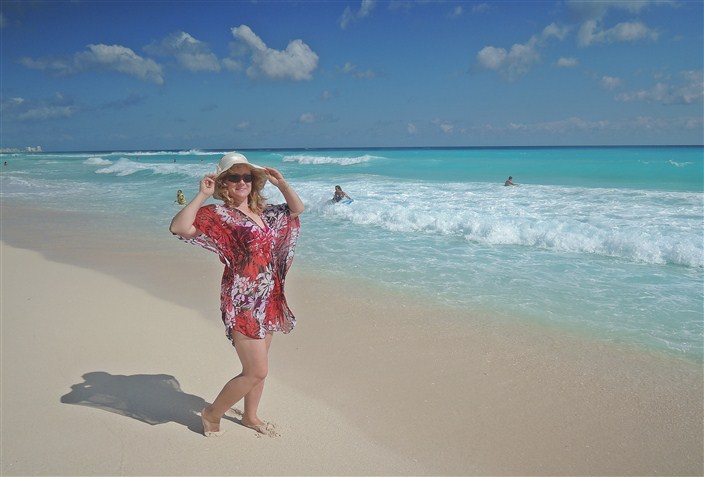 (Can't get to a warm beach this winter? No problem. We have other ideas for you)
Now, of course, if you have the time and money to spend a week on a tropical beach somewhere, that's probably the ideal solution to the midwinter blues, but I'm here to dispel the notion that this is the only remedy. You don't need a ton of time or money to do any of the things I'm going to propose, so unless you honestly believe pouting and self-pity are really attractive traits (they're not) read on and get ready to have some fun and forget (at least temporarily) that it's winter.
Visit your nearest casino.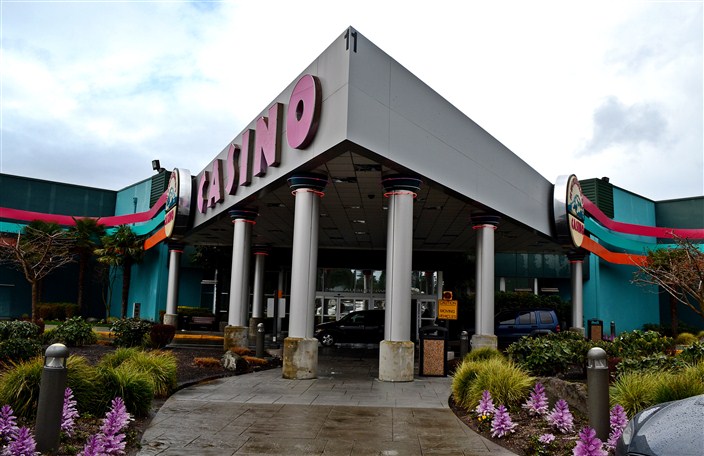 (Casinos – they're everywhere these days)
Now unless you have religious scruples that prohibit you from subsidizing such establishments, or you're a member of Gambler's Anonymous and suggesting you visit a casino is like telling an alcoholic to go to the nearest liquor store and buy a gallon of whiskey, there's no real reason to shun casinos. You say you don't gamble? Neither do I. But with the proliferation of tribal casinos across the country in the last couple of decades, your average Indian casino has much, much more to recommend it than just gambling. Many of them feature excellent restaurants, live dance music, famous musical acts and comedians, sporting events such as boxing, wrestling and MMA, and a host of other entertainment options.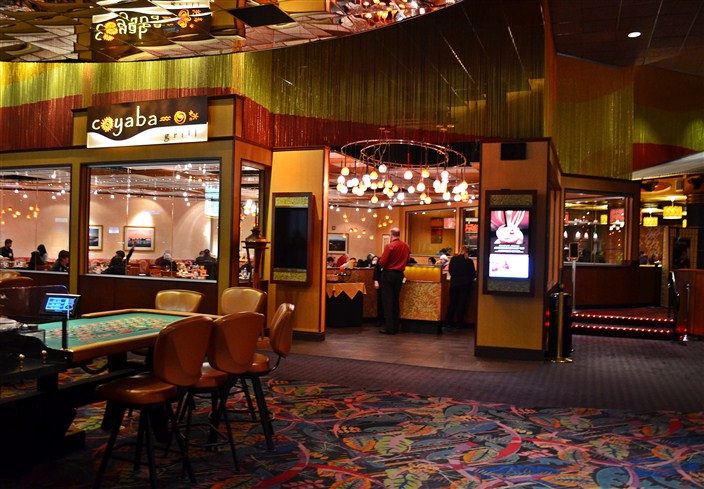 (There's more inside than just gambling)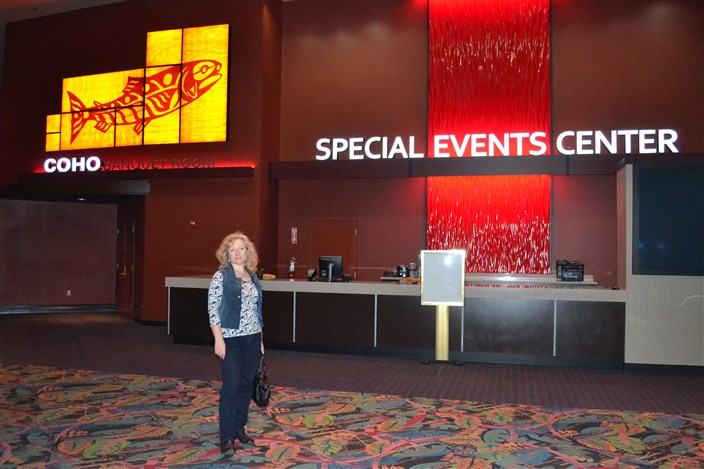 Here in my home region of the Pacific Northwest, we are spoiled for choice in the casino business, with more than half a dozen different establishments within an hour or two driving distance. Or, if you want to do the casino idea big-time, there's always Vegas to consider.
A weekend trip to Las Vegas is actually a pretty affordable getaway nowadays. Round trip flights from Seattle can be found for under $150 a person if you look and book at the right time. You could leave early on a Saturday morning, be in Vegas before noon, spend all day, stay one night in a moderately priced hotel (or splurge on a fancy one), stay all day Sunday and then take an evening flight home. Depending on what sort of activities you indulge in while you're there, it doesn't have to break the bank at all. Of course, you might pay for it in other ways on Monday morning when the alarm goes off and you slog your way back to work, but what the heck, most things in life come with a price tag attached in one form or another.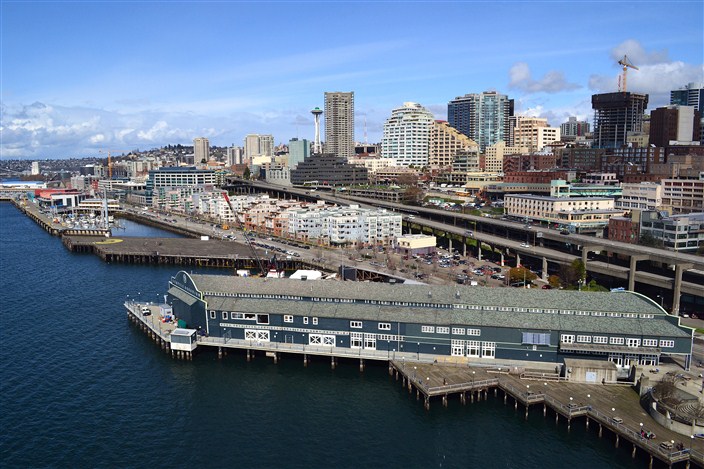 (Seattle waterfront on a rare sunny day in late winter)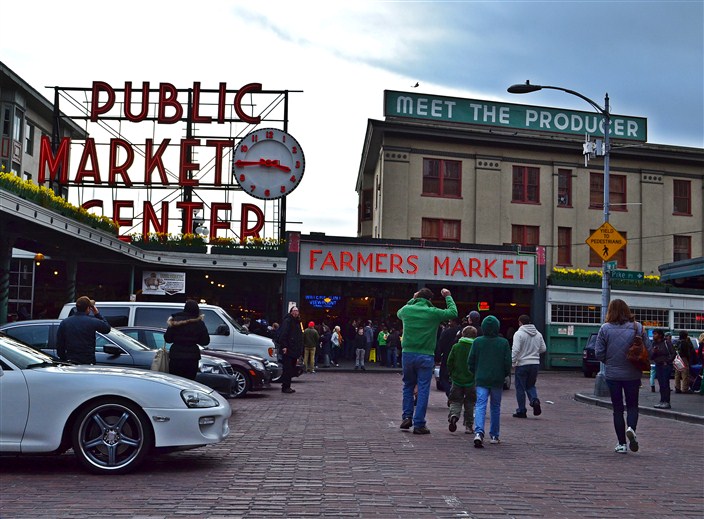 (Pike Place Market in Seattle – always bustling and lively even in winter)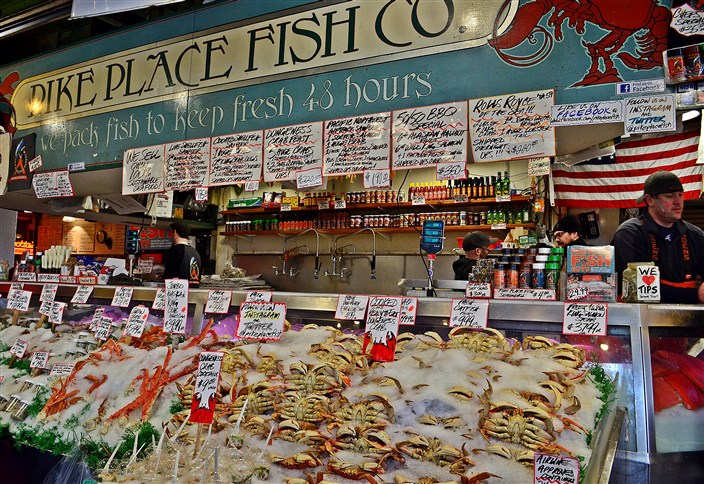 (The fish is always fresh)
Don't live in a big city but like the idea of visiting one occasionally? Winter can actually be a great time to do it. You don't have the summertime crowds to fight, and hotels are always cheaper with off-season rates. We've done this before in Seattle and had a great time spending a weekend wandering the waterfront, Pike Place Market, downtown and the Seattle Center acting like tourists. Just remember to pack your umbrella and a warm coat.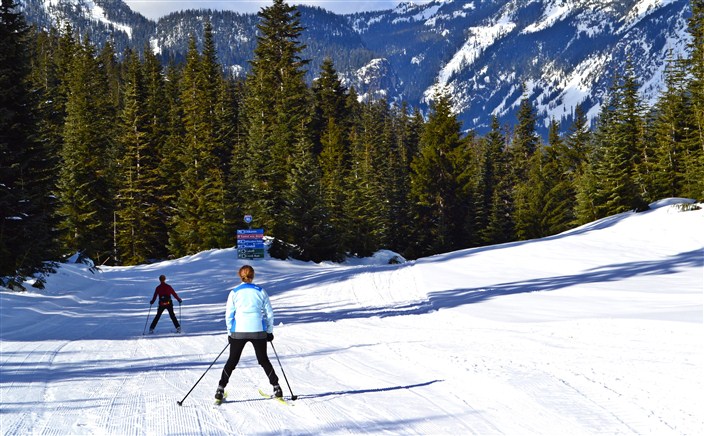 (Sunshine on the slopes)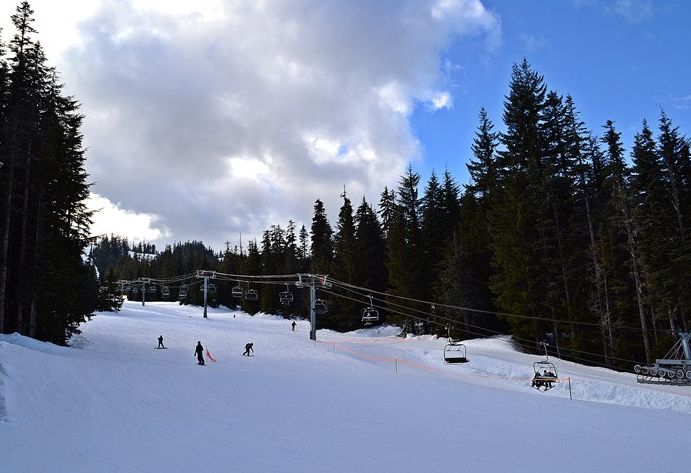 (Shushing along)
If it's outdoor activities you're looking for, winter can be a fine time for this as well. Skiing, whether downhill or Nordic style (also known as cross country) is a popular if pricey, winter sport in our region.. Looking for something more affordable? You could always strap on a pair of snowshoes and head for the hills, too. There's also snowmobiling to consider; again, a bit on the expensive side for my budget, but many folks enjoy it.
Not fond of thrashing around in the snow for your active fun? You could head in the opposite direction and visit the seashore instead. Since the oceanfront of Washington state isn't ever conducive to swimming – even in midsummer the water is quite cold – you won't be missing out on that activity anyway (unless you're one of those polar bear types and you actually enjoy freezing while you swim.) Beachcombing and beach hiking can also be done in any type of weather.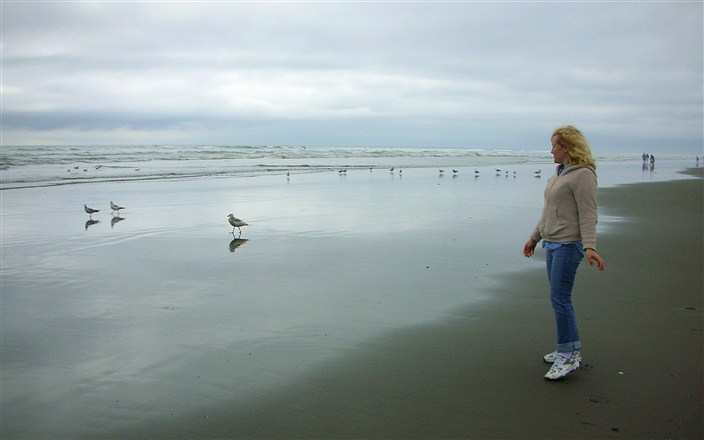 (A study in gray: the Pacific Coast of Washington in winter)
In truth, winter is one of my favorite times to visit the ocean, especially when a storm front hits the beach and you can witness the raw power of Mother Nature. The wind kicks up, the surf rises, the rain lashes down…well, maybe I'm in the minority on this one, but I think it's fun in a unique sort of way, not to mention all the interesting stuff you can find washed up on the beach. And in the same manner as an urban weekend trip, an ocean visit in the offseason is definitely more wallet friendly than the same trip would be in summer.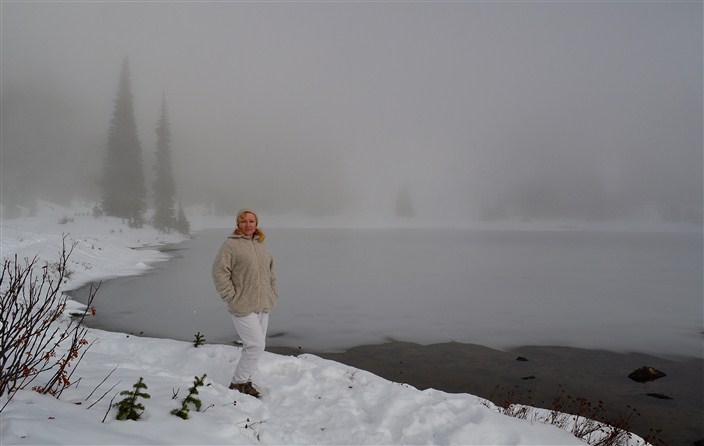 (Snow hiking in the fog)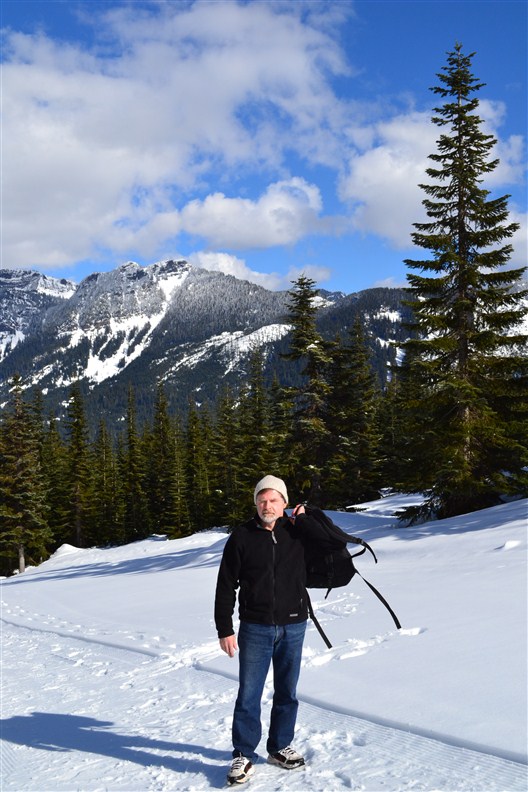 (Snow hiking in the sun)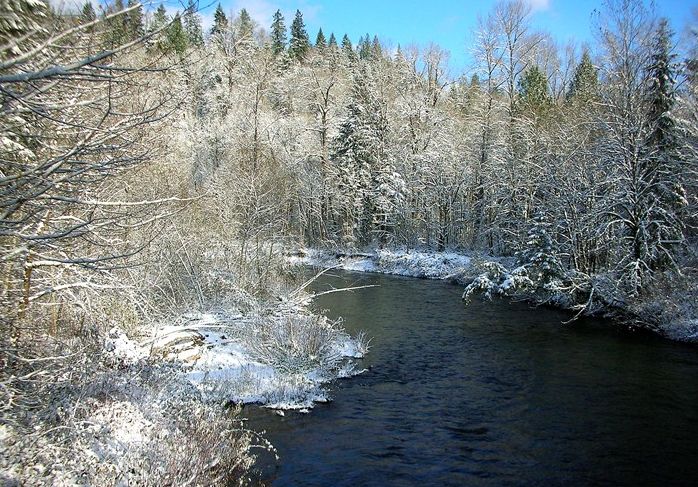 (Cedar River trail in winter)
It's no secret to regular readers of this site that we love to hike. Whether it's travel related or just a local day trip, there's no reason to let the calendar stop you from hitting the trail. Generally speaking, for us, a good hike involves going up into the mountains where, as we all know, there tends to be a lot of that white stuff covering the ground at higher elevations in the winter. If you dress appropriately and have some sturdy, waterproof boots, there's no reason not to try snow hiking. Just make sure you know where you're going, don't get disoriented and be aware of avalanche danger.
If you don't want to chance it in the snow, there are plenty of lowland hikes that can satisfy your need to strap up the boots in winter. Maybe you won't get the same thrilling high-elevation vistas to reward your efforts like you might in summer, but you can still work up a good sweat and feel the burn while stomping around any number of lower elevation trails in the region. Okay, so the trails can be pretty muddy and the trees loaded with rainwater. That's what boots and gore-tex were invented for.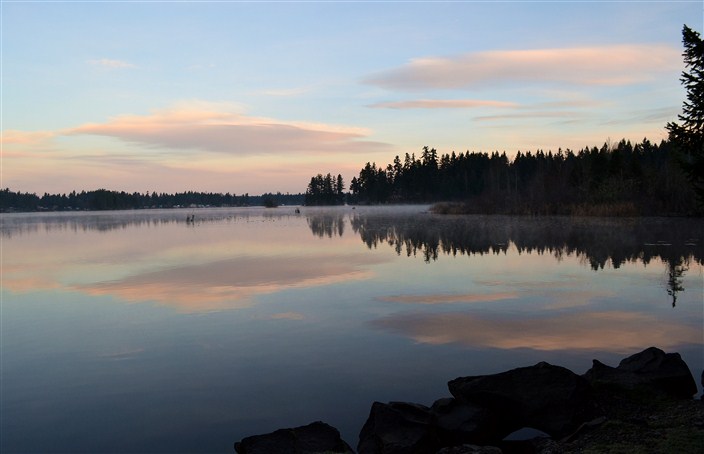 (Hit the trail early for a  beautiful sunrise)
Well, these are just a few ideas for you to try next time you suffer an attack of the midwinter blues. And not to worry, the cold and gray won't last forever. Remember, we're all aboard a one-way time machine moving forward one day at a time. Before you know it, better weather and travel time will be upon us. But for now, just get off your duff and get out there and go somewhere, do something, or you have no one to blame but yourself.