Since we first began planning our trip, I'd known this day would come. The fun stuff – national parks, fabulous scenic drives, day hikes – was over. Now, it was time for some serious driving.
Around nine a.m. we left Trinidad, Colorado, where we'd stayed the night at the Budget Inn (3 out of 5 stars and 50 bucks.) It had been an interesting evening after leaving Great Sand Dunes Park, driving in the dark along Highway 160, then picking up I-25 at Walsenburg and streaking south to Trinidad. It took us a while to find the Budget Inn, a little off the freeway and not too easily located. In fact the only thing that really helped us find the place was it being situated underneath a large radio tower.
As we unpacked the car and settled into our motel room, a windstorm barreled into town and nearly blew us right out of the parking lot. The wind continued unabated all through the night and woke me several times with thoughts like I didn't know they had tornadoes in this part of Colorado and I wonder if our room will spin around inside the twister like Dorothy's house in The Wizard of Oz? and Was that the radio tower I just heard toppling over on our car?
We survived the night and hit the road heading south on I-25. In no time at all we crossed the state line, and I was glad to see the "Welcome to New Mexico" greeting sign and to know we were going the right way this time. The land flattened out with rolling hills off to the west.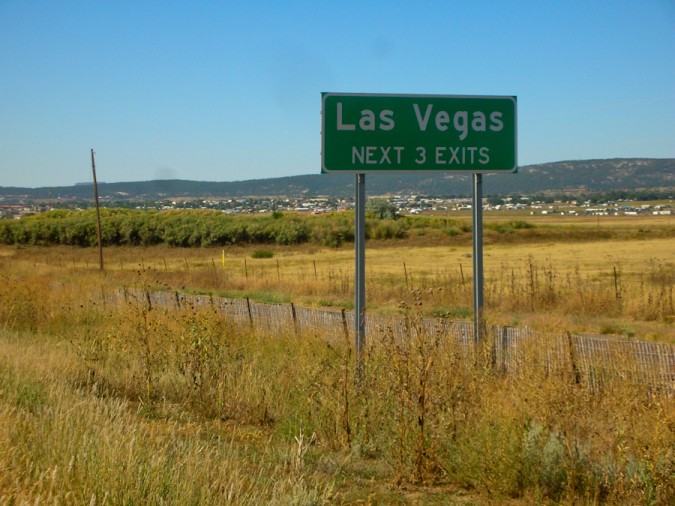 (Las Vegas? Did we take a wrong turn? No, it's Las Vegas, New Mexico)
We stayed on I-25 for about 80 miles and I almost thought we'd taken another wrong turn when we came to Las Vegas. But no, this was Las Vegas, N.M., a sleepy town of 14,500 people and not a slot machine in sight. Turns out Las Vegas has quite a history as one of the most notoriously lawless towns in the old west. At one time or another it harbored such infamous legends as Wyatt Earp, Doc Holliday, Billy the Kid, Jesse James, and many lesser known thieves and killers, gamblers and gunmen, and just about any other sort of lowlife you might want to meet. Or not.
A short distance later we left the freeway and jumped on Highway 84 south to I-40, traveling through dry, flat ranch land, though for the life of me I can't imagine what there was for an animal to graze on. Sagebrush and rocks were the predominant features I saw, along with thousands of linear miles of barbed wire fence.
I-40 eastbound is an unremarkable stretch of freeway in terms of scenic interest, but it does what the interstate system was designed to do: get you where you're going as directly and quickly as possible. A hundred-ten miles later we crossed into the Texas panhandle. Next stop, Amarillo.
Now I don't want to alienate any of the fine folks from Amarillo who might read this (don't mess with Texas, right?) but honestly, unless you need to refuel or your Aunt Martha lives in town, there's no reason to stop. Mile after flat mile of gas stations, strip malls, and every conceivable size and shape of billboard ever invented. There's probably some really nice neighborhoods in Amarillo, somewhere not visible from the freeway. Of course nothing was visible from the freeway precisely because of all the damn billboards. Or (frightening thought) maybe this was the garden spot of town.
We continued east on I-40 into Oklahoma, primarily to add Oklahoma to my list of states visited. Preconcieved notions are almost always a bad thing, and often proven wrong with experience if you're objective and honest with yourself about it. So what did I think I knew of Oklahoma? Dust Bowl. Pancake flat. Indian reservations. Endless miles of brown, boring landscapes and farms, right? Wrong. Well, okay, it is flat and we did see lots of farms. But the stretch we drove was surprisingly green with rows of big, leafy trees, the occasional rolling hill or two, and small towns with their ubiquitous water towers and grain elevators. All in all, it was a pleasant drive under blue skies and fleecy, cottonball clouds.
Just across the state line they also had one of the finest welcome centers I've ever encountered. I like to visit these establishments when entering a state new to me or any area I'm unfamiliar with and wondering what there is to do or see. The older gentleman manning the information desk was gregarious and helpful, but not annoyingly so. When I griped about how hot it was outside just walking from my air conditioned car to the air conditioned building, he grinned and drawled, "Well now, it could be worse, you know. I seen days so hot, the flies line up by that outside door just hopin' someone'll open it so's they can shoo on in here and cool down."
The place had more brochures and pamphlets than Starbucks has coffee beans, and they covered enough topics to almost convince me to return to Oklahoma some day, or at least stop and see a few things if I'm in the neighborhood. I glanced at several of these while my wife used the facilities and, for some reason, one of the brochures struck me funny. The Roger Miller Museum in Erick, Oklahoma. Now I grew up in the sixties, so I remember Roger Miller being a pretty big deal at the time with several hit records, though his music was never my taste. But an entire museum devoted to the guy? It seemed like overkill to me, but then I'm not Erick's most famous native son or even a fan. As we drove away from the welcome center it got me speculating on just what sort of things would be in such a museum. Do they have a collection of old stogies, short but not too big around? Do they have the school desk where he once sat gazing out the window and first contemplated that you can't roller skate in a buffalo herd? Just wondering.
We rallied on to Oklahoma City. Unfortunately, for most Americans the first thing they'll probably think of in regard to Oklahoma City is the federal building bombing of 1995, a tragic date in U.S. history. But if you mention Oklahoma City to a Seattle sports fan, they will likely respond with a roll of the eyes, a choice curse word or two, and accusations of collusion, lies, and outright theft. You see, they stole our basketball team, the Sonics. They being owner Clay Bennett, N.B.A. Commissioner David Stern, and all the other owners who voted in favor of stealing, er, relocating the franchise. Now I'm not even a roundball fan, but I know a lot of people who are/were Sonic fanatics and believe me, there is still a deep, lingering bitterness surrounding this sordid episode and it's not likely to go away any time soon, whether they give Seattle another team or not.
I only bring this up this because it all ran through my head as we drove into O.C. and I saw a couple of billboards advertising the Thunder. And while we're at it, how about a moratorium on lame-o sports franchise nicknames. The Thunder? That's really the best they could come up with? Why not the Thunderclap, and then we could say Oklahoma City has The Clap?
From O.C. we rolled south on I-35. Around Norman, Ok. we slowed to about 40 m.p.h. for a few miles, but felt fortunate we were not on the other side of the freeway heading north. That was a parking lot, and it took me a few minutes to figure out why. Norman is the site of the University of Oklahoma and being a Saturday afternoon in September, I reasoned there could only be one cause for the biggest traffic jam in the entire state: 80,000 fans departing the football stadium following a Sooners game. Sure enough, on closer inspection, I noticed most of the vehicles sported OU flags, pennants, bumper stickers, etc. and most of the occupants wore bright red Sooner jerseys. Thank God the vast majority were headed north back to Oklahoma City. The last thing I needed was to be stuck in the middle of several thousand drunken, crazed football fans behind the wheels of their SUV's and Hummers.
We stayed the course south to the Texas state line by dark, and kept on rolling toward Dallas. I had the bit between my teeth now and didn't want to let up. Fact is, I probably would have driven all night if not for my lovely wife talking some sense into me. Let's see, how did she phrase it? "We're stopping soon or else." Something like that.
We'd done thirteen hours straight and 715 miles when I finally pulled off just east of Dallas at a La Quinta Inn, another of Irina's coupon specials. For sixty bucks it turned out to be the nicest motel of our entire trip, roomy, clean, relatively quiet, and a decent breakfast included – a solid four and a half stars.
Sunday dawned warm with hazy sunshine,and as I packed up the car I felt particularly antsy to get moving. We were in the home stretch now. I figured another seven to eight hours would get us to New Orleans. I certainly hoped so, as we were both heartily sick of having our rear ends stuck in the car after Saturday's marathon session.
Not much to say about I-20 from Dallas to Shreveport. It's flat. There's some areas with a lot of pine trees, which did surprise me. Somewhere we saw a billboard advertising a café which served deep-fried pies. I did a double take on that one. I guess they really do deep-fry everything in the South.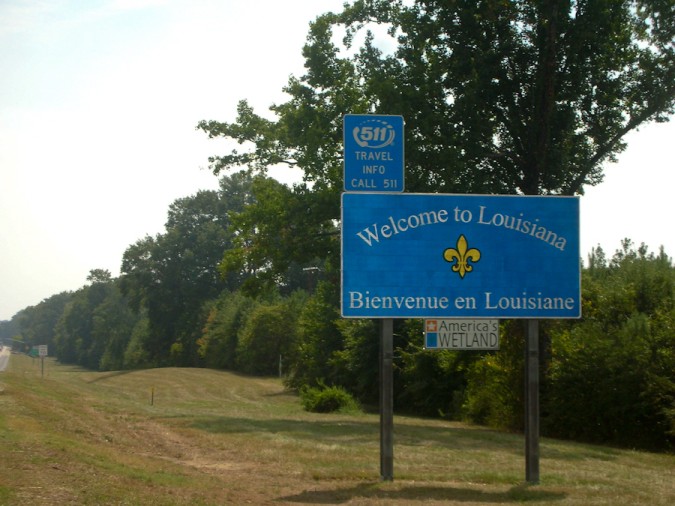 (Louisiana, America's Wetland. No kidding. Now that's truth in advertising)
We crossed into Louisiana and when we stopped the car to take a picture of the welcome sign, I wanted to kneel down and kiss the ground. Maybe I did. I was semi-delirious at this point and the memory is a bit foggy. We took I-49 south from Shreveport. I barely noticed the scenery as I drove robotically onward. I have to say that what did register were three things: one, Louisiana is pleasantly green, with lots and lots of trees; two, it is really flat – the only time we could see any distance was when the freeway would crest an overpass or bridge, usually over water, because…three, the entire state is in standing water! Lakes, rivers, creeks, streams, bayous, swamps, ponds, you name it, it's everywhere and in many places it's hard to see the difference. When I mistakenly called a bayou a swamp, or vice versa (and thus exposed what an ignorant Yankee I really am) I was politely but firmly corrected on these finer points which continued to elude me. Maybe this isn't a fair comparison – and  they're going to hate me for writing this – but next to the crystal clear mountain rivers and streams of Washington, it all looked like sluggish, brown mop water to me.
In Alexandria we hit a blinding rainstorm which thankfully lasted only about ten minutes. It was the first rain we'd seen since leaving Washington. At Lafayette we merged onto I-10 which would see us the rest of the way to New Orleans.
When we passed Baton Rouge I started getting excited. Less than an hour now to our final destination, and it really did feel like the last leg of a marathon, a true butt endurance contest. It had been a fabulous trip with tons of amazing, memorable sights, but the last two days had been a real grind. Now we could see the finish line. I called my daughter and she gave us specific directions on exits and turns to her home. When we saw the New Orleans city limits sign I honked the horn, we hooted and hollered and generally acted like a couple of crazy people.
We pulled up on the parking strip outside my daughter's apartment and stumbled out of the car for what I sincerely hoped would be the last time for at least a week. Eight days, three thousand four hundred miles, three national parks, and approximately five hundred photos since leaving home, we'd made it in one piece and only a little worse for wear. After enthusiastic hugs and kisses all around we went inside out of the muggy heat and my daughter asked if she could get us anything.
"Yeah," I said. "How about an ice pack for my rear end?"