When I first read about Great Sand Dunes National Park, it seemed a real head scratcher to me. It's not in a desert, nowhere near the ocean, so what the heck are the largest, tallest sand dunes in North America doing smack in the middle of south-central Colorado?  Located in a bowl-like depression and stacked up against the western edge of the Sangre de Cristo Mountains to over 750 feet in elevation, the Great Sand Dunes of the Rockies are a one-of-a-kind phenomenon and definitely worth the time to check them out on your Colorado itinerary. And on day six of our trip, that's exactly what we did.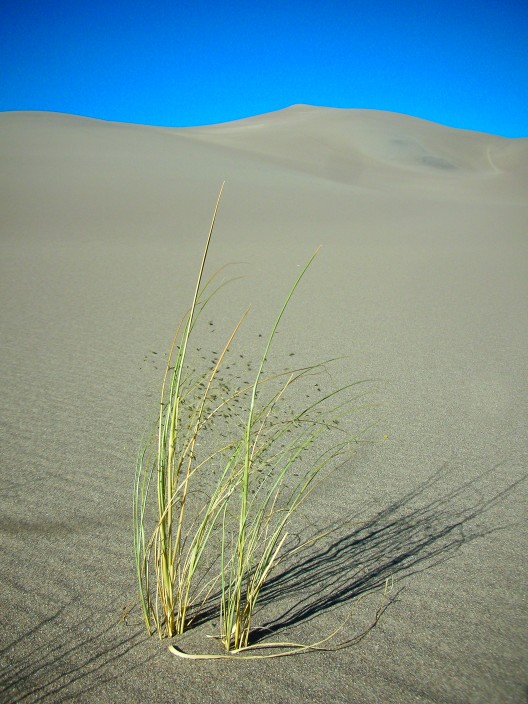 (Life among the dunes)
We left Cortez around 8:30 in the morning heading east – the correct direction this time – zipped past the Mesa Verde Park entrance and sped on toward Durango. When first planning our journey, I'd hoped to include a side trip on the Durango-Silverton steam locomotive, one of the finest remaining examples of a fully functional, old-time steam engine line in the country, winding through spectacular mountain and river valley scenery to boot.
I've had a love affair with trains since my childhood in northern Indiana (my dad worked on the local commuter line and we made innumerable train trips to Chicago.) But it wasn't meant to be on this particular trip, mostly due to time constraints. We'd already dallied enough and still had a long way to go to New Orleans without spending an entire day – not to mention a sizable chunk of our budget – for a train ride. It pained me to pass it up, but I'd already seen enough of Colorado to know I'd be coming back some day. Hopefully the train will still be running whenever that happens.
I didn't really know what to expect in Durango – dusty streets, hitching rails, and a general store, maybe? – but I have to say the part we saw was pretty generic. Lots of traffic, stop lights, tourist shops, etc. Not exactly the "old west" town I had pictured, but then we didn't explore that much of the place. It's situated in a lovely mountain area, with a beautiful drive both into and out of town.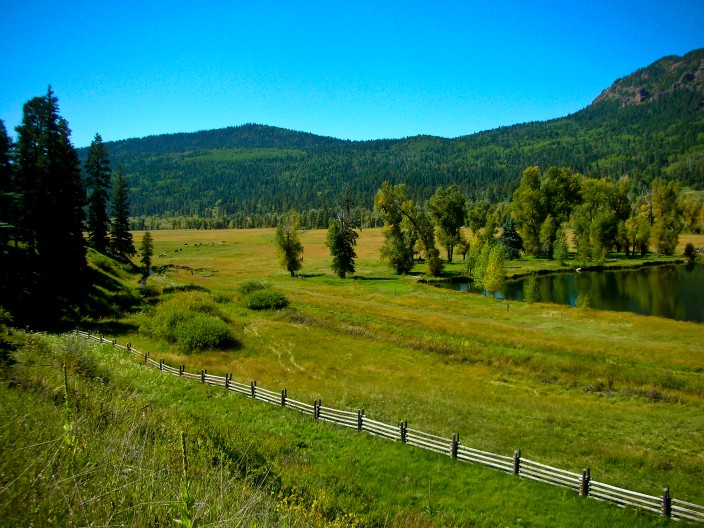 (Along Highway 160 to Wolf Creek Pass)
We left Durango in our rear-view mirror heading east on Highway 160, a true roller coaster road full of ups and downs, twists and turns, with nary a straight, level stretch of more than a few hundred yards in the entire one hundred plus miles between Durango and Del Norte.  It's the sort of road I love to drive, surrounded by scads of luxuriant greenery, bucolic farms and ranch lands, as well as the occasional wildlife spotting.
We stopped on the roadside to snap some pictures at one particularly scenic spot. I was about to jump back in the car when I noticed  movement in the meadow about a hundred feet below us. Something grayish-brown and dog-like bounded gracefully over a wooden rail fence and scampered off through the tall grass which waved gently in the breeze. The animal disappeared from sight before I could get off a shot with my camera. I had a good enough view to be certain it was not a domesticated canine, and it was too large and bulky to be a coyote. Which leads me to believe I had a real, live, wolf encounter on my hands, a first for me. I stood waiting another couple of minutes hoping it might re-emerge from the meadow grass, but it had vanished as quickly and completely as it appeared, leaving me with only that tantalizingly brief vision of its effortless leap to replay endlessly in my head.
We stopped for half an hour in Pagosa Springs to stretch our legs and check out the famous local hot springs. You know you're in Pagosa Springs without any road signs to tell you – just roll down your window and smell the sulphurous, rotten egg odor and you're there. It isn't so pervasive as to be repulsive, but it is noticeable. We splashed our hands right where the very hot spring water runs into the stream coursing through the middle of town and checked out a few local shops before we left.
From there the highway takes a north turn and climbs relentlessly up to Wolf Creek Pass, which at 10,850 feet elevation is one of the highest in the state. Great skiing abounds here and the scenery, as usual, is nothing short of spectacular all the way. Colorado was rapidly becoming my second favorite state just on that score alone.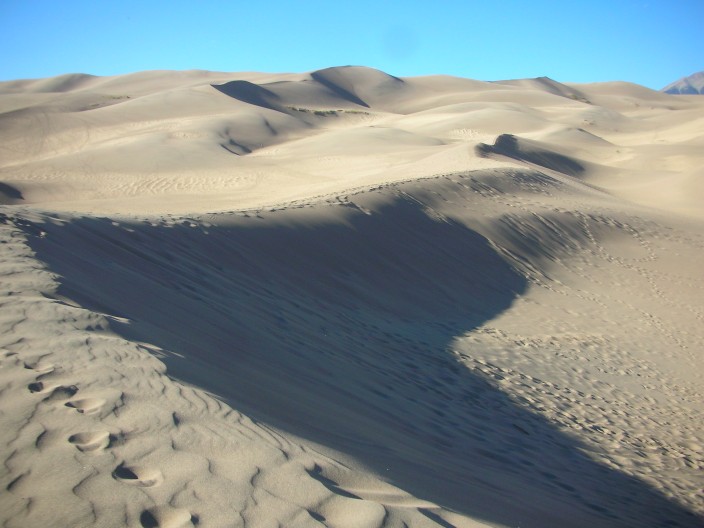 (Footprints in the dunes, Great Sand Dunes National Park)
Dropping down out of the clouds and mountains you come to the town of Del Norte, and from there on to Alamosa it's much flatter with wide open vistas of farm country. From Alamosa it's only thirty-five miles northeast to Great Sand Dunes National Park. GSD is one of the nation's newest national parks, having been designated as such only since 2004. Prior to that, it had existed as a National Monument since 1932.
The Dunes don't look like much as you approach them, just some low, brown foothills sitting at the base of the Sangre de Cristo range of the Rockies. But the closer you get, the more impressive they are, especially when you start hoofing it up to their 750 foot tall summit. I kept looking around for the camel rides, but no such luck. You want to reach the top, you're gonna have to sweat.
We spent a little time in the visitor center learning some facts about the formation of the dunes and how they were built up in this unique geological area. The dunes are located in a hollow where, over the centuries, the prevailing westerly winds drove the left over sands from a dried up inland seabed to pile up at the foot of the towering Sangre de Cristo mountain range. Voila!  Sand dunes in the most unlikely location imaginable.
Another anomaly of the area is that much of the park is surrounded by the largest wetlands in Colorado. Herds of elk, bison, and deer graze the region, and large flocks of migrating sandhill cranes hang out there in the spring and autumn.
Before leaving the visitor center we soaked some shirts in cold water to wear during our excursion in the dunes. I wished we had thought of this trick a couple days earlier while traipsing around Arches National Park when we really needed a shield against the desert inferno. As it turned out here in GSD, the temps were in the mid-eighties – hot but tolerable – and the wet shirts certainly felt welcome but not an absolute necessity. What we really needed were some flowing white robes and headgear to match the visions of "Lawrence of Arabia" dancing through my brain as we padded up and down, up and down the rolling landscape. Meanwhile, the incessant wind whipped the gritty, stinging grains of sand in our face – and everything else – constantly. We could literally see the dunes shape-shifting right before our eyes.
We spent about three hours cramping our calf muscles while churning across the dunes in the soft, deep, brown sugar sand. I think we must have trekked the equivalent of about a fifty mile hike on level terra firma. Felt like it, anyway. We drained three water bottles and it was thirst more than anything which finally drove us back toward the parking lot with half a dune in each shoe, pants pockets, and every single crease of clothing and body, especially in certain crevices you don't really want to feel sand doing its abrasive thing to you. For the next three days we kept finding sand in everything. It always amazes me how one little grain of sand can loom so large and loud when it suddenly crunches between two of your molars.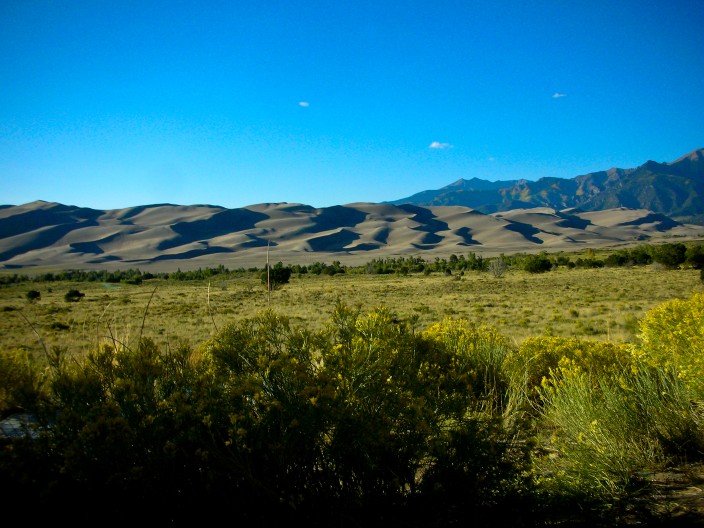 (Sand and shadows)
As the sun dropped lower on the horizon we stopped again at the visitor center, shook out more sand, and set up for dinner in a picnic area. Little did we know that our picnic and subsequent drive out of the park would be one of the highlights of our visit. As we ate, we were joined by several deer, who kept a discreet distance but were certainly accustomed to humans and not at all shy of our presence. We took lots of great photos and video of them, finally packed up the food and reluctantly departed.
As we drove away, the grassy fields sloping down from the surrounding mountainsides came alive with deer sauntering out of the forest to feed in the twilight. We stopped to observe and capture them on camera, and at one point had at least a dozen of them in close proximity. Two of them, a young buck and a doe, walked slowly by us within a yard of the car, completely oblivious to our presence. Finally, as the sun kissed the horizon we pushed on, knowing we still had some driving to do before stopping for the night.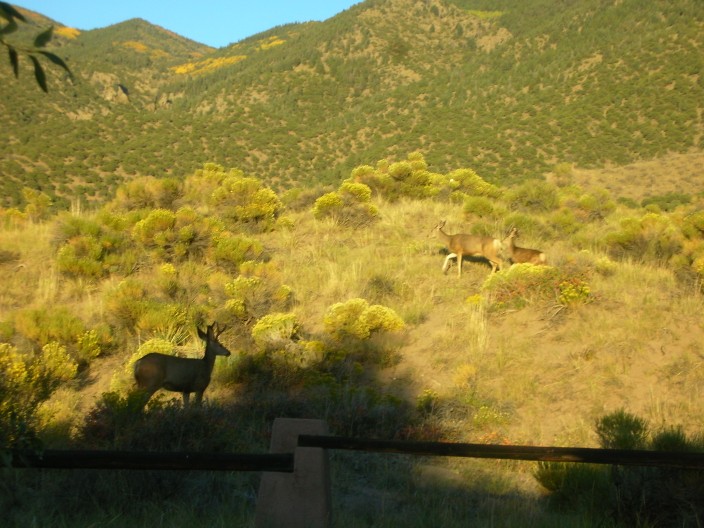 (Dinner companions)
However, the Great Sand Dunes still had one more surprising treat in store for us. About three minutes after leaving our herd of deer behind and just about the time we got the car back up to speed, as we crested a rise in the road Irina spotted something perhaps a hundred fifty feet away shambling down the middle of the highway.
"Is that a…a bear?"
I took my foot off the gas, coasting closer, when the large, black object stopped, turned around and stood up in the road to look at us.
"Holy bleep!" I said to Irina. "That's a bear!"
"That's what I just told you," she said.
"Right there!" I pointed straight ahead. "A bear! Standing in the road!"
And so it was. As we got closer the big guy dropped to all fours and lumbered off the highway into some trees and brush. I accelerated to the spot where I thought he'd left the road, all while Irina tried desperately to get the camera situated to snap off a picture. I stopped the car, rolled down my window and had one, brief tantalizing glimpse of him staring back at us. I grabbed the camera and snapped just as he turned away and vanished.
Unfortunately, the photo shows nothing but a big black blur in the middle of some blurry leaves. So much for my great opportunity in spontaneous wildlife photography. But I couldn't be too disappointed in a day so rich with beauty, and definitely one of the high points of our entire trip. The Great Sand Dunes are there waiting for you, a little off the beaten path, and well worth it.