The Big Easy. Nola. The Crescent City. N'awlins. Whatever name you want to call it, I've been there four times now, three by air, one by land, and while this certainly doesn't qualify me as any sort of expert, I have learned enough to give you my impressions of the area. One thing I cannot address is New Orleans pre-Katrina versus post-Katrina. I never visited the city before Hurricane Katrina struck in 2005, so I have no point of reference to make any comparisons. Anyway, that particular issue has been done to death by so many people in so many different ways that I doubt I could add anything new to the discussion even if I felt qualified. So, with all those caveats out of the way, here's my random ramblings about one of the USA's truly unique cities.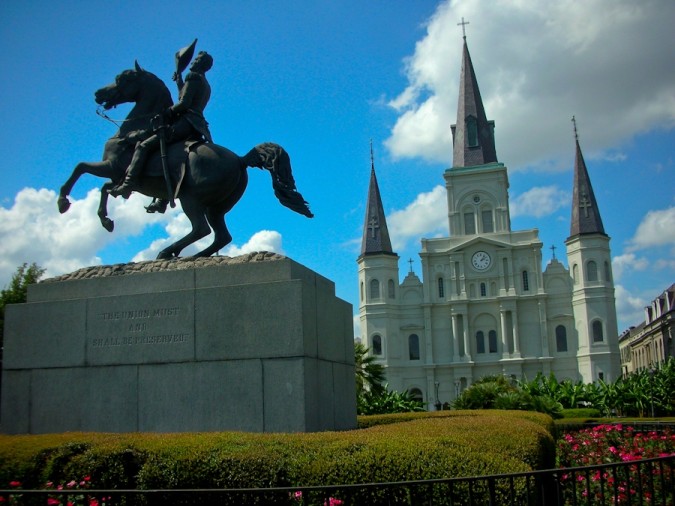 (Jackson Square and St. Louis Cathedral, French Quarter, New Orleans)
Number one, if you don't like oppressive, semi-tropical humidity and heat, STAY AWAY from about mid-March to mid-October. I do not care for this kind of weather and found out to my chagrin that one month can make a huge difference. My previous three trips were all in October, and while a little warm for my blood – seventies and eighties with considerable humidity – October was tolerable, if only just.

September proved to be a different animal. I believe the mercury hit 90 or above every day we were there, with comparable levels of humidity. To step outdoors was to sweat, profusely so for me. For others, like my wife, not so much. After a couple of days she said it was no problem and she even kind of liked it. I attribute this to heat stroke addling her brain, though I must admit she does not agree with me on this point. So be it. If you don't have a lot of sweat glands or even if you do but simply don't mind basting in your own juices every time you're outside, go for it.
Number two, if you like to eat, man is this the town for you. I swear there is a restaurant on every street corner, sometimes two or three. They're thicker than coffee shops in Seattle. It's hard to believe that so many eateries could compete with one another and be successful, but there they are. You can find absolutely anything your palate desires and you won't have to look that hard, from super-upscale to middle of the road Mom and Pop fare to greasy spoon dives. And while I haven't sampled a vast array of the city's dining establishments, what I have eaten has all ranged from good to outstanding.
Whenever I read one of those articles about America's fattest cities and find New Orleans listed near the top, it isn't difficult to understand why. Everything is fried or breaded or wearing a coat of gravy or heavy sauce, sometimes all three. Fattening, yes, but tasty. Ah, well, you only live once, right? Come on down and dig into some crawfish etouffe, red beans and dirty rice with blackened redfish, a po'boy and some hush puppies, and a big ol' bowl of gumbo or spicy, hot jambalaya. It's making me hungry just writing this.
Number three, they do love their football down in these parts. Maybe the reason I find this so prevalent a characteristic is I'm always there in the middle of football season when the mania is especially rampant. Not being a pigskin fan (my own sporting taste runs more to soccer and baseball) I often feel a bit out of the loop around so many rabid football fanatics.
Saturdays it's LSU. Even though the school is located in Baton Rouge, it seems half the population of New Orleans drives up for the home games. If you think they don't take this stuff seriously, let me tell you about my daughter's wedding two years ago. They had it on a Saturday afternoon. The reception was scheduled to begin at about the same time LSU was playing. They had to set up a television in the reception hall or half the folks in attendance would have been downstairs in the restaurant bar watching the game.
Sundays are Saints games. For most of the team's history, the Saints (or the Aint's as they were affectionately known) set all kinds of NFL records for futility. Yet their fans endured and supported them with amazing loyalty, even when the team kept racking up one abysmal losing season after another for several decades. As a lifelong Chicago Cubs fan, I can definitely empathize. But in 2010 their dreams finally came true and the Saints won the Super Bowl. It didn't mean much to me, but I did get some vicarious enjoyment from seeing some fans misery come to an end. Now, if the Cubs could ever…nah.
(The Natchez, Mississippi riverboat, New Orleans)
Though I'd been in New Orleans on several occasions, this trip was my wife's first time there. So while we spent a lot of our time simply visiting with family, we also made sure to include some of the tourist attractions that anyone would want to do on a first trip to the Big Easy: the French Quarter and Jackson Square, a walk along the riverfront, a streetcar ride, a stroll through one of their unique above-ground cemeteries. You can't bury anyone because as soon as you plant a shovel – or a body – in the ground you hit water, a fact which also makes this a city without basements.
You can't see New Orleans without spending some time in the French Quarter, or Vieux Carre (Old Square, in French). While I could do without Bourbon Street – a few truly sleazy blocks of it at least – most of the rest of the Quarter is charming and fun to walk around, if you don't mind the hordes of other tourists and about 8 million souvenir shops all filled with the same t-shirts, caps, coffee mugs, etc.  But if you look a little harder you'll find some real gems, funky boutiques, antique/junk shops, art galleries of every sort and of course plenty of places to eat and drink.
The Quarter got it's name and beginnings from the original French Creole (West Indies natives) settlers of the city, in the early 1700's. The entire district is today designated a National Historic Landmark, and as such none of the buildings can be torn down or even renovated in any way which would alter them significantly. The architecture is predominantly Spanish, not French, as most of the original French Colonial style buildings were burned down in the Great New Orleans Fire of 1788, as well as a second major fire in 1794. At this time the city was under Spanish rule and so rebuilt in their style, so I guess we should be calling it the Spanish Quarter? Just doesn't have the same ring to it.
Another unique trait of the city is its very liberal alcohol laws. Don't want to sit inside and finish your cocktail? No problem. Just get it in a disposable container, walk out the door and drain it as you stagger down the street along with everyone else. Can't do that in most cities I know of.
If you're in town and wanting to do some of the tourist stuff – vampire tours, riverboat rides, plantation tours, etc. – my suggestion is to scrutinize the package deals before commiting to them. We wanted to take one of the plantation tours. Down by the riverfront several such "all inclusive" deals were offered for well over a hundred bucks per person. We checked online and found that by driving out there ourselves – only about a forty-five minute trip – we could do the same thing for the simple admission price of $18 a head, which is what we did. Of course if you don't have your own transportation, that makes it a little tougher.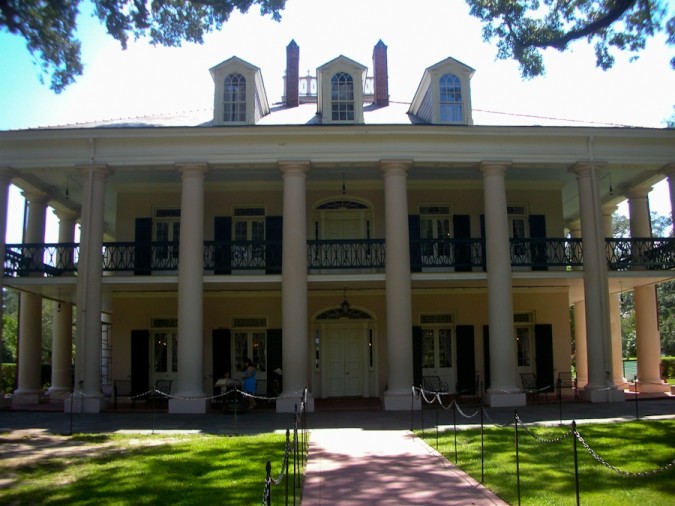 (Oak Alley Plantation, Vacherie, Louisiana. The Mansion House)
Oak Alley plantation is the one we chose to visit, and not to be missed if you have any interest in the antebellum south. Located near the town of Vacherie along the Great River Road northeast of New Orleans on the banks of the Mississippi, the grounds alone are worth the admission price, with that fabulous one of a kind double lane of massive, three hundred year old oaks setting off the main building. In truth, the plantation house itself is somewhat dwarfed by the majesty of that oak tree promenade.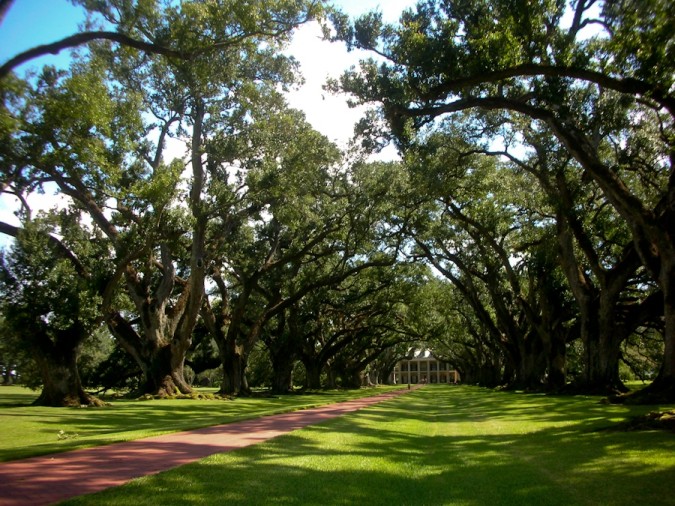 (Alley of the Oaks)
You get a full guided tour of the inside of the mansion, providing lots of history about the various owners of the plantation and the building, all courtesy of the very thorough, personable, period-costumed guides. Add in a mint julep served on the veranda afterward (for an extra six bucks) and I suddenly had the irresistible urge to start saying "y'all" and call everyone I saw Scarlett or Rhett.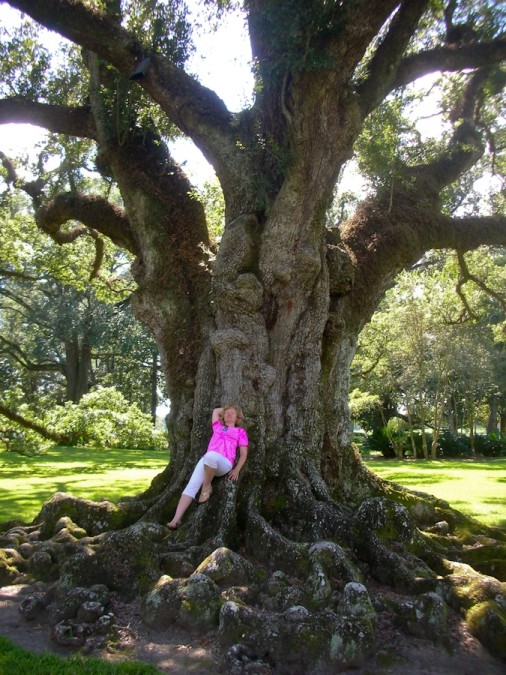 (Nice roots)
After the house tour we spent a long time simply ambling around the grounds, especially among those giant oaks. There are twenty-three of them – originally twenty-four but one succumbed to disease a few years back and had to be cut down – spanning a quarter mile from one end to the other. My four year old grandson, and the rest of us too, to be honest, had a great time clambering on the low-lying limbs and gnarly above-ground root systems which surrounded the base of each tree like some kind of knobby alien tendrils.
One of the more sobering sights we found was a sign showing an inventory record from 1848 which listed the names, ages, and ethnicity (African Negro, American Negro, Creole Negro, or Mulatto) of all the slaves it took to run this one plantation. One hundred and thirteen names, including children, were listed for that one year: ninety-three field slaves, and twenty house slaves, who outranked the field slaves in terms of prestige and influence.
Following each name and age was the estimated value of that particular slave, ranging from a low of $25 for one field hand notated as "Tobi (60 years) – Creole Negro (sickly)" to a high of $1,500 for "Prince, (34 years) – Mulatto carpenter." Children were generally included as a package deal with their mothers in terms of total value, such as "Froisine (32 yrs.) – Creole Negress & her 3 children: Bazile (6 yrs.), Paul (3 yrs.), Ursule (15 mos.)" priced together at $1,000.
It really struck home to see it stated in print like that, over a hundred human beings listed as just so much property, with the old and sickly devalued like a piece of broken-down furniture. For Americans in the 21st century whose daily lives are so far removed from this culture as to seem like another world altogether, it's disturbing to be confronted with such a reminder that the evils of slavery are a part of our history, and to realize it still continues in parts of the world today.
Next day my wife and I wanted to spend some time just puttering around the downtown area. We were fortunate enough to have the unlimited use of our own private condo in the city for our entire stay, courtesy of my son-in-law's aunt and uncle. Ideally situated right in the heart of downtown New Orleans, the condo gave us a great base for day trips, afforded us privacy and relaxation, and saved us a ton of money on hotel costs as my daughter's place is simply too small for four adults and two young children to live together for a week without familial homicide of some sort occuring, and yet it was only about a ten minute drive between the two residences.
That night we were treated to one of the highlights of our stay, a visit to Emeril's restaurant on Tchopitoulas (pronounced chop-a-too-luss) Street. I just love the place names in this city. This is the original Emeril's, the one where it all started before he became a TV celebrity and household name. Like anything in life, it pays to be connected to the right people. In this instance it really paid handsomely, as my son-in-law John just happens to be the assistant manager and sommelier of the restaurant. Needless to say, my wife, my daughter, and I were given the royal treatment, a great window table, several different wines, and a divine meal of so many courses I lost count. For the average schmoe to come in there off the street and plunk his butt down at a table and get what we got it would have cost him an arm, a leg and his firstborn. For us, well, let's just say we got a great deal and leave it at that. Thanks, John.
Another high point of our visit came at the World War II museum. If you're in New Orleans, do not miss it, and try to allot a whole day to see it all, which we unfortunately did not. But even a few hours is better than nothing. Anyone with the slightest interest in this era of world history should definitely check out this informative and ultimately very moving testament to the courage, determination, and sacrifice of collectively, in my opinion, the greatest heroes of the twentieth century. It's chock full of just about anything you could want to see from the war era: uniforms, weapons, vehicles, supplies, enigma machines, maps, you name it, they've got it.
But it's not just a bunch of old junk collecting dust in glass cases. They've done a tremendous job of utilizing all manner of state-of-the-art multi-media presentations, battle mock-ups done to scale, archival film footage and photos that are easy to access, and all of it well captioned and laid out so you can linger or move on at your own pace.
It's all arranged chronologically, so if you start at the beginning (duh) it takes you from the pre-war build-up right through the African campaign, Italy, D-day, right up to V-E day. The Pacific campaign is in a separate wing and just as comprehensive in its scope and impact. This is history brought alive and presented the way it should be.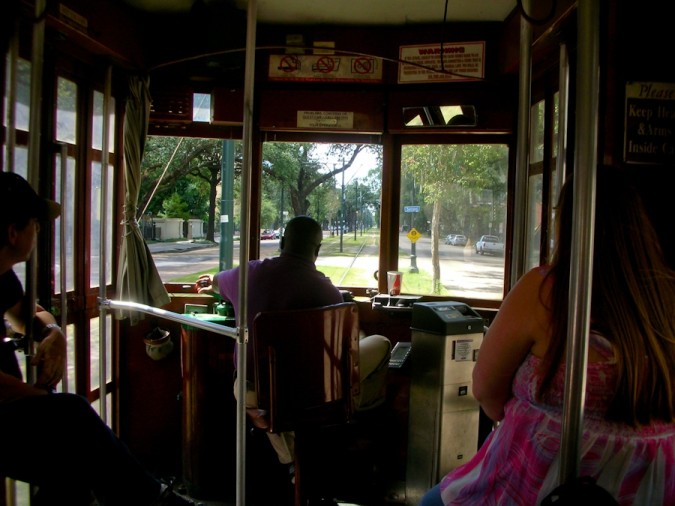 (Aboard the St. Charles streetcar, New Orleans)
We couldn't leave town without at least one streetcar ride, so naturally we picked the hottest day of our stay to wander around the streets panting in search of the wily and elusive St. Charles Streetcar. In theory it should have been easy. Just jump on board a few blocks from our condo and ride it out to the Garden District, past Loyola University, then Tulane University. We could either stay on until it looped all the way around and back to downtown, or get off wherever we wanted and come back the way we left.
Except that the St. Charles line was shut down temporarily. So much for theories. Of course we didn't know this at first, so we stood there on the sidewalk while the sun battered us relentlessly, waiting beneath the sign for a streetcar which would never come. Only after ten minutes or so did I bother to walk around and look at the other side of the sign where it said something about a temporary shutdown and you could catch a bus a couple blocks away to take you in the same direction.
Well, I can ride some stupid bus anywhere. I wanted to ride a New Orleans streetcar, damnit. I asked a woman standing nearby if the entire line was shut down or perhaps we could catch it somewhere else. She said that yes, indeed, if we didn't mind a "bit of a walk" that she believed we could catch it by simply following the tracks along St. Charles heading away from town until we saw it running.
We thanked her and took off at a measured pace, trying to stay on the side of the street which afforded more shade, but as it was early afternoon with the sun at its zenith, there was very little shade anywhere. You've heard of the Trail of Tears? I call this the Trail of Sweat, as I slogged along leaving a track of my precious bodily fluids like a slug shriveling beneath the pitiless sun.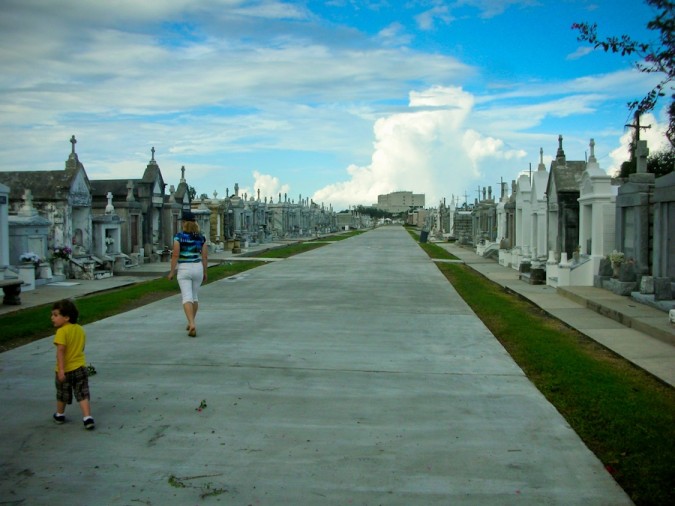 (A stroll in the cemetery, New Orleans style)
I honestly don't know how far we walked. We took a break underneath an incredibly noisy freeway overpass simply because it was the shadiest spot we could find. Just as we were about to give up and turn back we spotted it, the Holy Grail, a streetcar, shimmering in the heat haze a couple blocks away like some desert mirage.
We climbed aboard and once the car began moving it felt like paradise with the breeze blowing through the open windows. We rode for awhile, then got off by Loyola University, strolled the campus for a bit, then walked the shady streets of the Garden District gawking at the beautiful homes. When finally we'd had enough, we took the streetcar back the way we'd come and returned to our condo. God bless the man who invented air conditioning. I took my second shower of the day, drank about a gallon of water to rehydrate, then climbed in the refrigerator and took a nap.
Like all good things, our time in New Orleans came to an end too soon. Once again it was time to strap ourselves into the Honda and wind our way back to Washington. It was tough to say goodbye, especially to my one year old granddaughter who had only in the last day or two gotten comfortable around us and begun taking her first steps.
We had a great time and did a lot of fun stuff but not nearly everything we wanted to do. But no worries. I'm sure we'll come back again – when it's cooler.