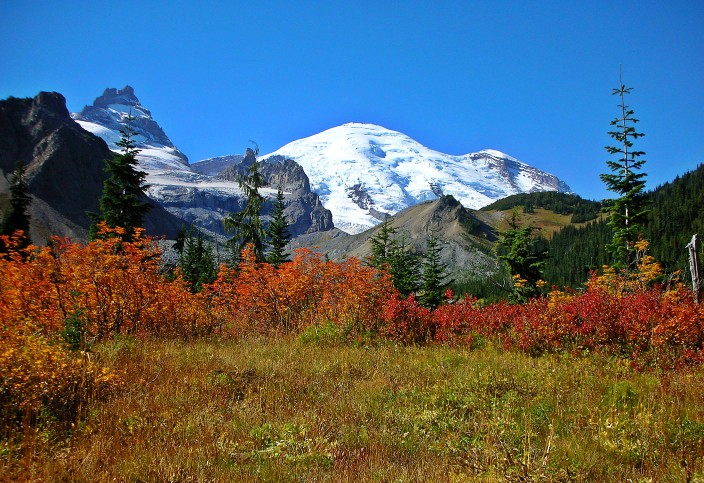 (Mt. Rainier in autumn)
Sometimes we are all guilty of overlooking the great things that are literally right in our own back yard. Since I'm lucky enough to live in one of the most geographically diverse and scenically spectacular states in the Union, I thought it high time I devoted some space here on the website to Washington – the state, not the city, the Space Needle, not the White House, the evergreens, not the cherry blossoms. Well, okay, Washington state also has cherry blossoms galore (and cherries) east of the Cascade Mountains in one of the nation's most productive fruit basket regions, along with just about every other non-tropical fruit you can name, including those famous  apples. But that's getting ahead of ourselves.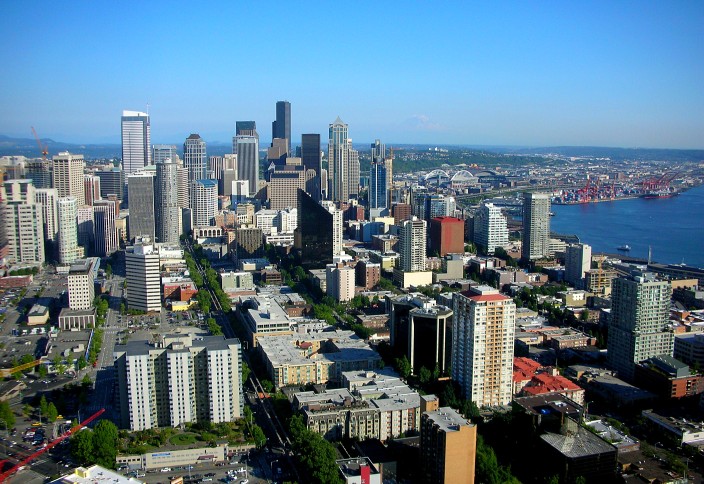 (Downtown Seattle from Space Needle)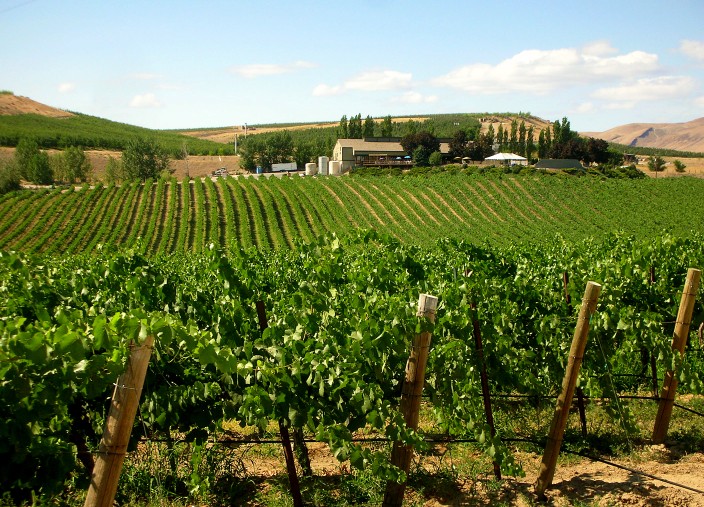 (Vineyards in Yakima Valley of Eastern Washington)
My own journey to Washington state began a long time ago, at the age of fourteen, so while that doesn't qualify me as a native, it's been long enough that I count myself as close to one as you can get without actually being born here. Mom remarried and the man she hitched up with worked as an engineer for Boeing so it was bye-bye small town Indiana and hello Seattle. Can't say I liked it much at the time, but what did I know, being a dumb teenager who'd never ventured more than a couple hundred miles from the flatlands and cornfields of home? Suddenly I'm on the other side of the country stuck way up there in the upper left-hand corner of the map, feeling like I hadn't a friend in the world. Which I didn't, but that's another story altogether.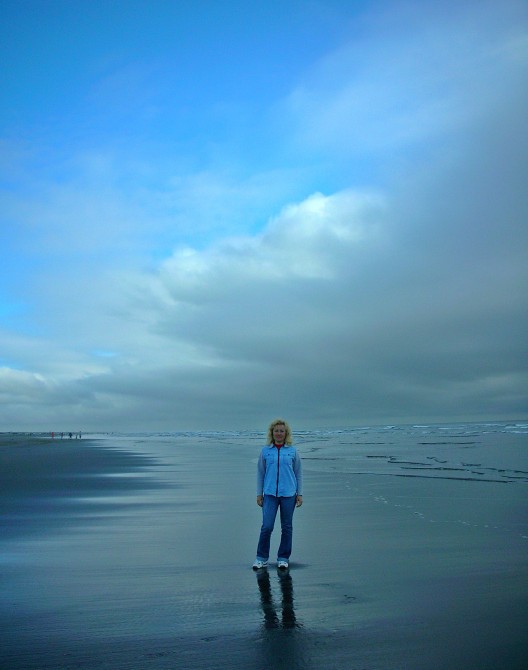 (On the beach of the Pacific Ocean at Ocean Shores)
One of the first things you need to know about the state of Washington is its schizophrenic nature. Now I'm no psychiatrist and even if I was I wouldn't presume to know how you would go about analyzing the state of mind of a state. But if you could climb inside the psyche of Washington, I think you'd find a conflicted mess. What I'm trying to say is, in just about every significant way, Washington is a land of contrasting faces: geography, politics, climate, population density, median income levels, even which state university football team people support. And the dividing line is pretty clearly drawn – in almost every case – north to south along the axis of the Cascade Mountain range.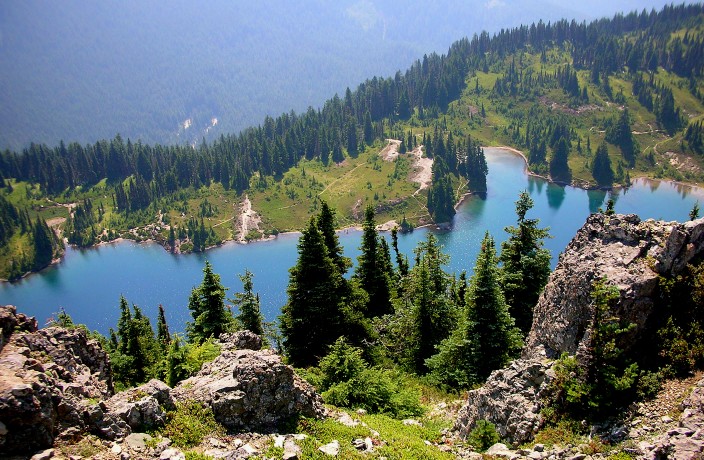 (Lake George, a sparkling alpine jewel)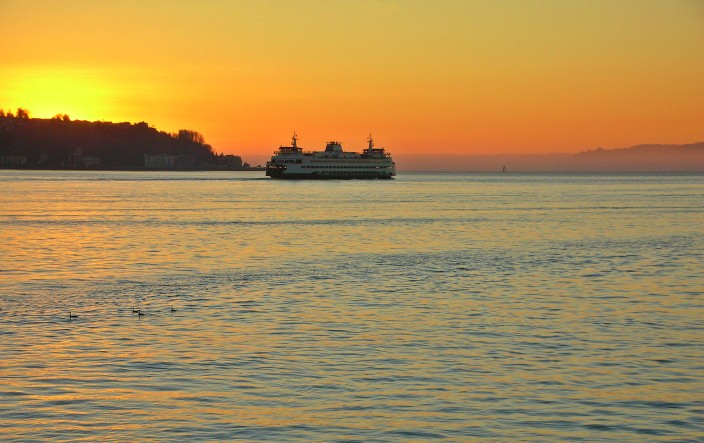 (Ferry and sunset, Elliot Bay, Seattle)
West of the Cascades, you have Seattle and Puget Sound, the land of Boeing and Microsoft and Starbuck's, where blue-state liberals predominate, where the majority of the state's populace resides in urban condos and sprawling suburban developments, and the U-dub – the University of Washington Huskies – reign supreme. The famously wet and cloudy climate produces mild (some would say nonexistent) summers and winters. This is the Washington most out-of-staters picture in their mind's eye when the subject of the "other" Washington (not D.C.) is broached.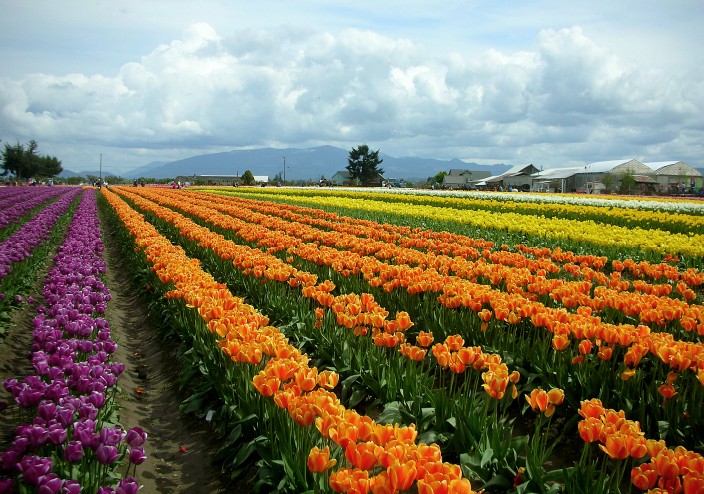 (Tulip fields, Mount Vernon)
Ah, but travel east of that mountainous divide, and an entirely different land awaits your discovery. Eastern Washington is sunnier and drier, with the hot summers and cold winters of four distinct seasons; it is mostly rural and red-state conservative, home to small towns and gigantic orchards and vineyards, and a place where Cougars abound – that is, the Washington State University Cougars, located in the farming community of Pullman just a few miles from the Idaho border surrounded by the vast wheat fields of the Palouse.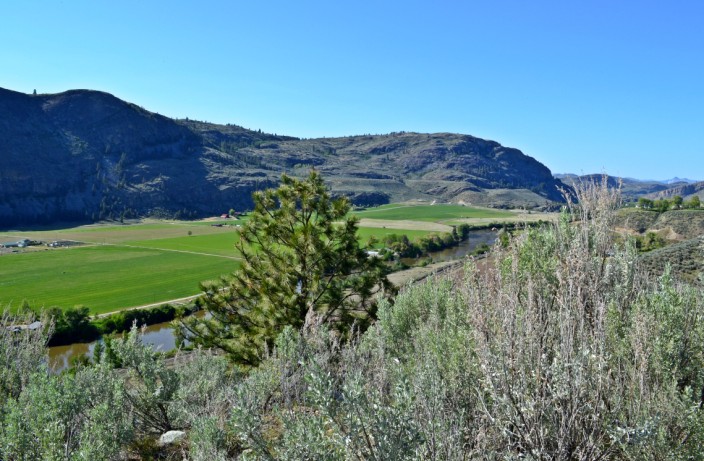 (Okanagan country, a different landscape east of the mountains)
The contrast between the two halves of Washington could hardly be more stark, and at times sparks some intense rivalries and differences of opinion and lifestyles, some of it light-hearted fun, some a lot more serious, especially in the political arena. There was even a movement afoot several years ago among certain groups in Eastern Washington who wanted to secede and form their own state, to be called Lincoln. I'm not making this up.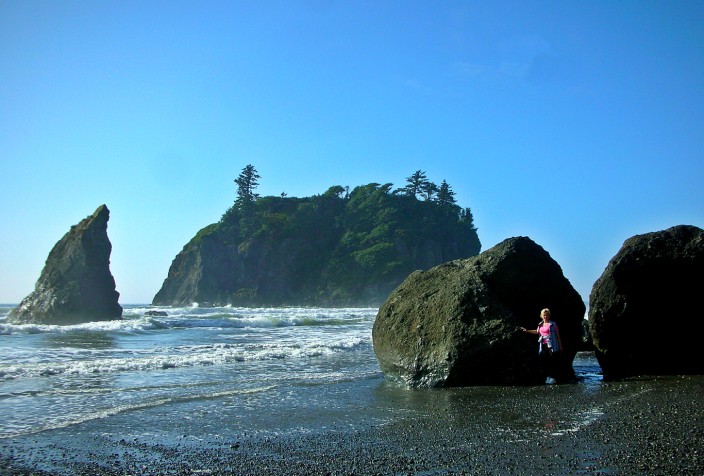 (Ruby Beach, Olympic National Park)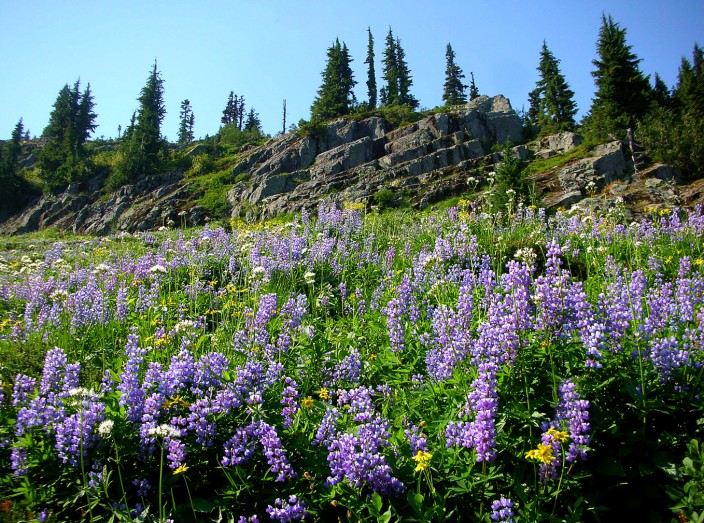 (Wildflowers, Naches Peak trail near Mt. Rainier)
As for scenic diversity, Washington has just about anything you could ask for, from hundreds of miles of pristine Pacific Ocean beaches to the deep forests and snow-clad peaks of the Cascade and Olympic Mountains to the desert-like rocky reaches of the Grand Coulee. There are few things I love more than that quintessentially American experience of a great road trip, and Washington lends itself especially well to this pastime. There are any number of one day drives you can take that will showcase this geographical diversity especially well.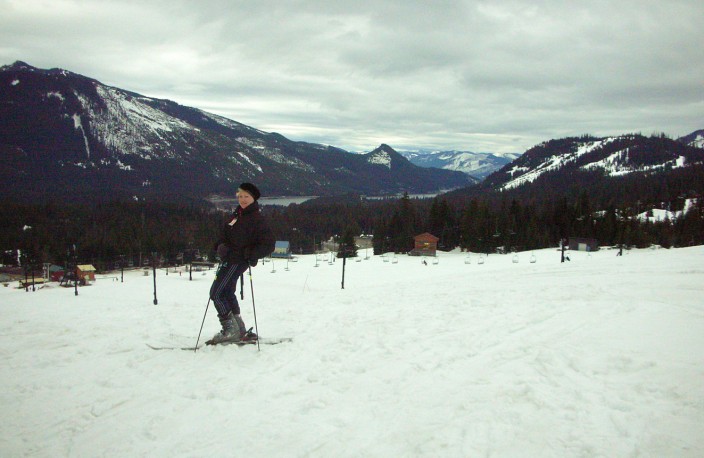 (Skiing at Snoqualmie Pass)
One way to do this would be to start at sea level from the Seattle waterfront (a place you could easily spend an entire day visiting in itself). From there you would jump on I-90 heading eastward and upward into the densely forested, evergreen clad Cascade mountains and over Snoqualmie Pass, a wildly popular and sometimes quite crowded ski resort area in the winter months. Plummeting down the east slopes of the Cascades, it doesn't take long for the geography to change. The trees thin out, the air is drier, the vistas open up and change from green to brown and before you know it, you're seeing sagebrush blow across the interstate.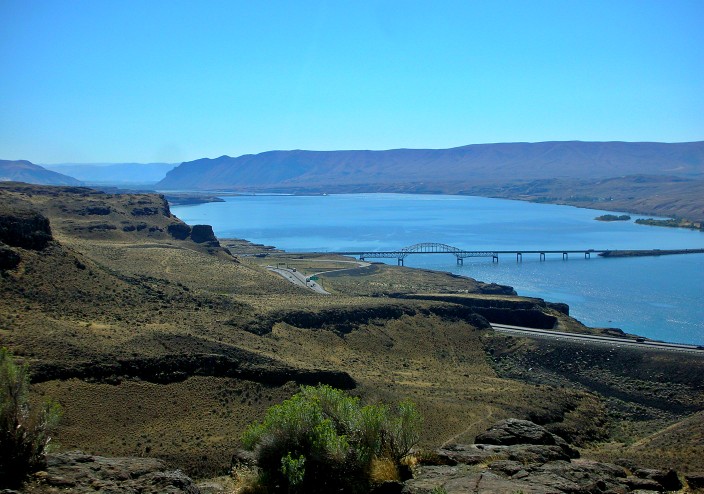 (Columbia River Gorge and I-90 bridge, Vantage)
Soon you come to Vantage and cross the mighty Columbia River. Don't miss the scenic turnouts on the hills just across on the east side of the river, where the vistas of the Columbia River Gorge are spectacular and well worth the time to stop, and where the winds blowing up the gorge can just about knock you off your feet if you're not careful.
From the gorge you can continue east on I-90 through fields of alfalfa, wheat, potatoes and other crops and eventually reach Spokane, about another two hours away. Or you can shoot north on a series of two-lane state highways toward the Grand Coulee Dam and Lake Roosevelt recreation area. Or just turn around and head back. Your choice.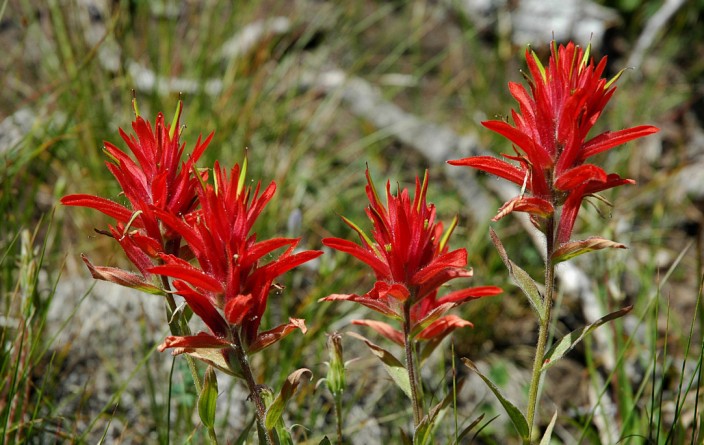 (Mountain wildflowers)
Another shorter variation on this idea, and one that's often mentioned by outdoor enthusiasts around Seattle, is how you can go water skiing in the morning on Lake Washington, hop in your car and zoom up I-90 to Snoqualmie Pass, and be snow skiing an hour later. I'm not sure why you would want to, but then I'm not sure why people like to torture themselves running  marathons and triathlons either. If it's your thing, though, be my guest and welcome to it.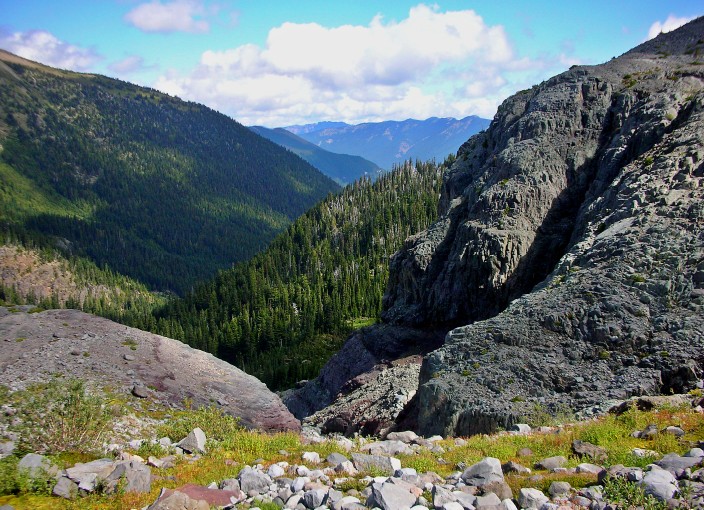 (Cascade scenery)
Of course you really should take more than one day in each of these places to experience them properly. But if you're pressed for time or just want to see the variety Washington has to offer in a single day, you can do it.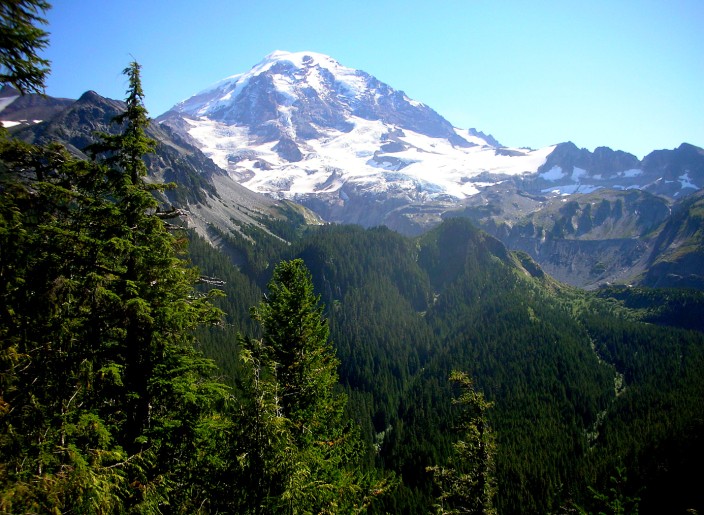 (Northwest face of Mt. Rainier)
So there's your introduction, a small appetizer if you will, just a taste of the bounty Washington offers. In the weeks to come we'll be doing sections on Seattle and vicinity, Mt. Rainier and the Cascades, the Pacific Ocean beaches, Eastern Washington wine country, and lots more. See you next time.
Coming Soon:  Mt. Rainier