Written by Greg Prohl
Tuesday, 17 July 2012 07:50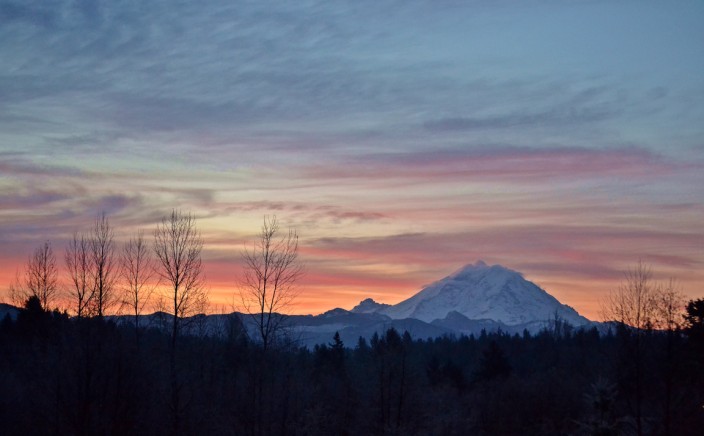 (Mt. Rainier at sunrise, from Black Diamond, WA)
If you love mountains, Washington state is the place to visit (or live) and if you love massive, snow-capped, glaciated peaks, then Mt. Rainier is the mountain for you.
The crown jewel of the Pacific Northwest, Mt. Rainier sits astride the Cascade Range like a colossus, towering over the surrounding terrain at 14,410 feet elevation, the second highest peak in the lower 48 states and boasting the largest U.S. glacier system outside of Alaska. Over 35 square miles of permanent ice and snow cover Mount Rainier. Of all the glaciers in the contiguous U.S., Mount Rainier's Emmons Glacier has the largest surface area (4.3 square miles). Carbon Glacier is the longest (5.7 miles), thickest (700 feet), and has the lowest terminus elevation (3,500 feet) in the contiguous U.S.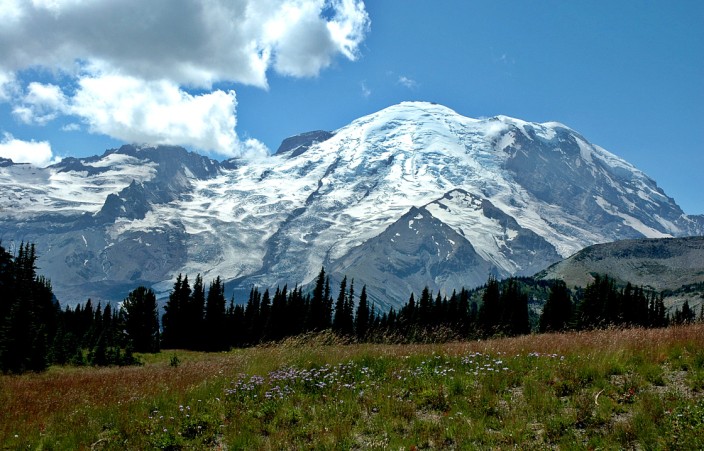 (Mt. Rainier, north face)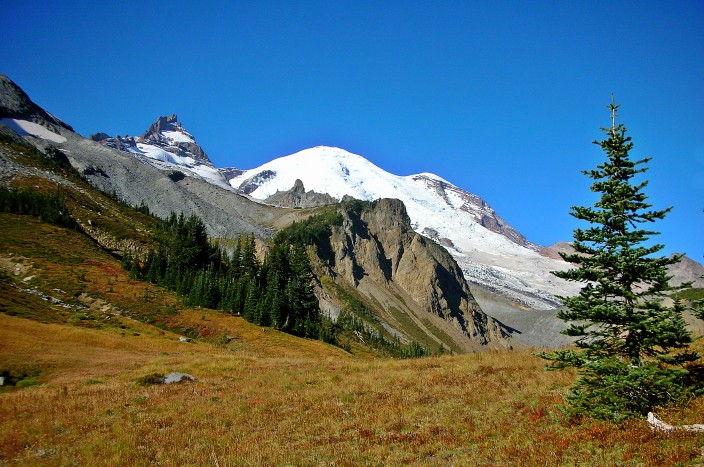 (Along the Summerland trail)
One of the things that makes Rainier so unique is the way it stands alone, dominating the horizon from just about anywhere you look in that direction. This is simply a matter of contrast to the geography which surrounds it, which is all at a significantly lower elevation than Mr. Rainier itself. The nearest peak of any size is Mt. Saint Helens, which used to top out around 10,000 feet before it blew about 2,000 feet of that into the stratosphere when it erupted in 1980.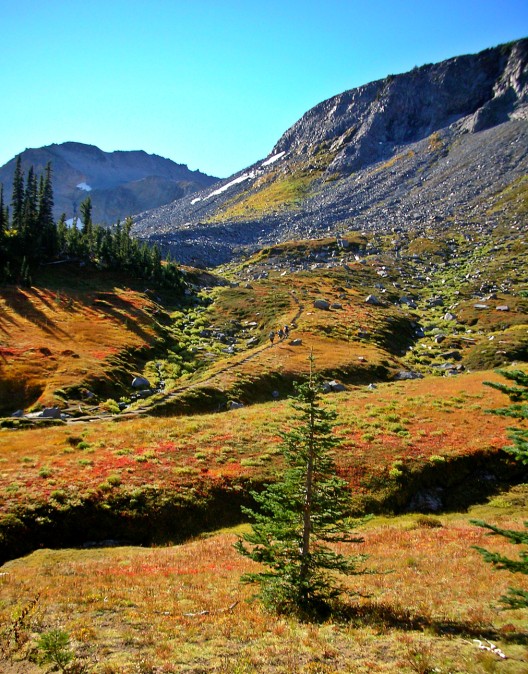 (On the trail from Summerland to Panhandle Gap)
Mount Rainier National Park was established by Congress in 1899, making it the fifth oldest park in the country. It receives between 1.5 to 2 million visitors every year, and believe me, on a sunny summer weekend it can feel like about half of them all showed up on the same day.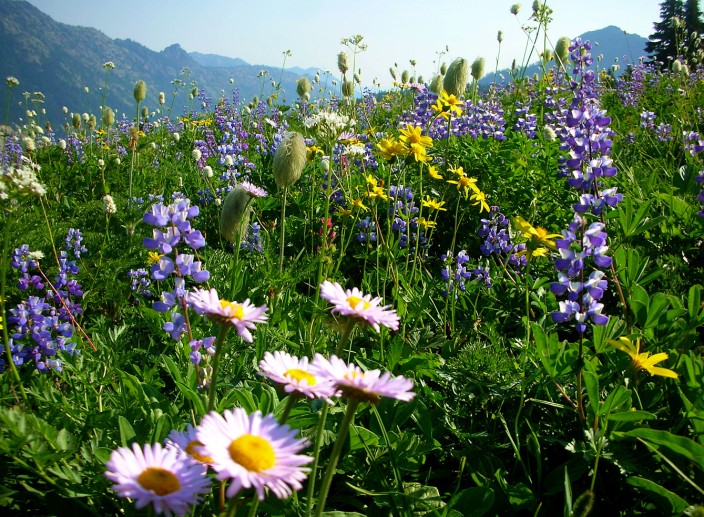 (You want wildflowers? You got 'em)
(It's a wild lupine cornucopia)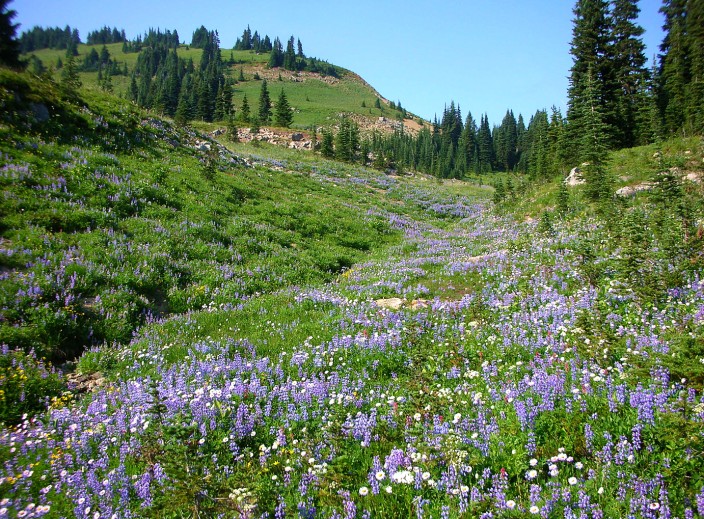 (Still more lupines)
I've been fortunate enough to visit seventeen of our National Parks, and can honestly say without too much bias that Mt. Rainier National Park is surely one of the most scenically spectacular in the entire country. Easily accessible by car from Seattle, you can go from downtown to standing on Rainier's lower flanks in about two and a half hours.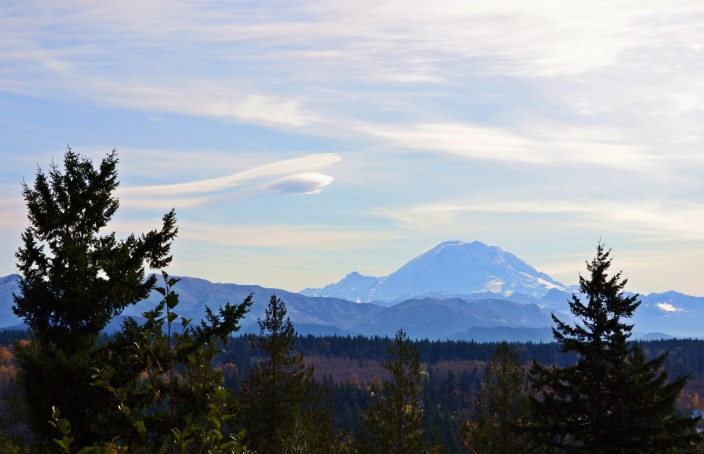 (Mt. Rainier seen from Taylor Mountain, Hobart, WA)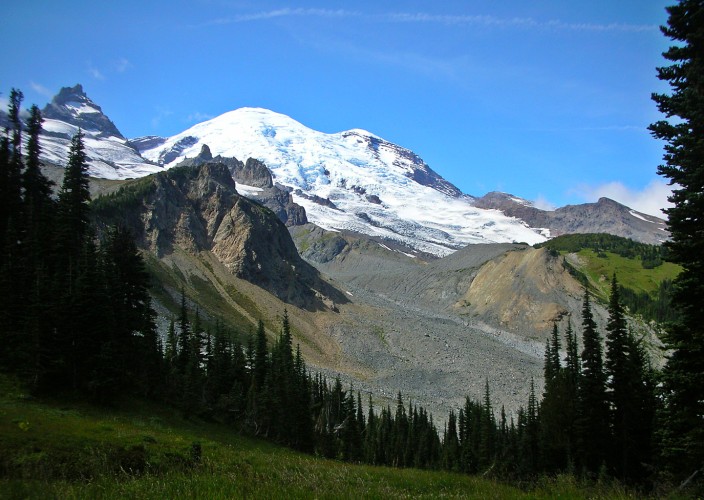 (Another view on the Summerland trail)
There are two major visitor centers, Paradise and Sunrise. Paradise sits on the southern slopes of the mountain at 5,000 feet elevation and gets the larger volume of traffic in every sense. It has a huge visitor center, a lodge for overnighters, and is the main staging point for climbers to gather in preparation for assaulting the summit. And if you think it's just a long walk to the top, think again.
(A long trek to the top)
According to the National Park Service, in 2010, 10,643 people attempted to climb the mountain. Only 4,920 actually made it to the top. Simple math will tell you that's less than a fifty percent success rate, so don't think you'll just hop to the top in your trail hiking boots. It takes the right equipment and, if you're smart, some serious training beforehand unless you want to be part of the fifty-plus percent who come back down disappointed. Also recommended: a knowledgeable guide, unless you are a very experienced ice climber. This is not a mountain to mess with. Every year someone falls into a crevasse and dies up there, oftentimes more than one person.
But of course you don't have to be a mountain climber or really any kind of outdoorsman at all to drive into the parking lot and get out and stroll the grounds around Paradise Inn. Easy, accessible paved trails criss-cross the area and offer fantastic views and photo ops for all. Take the kids and grandma too, they'll all have fun.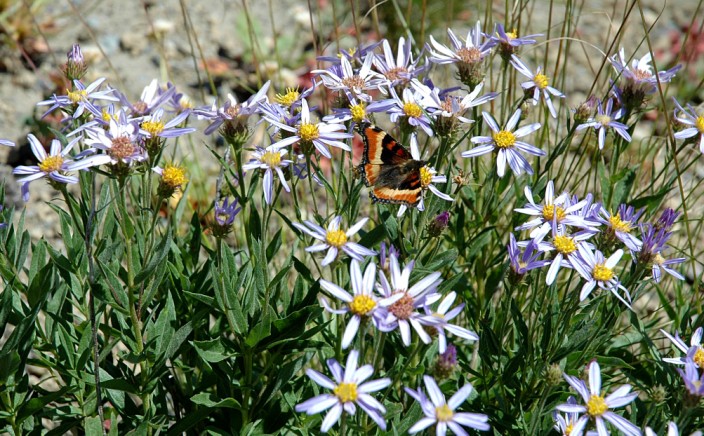 (Butterfly and wildflowers)
Snowfalls are legendary at Paradise, generally regarded as the snowiest place on earth where snowfalls are measured regularly. The record was set in 1971-1972 at 1,122 inches. That's 95 feet of snow! Needless to say, all that white stuff takes some time to melt and it's often mid to late July before the nearby trails are clear of snow and open for hiking.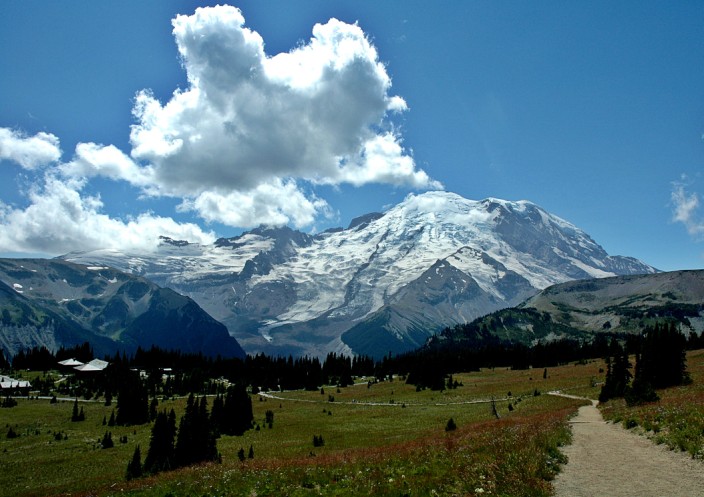 (Sunrise visitor center)
The other big visitor center is on the eastern side of the mountain at Sunrise. It's a thousand feet higher than Paradise, at 6,400 feet elevation, but receives significantly lower snowfall totals. Of course, everywhere can make that claim. However, don't think this means it's bare and dry by any means. Many times I have arrived in mid-summer, gone halfway up the Burroughs mountain trail and ended up clambering over snowfields.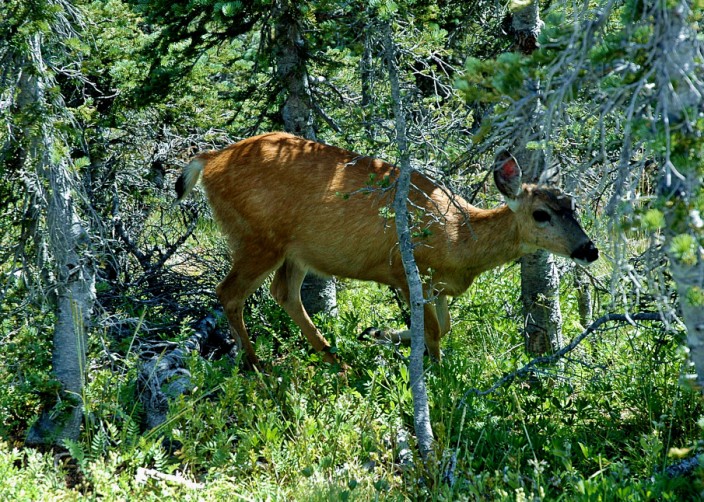 (A close encounter on the trail near Sunrise)
For me personally, Sunrise is my favorite spot in the park, for a number of reasons. One is simple logistics. From my driveway to the parking lot at Sunrise is about an hour and fifteen minutes, versus at least another hour to reach Paradise. Two, the crowds at Sunrise are smaller, though of course it can still be a zoo on summer weekends. Three, I just like the hiking trails and surrounding terrain of the Sunrise area better, perhaps because of familiarity as I've spent many, many years getting to know them. Sometimes I think my car could almost drive itself there.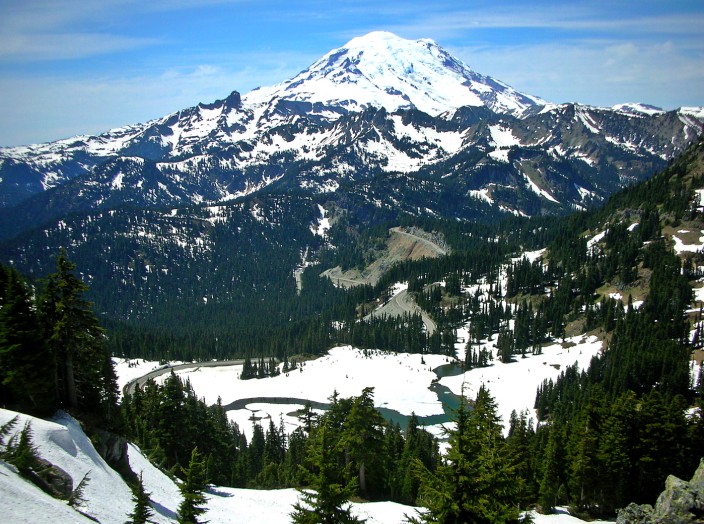 (Above Chinook Pass, Highway 410 winding below)
One of the coolest things you can do around Rainier, and something many non-natives have a difficult time grasping, is the idea of playing in the snow IN JULY! Yes, bring your inner tubes or plastic tobaggans or whatever sliding apparatus you prefer and chances are good you will find a spot to enjoy some winter fun while wearing shorts and a t-shirt.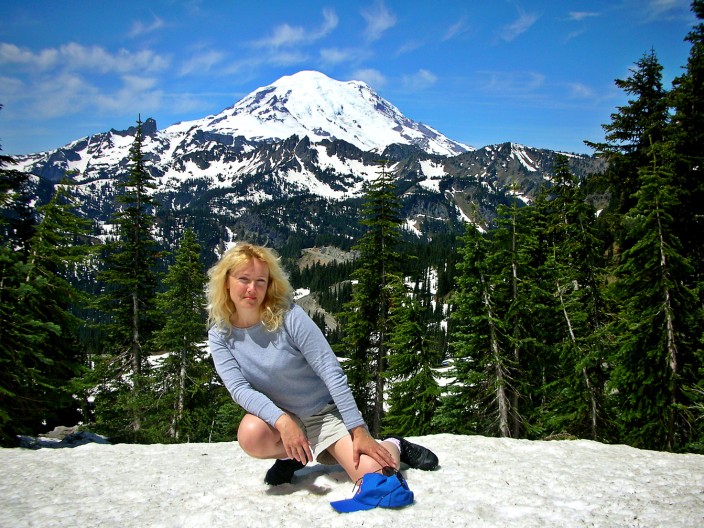 (Snow and shorts in July)
Our favorite place for doing this is around the Chinook Pass area, right on the eastern edge of the park boundaries. The drive up to Chinook Pass has to be one of the most beautiful scenic mountain drives in the U.S. as it climbs and loops back and forth on itself several times, affording massively forested views to the south of Stevens Canyon and Mt. Adams in the distance.
When you top out at 5,432 feet, find a place to ditch the car in one of several parking areas, tiptoe around Tipsoo Lake and take some photos, then go find your own patch of snow and have some fun. One word of caution, and yes, I'm going to sound like your mother now, but if you decide to go off trail and play on those snowfields, please be careful. My wife and I can tell you this from experience.
On one of our excursions to this area, we arrived in late June and found the trail we'd hoped to hike still covered in several feet of snow. We decided to barge ahead anyway and struck off across several snowfields, heading up off trail into the trees and not paying much heed to the fact it kept getting steeper and forgetting the always obvious maxim, what goes up must come down. Meaning, in this case, us.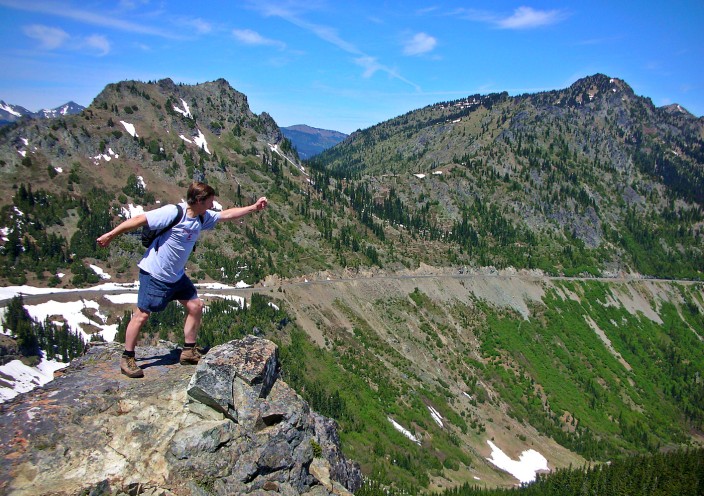 (Watch that next step)
We continued upward, having a blast in the sunshine and enjoying the views all around us. We spent some time on a lovely little peak with a nearly unobstructed view in every direction. Then it was time to go down, and right away I knew this was going to be a problem. The first snowfield we came to suddenly looked about three times steeper from the top than it had going up. We hesitated for a couple of minutes, looking for an alternative way down but not finding one.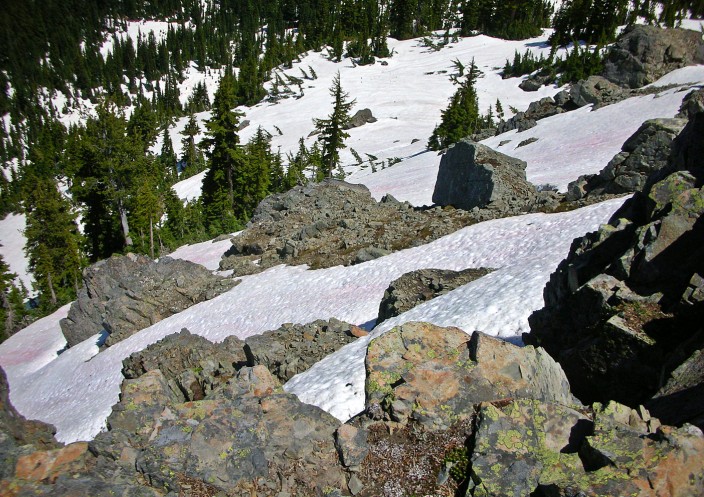 (A tricky descent)
So down the snowfield we went, only not in the fashion we wanted. Holding my hand and literally one step onto the snow, Irina slipped, her hand tore from my grasp, and in an instant she was flying down the hill on her backside. I had one horrible second of seeing her eyes wide with terror as she picked up speed and cried out to me. Clumps of trees and large boulders loomed in her path below.
I don't honestly remember what I thought, other than oh, crap, I've got to save my wife. So I did the only logical thing and jumped out onto the snow after her, thinking what? That I'm somehow going to catch up to her and stop us both? That's like someone falling out of an airplane without a parachute and jumping out without your own parachute to save them. Brave? Maybe, but kind of stupid too, and probably not going to work all that well.
About two seconds after I started sliding I rammed into some trees off to one side and caromed back and continued sliding. I could see Irina below me, still spinning down the hill, arms and legs flailing as she tried to stop herself. Luckily, the hillside flattened out before she hit anything at full speed. By the time I got to her, she was scraped and scared but relatively intact, or so we thought until we tried standing.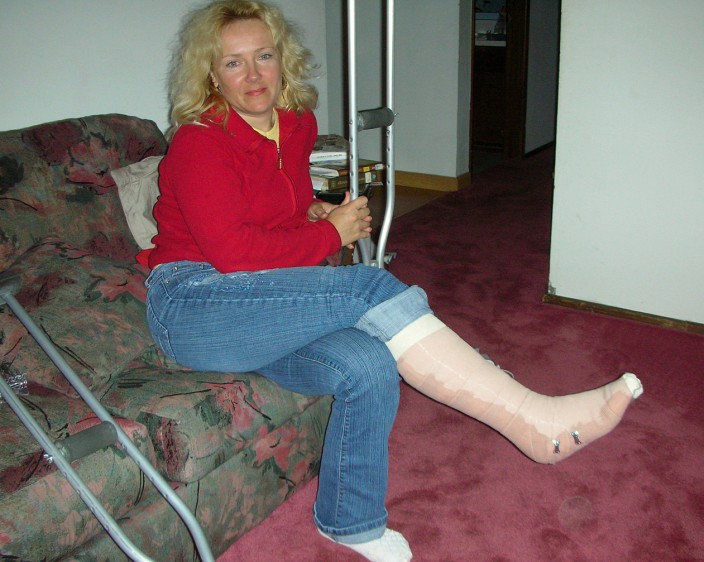 (Oops. Try not to do this, it's painful)
I had wrenched my knee pretty badly, but she was worse off. We didn't know it until later, but she'd broken a shin bone. Needless to say, that put an end to the fun for the day. I found a tree branch for her to use as a crutch while she hobbled downhill with one arm around my shoulder. We had a few scary moments in two other spots where we hadn't hesitated on the way up and which now loomed cavernously below us. After a very slow and nerve-wracking trek downhill, one tiny step at a time, we finally reached our car.
Looking back now, it could have been a lot worse. A broken bone is nothing to trivialize, but a lot better than a broken neck. The moral? I don't know if there is one, other than watch that first step, it could be a doozie, and if you're going to play in the snow, listen to your mother: have fun, but be careful, kids.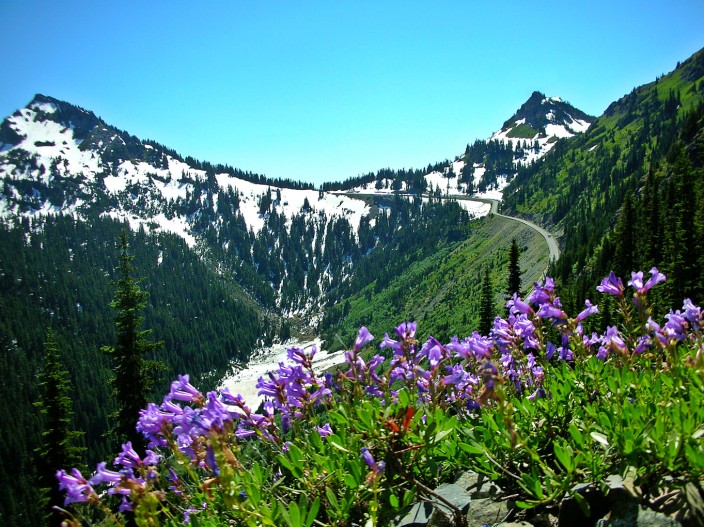 (East side of Chinook Pass)
The trail we'd actually wanted to hike that day, the Naches Peak trail, is a great, not too strenuous and lovely stroll. Yes it's sometimes crowded, but for maximum scenic value with minimum climbing effort, it can't be beat. The elevation gain isn't all that much, and the wildflowers are abundant and varied from about mid-July through August, although this can change depending on weather, heavy or light snowpack, and other factors. Don't forget your camera.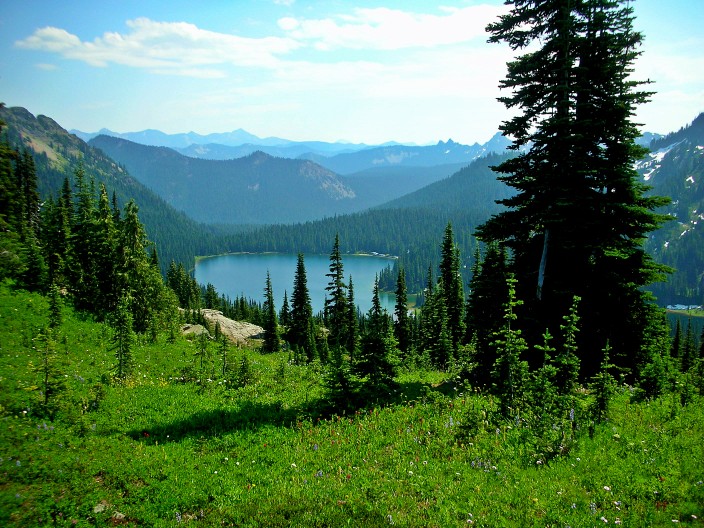 (Dewey Lake)
Halfway around the trail you'll get a tremendous view of Lake Dewey about a mile and a half and a thousand foot drop in the distance. A side trail down to the lake is worth it but will double your hiking time and coming back up is a real workout. But even from the trail above it's a real photogenic gem.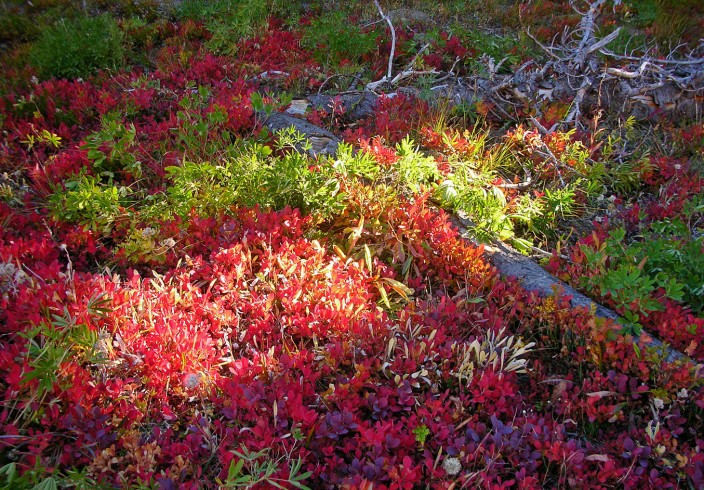 (Ground cover in autumn, Summerland)
If you're a serious backpacker, you might want to consider the Wonderland Trail. This 90 mile trail loops entirely around the mountain within the park boundaries, and presents a serious challenge to even the hardiest of souls. Most people take ten days to complete the loop, though naturally this will depend on the individual, how heavy a pack you want to schlep around, and how footsore you really want to be. I've hiked sections, but never done the entire loop. I love hiking but to do the whole Wonderland Trail in one swoop sounds more like punishment than fun to me.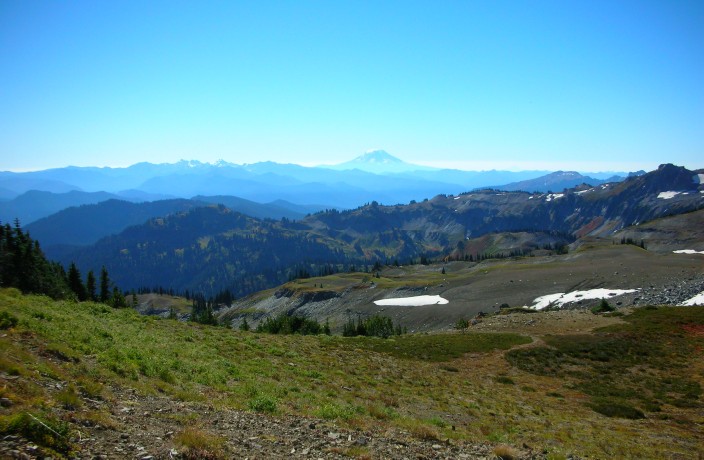 (Looking south from Panhandle Gap to Mt. Adams)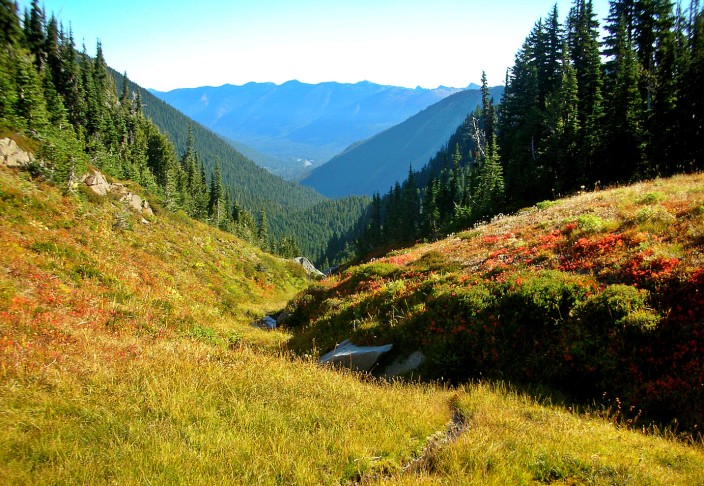 (Autumn at Summerland)
If you want to experience Rainier but abhor the crowds of the visitor centers, try the Carbon River entrance to the park, located on the northwest corner of the park. Drive Highway 410 to the small town of Buckley, then continue on to the even smaller burgs of Carbonado and Wilkeson. You can keep going straight a few more miles on the nice paved road to the Carbon River entrance, or turn right off the main road when you come to the Mowich Lake road. This is a 17 mile, mostly gravel and sometimes rough drive up to the Mowich Lake area. Park your vehicle and take your pick of hiking trails, all of them offering fabulous views and not a lot of competition for trail space. A personal favorite of mine is the trail to Eunice Lake and the Tolmie Peak lookout, a now abandoned former ranger station and lookout tower.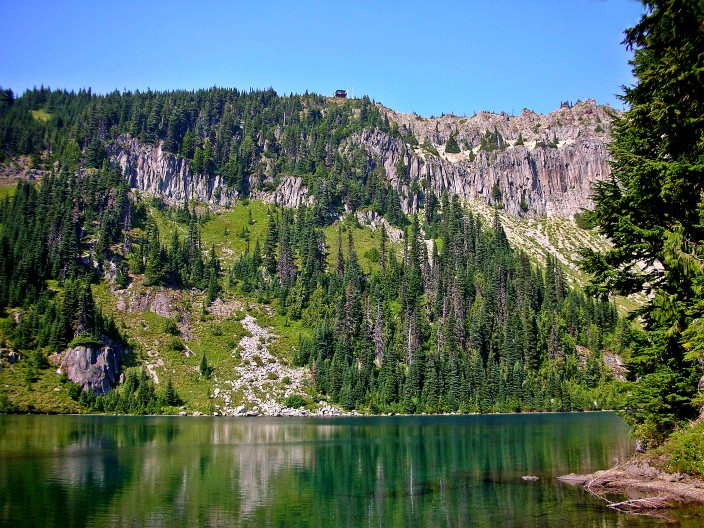 (Eunice Lake and Tolmie Peak lookout station on the ridgetop)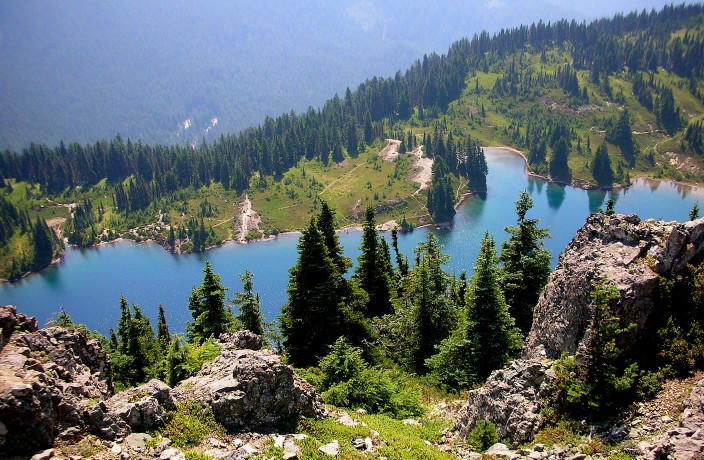 (Eunice Lake from above)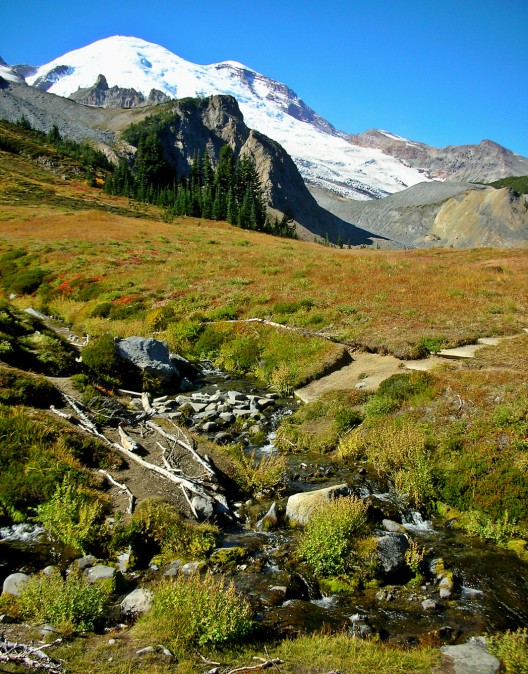 (A parting shot)
Well, there's a few thoughts for you on the place locals refer to simply as "the mountain", and once you've experienced Rainier for yourself, you'll know why. It truly is a mountain like no other, and if you're ever in the state of Washington, don't miss it.
Coming Soon: SEATTLE