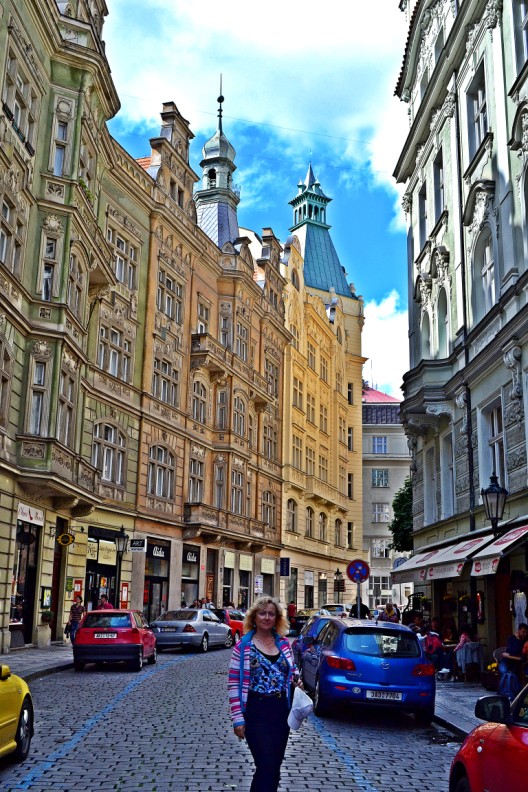 (In Old Town)
Walk around Prague long enough – okay, not even that long – and you will come across many…well, let's say interesting sights. And sounds. And smells. The whole gamut of the senses, in fact. It is a great city for walking, strolling, ambling aimlessly, and I guarantee that if you wander down enough of this beautiful city's streets and avenues and quaint alleyways, what you discover on foot will be not only the usual guidebook stuff but plenty of the strange, the offbeat, the head-scratchingly bizarre and sometimes just plain weird, so much so that you might start to question the mental state of the Czech people in general. At the very least you will come to the conclusion, as we did, that the Czechs have a penchant for the different and a sensibility that is decidedly not mainstream American.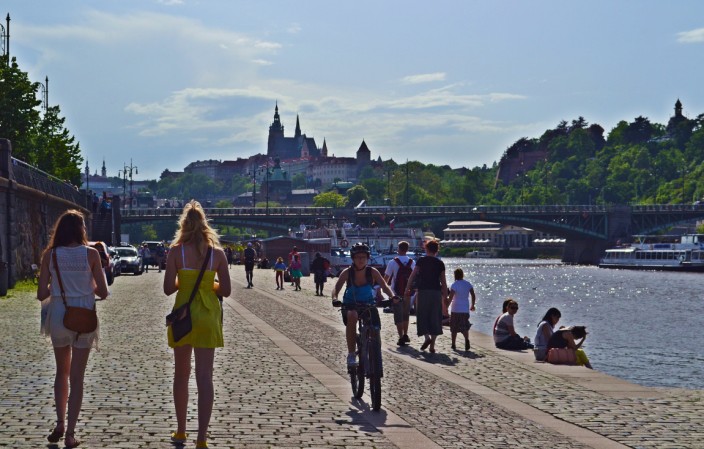 (Strolling the banks of the Vltava River, Prague Castle in background)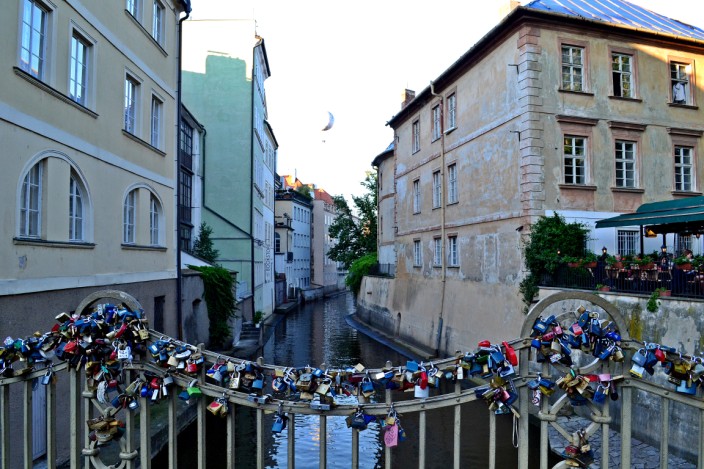 (Lover's locks on canal bridge)


This is almost always a good thing. This is what we travel for, to be knocked out of our daily routines and confronted by something out of the ordinary. And believe me, when you stand next to a couple of articulated, anatomically correct male sculptures peeing into a shallow pool at the Kafka Museum, you will know you're not in Kansas anymore, Toto.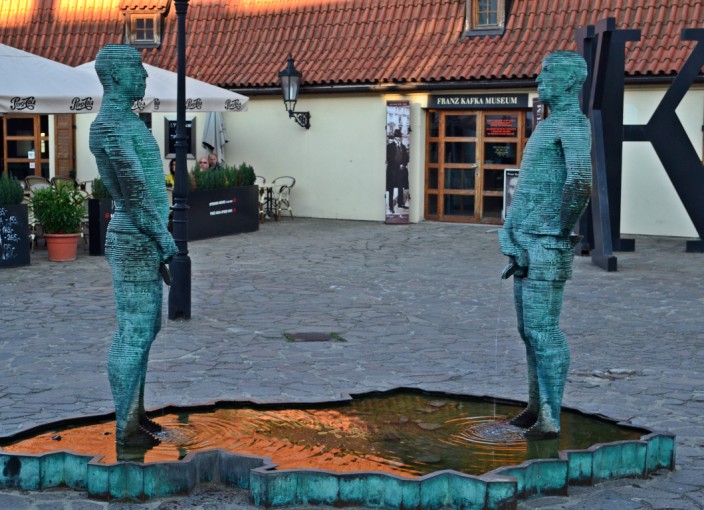 (You would have to expect something like this in the courtyard of the Kafka Museum, right?)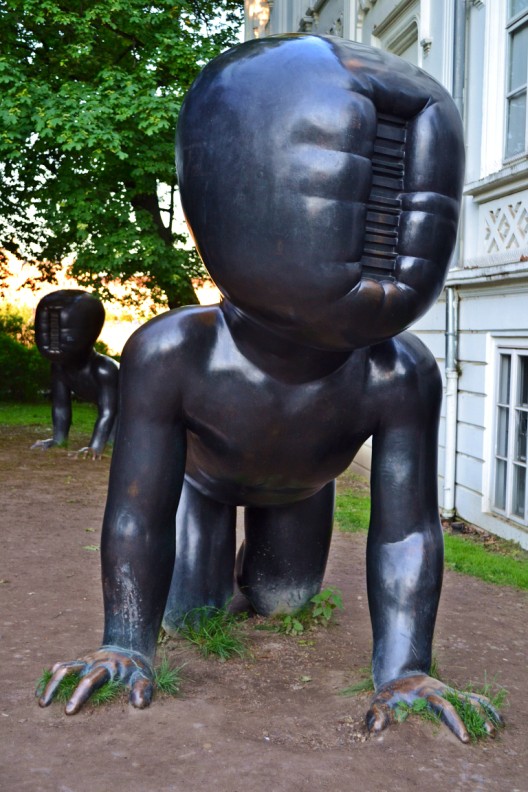 (Faceless, crawling, naked, creepy…um, whatever it is. You tell me)
Of course I don't want to give the impression that everything in Prague is strange. You have all the normal touristy stuff to do, the museums, the cathedrals and castles, etc. and I love all those things. But many of my favorite travel moments in Prague (or anywhere, for that matter) came from the unexpected discoveries: the little tucked-away shop on some sidestreet that features fabulous handmade crafts of twice the quality and at half the price of what you find in the main-drag tourist shops; a mom and pop cafй not listed in any guidebook and filled with tasty local cuisine; a small, neighborhood park with benches beneath leafy, green shade trees where you can sit and relax your aching feet for as long as you want. These are the moments to savor and to remember just as much, and maybe more, than all the hustle and bustle and waiting in ticket queues to see the BIG attractions which are invariably so crowded that sometimes (just sometimes) it almost doesn't seem worth all the trouble.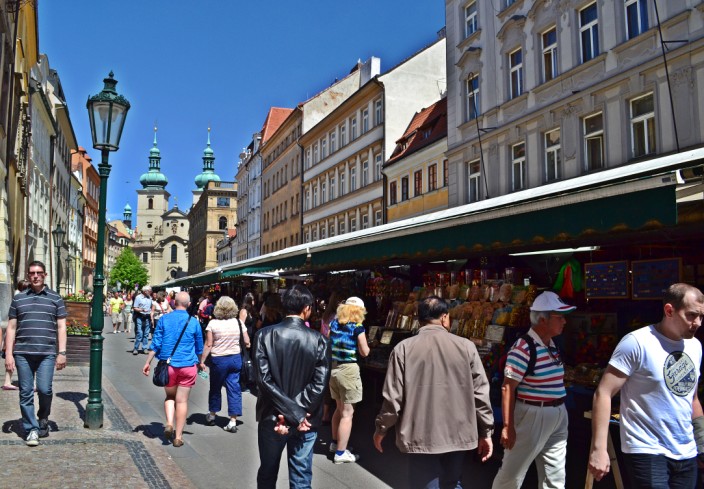 (Street market in Old Town)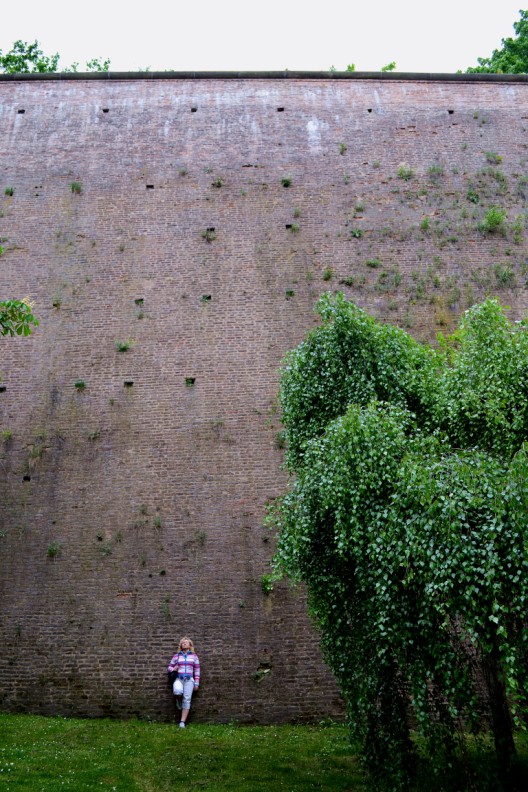 (A really big wall in the Castle Quarter)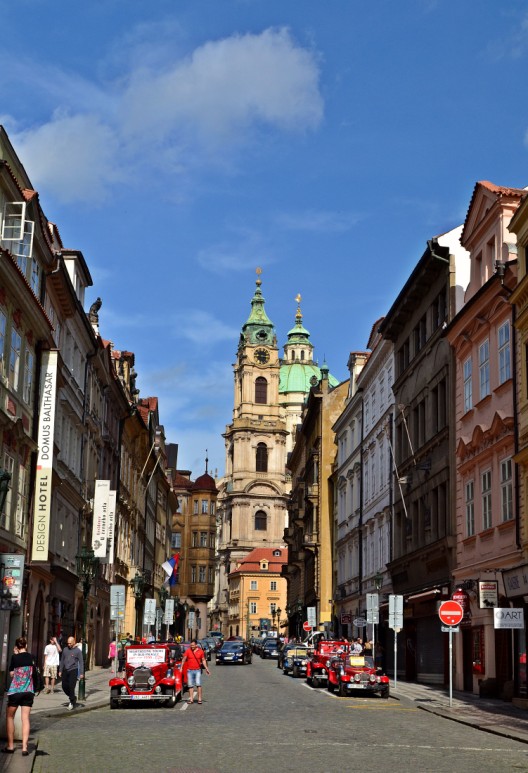 (Old-timey cars for hire in the Little Quarter)
One of the other things I like to do here on the site, besides telling you what is great and not to be missed, is to occasionally point out some things to avoid. In Prague, as in all your major European cities, there are many options available for getting your cash exchanged into the local currency. Although the Czech Republic is now part of the European Union, they do not use the Euro, but rather have retained their own currency, the Czech crown. When we visited, the exchange rate was roughly just under twenty Czech crowns for one American dollar, so if something cost 200 crowns, that meant about 10 bucks plus change American. Pretty easy math.
One of the most convenient ways to get your cash is to use one of the many currency exchange shops found just about everywhere. But, as we found out to our chagrin, they are not all created equal, nor do they all play by the same rules. Case in point, on a Sunday morning we left our hotel for the day and realized we were short of cash. No problem, we figured. Just stop at the first currency exchange window we come to and be on our way. But the first place was closed. And the second. And the third. Finally we found one open, glanced at the exchange board listing their rates for various currencies and handed over our money.
To our shock, we were only given a little over 1,300 crowns for our $100 rather than the advertised rate of about 1,930 crowns. When I pointed out the discrepancy to the vendor, he pointed to a second rate board beneath the first one. The lower board was for "small transactions" and showed dramatically lower rates for all exchanges. In reading the fine print, it stated anything under a thousand dollars to be classified as a "small transaction." I asked for my money back and was refused. Once we'd handed the dollars over the counter it was a finished deal, no refunds.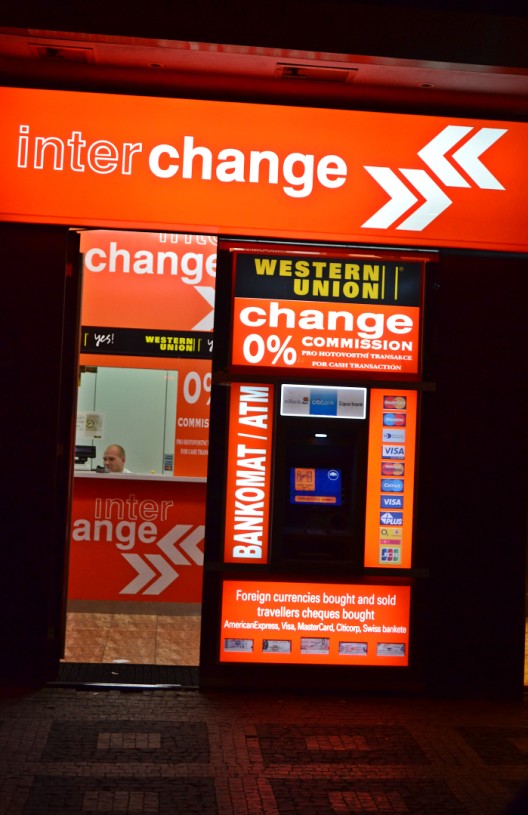 (Be careful with your money and avoid these guys)
Although they were legally in the clear to do this, I still felt scammed. I also felt foolish for not checking the details more thoroughly before making the transaction. We were out thirty bucks and no recourse, so buyer beware: when in Prague and exchanging money on the street – even at a so-called legitimate currency exchange – always make sure what your getting before forking over your cash. The good places will tell or show you exactly what you will get prior to any money changing hands.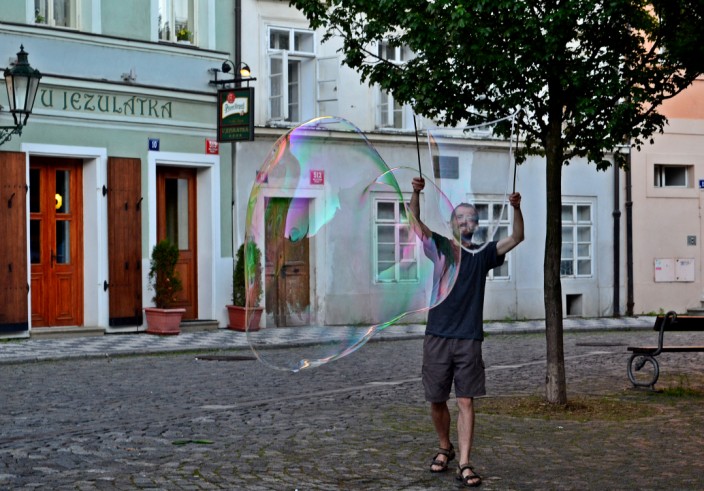 (Big bubble street performer)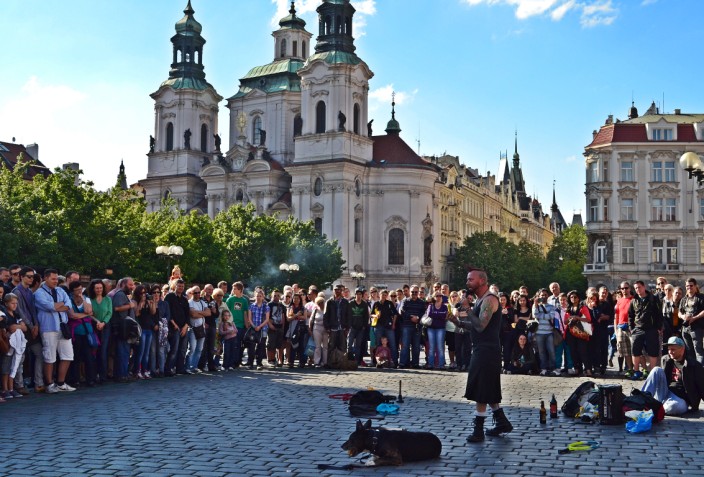 (Free entertainment can always be found in the squares)
As we usually do when exploring a new city, we did most of it on foot which is always our preferred method. We also took a bus tour and a river cruise, both fun and informative, but shoe leather still propelled us through the majority of the city, and I have to say every footsore step of our trekking was worth it.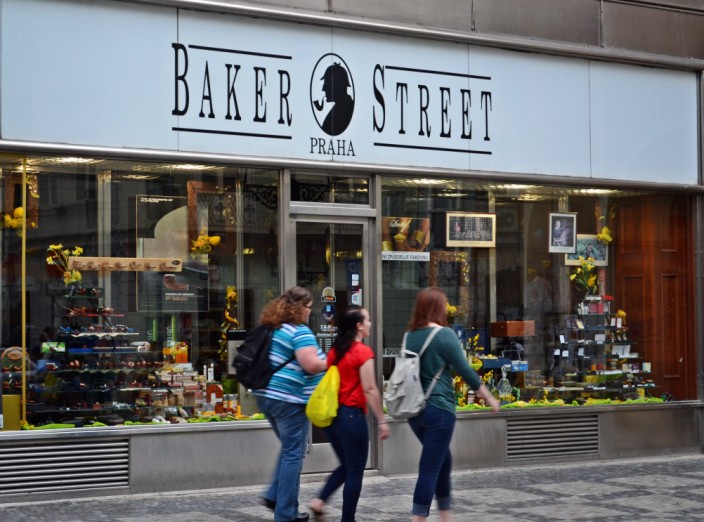 (I don't remember Sherlock Holmes solving any cases in Prague, but there he is)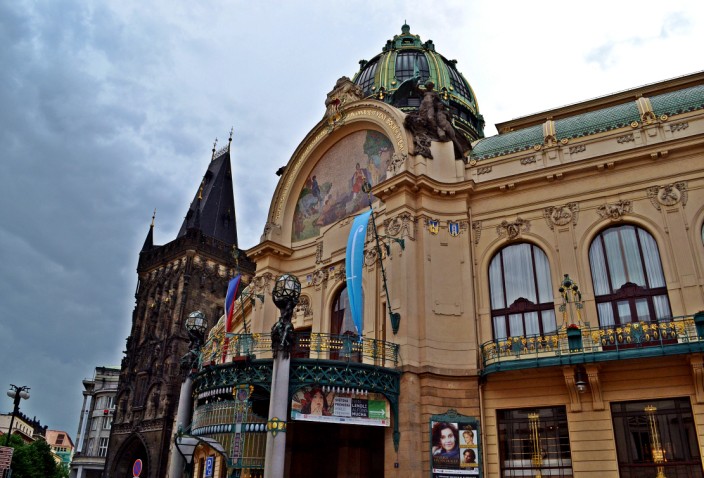 (The Philharmonic Hall and Powder Gate beside it)
The four quarters of the city each have their individual charms: Wenceslaus Square in the New Town; the cathedrals and tourist crush of Old Town; the narrow lanes and hidden gems of the Little Quarter; and the Castle Quarter. I especially enjoyed hiking the hill above and beyond Prague Castle and the nearby monastery, with fabulous views of the entire city to the south and east.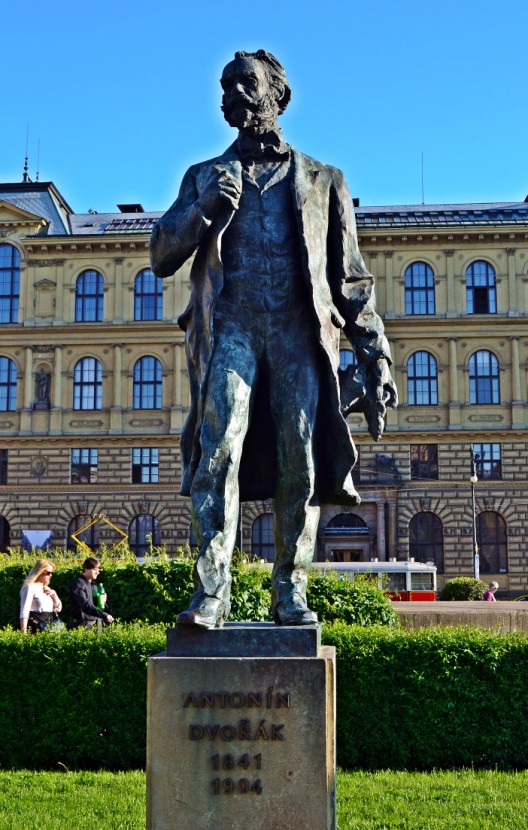 (Statue of Antonin Dvorak, greatest Czech composer)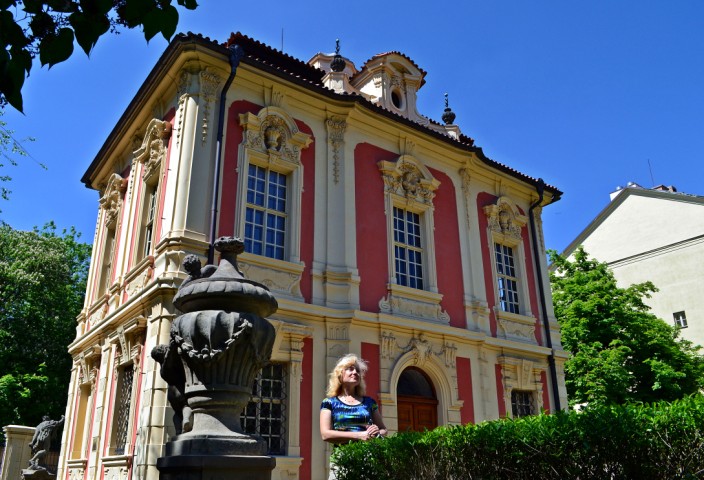 (The Dvorak Museum in Prague. Small and out of the way, but worth visiting for classical music and/or Dvorak lovers)
We even managed to get lost, sort of, trying to find our way back to and across the river, but this was also fun in a slightly frustrating way. Eventually it all got sorted out – after literally going in a circle and coming back to a corner we'd been on ten minutes earlier – and asking directions from some locals. There's an old Ukrainian saying my wife is fond of: "Your tongue will lead you to Kiev." Meaning, of course, you don't always need to rely on maps to get where you're going. Just ask someone. And besides, some of the most interesting discoveries come by accident. Always remember, Columbus thought he was going to India.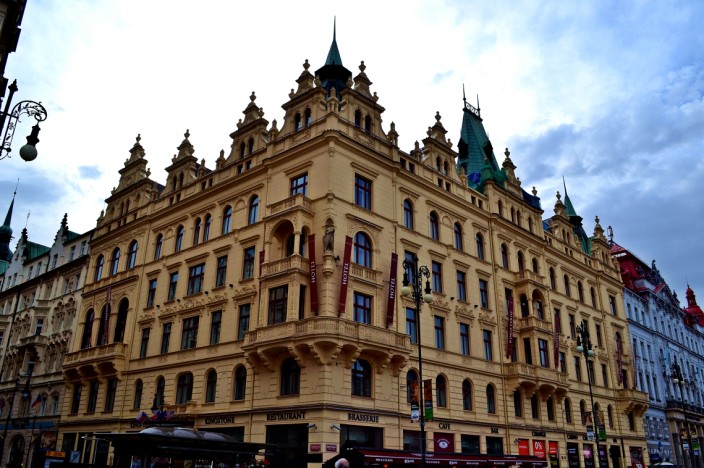 (Anywhere you walk in Prague, the architecture is fantastic to view)
Coming Soon: Prague, Part 5: St. Vitus Cathedral