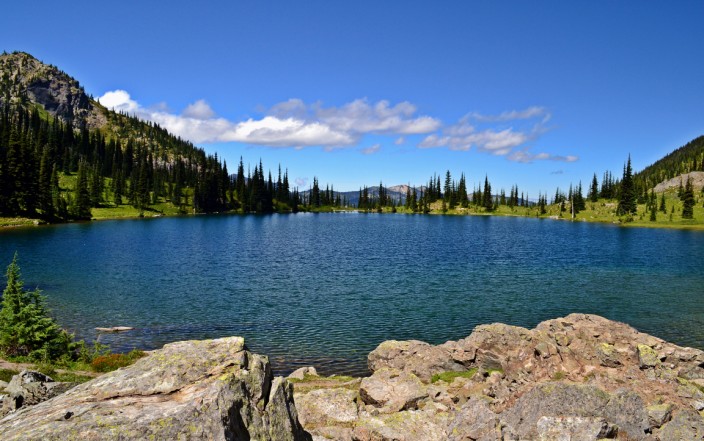 (Upper Crystal Lake)
It's not the toughest hike out there. It can be crowded on summer weekends – or even weekdays. But just because a hike is accessible and popular doesn't mean it should be excluded from your list of hikes not to be missed. And if you're a Washington Cascades hiker, the Crystal Lake trail should definitely be on your list.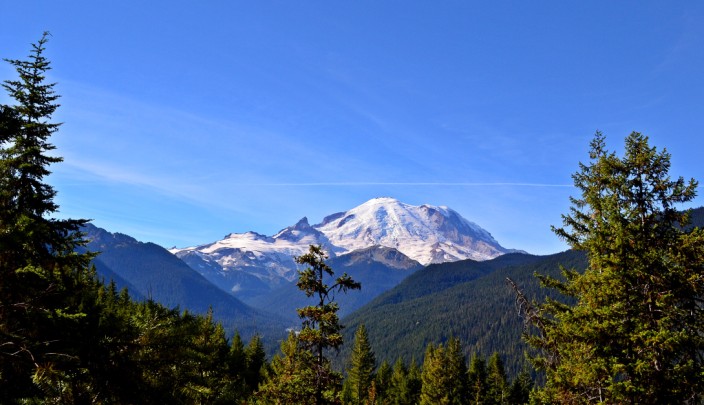 (Mt. Rainier seen from half a mile up the Crystal Lakes Trail)
Getting there is easy enough. Find your way to Enumclaw and then head east on Highway 410 toward Mt. Rainier National Park. About three miles inside the park boundary, look for the trail marker on the left (east) side of the highway and a wide spot on the shoulder which can accommodate about a half dozen parked cars. Across the highway is another broad shoulder with space for twelve to fifteen more cars. Park your car and hit the trail.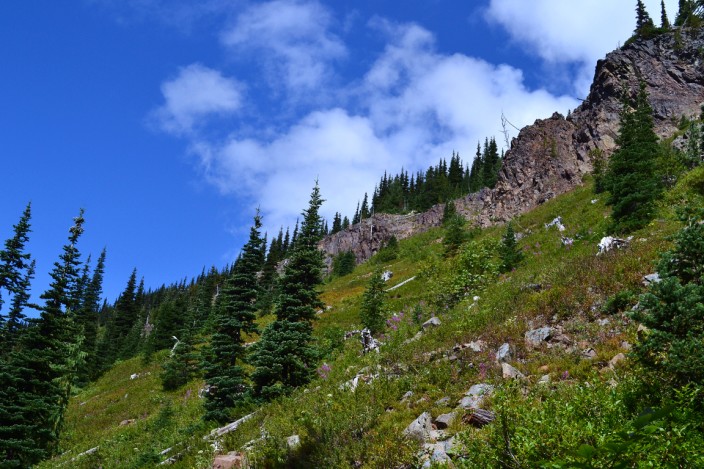 (Going up)
You start by crossing a small stream, then read the trail info board which will tell you that it's two and a half miles to Lower Crystal Lake and three miles to Upper Crystal Lake. You'll want to go all the way to the upper lake. Lower Crystal is okay, but the high lake is the real jewel. Round trip to Upper Crystal and back is six miles with an elevation gain of about 2,500 feet. This puts it squarely in the middle range on my own personal scale of hiking difficulty. I always figure on 1,000 feet gain or more per mile as high, 500 to 1,000 per mile medium, under 500 feet gain per mile easy.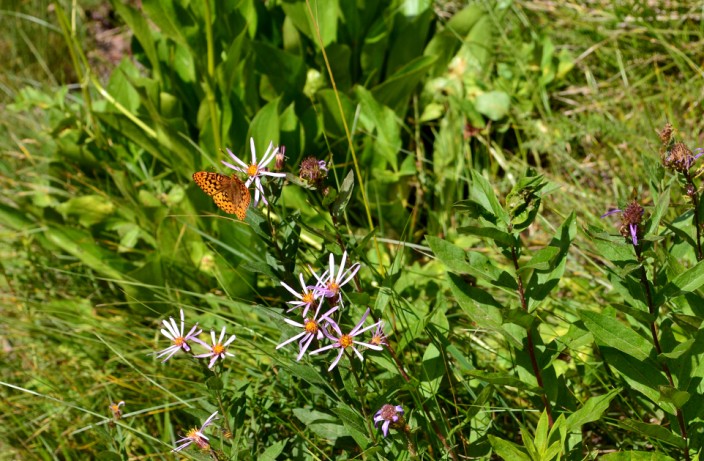 (Stop and smell the butterflies)
You might look at those numbers and say "Wait a minute, six miles and only 2,500 feet, that averages less than 500 feet per mile elevation gain." True, but I calculate this hike on only the first three miles going up, as it's one of those rare hikes where it is literally ALL uphill going up and all downhill coming down. More often than not when hiking, you'll gain some elevation, then descend for a bit, gain again, down again, and so on.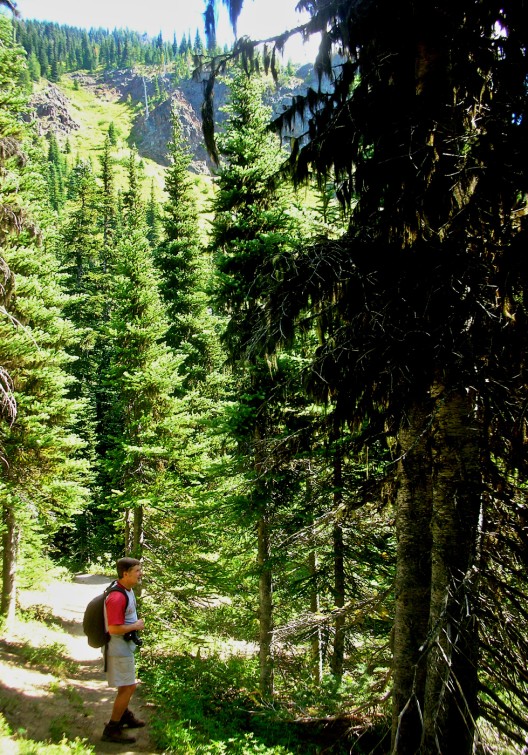 (At the Lower Crystal Lake trail junction)
Not so on the Crystal Lake trail. It begins with a climb and just about never levels out or descends at all for the entire distance to Upper Crystal Lake. This can make it seem more difficult and strenuous than it really is. And if, like me, your aging knees sometimes dread the relentless downhill pounding more than the uphill slog, then coming down isn't exactly a piece of cake either.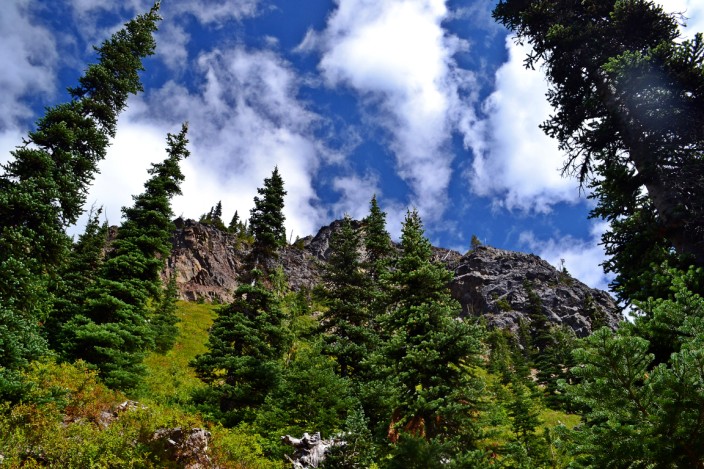 (Nearing the top of the trail, not far from Upper Crystal Lake)
But fear not, anyone in reasonably decent shape can make it all the way up and back. Trust me on this, if only judging by some of the folks we saw on our most recent trip up. There were one or two I thought I might find face down on the trail on my way out, and yet they all made it. I think. At least I didn't see any aid cars in the parking area when we got down. Of course this far out of town it would more likely involve rescue helicopters dropping over the peaks, but we didn't see any of those either.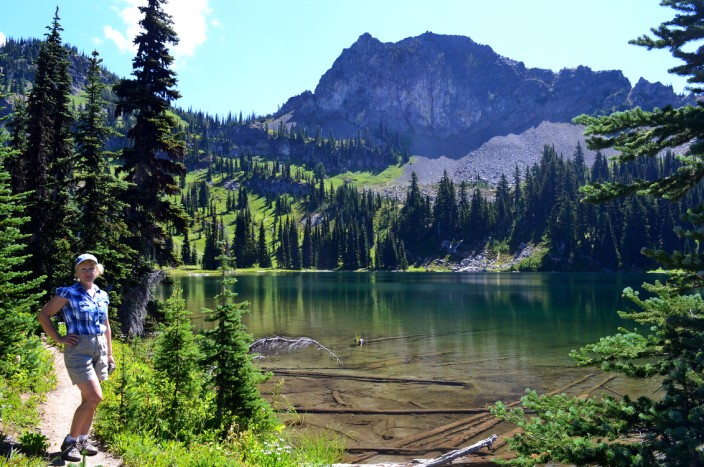 (Made it! Our first look at Upper Crystal Lake)
At any rate, you get a very lovely view of Mt. Rainier to the west at about the half mile point going up. Stop and take your photos here, because unfortunately, this is the only view of the majestic mountain you will get on this trail. But that's okay. If it's Rainier views you're after, there are many other trails to pick from in the area. Just not this one. However, if it's a sparkling clear alpine lake you're looking for, Upper Crystal will satisfy you in spades.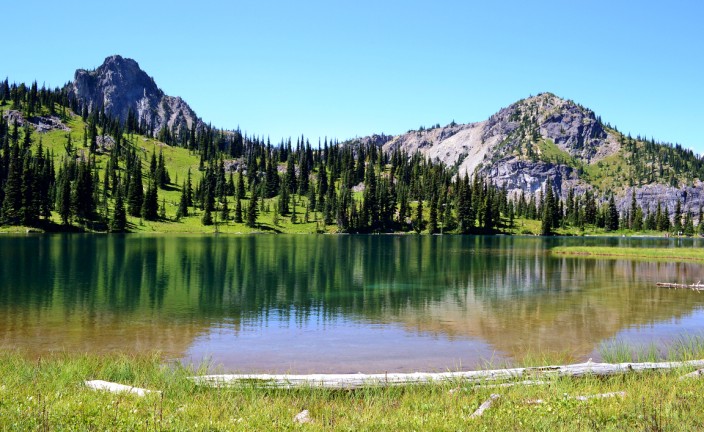 (Circling the lake)
The next two miles will begin to seem a little redundant. Relentlessly uphill, multiple switchbacks, towering pines, not much sun making it through the canopy. It's a lovely enough tromp through typical high Cascade forest, but as I said, not a lot of variety. Stay with it and you will be rewarded.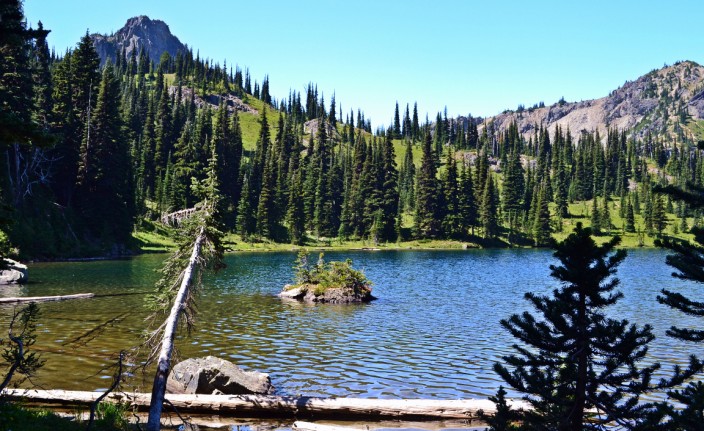 (A picturesque view from every angle)
Approaching Lower Crystal Lake, the trail steepens a bit and then you will see a trail marker. Upper Crystal Lake is to the left. Bear right and there's a short trail down to Lower Crystal Lake. Follow it and gaze for a minute at the lake. Swat some mosquitoes feasting on your neck. Then, if you're like me, you will quickly head back to the main trail and head for the upper lake half a mile distant, because honestly, for my taste, the lower lake is nothing more than an overgrown bug breeding pond. Just my opinion.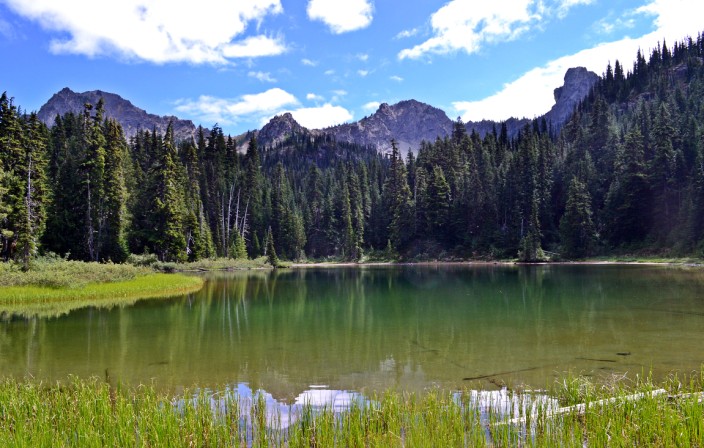 (Lower Crystal Lake – meh)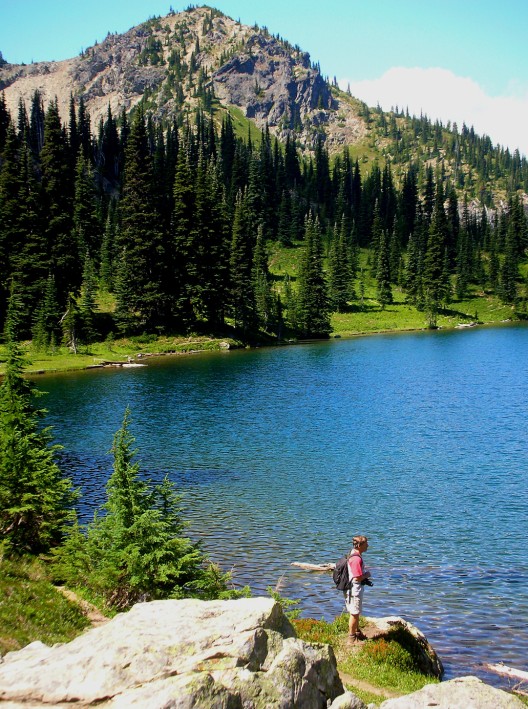 (Halfway around Upper Crystal Lake)
For me, this last half mile going up was the best part of the hike. Sure, your thighs are burning and your lungs heaving, but you've finally broken out of the trees and into some spectacular high country meadows with expansive views of the surrounding peaks and valleys. Stop and take some photos, catch your breath, and continue up. Just about the time you think it can't get any steeper and you're wondering if this was really worth all the sweat, there it is. Upper Crystal, your classic high country lake: surrounded on three sides by rugged cliffs and mountainsides, water so clear you'd swear you could see a hundred feet through it, and if you're lucky enough to come on a sunny day, well, you'll figure you just died and went to alpine heaven.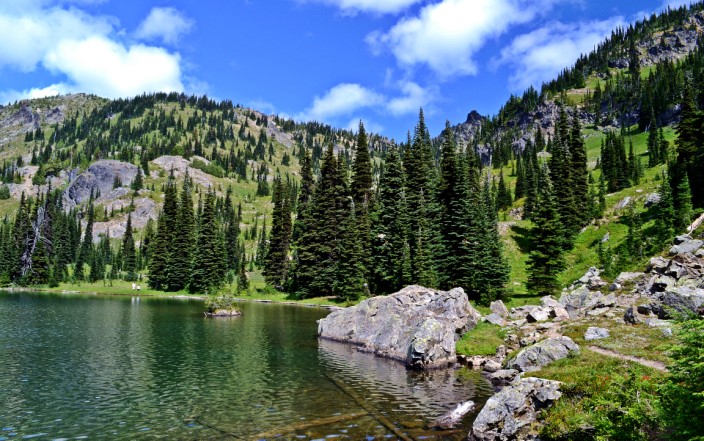 (I love this lake)
There is a trail which rings the entire lake and you'll definitely want to walk all the way around catching all the different angles and views. We circled it clockwise and found a spur trail on the far side of the lake that leads to the Pacific Crest Trail for those moving on to longer, more challenging hikes. But for us, we had reached our destination.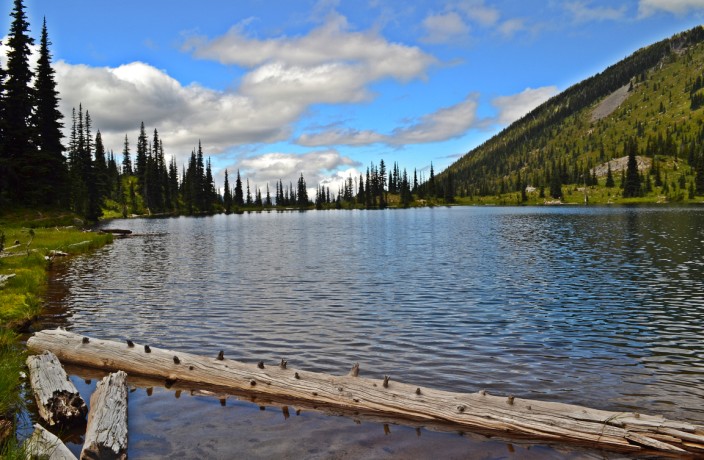 (Anyone for some logrolling?)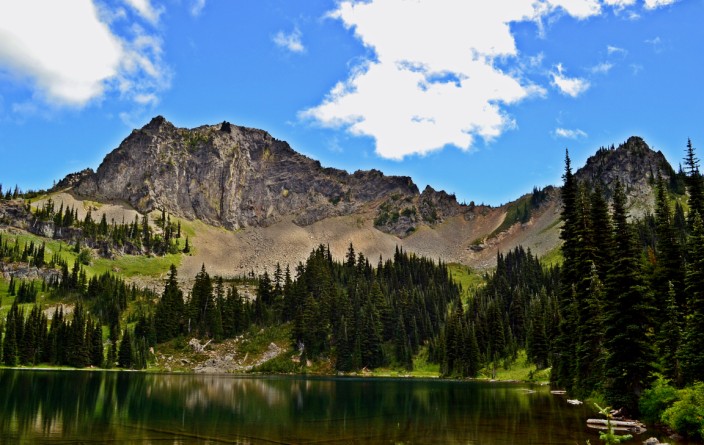 (Upper Crystal Lake, yet another view)
As you amble around Upper Crystal Lake, big rocks and downed logs along the shore beckon to be used as picnic spots. Take off your boots and socks, wade out into the icy but not too freezing cold shallows and soak your sore doggies. Pick a boulder and make like a lizard basking in the sunshine. Do yourself a favor and don't look at your watch/phone/whatever and spend as much time as you possibly can breathing that sweet mountain air and know you've just found a little slice of paradise.
After all, isn't that why we do this?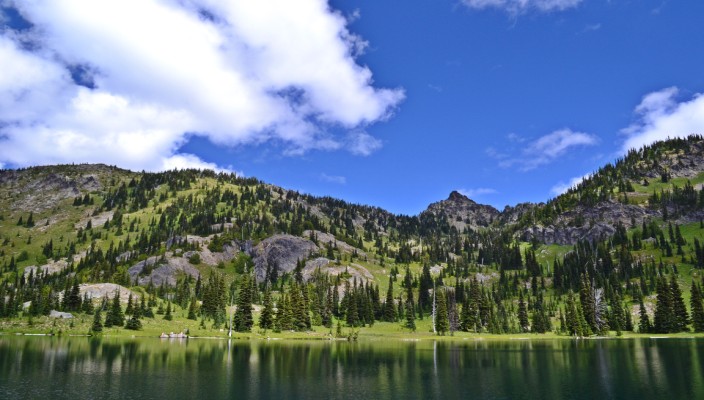 (A last look at our alpine paradise)