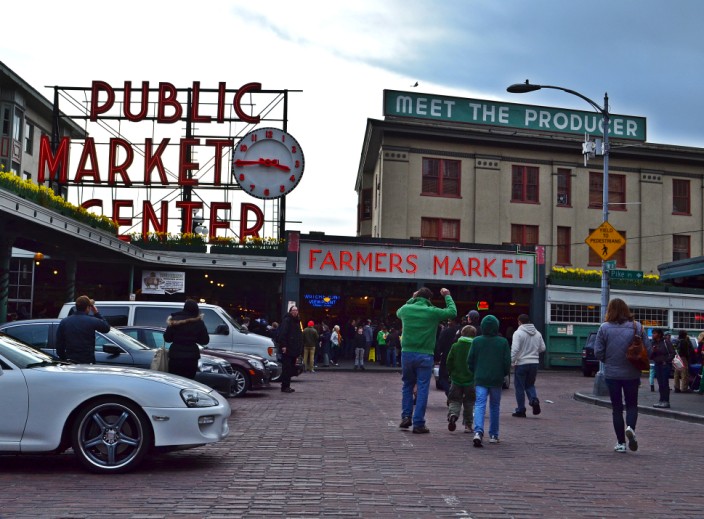 (Pike Place Market)
Seattle's Pike Place Market is one of those iconic spots that, much like the Space Needle,  every first-time visitor to town wants to see and experience for themselves. Sure, it's overrun with hordes of gawking tourists – especially on weekends – and has become far more tourist trap than the erstwhile farmer's market it originally began life as a long, long time ago. But with the right attitude it can still be a lot of fun, a place pulsing with energy and color and noise, a labyrinth of shops and stalls and vendors, street performers of every stripe, one-of-a-kind exhibits, the smells of fresh flowers and fish and foodstuffs both local and from all corners of the globe mingling amidst a gigantic percolating stew of humanity that threatens to boil over at any moment.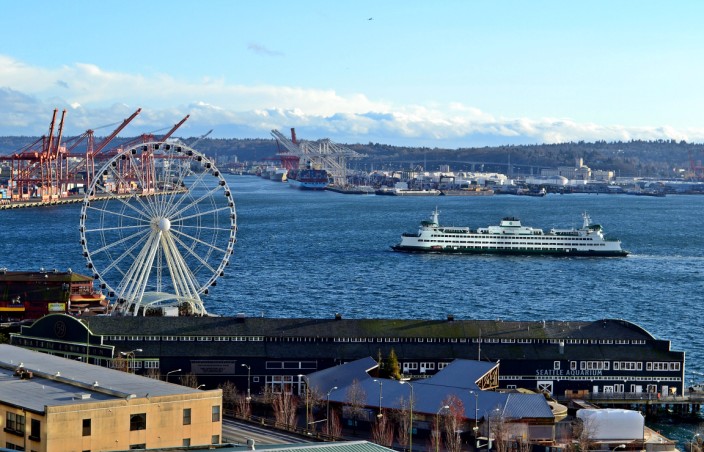 (View of Seattle waterfront from the Market: Aquarium building in foreground, Seattle Great Wheel, and Washington State ferry)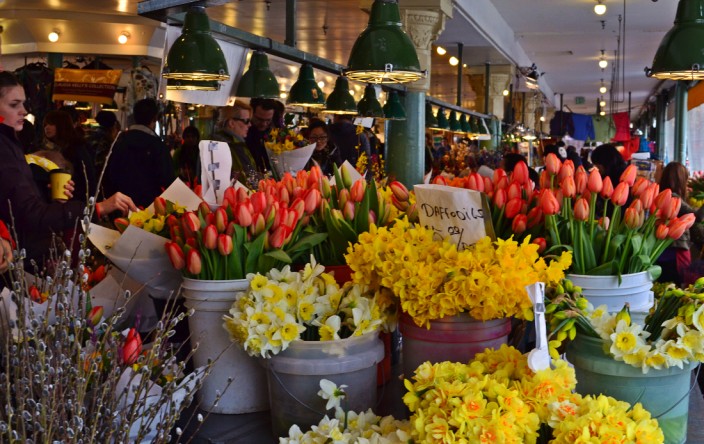 (Fresh flowers in the Market)
There's never really a bad time to visit the Pike Place Market, and to prove it we recently decided to pay a visit on a March weekend which just happened to coincide with a certain wee little holiday the Irish like to celebrate on the 17th. Yes, it was St. Paddy's Day in Seattle, and the very same downtown district where the Market is located is also home to a number of Irish/Celtic themed pubs.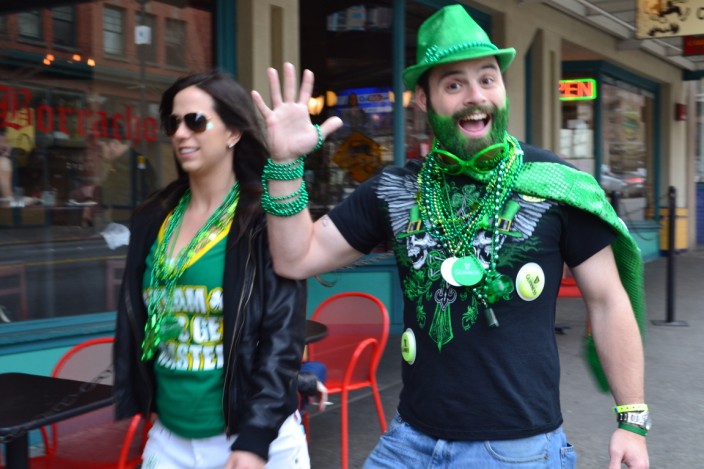 (Leprechauns on the street)
So you had the Market hordes versus the pub crawlers, but not in any true adversarial sense. However, it did make for some even more colorful than normal scenes. Throw in the usual homeless/street beggar/wino folks who also populate the area and you truly could stand just about anywhere and see the full panoply of the human condition parading past.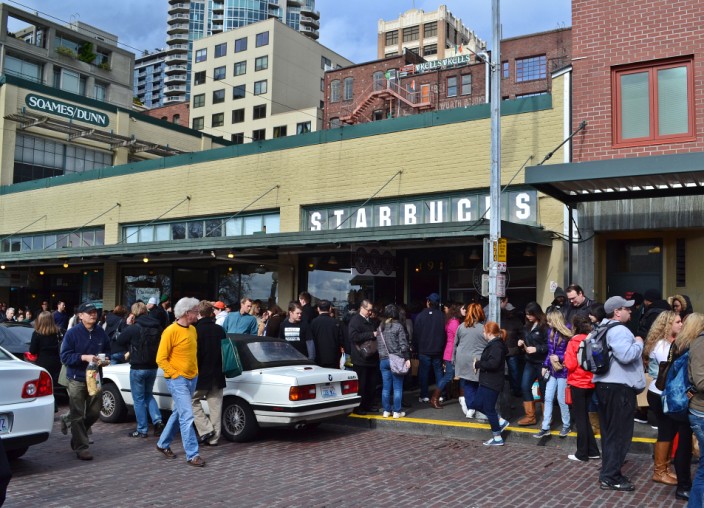 (Want some coffee? Get in line)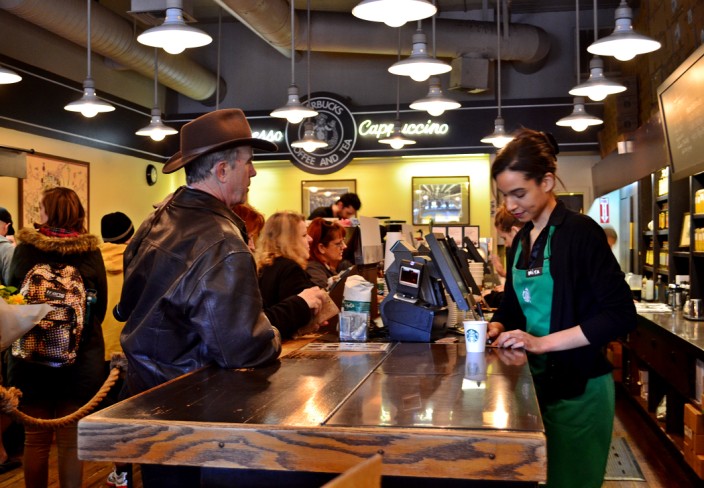 (Inside the original Starbuck's)
One of the most popular things to do around the Market is standing in a really long, slow line in order to slog through the very first, original, numero uno Starbuck's location. Yep, that's right, Big Daddy Starbuck's began life right here in the Market away back in 1971, long before any of the baristas tending those humungous lines were born. And like Moslems to Mecca, the caffeine worshipers and java junkies flock in droves to see the modest little storefront where Howard Shultz's Mama dollar and Papa dollar got started and multiplied themselves into billions.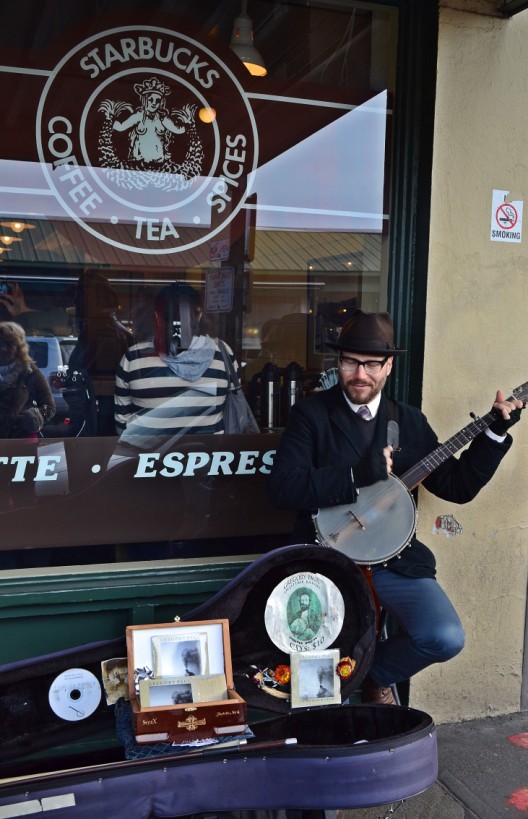 (Playing for beans…coffee beans, that is)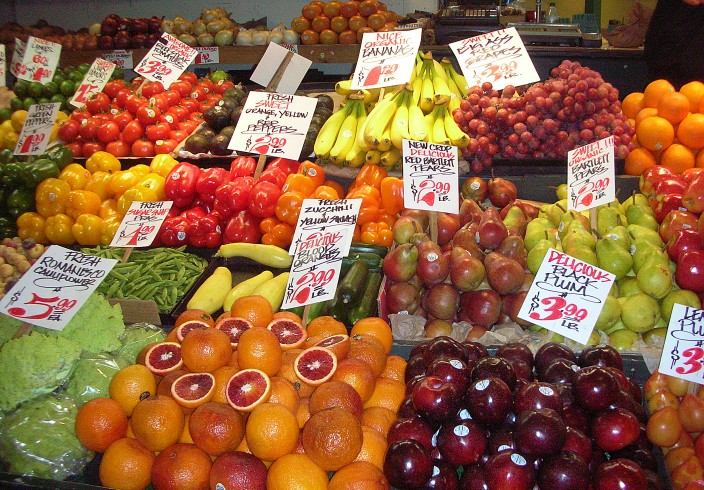 (Hungry? Well, there's fruit…)
(Or some tasty veggies…)
The heart of Pike Place is, of course, the farmer's market section. Here you will find every kind of produce you could possibly want to stock your kitchen with. Just don't expect the prices to compete with the produce section of your local supermarket. Things can be a little pricey down here, but the sellers will tell you that's balanced by the fact it's all brought in fresh every day. Ditto for the many fresh fish and seafood shops. You pays your money and you takes your choice.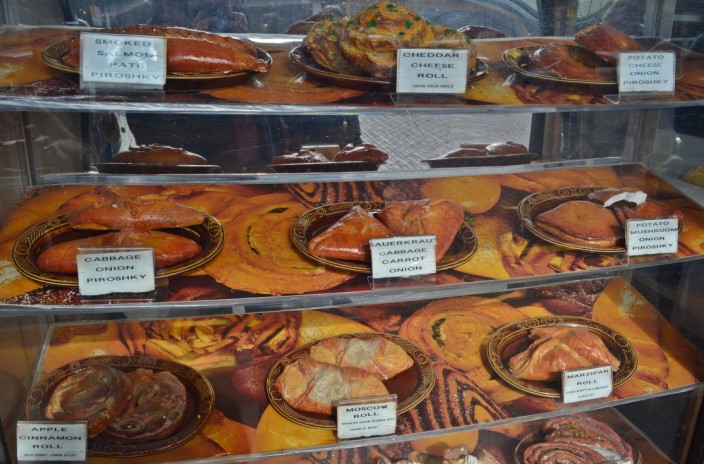 (Maybe some yummy piroshki?)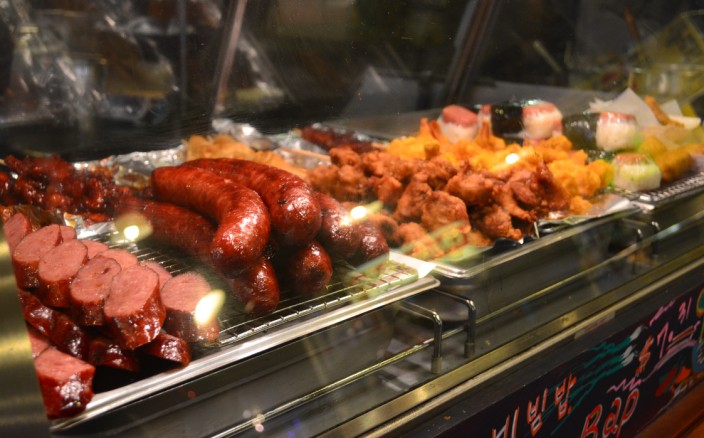 (Korean BBQ, anyone?)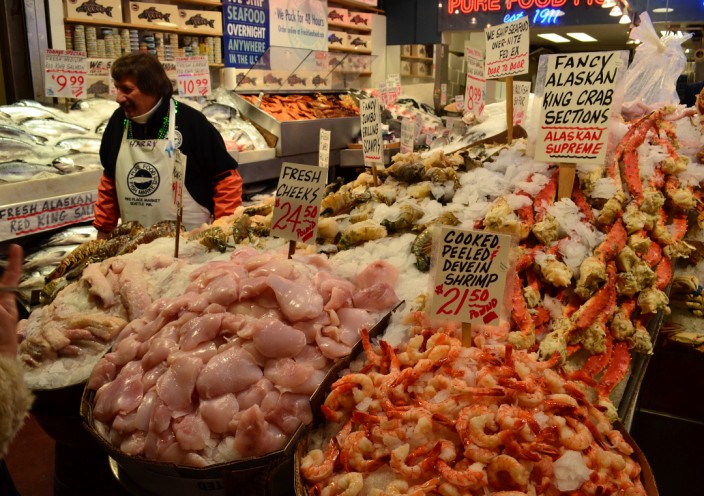 (Catch of the day – but you might want to cook it first)
And if all that isn't enough, you can have the famous flying fishmongers heave a king salmon over your head. Don't worry, I've never seen them hit anyone yet, and if the fish should accidentally brush your head, they'll wipe the scales out of your hair afterwards with one of their slimy fish towels.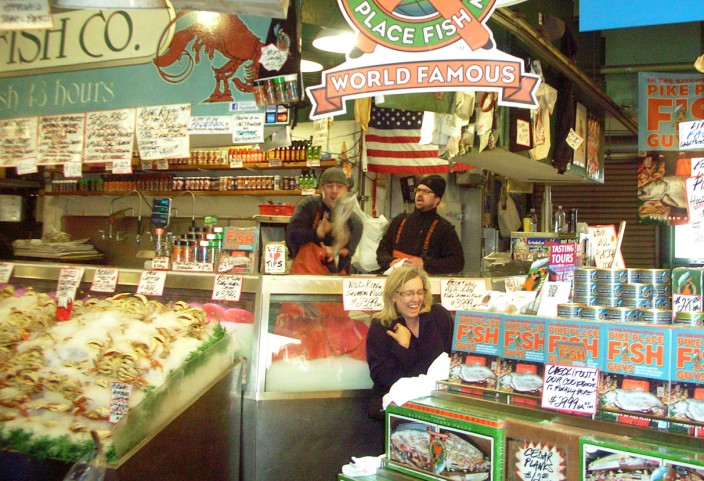 (Watch out for flying fish!)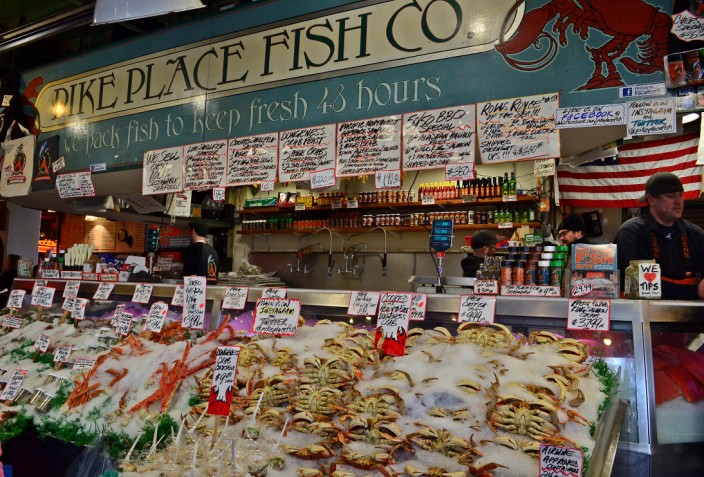 (Always a popular place)
So what else is there to do and see besides dodging the flying fish and tanking up on overpriced lattes? You name it, you can probably find it somewhere in the market. There is every manner of souvenir shop known to man, cheap t-shirts, expensive t-shirts, tie-dyed t-shirts, used t-shirts, gew-gaws, knick-knacks, head shops, book stores, cafes and restaurants, tea shops, spice shops, hand-crafted clothing, leather goods, metal goods, about fifteen dozen hand-made jewelry sellers, and all this in literally hundreds of small stores and stalls selling more stuff than you could ever see in one day.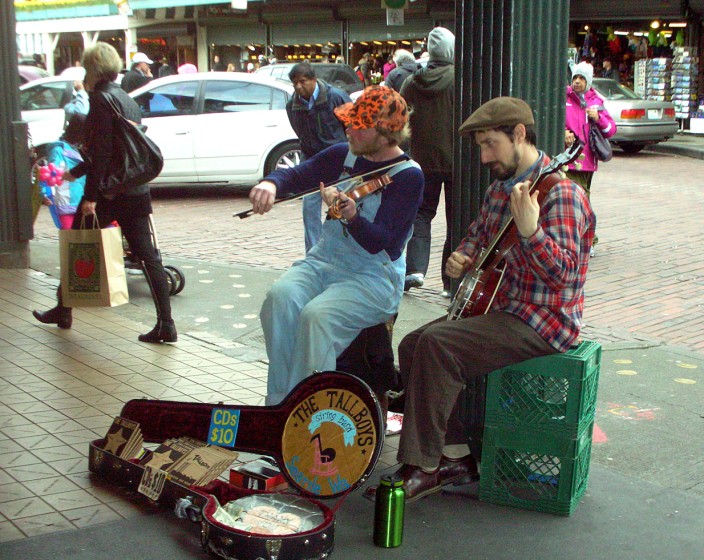 (Listen to the music)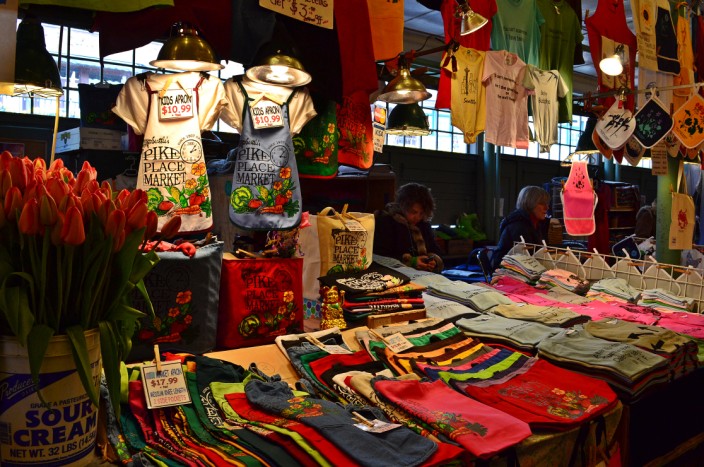 (Get your souvenirs right here)
Pike Place Market spans and sprawls over multiple levels with ramps and stairways leading you up and down and around in circles until your head is ready to pop off your neck. Part of the fun is getting lost in the maze and believe me, it's not hard to do. Think of Pike Place Market as the anti-mall, a place that thumbs its nose at everything your local shopping mall has: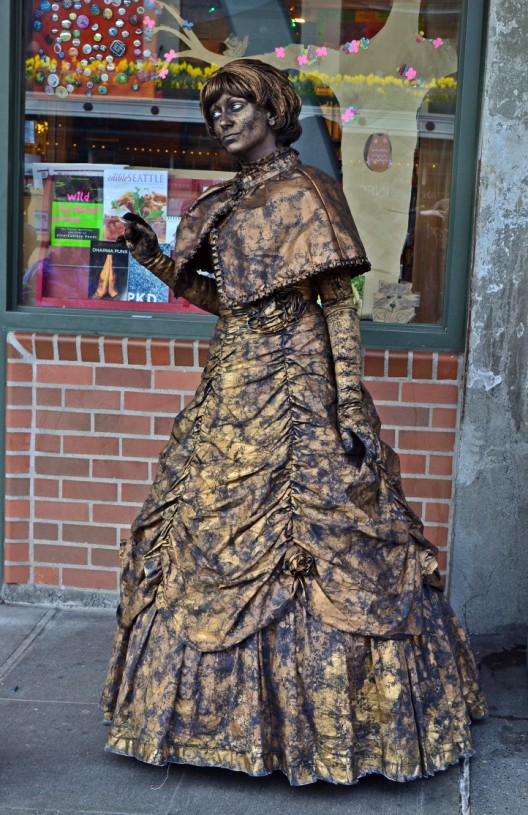 (The statue lady. Give her a tip and she'll move – to blow you a kiss)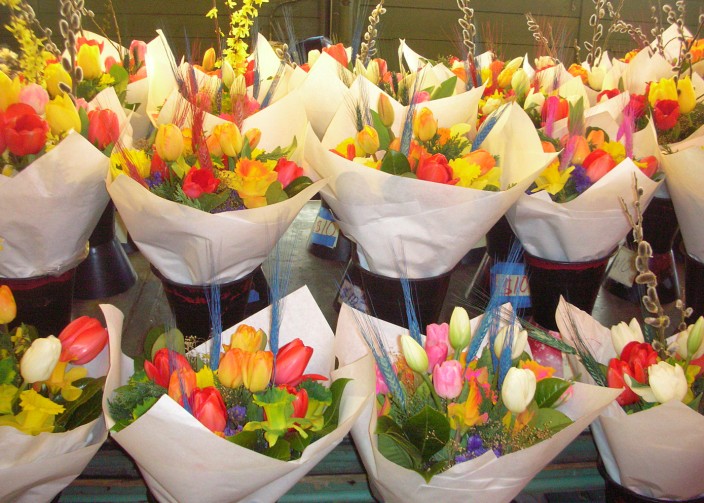 (More flowers)
Free parking in abundance? Not down here. Drive down to PPM at your own risk, where parking is exorbitant and scarce.
Climate controlled? Nope, unless you mean controlled by mother nature. If it's cold, damp, and drizzly outdoors – which it so often is in this part of the world – then you'll soon be feeling those damp, clammy fingers wrapping themselves around you and settling into your bones as you peruse the vendors stalls.
Acres of pedestrian concourses and big-box department stores the size of aircraft hangars? Not a one. PPM is strictly a mom and pop small-shop, elbow your way in and out kind of place. And that's how people like it.
(Yes, it's a lot of gum stuck to a wall)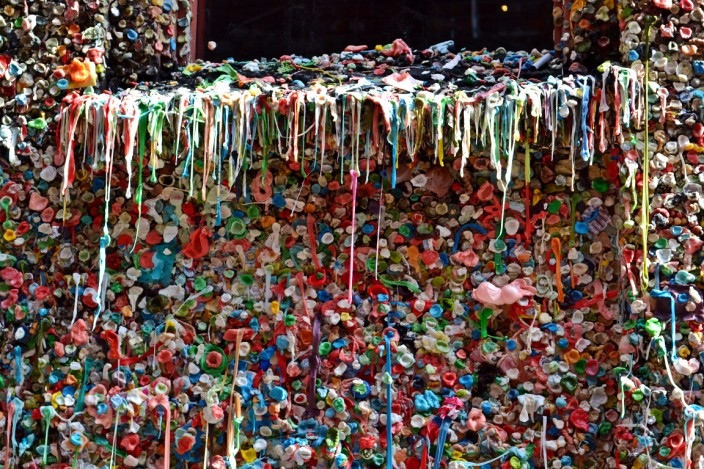 (If you look at it long enough you could swear it moves)
One of the truly unique attractions in Pike Place Market is the Gum Wall, which is exactly what it sounds like. Wander down Post Alley beneath the main level of the Market – there are signs directing you – until you find a brick wall smothered with a rainbow of chewed-up gum wads, so many that you really can't see the bricks. It's a little bit disgusting and jaw-dropping at the same time. Don't know how or when it got started, but it continues to spread like some out of control though mostly benign bacteria. At its present rate of growth I predict it will engulf the entire market by the year 2020.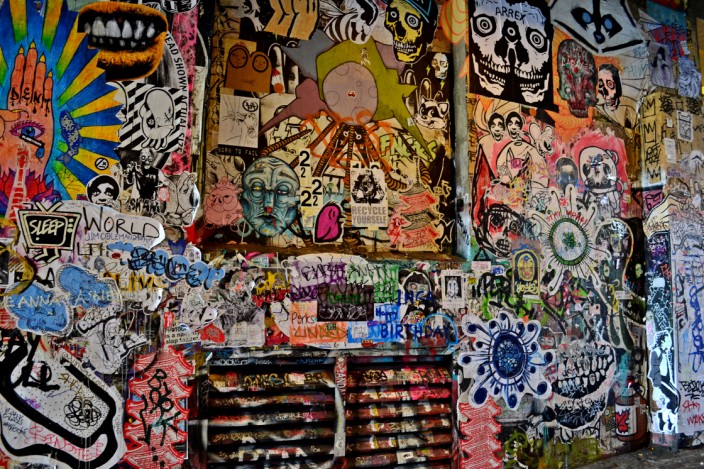 (Graffiti wall just down the alley from the Gum Wall)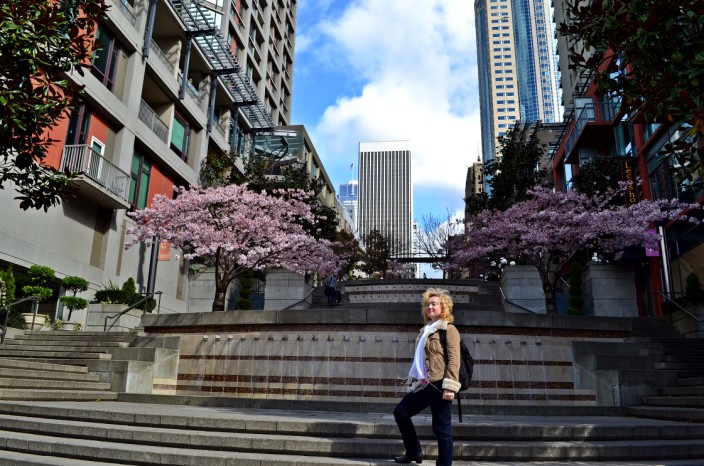 (The Harbor Steps connecting downtown and the Market area to the waterfront)
That's Pike Place Market in a nutshell: funky, unique, a little dirty and smelly around the edges, weird and wacky and cool and there's definitely nowhere else quite like it. If you come to Seattle you'd be doing yourself a disservice not to visit.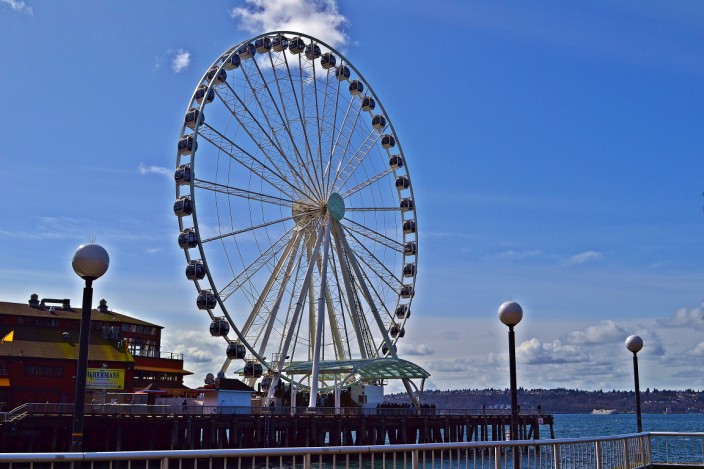 (The Seattle Great Wheel)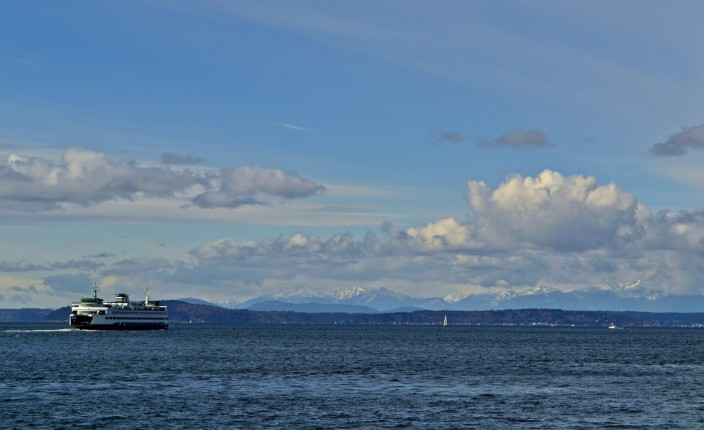 (View from the Wheel, ferry and Olympic mountains to the west)
If you're in the Pike Place Market area and have the time, you might as well stroll on down the hill a few blocks and amble around the waterfront, too. It's another area that's quintessential Seattle. There's the Seattle Aquarium, loads more shops to peruse and fish bars to grab some fresh fish and chips, the ferry dock, and the latest Seattle attraction, the Seattle Great Wheel. Opened in June of 2012, it's one of the largest Ferris wheels in the country, featuring 42 climate-controlled gondolas which lift you at a stately pace to a height of 175 feet above Puget Sound. The Wheel offers great views of the Olympic Mountains to the west, downtown, the Market, and the Space Needle in the distance. At fifteen bucks per adult, it's not cheap but it is a fun ride and a different perspective on your time along Seattle's historic and bustling waterfront.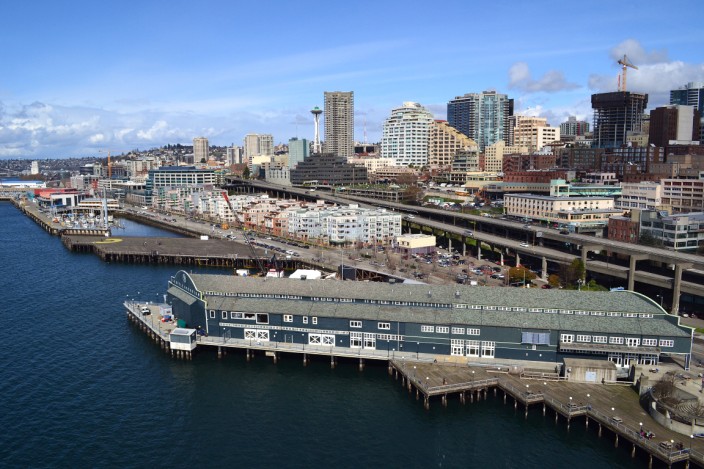 (Top of the Wheel, view to the north with Space Needle in the distance)