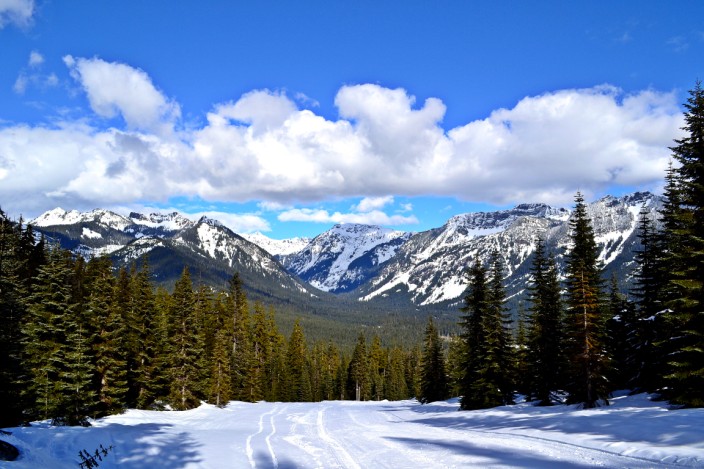 (View from the top)
I've opined previously on these pages about the wonderful proximity of the mountains in this part of the world, and the concurrent abundance of hiking opportunities. The only unfortunate aspect of all this is having the high-country trails buried under several feet of snow for a good portion of the year. Even though the average altitude of the Cascade Mountains is fairly low compared to other mountainous regions of the country such as the Rockies, the snow level in Washington starts and stays at a lower level. Anywhere above 3,000 to 4,000 feet is going to be snow-covered from November until March or April, and naturally most of the best hiking trails are at or above this level.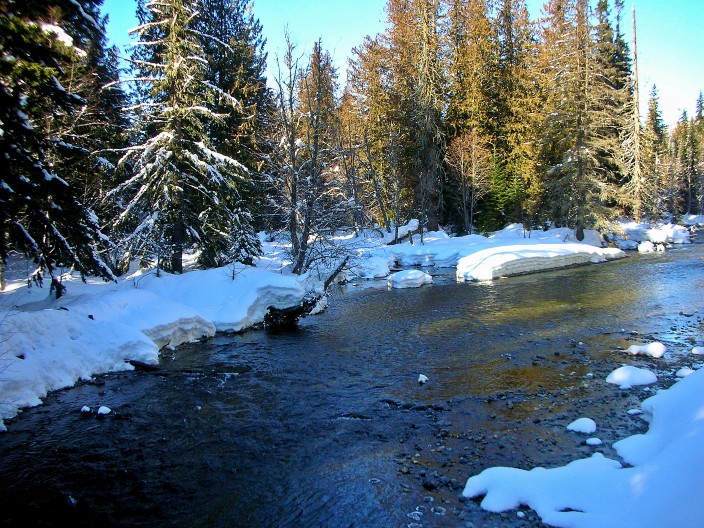 (Snow and stream)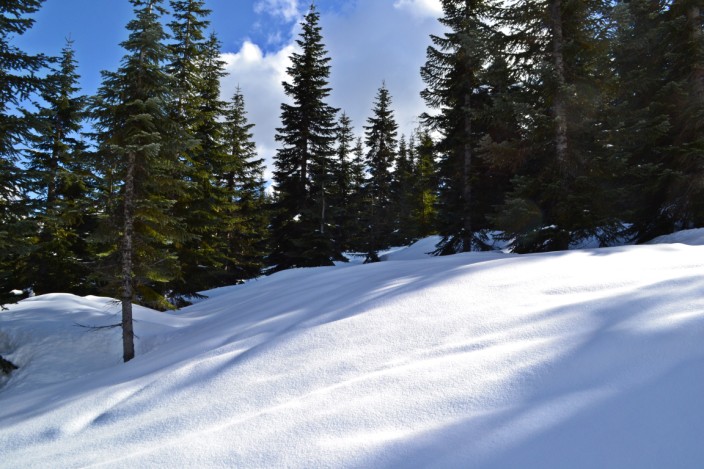 (Virgin snow)
So what's a hiker to do when all that white stuff is covering your favorite stomping grounds? Simple. Bundle up and hit the slopes, man.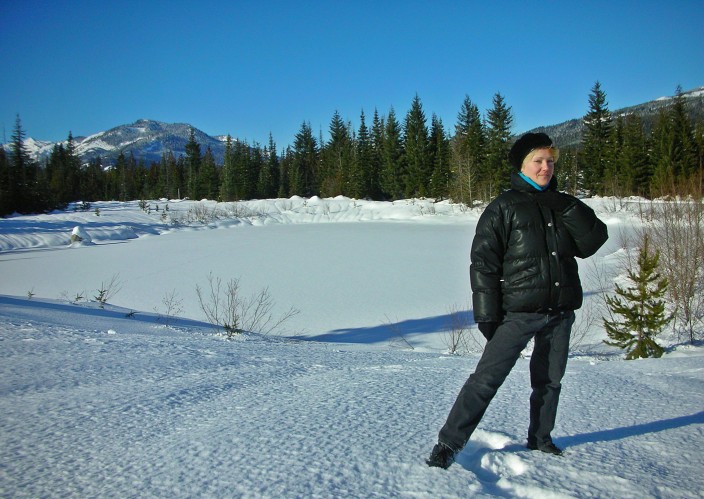 (Snow maiden and frozen lake)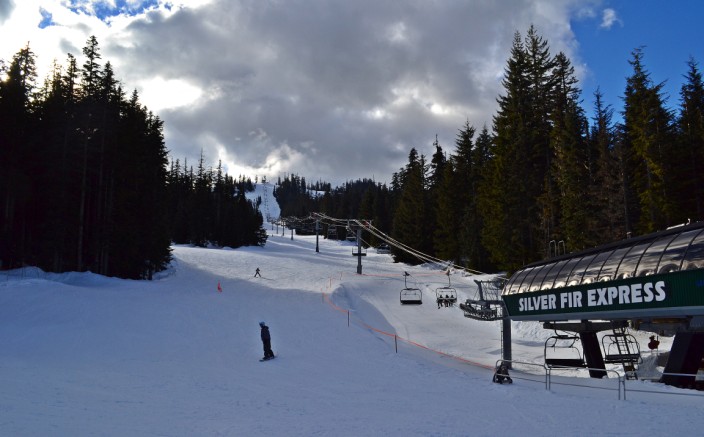 (Time to play dodge the skiers)
No, I'm not talking about skiing or snowboarding, though of course that's a popular activity for a lot of folks. I did some skiing in my younger days, but don't participate anymore for two reasons: 1, gimpy old knees that simply don't need the abuse; and 2, I'm not a millionaire. Okay, I exaggerate, but have you priced a lift ticket lately? Add skis, boots, coats, gloves, poles and all the other attendant paraphenalia, gassing up the family vehicle, chains for said vehicle, half a dozen cups of hot cocoa/coffee and sandwiches in the lodge, and it's not exactly a cheap recreational option.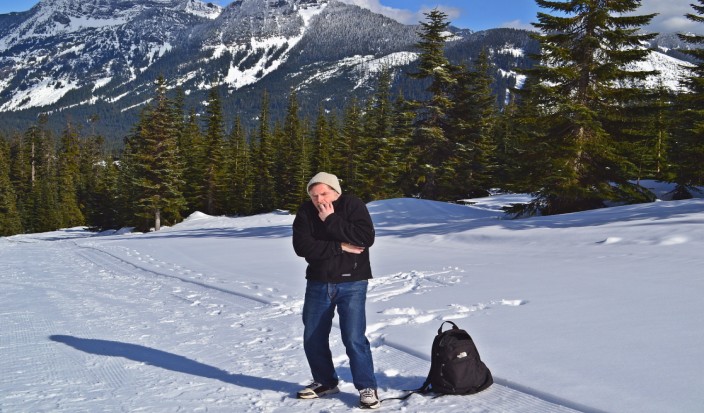 (At first it seemed really cold…)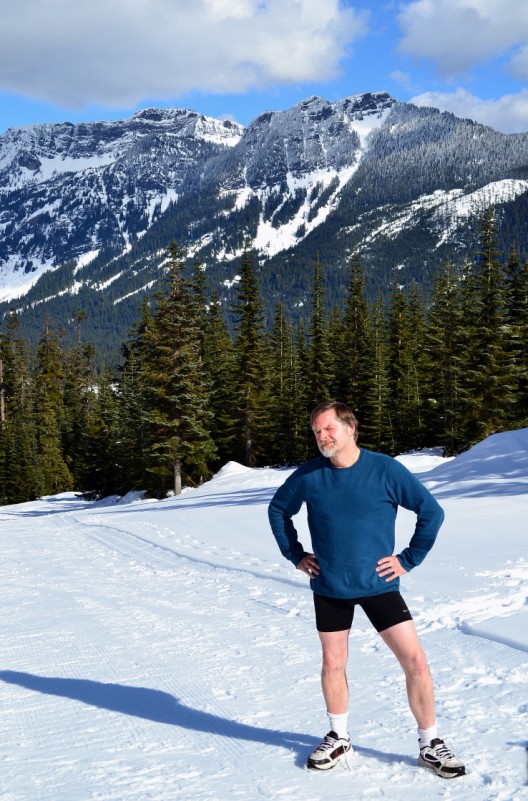 (…but then it got warmer…)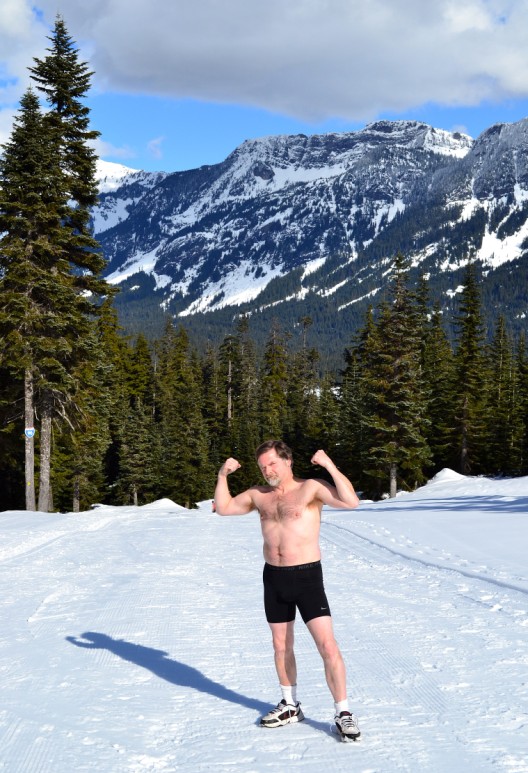 (…and then it was time for a sun tan!)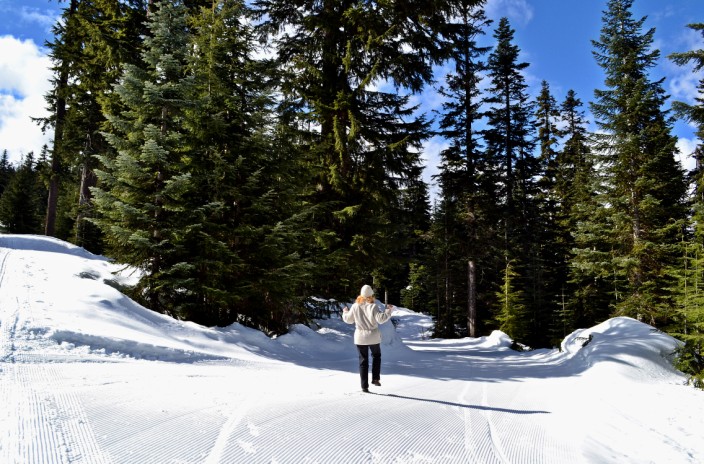 (Skipping down the trail)

So back to the hiking idea. I know what you're thinking: hiking in the snow is a good way to get lost and end up having search and rescue teams scouring the mountainside looking for your sorry butt. I personally found this out the hard way one time many, many moons ago. It's another of those college days stories which involved some mind-altering substances being ingested, a friend's brother's cabin in the mountains, someone saying "Hey, man, let's go for a hike," and off we went, oblivious to the fact that 1: it was December, and 2: we were so baked we would have been lucky to find our way back to the cabin from the outhouse at that point. A couple hours of wandering in the woods later, all the while trying to distinguish trail from snow from hallucinations, we luckily stumbled back on our own footprints in the snow and returned to the cabin, only slightly purpled and numb from the cold. It wasn't until later when the, um, substances wore off that we realized how badly it might have gone.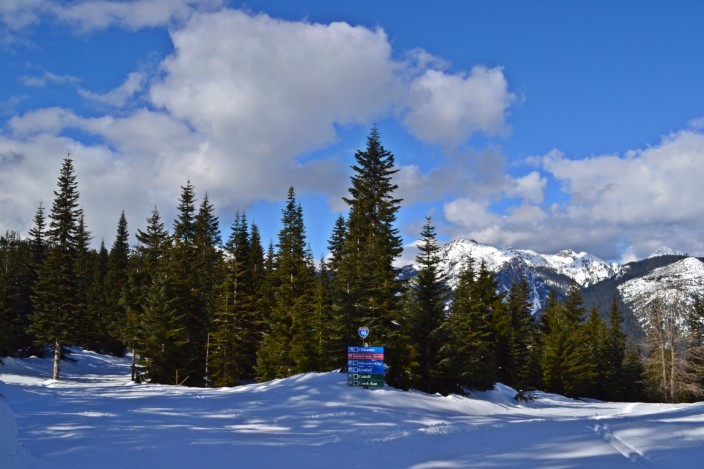 (Follow the signs and you can't get lost…can you?)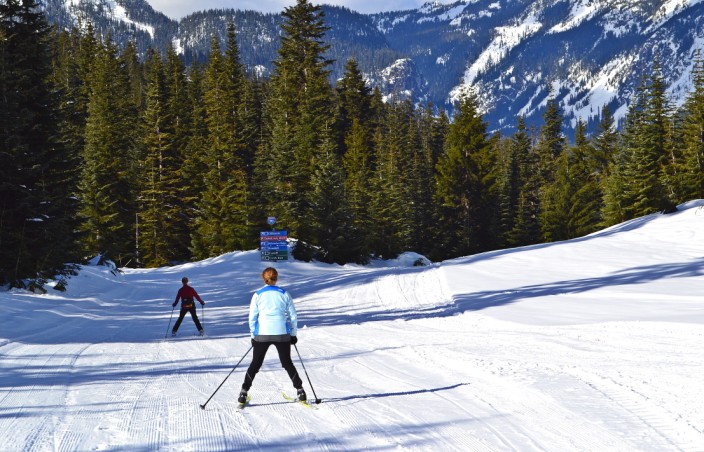 (Just step out of the way and don't try to keep up)

But, I digress.
So, no, I'm not advocating that you become the lead story on your local 6 o'clock news. You just have to be a little creative to find that not-too-off-the-beaten-path-so-you-don't-get-lost trail, and for us, that's where the skiing angle comes into play. We discovered a few years ago that a great way to hike the mountains in winter is to stay on trails already groomed for other purposes, i.e. ski runs. But wait, he objected strenuously, couldn't you like, you know, get seriously flattened by skiers schussing downhill at tremendous speeds? Well, of course you could. Not to mention the resort folks not taking kindly to pedestrians tramping across the runs. So rule number one: stay off the high speed downhill runs. Simple enough.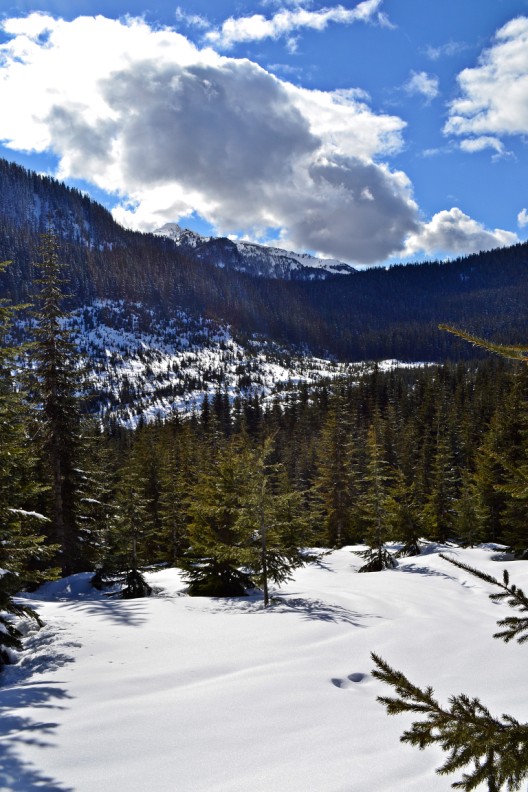 (Plenty of first-class scenery up here)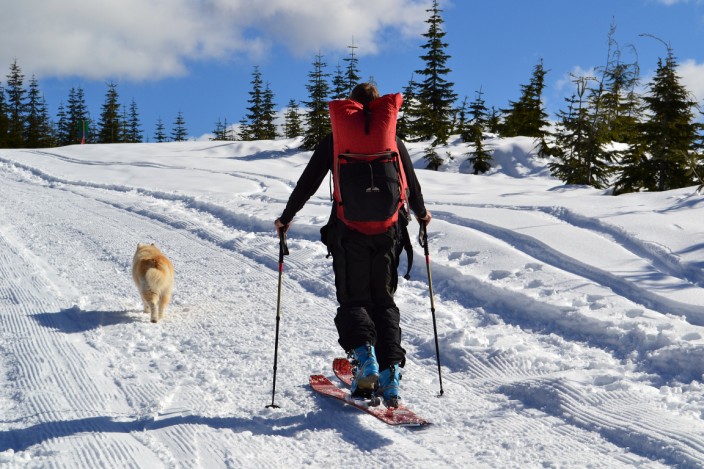 (Skiing uphill? There's something wrong with that)
After some trial and error we've found the best places to go are cross-country ski trails and/or snowshoeing trails. There are several spots along the I-90 Snoqualmie Summit area that have miles and miles of well-groomed trails and are not heavily used. In fact if you go on a weekday in the spring, as we recently did, they are virtually deserted.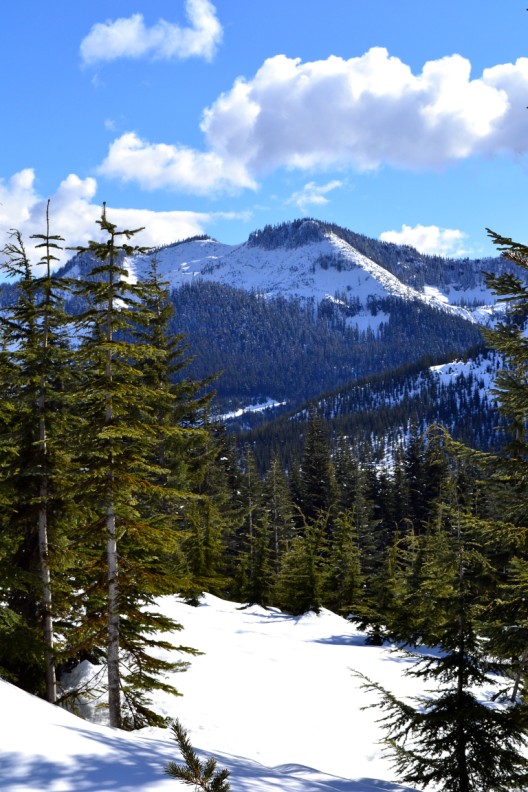 (More great views along the way)

Obviously, if you opt to hike in deep, freshly fallen snow conditions, the snowshoe trail option is going to mean using…snowshoes! This involves some expense but compared to skiing, it's cheap to do. If you've never done it and don't want to spend the cash without trying it out first, there are places to rent snowshoes. Or if you're an REI member, buy some snowshoes and if you decide it's not the activity for you, their generous return policy will allow you to get a full refund. They might not like me saying this but really, their no hassle, satisfaction guaranteed promise is there to be utilized.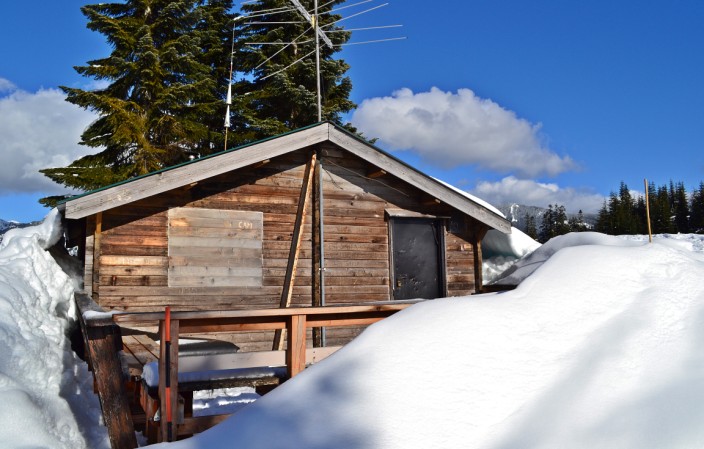 (First-class accommodations? Well, let's call it rustic)

Our two favorite times to go winter hiking are when it's snowing or when the sun is shining. In fact, it's impossible to pick one over the other. Since both my wife and I love fresh falling snow, it's always a blast to be out walking the mountains with that blanket of white silence shrouding everything and only the gentle hiss of the falling snow, flakes on your eyelashes and all that. But given the pervasive, gray cloud cover which plagues this region so much of the time, it's also a special treat to get up in the high country on one of those rarest of occurences, a sunny winter day in western Washington.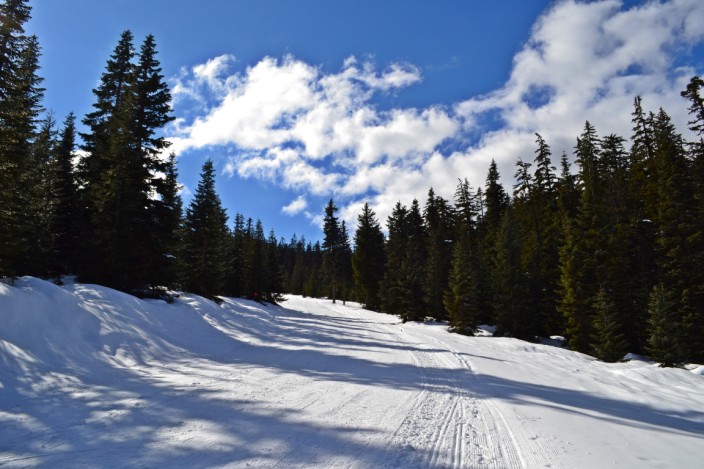 (Almost like standing in the middle of a deserted interstate)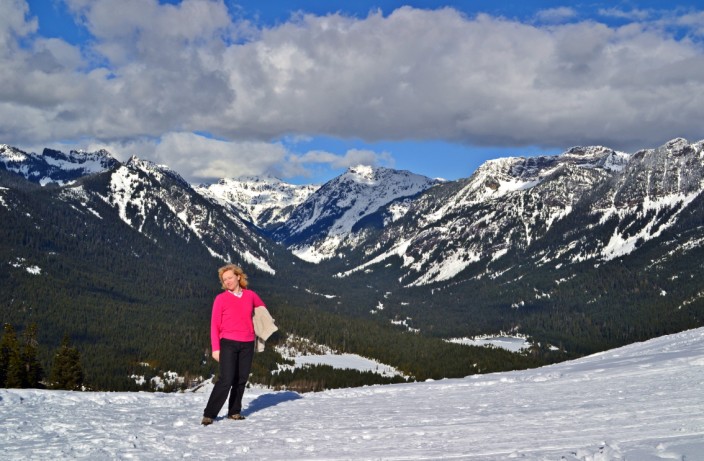 (Sun and snow, a great combo)
Either way, a day tramping in the mountains is always a day to be savored, no matter what season of the year.