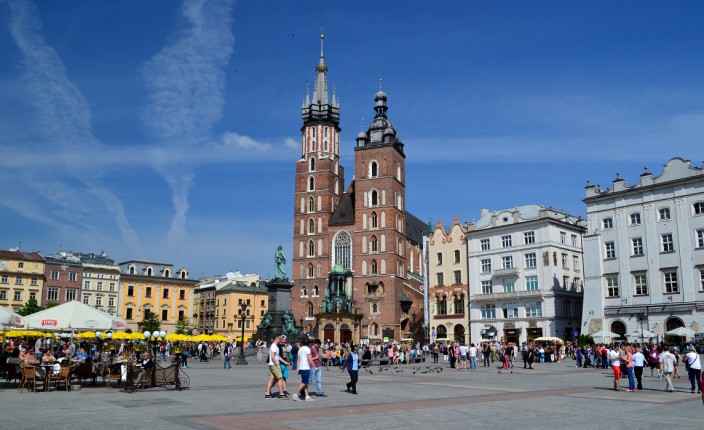 (St. Mary's Basilica and Rynek Glowny)
So, the obvious questions first: why Poland, and why Krakow? For us, the answers are fairly simple: family ties, close by to Ukraine, cheap prices. Getting the most out of our traveling dollars is always a priority as we are not by any means the rich, jet-setting types, and although Poland and the Czech Republic (our second destination) are now European Union members, they are still a comparative travel bargain compared to most other European countries.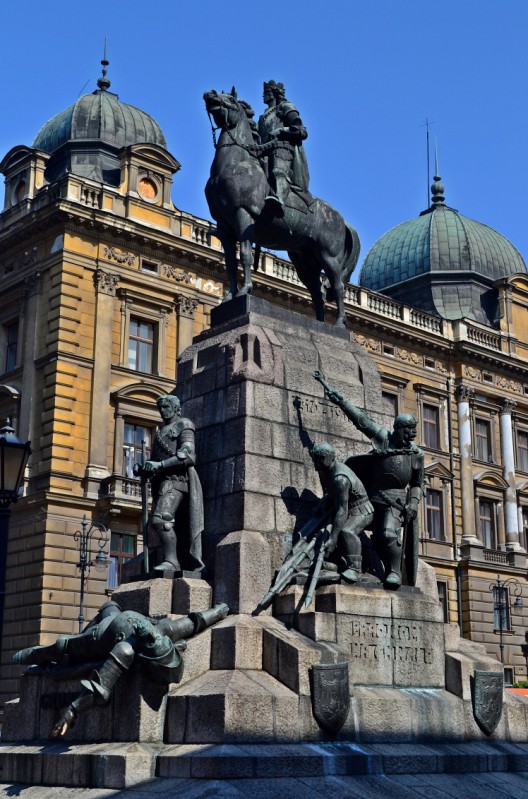 (Grunwald Monument in Matejki Square)
Since my wife, Irina, is Ukrainian and has family living there, our first stop and home base when traveling in Europe is the small town of Letychiv situated midway between the large cities of Vinnitsa and Khmielnitsky in west-central Ukraine. We spend some time in Letychiv visiting with her family, then use it as our launching pad to other locales. To the west a bit further is Lviv, the largest city in western Ukraine. From Lviv you can catch an all-night train west to Krakow, and that is exactly what we did. It's not a long trip, about eight hours including a lengthy border stop – more lengthy than we ever imagined, but I'll come back to that later.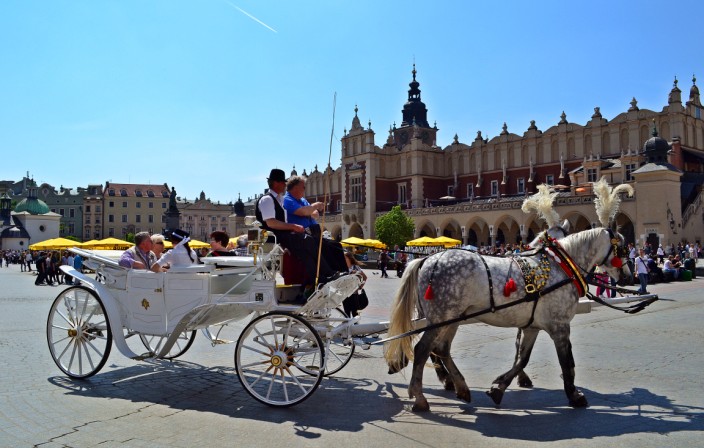 (Ground transportation in Rynek Glowny)
Another thing in particular that attracted me to Poland is my ancestry. I'm a pretty typical American mutt, one quarter each of Polish, German, Irish and English blood. My paternal grandfather is where the Polish part originates and for some reason the Polish-German side of the family has always resonated more strongly with me, just the opposite of my sister who thinks she is an Irish wood sprite or leprechaun or some such thing. So the idea of finally getting an in-person look at the old country held enough allure to convince me to take the jump into Poland.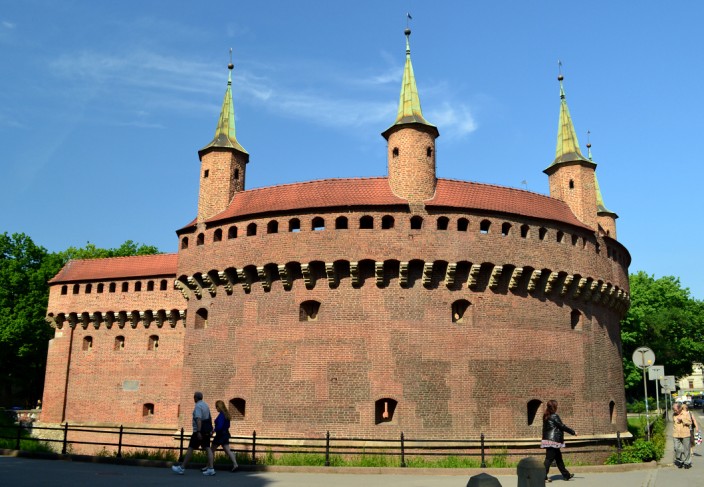 (The Barbican)
After a little research, making Krakow our major destination quickly became a no-brainer. Sure, Warsaw is the capital and largest city but Krakow has all the cool stuff. The best castle and cathedrals, the ancient and original capital of the Polish kingdom, it just felt like the place to go, plus the afore-mentioned proximity to Ukraine. So off to Krakow we went.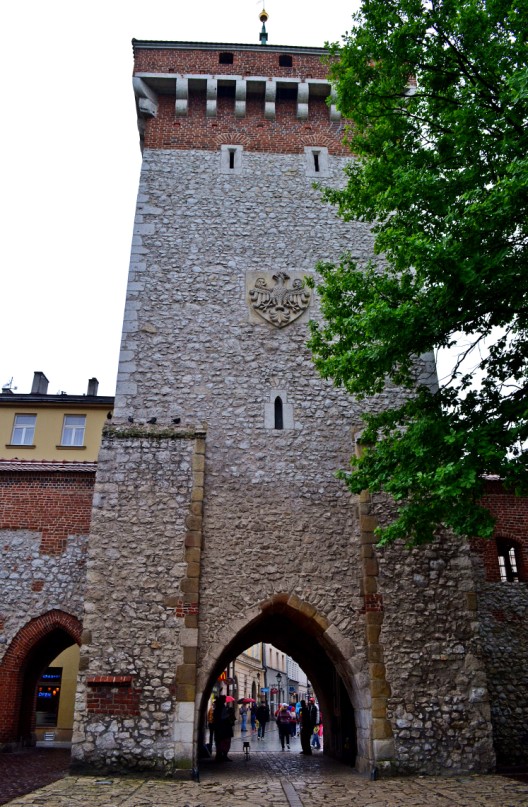 (The Florianska Gate)
Now here is where the tale gets interesting. Whoever said getting there is half the fun apparently never tried crossing the Poland-Ukraine border on the night train. There is a lot of history between Poland and Ukraine, and none of it very friendly. Borders have been malleable and much of western Ukraine/eastern Poland has been batted back and forth over the centuries like a tennis ball. Bad blood, you could say, and here we were hurtling towards it over the rails just trying to get a little sleep. Hah.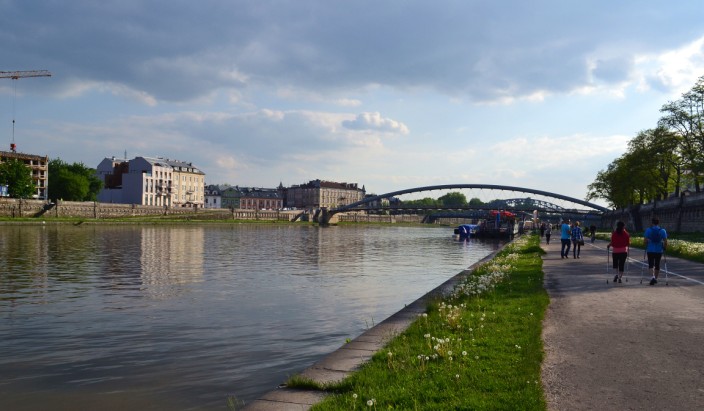 (Along the Vistula River)
First up to bat, the Ukrainian border patrol. The train attendant knocks on your compartment door, you turn on the light, put on some clothes, get out your passport and wait. Eventually the train stops, the first border patrol agent knocks on your door, you open up and he does a cursory passport inspection, asks nicely if you're carrying cigarettes or alcohol or anything illegal and then you wait for the second guy. The cigarettes and alcohol thing is actually a booming black-market business for many people who ride the rails regularly between the two countries, smuggling cheap cigarettes into Poland and returning with consumer goods either unavailable in Ukraine or considerably less expensive.
When the second border agent arrived in our compartment, he took our passports and started asking rapid-fire questions in Russian (or maybe in Ukrainian, I can never tell). Naturally I didn't understand a word, but he took one look at my American passport and wasn't interested in me. He asked Irina a few more questions, disappeared for a few minutes, then returned and stamped the passports with a rather dramatic flourish and left.
The train rolled on and we relaxed but not too much since we knew this would all be repeated soon on the Polish side.
A short time later, the train stopped again and the whole process got repeated with the Polish border patrol. Same drill, first agent asks the questions, second guy comes around and takes the passports for inspection. These guys are a little more advanced technologically. They have portable electronic readers to swipe the passport just like at the airport. He swiped mine, no problem like before, and handed it back to me. He took Irina's, swiped it, peered at his reader and heaved a great sigh and gave a little shake of his head. He conferred with one of his colleagues and started asking Irina a bunch of questions in Polish, which she doesn't speak. It's a close enough cousin to Russian and Ukrainian that she can get the gist of most things, but not all.
They disappeared for a minute and came back with another guy who spoke some Russian, but so badly and so heavily accented that she still couldn't really understand what they were asking her or why. Eventually they told her she would have to come with them for further questioning. By this time all my alarm bells were going off. I followed her out of the compartment to the steps leading off the train but when the border guy saw me coming down he started yelling at me. I was not allowed to come with them.
In retrospect I should have yelled right back and insisted on accompanying my wife, but a little leftover Cold War paranoia must have crept in. I watched them walk down the platform and disappear down a stairwell, and then I waited, nervous anxiety eating away at me, all my worst fears leaping to mind, and not a soul around to explain anything in plain English. Where were they taking her and why? All I could imagine was a room full of thugs browbeating my wife and she hadn't done anything.
The minutes dragged on, fifteen, maybe twenty. It felt like an hour. All I knew was if that train started moving and she wasn't on it, I was jumping off real quick.
And then it started moving and I freaked. I grabbed our bags and bolted for the door. The two Ukrainian female train attendants blocked my path, yelling at me and shaking their heads while I yelled right back at them in English, no one understanding a word the other was saying as I tried to wrench them out of my path while still clinging to our stupid bags. I guess I wanted to be sure if I got thrown into a Polish jail I had plenty of clean clothes with me.
Given enough time and distance, almost anything can be seen in a more humorous light. At the time, this situation seemed desperately grim and serious to me. Now…well, I wish someone would have made a video because when I play this scene back in my head I can only imagine how ridiculous it looked. Those two attendants were determined not to let me off that train, and I was just as determined not to leave without my wife. Everybody screaming, me pulling the poor woman aside, her resisting with all her strength. Finally I thought, okay, you won't let me off, I'll stop this damn train. I dropped one of the bags, took a few steps and grabbed the bright red-handle of the emergency stop cord.
"I'm going to stop this bleeping train right now!"
Only the look of sheer, abject horror on the attendant's faces made me hesitate. Both of them screamed out "NO! NO!" while shaking their heads and waving their arms, dashing over to me, jabbering away non-stop, clawing at my arm. You'd have thought I was about to push the button to set off a hydrogen bomb.
Something stopped me from pulling it, I'm still not sure why. A few seconds later the train halted and I let go of the emergency cord, shaking with adrenaline. A minute later and the train jerked and moved again…forward. Only then did I realize we'd been creeping slowly backward the first time it moved. I'd been so blindly focused on getting off I hadn't even noticed what direction we were moving.
Another minute and it stopped again, and one of the attendants asked around and finally found a young woman in one of the other compartments who spoke enough broken, halting English to come over to me and say, "Train will not leave station…without your wife. Understand?" She peered at me uncertainly and hung back a little, as though she didn't want to get too close to the American psycho.
"You sure about that?" I asked.
"Yes, yes. Train will wait."
In the end I realized why the train had started moving, something I'd read about years ago and forgotten. The trains in Ukraine and all of the former Soviet Union run on a different gauge track and when they cross over into western European countries they have to physically change out the wheels on the entire train to accommodate the different width of the rails. This is all thanks to the paranoia of crazy old Uncle Joe Stalin, who was so afraid of invasion by rail he had the entire nation outfitted this way. At least that's the story I've heard. So what they'd been doing was simply switching the train to a different track where they would perform this bit of railroading magic so we could continue on our way.
Meanwhile, as this comedy of errors played out on board, my wife had her own barrel of morons to deal with in the bowels of the station. The border clowns had taken her to their office, with no fewer than five officers in attendance. I guess they needed overwhelming numbers to make certain the nefarious international criminal didn't escape them.
They grilled her with more questions while a couple of them bumbled around looking for some form or other that she was required to fill out and sign. When she refused to sign anything, they began blustering about calling the local prosecutor. She called their bluff and asked them if they would really wake the prosecutor and have him come to the train station at one o'clock in the morning, and for what? Was she wanted by Interpol or did they think her to be some kind of spy?
She stuck to her guns and in the end I think simply wore them out, or maybe they realized they'd made some sort of mistake. They escorted her back to the train, now all friendly and full of smiles. They never did explain anything clearly to her, not what they wanted from her, or why she was pulled from the train. Nothing. We were left to speculate and came up with several possibilities. They were 1) bored; 2) wanting to harass some Ukrainian just for the fun of it; 3) completely incompetent boobs. Probably some combination of all three.
Eventually the train rolled on and we got almost no sleep the rest of the way, our nerves being pretty well shot by the whole experience. Not the best way to start our time in Poland. But at least Irina got a good laugh over my story of battling the poor train attendants, who by that time I felt quite sorry for, trying to keep the crazy American from wrecking their train.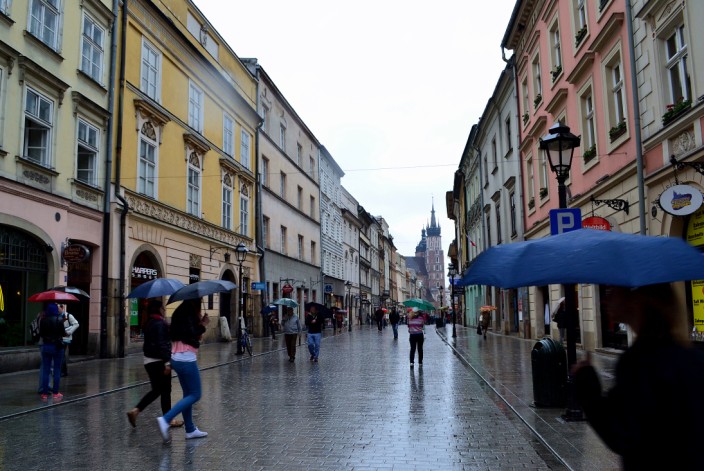 (Sometimes it rains)
By the time we got to Krakow around eight in the morning, the weather was cold, wet and windy, a suitable climate to reflect our mood at that point. We hadn't booked a hotel and spent an hour sloshing around in the rain looking for one, armed with only one small umbrella, dog-tired and dripping and generally as miserable as we could be. Luckily, this proved to be the low point of the entire trip and things only improved from then on. But at the time we didn't know this, of course.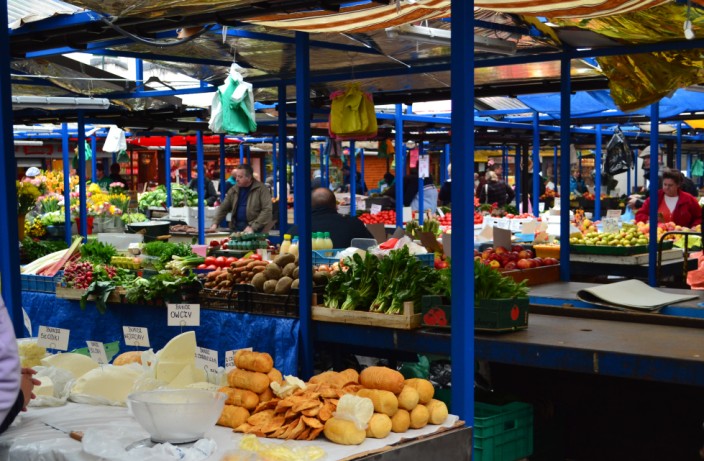 (Outdoor market near Matejki Square)
Finally we found a hotel called the Polonia all the way back across the square from the train station. We got lucky and they had a room already available to check into at 10 a.m. We showered and warmed up, rested for an hour or so in hopes the weather might improve (it didn't) and went out in search of…
Things To Do In Krakow When The Weather Sucks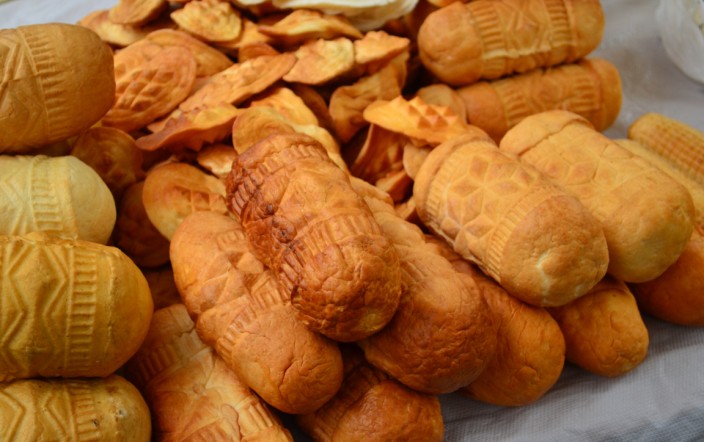 (Fresh loaves of bread? Nope. It's cheese)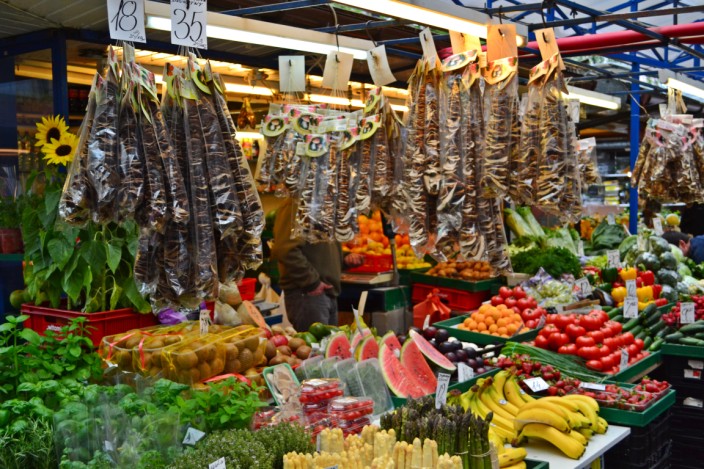 (Those are dried mushrooms hanging in the clear plastic tubes)
And we found some. First we came across a lively outdoor market near Matejki Square just north of the Old Town, or Stare Misto, in Polish. The market is a bustling spot crammed with just about anything you'd care to find – fresh produce, meat, flowers, consumer goods of every sort and best of all on a rainy day, it's covered. We spent an hour poking around there, picked up a few things for lunch, and then headed south a few blocks into Old Town.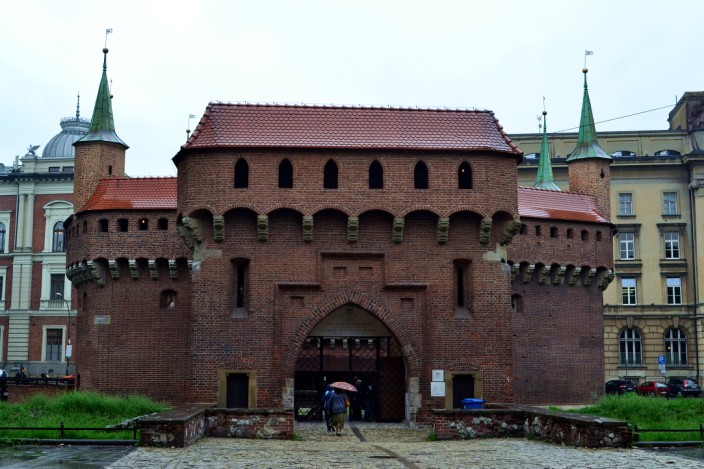 (Another view of the Barbican – this time in the rain)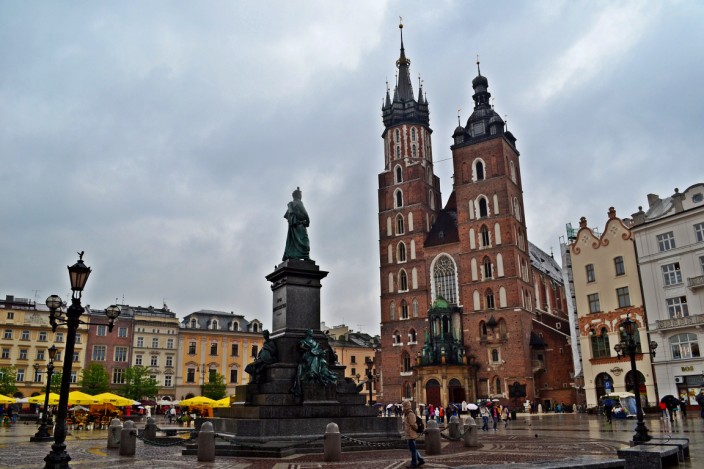 (Our first look at the Rynek Glowny and St. Mary's)
We passed the Barbican, a 14th century fortress built over fears of Turkish invasion (they never came) and entered Old Town through the Florianska Gate. We passed rows of tourist shops,  cafes and restaurants (including the ubiquitous and obligatory McDonald's) and emerged into Rynek Glowny, Europe's largest and perhaps best-preserved medeival square. We stood and gawped at the impressive bulk of St. Mary's Basilica anchoring the northeast corner of the square. Horse-drawn carriages clip-clopped past. The place simply invites you to wander around and soak it all in. That is, if it isn't raining sideways which it was at the time, so we continued on our quest for indoor diversion.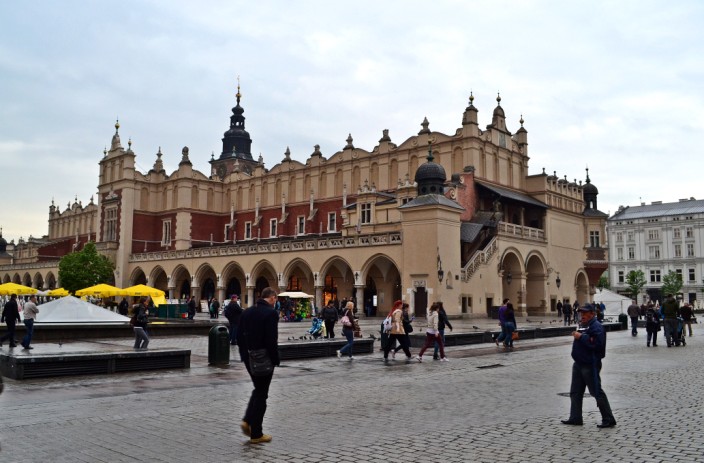 (The Sukiennice, or Cloth Hall)
The best place to go in Krakow when the weather sucks is the Rynek Underground, the city's newest and shiniest attraction. Opened in 2010 and located in the center of Rynek Glowny beneath the Sukiennice, or Cloth Hall, the Underground houses an elaborate display of artifacts and exhibits done up in a grand mixture of old and new, with multi-media shows, lots of Really Old Stuff and re-creations of medieval workshops, street scenes featuring cobblestones from centuries past unearthed in this location, maps showing how vital a trade center Krakow was in the Middle Ages, and much more.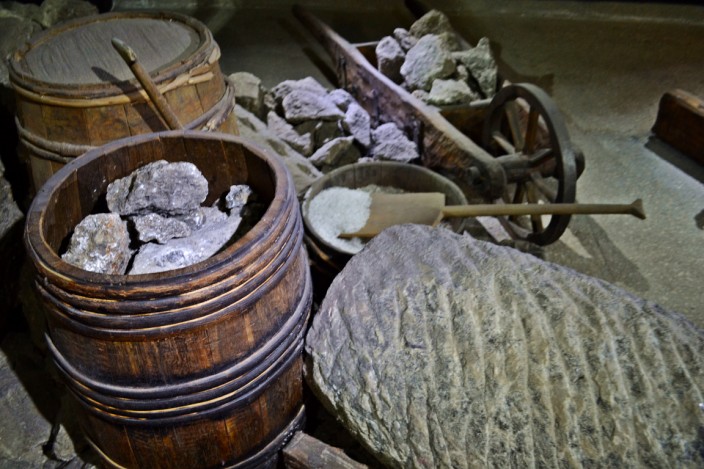 (Pillar of salt in the Rynek Underground)
Salt. I would never have guessed how big a deal salt could be, but essentially all of Krakow's wealth, influence and importance stemmed from one simple thing, and that was the massive salt mine located about 25 kilometers to the south at Wieliczka (I'll be doing an installment on our tour of the salt mine soon). Trade routes from every direction of the compass converged here bringing all manner of goods from distant lands, and on that foundation was built the Polish empire, which at one time covered a vast swath of central and eastern Europe much larger than the present day boundaries of Poland.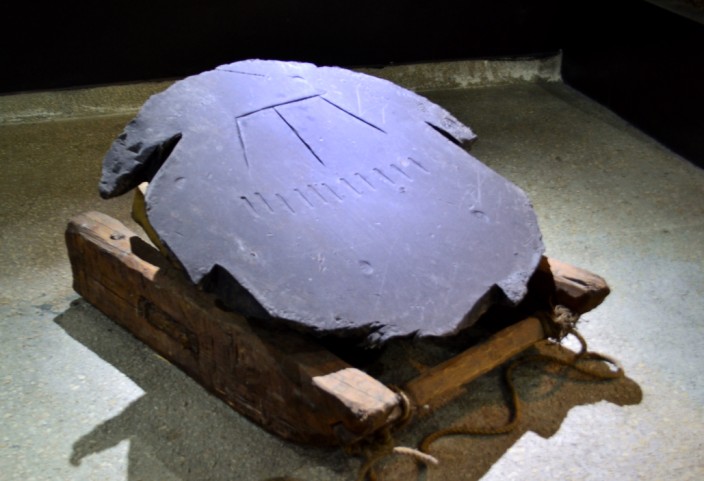 (Embossed lead slab, 15th century)
You could easily pass a couple of hours in the Underground, as we did, and not be bored for a second. The place is huge, over 4,000 square meters and not a bit of it is wasted. Highly recommended.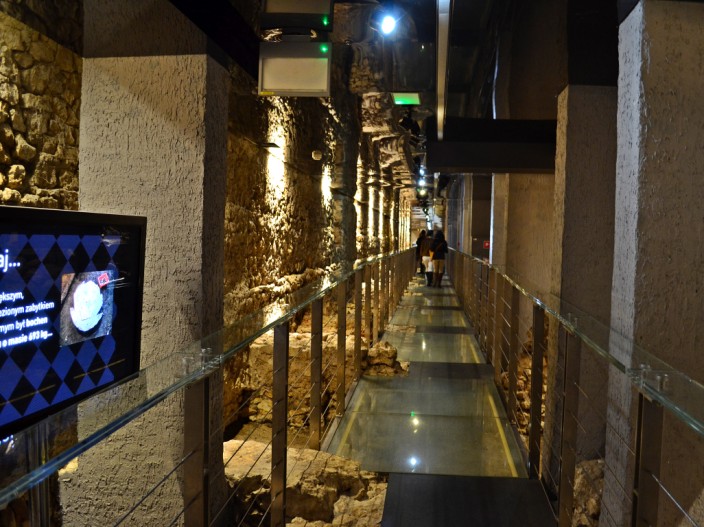 (A walkway in the Rynek Underground)
When you've finished the Underground, head upstairs to the main square level and check out the huge selection of tourist shops lining the inside of the Sukiennice, or if that's not your style, walk up to the second level and investigate the gallery of 19th century Polish art. It consists of four large rooms each featuring a different artist and theme and some very nice work indeed.
Well, there you have it, our first look at Krakow and luckily for us, the weather and experiences both continued to improve as the trip progressed.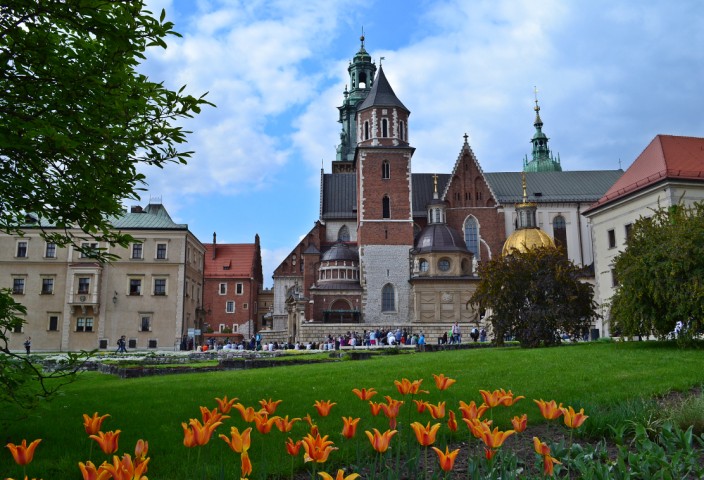 (Wawel Cathedral)
Coming Soon: Wawel Castle and Cathedral