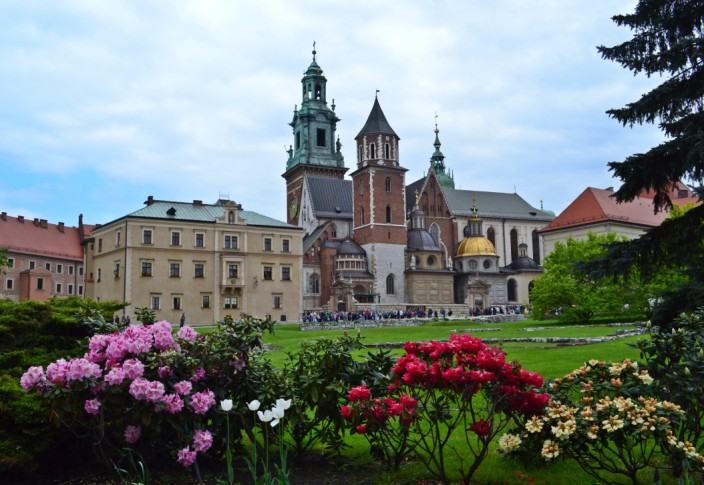 (Wawel Cathedral)
The jewel of Krakow is the complex atop Wawel Hill comprised of Wawel Castle and Cathedral. The site of kings and their coronations in bygone centuries and the burial place of many of those same kings and also of many important holy men, the whole place exudes so much history you can just about feel it seeping right out of the stones.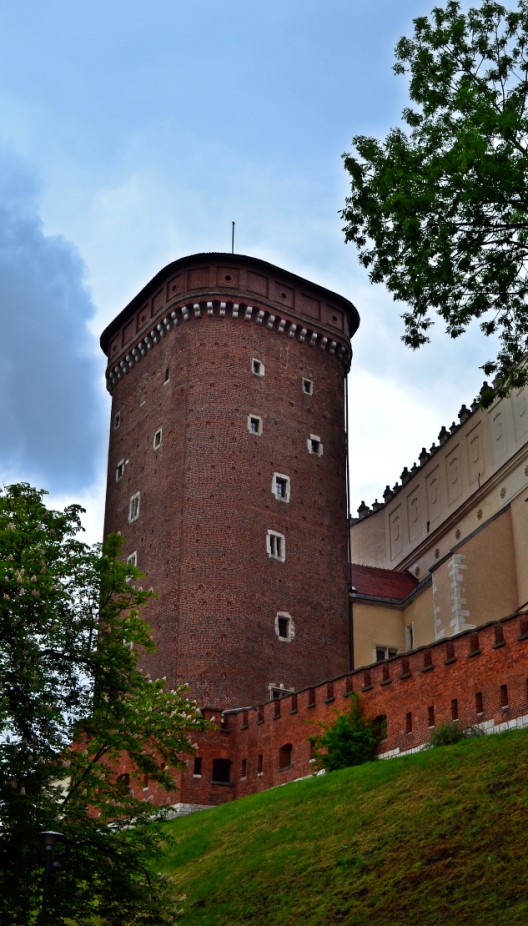 (Wawel Castle Tower)
Like nearly every medieval castle, the builders went straight for the high ground, a commanding position above a bend in the Vistula River. Construction of Wawel Castle in something like its present form was begun in the middle 1300's during the reign of Casimir the Great. But Polish kings had lived and ruled from Wawel for hundreds of years before that, dating back to at least the 9th century, and people had inhabited the hill for millenia prior to this as well.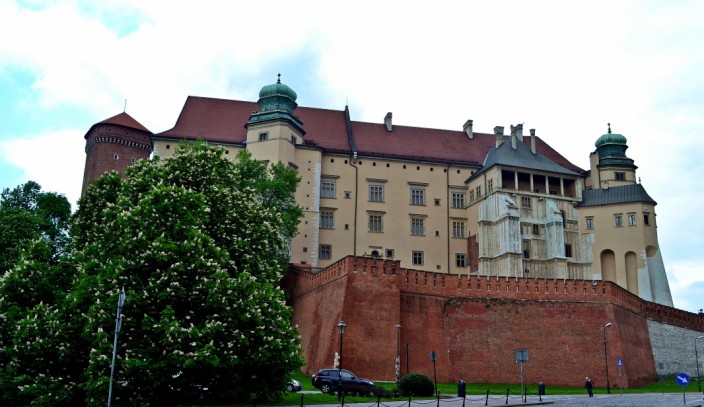 (Street view of the Castle from outside the walls)
The history of Polish monarchy is exactly like that of the Polish nation itself in its many incarnations – long, tangled and many-layered – so if you are a history buff there is an abundance of stories awaiting discovery as you visit the area. You can easily spend an entire day exploring the castle, the cathedral, the grounds and the many other buildings which lay inside the walls of the complex, and that would only be scratching the surface.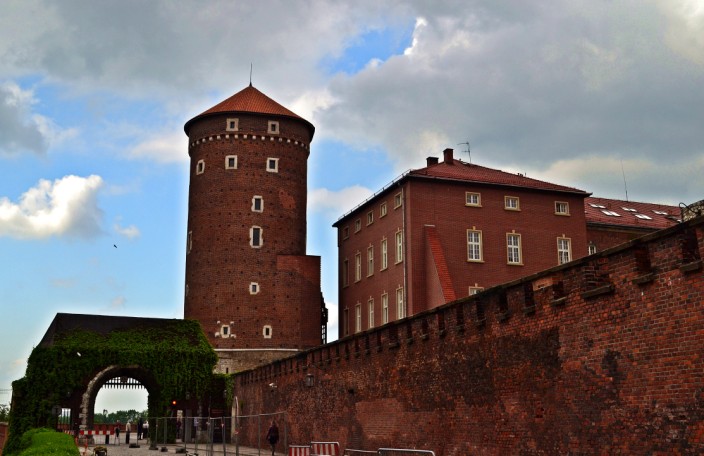 (Walls of Wawel)
One of the great things about Krakow is it's easy walkability, particularly around the Stare Misto, or Old Town. If your hotel/hostel is anywhere nearby, nothing is more than a 20 to 30 minute walk away. And if you prefer not to walk, the city's electric tram system is easy to use and can drop you close to just about anywhere you want to go. Our hotel was located on the northern edge of Old Town literally across the street from the Planty, the wonderful park-like greenbelt which surrounds Old Town. The Castle complex is just outside the southern end, so after a pleasant 30 minute walk through the Planty, we found ourselves circling Wawel Hill.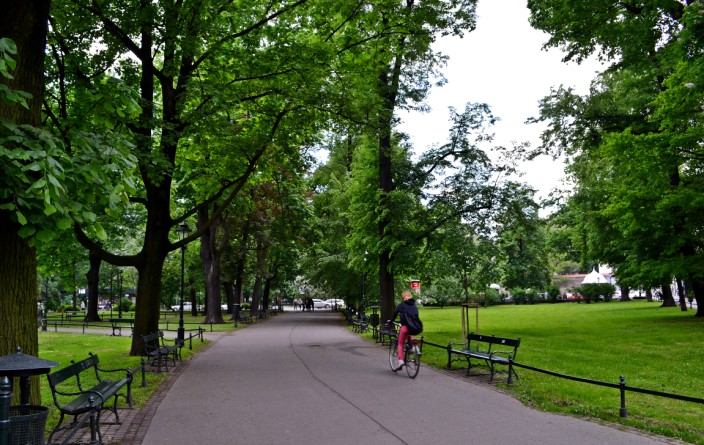 (Walking through the Planty)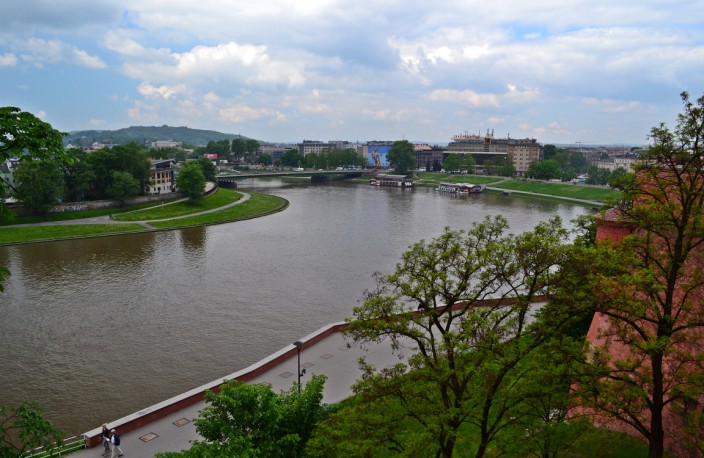 (Above the Vistula River, viewed from Wawel Hill)
A bit of an uphill grade afforded us a grand view of the Vistula River below, then brought us inside the castle grounds proper for our first awe inspiring sight of the cathedral and castle. I'll be the first to admit it, I'm a sucker for all this stuff. One of the main attractions for me in Europe, and the first thing I usually head for, is any sort of castle/cathedral/old bridges/ruins, etc. If I believed in previous lives I'd be certain I must have spent some time in this region of the world, so strong is the pull it exerts on me. So since I'm predisposed to these things, I may not be the most objective of viewers, but I was mightily impressed on first sight and more so as the day progressed.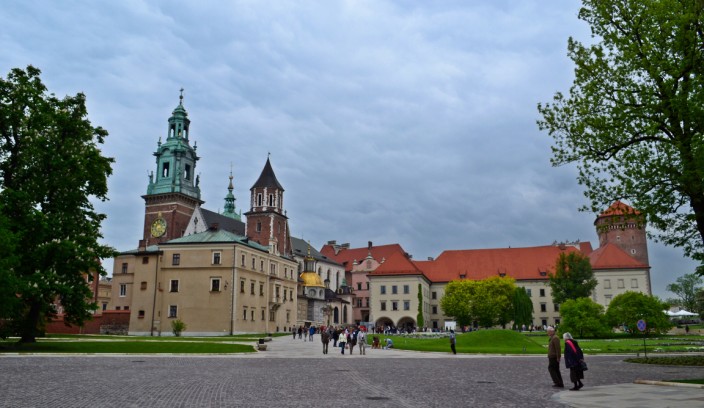 (Our first view of Wawel Cathedral and Castle (on the right) as we entered the grounds)
We wandered around for a while just soaking in the atmosphere and taking photos, then headed to the ticket office. I have to say I was not fond of their ticketing and admission system. There is no such thing as a general admission that will get you in to see everything. Castle visits are divided into separate mini-tours, each requiring a separate entrance fee and time. Each of these is limited to a certain number of visitors per day, and once that limit is reached you're out of luck until the next day. So my advice is get there early if you want to see everything and to have the ability to space out your tours so they aren't overlapping.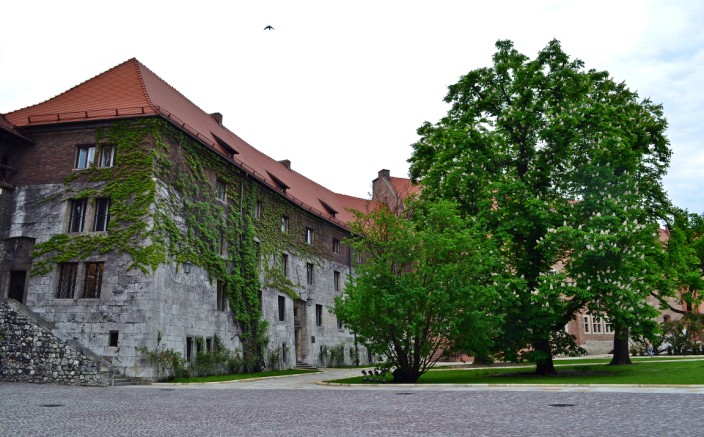 (On the grounds)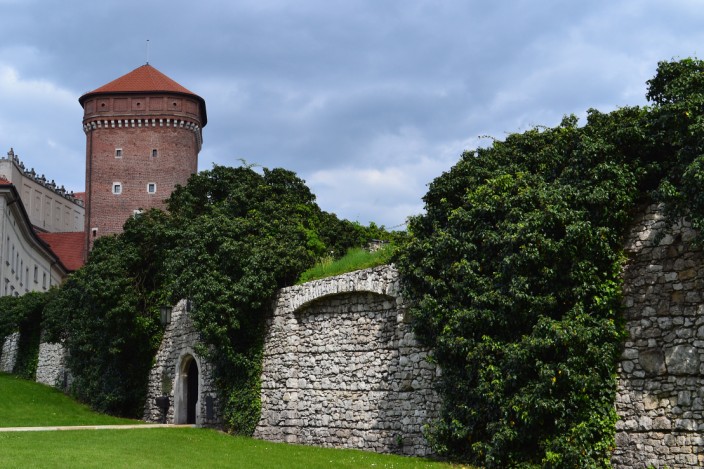 (A lovely day to be inside a castle)
We signed up for the Royal Private Apartments tour and the Crown Treasury and Armory tour. Both were worth seeing, the former mostly for the vast collection of tapestries on display (one of the world's largest, though only a small portion is viewable) and lots of interesting history well-told by our tour guide. The Crown Treasury and Armory was great as I'm always happy to see more medieval weapons, especially a collection as large and varied as what they possess.
What I wasn't thrilled about, in fact downright distraught over, was the total ban on photography. Not a single shot allowed, even without flash, in any of these places. I understand the flash thing, sensitivity to light of some of the ancient artifacts and all that. Inside some of the churches it's considered rude or disrespectful. Fine. But for me, that's part of what I'm paying for, to take home images of what I'm seeing both for myself and for my audience right here. Charge me extra if you want, I'll gladly pay it. I've done it many times in Ukraine at some of the palaces, but to not even be given that option was extremely disappointing.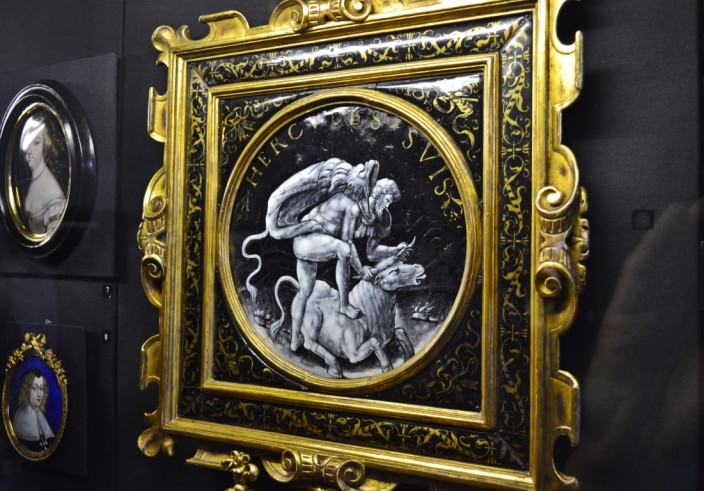 (Living dangerously – forbidden photo from inside the Crown Treasury rooms)
Well, what can I tell you, I snuck some anyway, but they were few and hurried and subsequently not of the best quality. It's tough to get a decent shot when the museum docents are extra vigilant as these folks were. It became a challenge to try clicking off a couple when they would briefly exit the room or were distracted by someone asking them something, but after about half an hour of this cat and mouse subterfuge I got tired of it and basically gave up.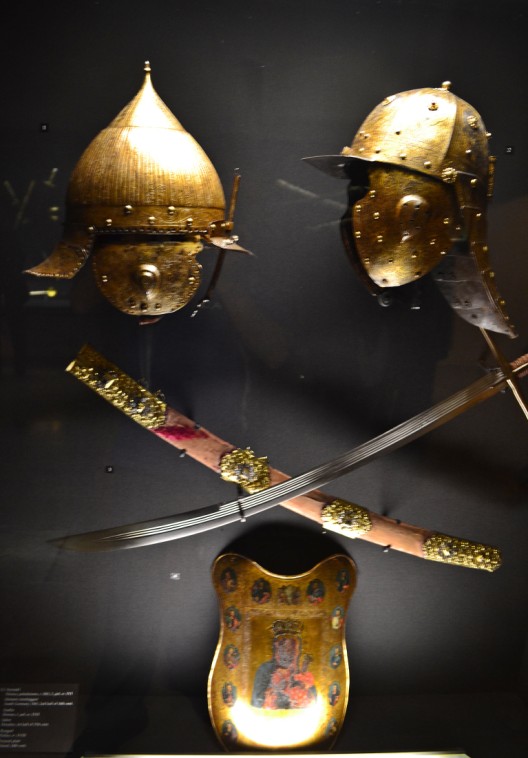 (More forbidden photos…if I get caught, do they take out the sword and behand me?)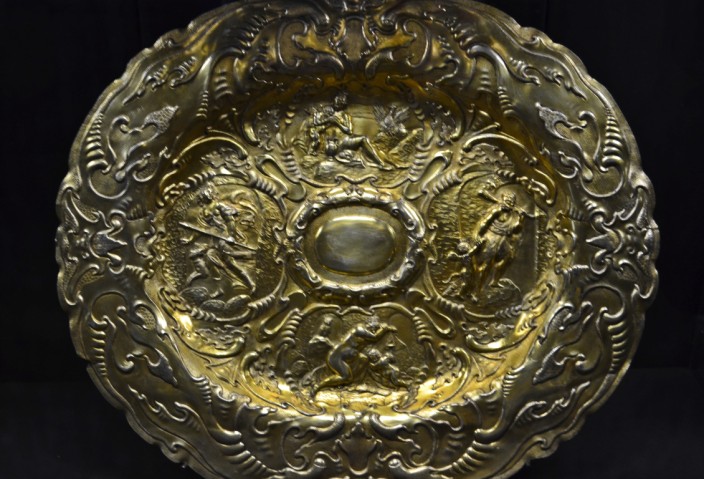 (Ancient serving tray. I wouldn't want to be the one cleaning that out)
I can tell you the tapestries were beautifully intricate and elaborate in design and execution, many with gold and silver threads woven right into the fabric. The state rooms ranged from modest to ostentatious, and the weapons in the Armory covered the spectrum from early middle ages to 20th century in one of the finest collections I've ever seen. But I can't show you. Guess you'll have to take my word for it and go see for yourself.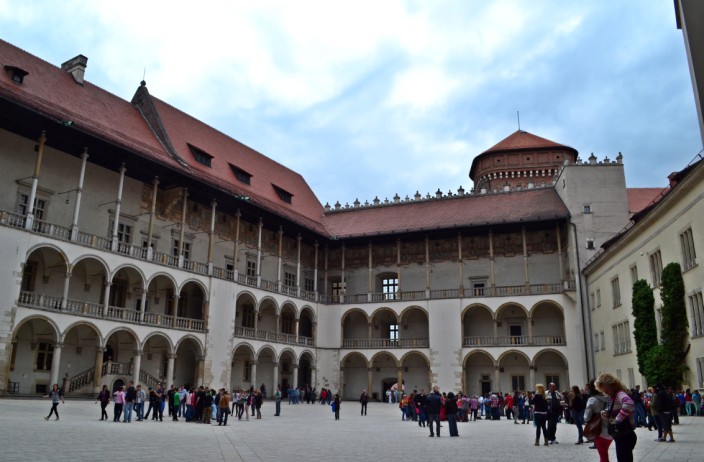 (The Italian Renaissance courtyard kinda crowded)
Luckily the exterior of the buildings and grounds are highly photogenic, so I took plenty of outdoor photos. The Renaissance courtyard is immense and depending on when you walk through it, can be packed or virtually empty. We walked around it at two different times a couple of hours apart and found it both ways. Built in the 1500's, it exhibits all the stylistic qualities typical of Italian Renaissance architecture of the time, including a couple hundred arches on three levels.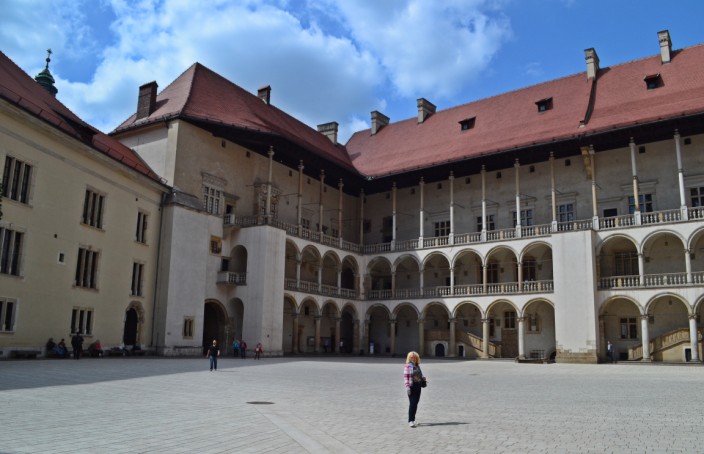 (Courtyard empty)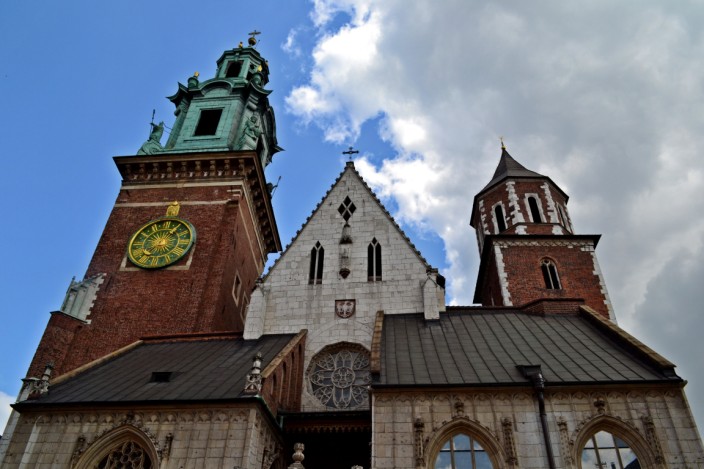 (Front facade of Wawel Cathedral)
One thing that is free is Wawel Cathedral – but again, no photos allowed inside. Outside, the cathedral itself is a hodgepodge of styles. Steeples and domes of varying colors and materials change character with the weather and type of light, and make for fascinating photos.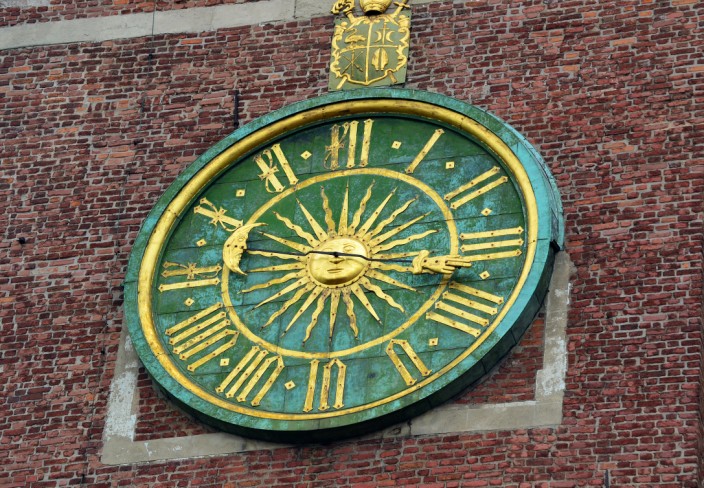 (Clock detail)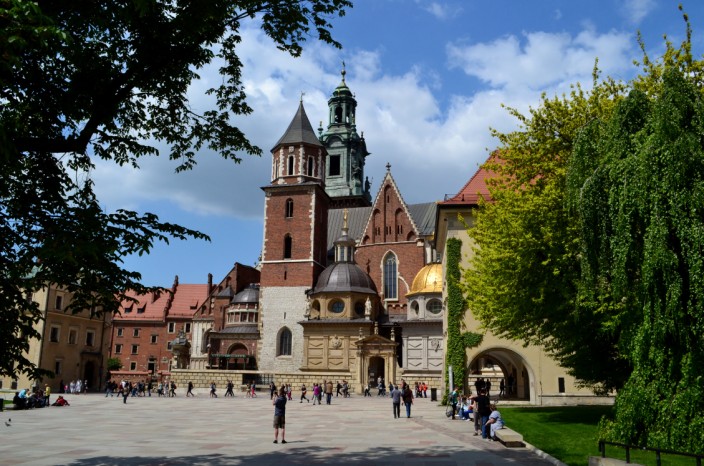 (Wawel Cathedral in the sun)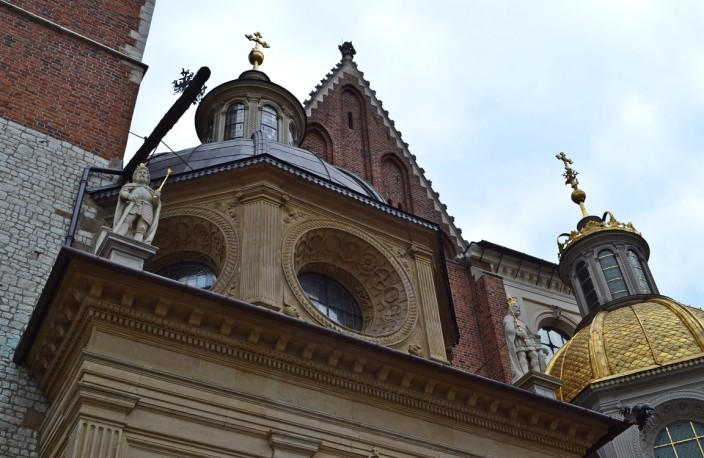 (Roof and dome detail on Cathedral)
Next door to the Cathedral is the John Paul II Cathedral Museum, two conjoined buildings featuring artifacts, regalia, and memorabilia from the history of Wawel Cathedral. Two separate Cathedral Treasury rooms house more objects related to the coronations and funerals of various Polish monarchs as well as valuable gifts bequeathed to the Cathedral by the kings. Another entire room is devoted to Pope John Paul II, aka the Polish Pope, and a history of the life of Karol Wojtyla as a young man, a bishop, Archbishop of Krakow, and of course, as the Pope himself.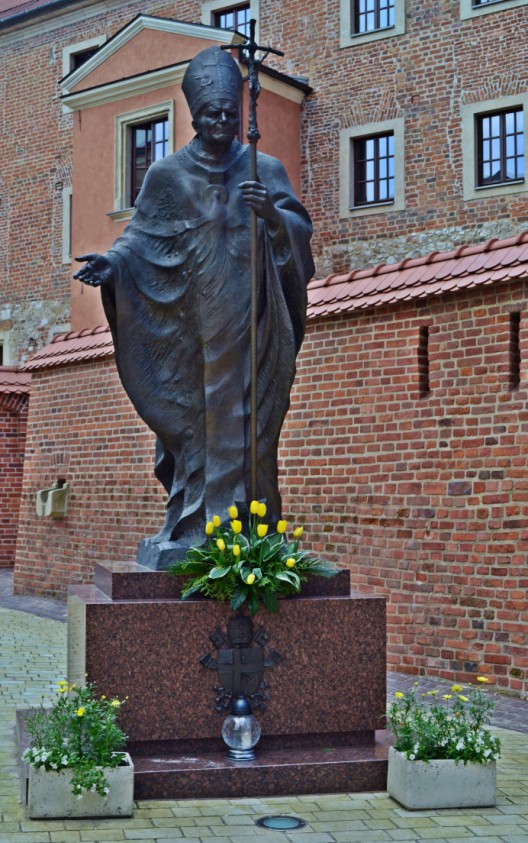 (Statue of John Paul 2)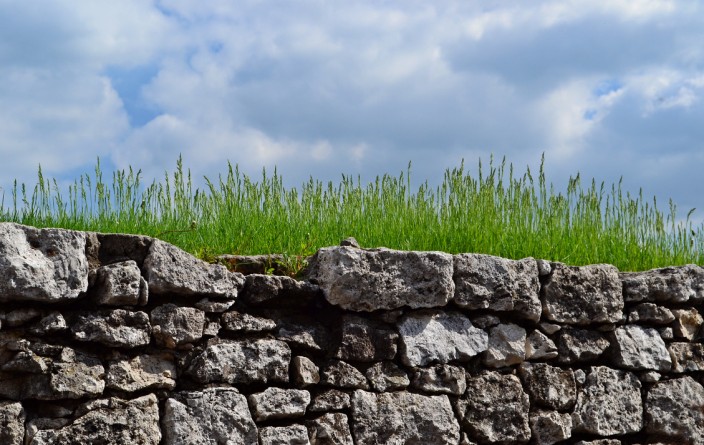 (No particular reason for this shot, I just like it)
Outside in the courtyard facing the cathedral is a large statue of JP II, one of I think about a hundred scattered throughout the city. Images of the man are inescapable here. Understandable, as the Poles are a devoutly Catholic nation and justifiably proud of their most famous holy man.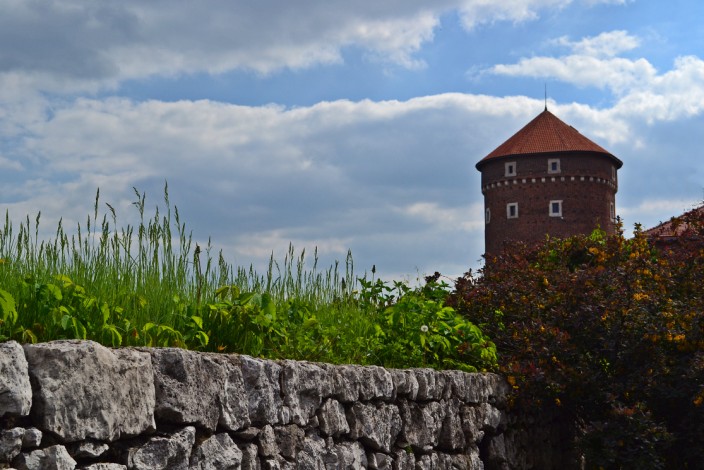 (Tower and wall)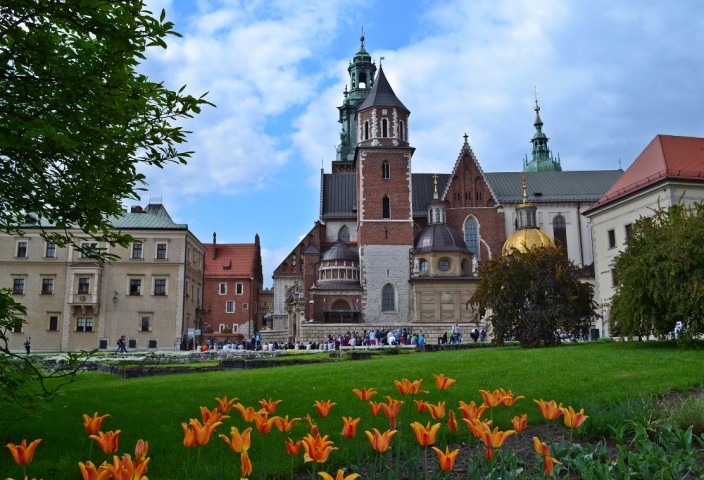 (The Cathedral, one more time)
We took a liesurely mid-afternoon lunch in an outdoor café, strolled the grounds a bit more and then, reluctantly, walked out of the castle gates and down the hill away from Wawel and it's fascinating and colorful history. But there was plenty more to see and do in Krakow and we headed off to do it.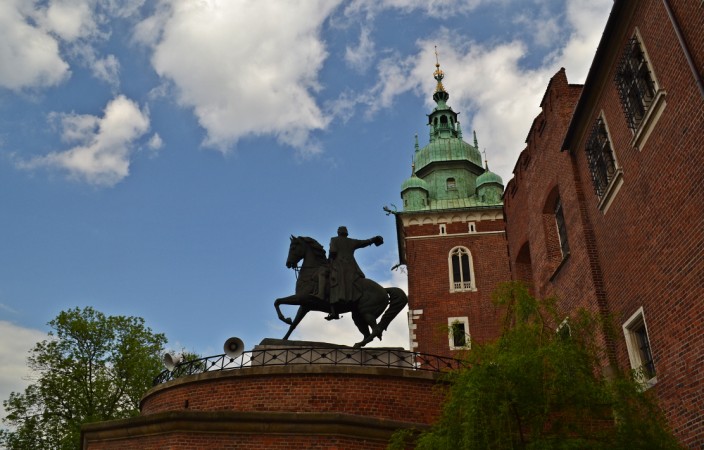 (Farewell and a tip of the cap to Wawel)
Coming Soon: Wieleczka Salt Mine