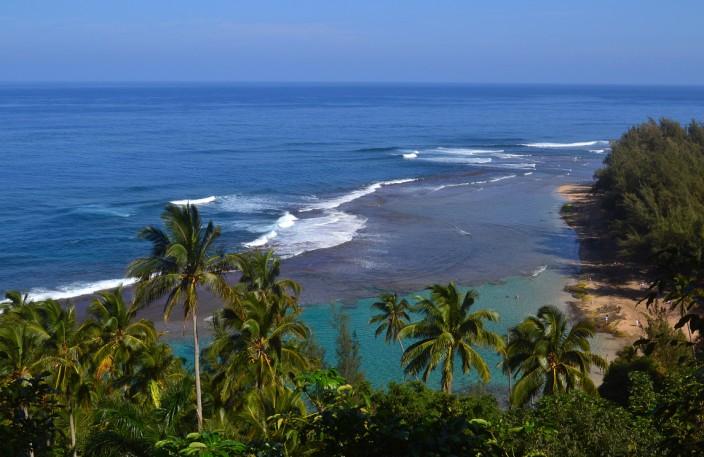 (Kee Beach)
Next day dawned bright and sunny once more and even though I still felt listless and not all that well, I dosed myself liberally with pharmaceuticals and resolved not to let anything else stop our vacation march to the sea of frolic and fun. We drove to the north shore end of the road a few miles past Hanalei Bay, stopping to scope out a couple beaches and take photos along the way. Roads end is a popular area with limited parking so if you arrive in late morning, as we did, expect to walk a good half mile or so to Kee beach – a great snorkeling spot – and the other major attraction here, the Kalalau trail, our destination.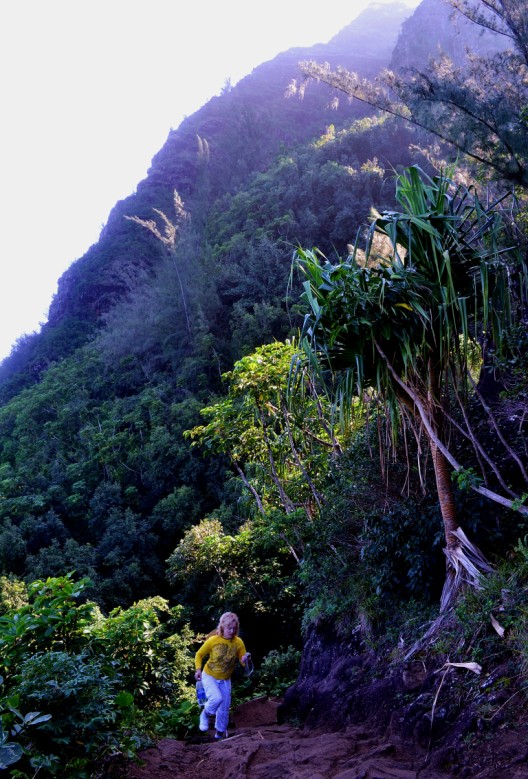 (Climbing Kalalau trail)
The Kalalau trail is an at times very challenging eleven mile hiking trail which hugs the north shore Napali coast. It's the only way to see this stunning stretch of Kauai without forking out big bucks for either the helicopter or boat tours which visit there. Those who choose to hike the entire eleven miles in will generally stay at least one night before heading back the same way, as the trail simply dead-ends and does not connect through to the west side of the island. I suppose some hardy and intrepid trekkers might try to hoof it all the way in and out in a day but you'd have to be a) insane, and b) completely nuts.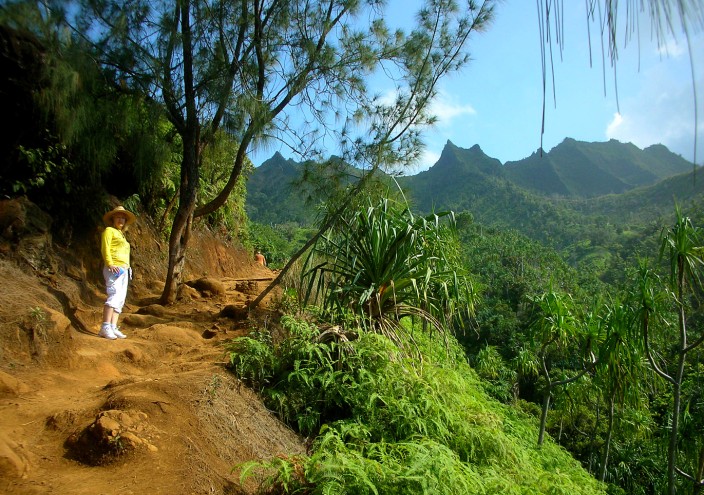 (On the Kalalau trail)
At the trailhead there are plenty of prominent signs warning hikers of the trail's difficulty, the need to bring ample drinking water, to wear proper footgear and sun protection, the hazards of flash floods, giant man-eating insects, lions and tigers and bears, oh my! They basically try to convince you to turn around and go back to your car and forget the whole idea.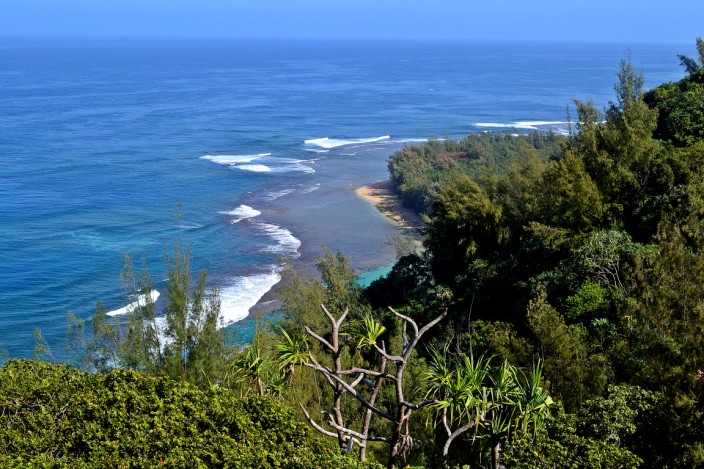 (Kee Beach, another view)
Undaunted by the dire warnings of our imminent demise should we choose to proceed, we slathered on sunscreen, donned our hiking shoes, toted our water bottles and hiked the first two miles of the trail to Hanakapiai Valley, along with a couple hundred other people who were: wearing flip-flops, carrying no water, ranging in age from infancy to about ninety, many of them obese and out of shape and looking like they needed a respirator after the first five hundred feet. I give them credit for trying. I just didn't want to be the first guy to round some bend in the trail and find one of them beet-faced and convulsing on the ground.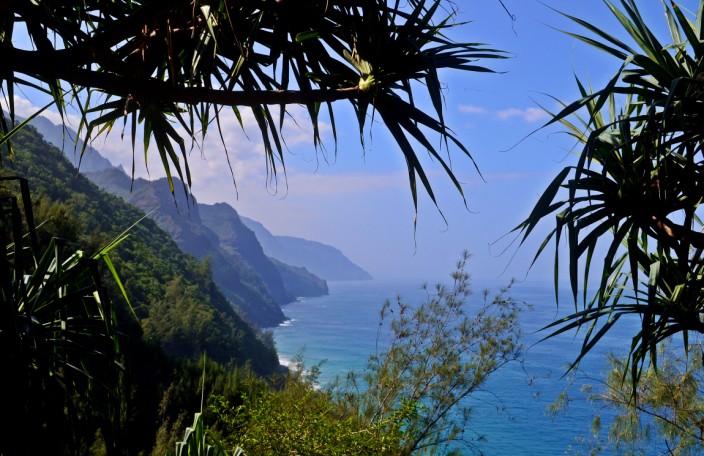 (First glimpses of the Napali coast)
The Napali coast is a series of ridges and cliffs and valleys which jut out until they plunge dramatically into the sea, so there is scarcely a level spot on the entire trail. You're either going up or down and usually at a steep gradient. Much of the trail is composed of old volcanic rock which is either wet or covered in mud or both, meaning it's slicker than snot. We took our time, stopping often for photos and simply to drink in the magnificent views and, frankly, because my energy level still wasn't up to snuff.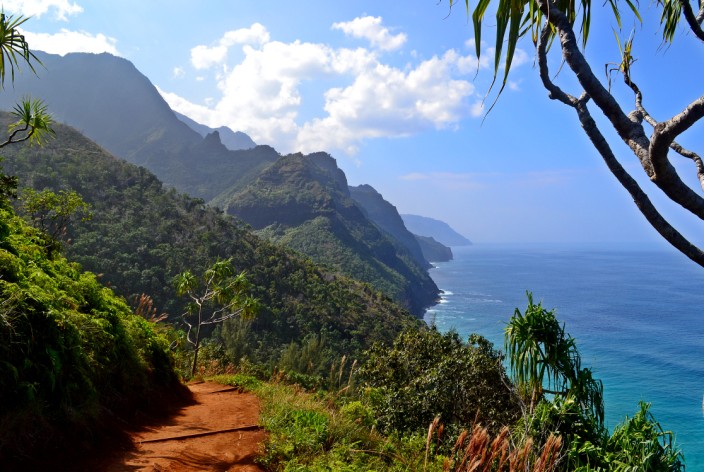 (The spectacular Napali coastline)
For someone like me who's spent his entire trail-hiking life in the Cascade and Olympic mountains of Washington, this was a fascinating and very different experience. Every turn of the trail brought a new vista of crystal clear, impossibly blue waters and soaring cliffs covered in jungle-like flora. I kept expecting to see Indiana Jones crash out of the undergrowth in his sweat-stained fedora with a moth-eaten map in one hand and his whip in the other and a few dozen natives in pursuit. Or maybe I just watch too many movies.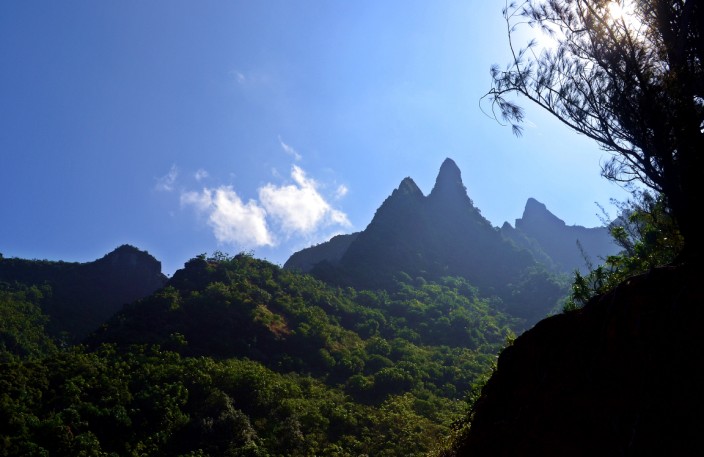 (Is that Indiana Jones crashing out of the trees?)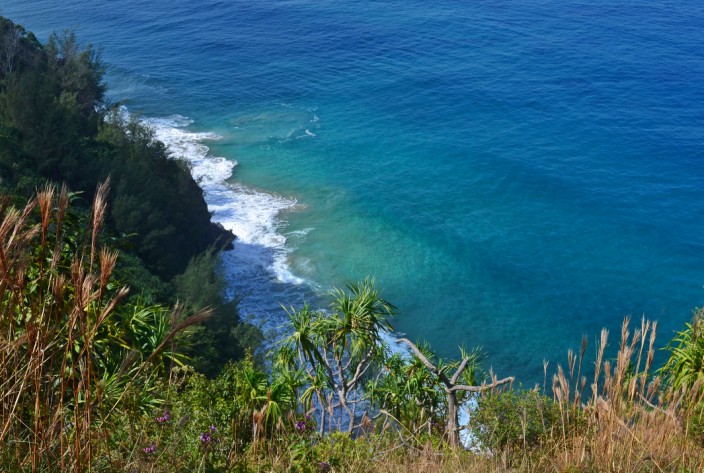 (Watch that first step)
At the two mile mark the trail crosses a boulder strewn stream and gives you three options: a) take off your shoes and wade across barefoot; b) leave your shoes on and wade across and have wet footgear for the rest of the day; c) leave your shoes on and try boulder hopping across without slipping on the slick, wet stones and ending up with option b. We chose option c, and to my delight and surprise, both Irina and I negotiated the slippery stones without depositing our feet or fannies into said stream.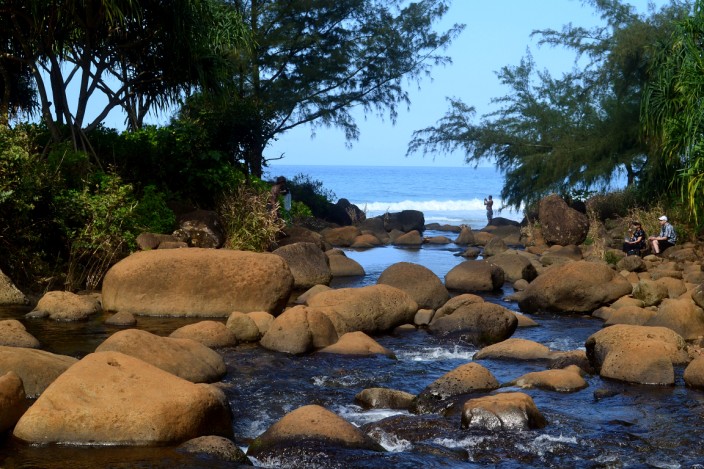 (Crossing the stream to Hanakapai Beach)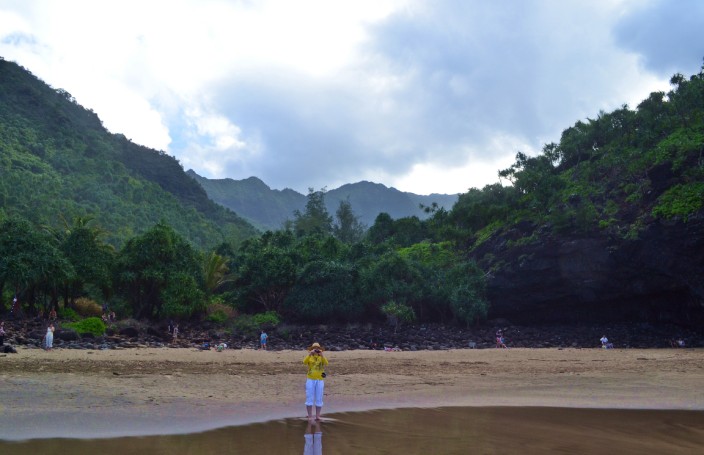 (Hanakapai Beach)
A short walk then brings you down to Hanakapiai beach. It's not that big and there were perhaps twenty people or so meandering and lazing about, some eating lunches. No one swam as the rip currents are too strong there which disappointed us. It would have been a nice reward for our long sweaty trek to get there. We kicked off our shoes and waded in the waves, sat on the beach for a bit and headed back.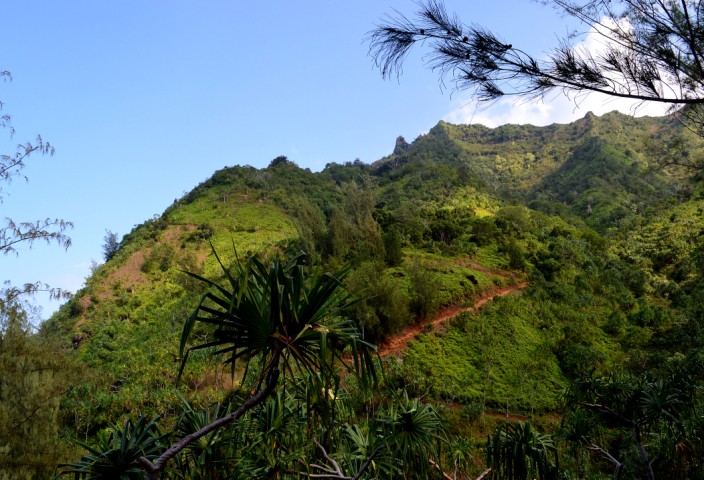 (The trail. Yes, it's as steep as it looks)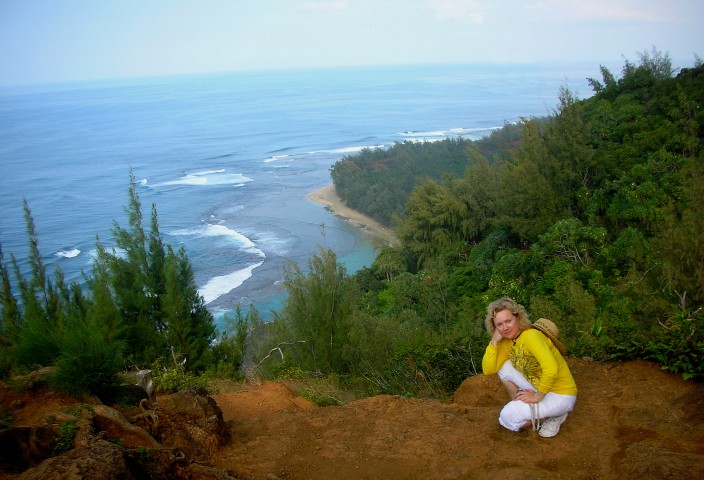 (Heading back to Kee Beach, kinda tired)
The return went quicker as we'd already stopped and taken plenty of pics on the way out. When we finally reached the trailhead, three teenagers were selling fresh coconuts out of the bed of their beater pickup truck. Five bucks a pop, which was probably overpriced, but what the heck, you gotta have a fresh coconut sometime while you're in Hawaii, right? They hacked the coconuts open with their machetes, we drank the milk which wasn't really milky at all but a semi-clear sweet liquid, just cool enough to be refreshing. Then we handed the coconut back to them and they chopped it in half and scooped around the meat so we could eat the rather bland flesh right out of the nut. Fun.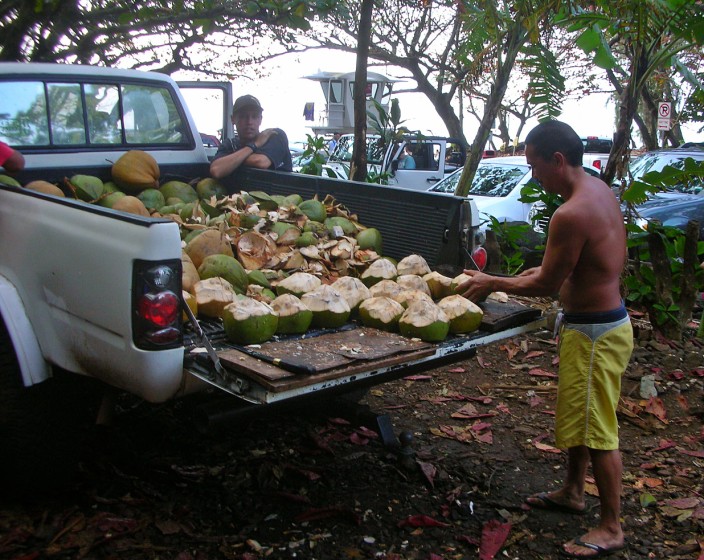 (Fresh coconuts)
Next day we decided to head for one of the biggest attractions of Kauai, Waimea Canyon, known as the Grand Canyon of the Pacific, a name bestowed upon it by no less a personage than Mark Twain. It's not nearly so deep or long as the Grand Canyon of Arizona, of course, but at fourteen miles long, a mile wide and over three thousand feet deep it's still plenty impressive in its own right, and an absolute must-see on your Kauai itinerary.
We never got there.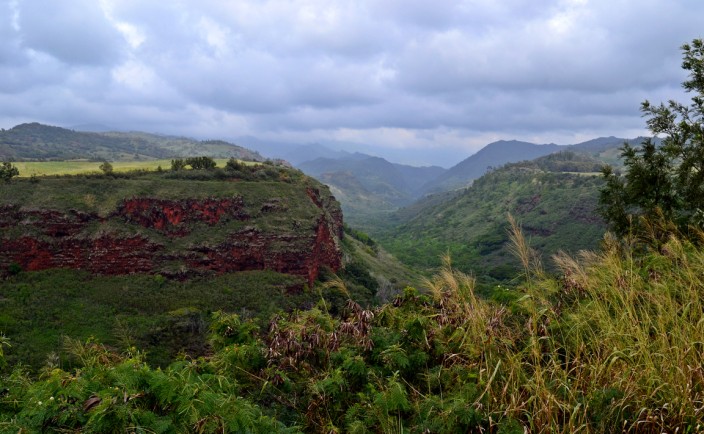 (Waimea Canyon? Not quite, but it's as close as we got)
Through a combination of bad luck, bad timing, and bad weather it just never happened for us. Lesson learned: when you get to Kauai, if you have any interest in seeing Waimea Canyon – and you really should – go when the weather is clear, even if you just got off the plane or you don't feel well or whatever your excuse, go now. Because if you wait for another day, there's an excellent chance that day will be cloudy and rainy as it was for us and if it's raining on the coast, it'll be pouring in the island's mountainous interior where the clouds hang around nearly all the time and you not only won't see the canyon, you'll be lucky to see the a hundred feet beyond the edge of the highway.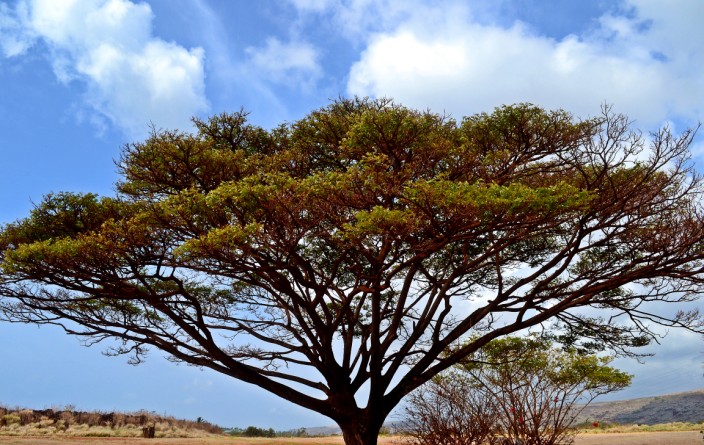 (Tree in Waimea)
To get to Waimea from our location on the north shore we had to drive more than halfway around the island, and by the time we reached the south shore area the clouds were hanging heavy and spattering us with intermittent showers along the coast. Inland, forbidding towers of dark purple clouds made it obvious we shouldn't even waste our time driving into the canyon area. We goofed around Waimea town for a couple hours hoping the weather might improve, checked out the old Russian Fort Elizabeth, which is really nothing more than a circular wall of crumbling red earthworks and a bunch of weeds and thistles (with plenty of feral chickens, of course) and finally abandoned any hope of seeing Waimea Canyon that day.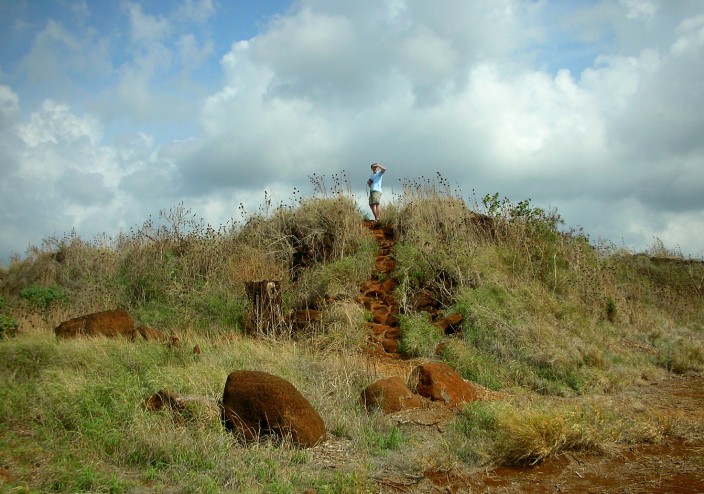 (The ruins of Fort Elizabeth)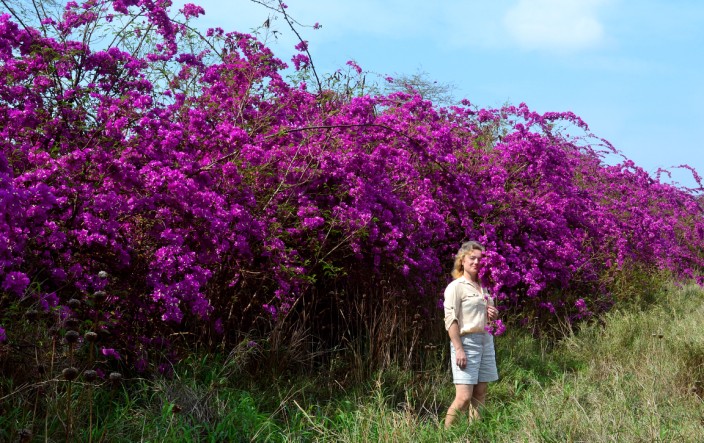 (Wildflowers)
So we drove towards Poipu, stopping along the way to check out the Kona Coffee Company, site of the largest coffee plantation in the U.S. It was a nice diversion but since neither of us really drink coffee (a shocking admission for folks from the Seattle area) it served more to pass the time than anything else. They have about a hundred and eighty-seven varieties of coffee set out for tasting and they all smell great and they all taste like variations of burned mud to me.
Coffee. I just don't get it.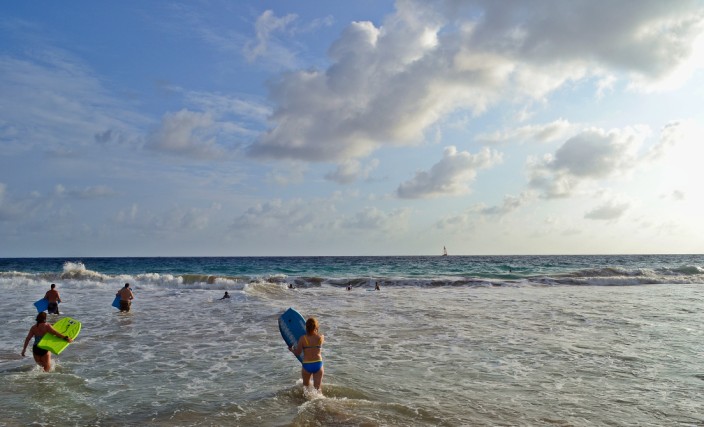 (Boogie boards!!)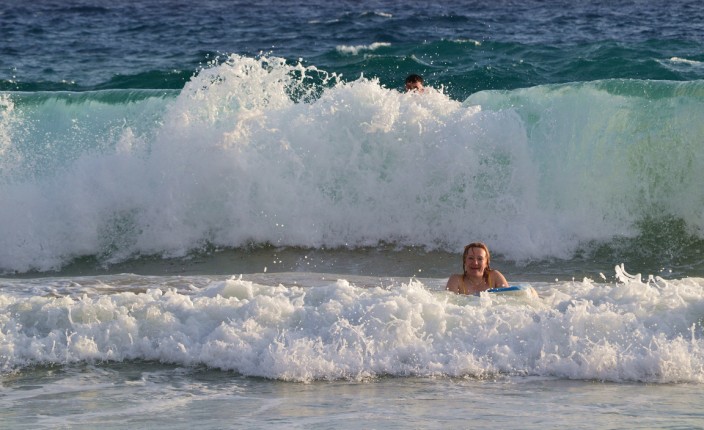 (Um…look out behind you)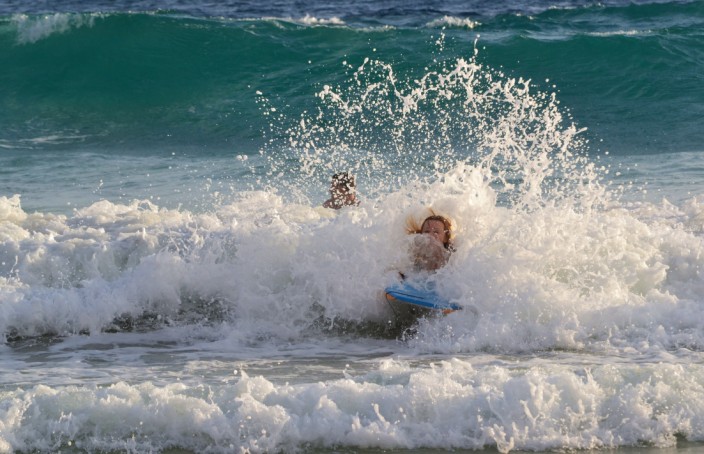 (Told you)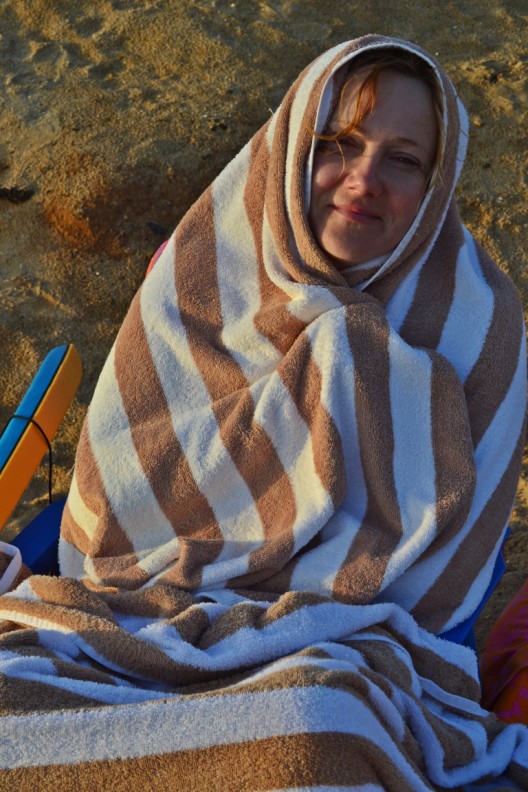 (All done boogieing for today)
We hung around Poipu and late in the afternoon the weather did improve enough for us to hit the beach and have probably the best two hours of the entire trip when we finally found the perfect beach for boogie-boarding. On all the other beaches we'd tried the waves and currents were either so big and dangerous that you'd have to be crazy to try it, or so lame and tame that they were no fun at all except for snorkeling. Here, the waves were large enough to knock us down and push us around but not so huge as to be risky. We stayed until sunset and had an absolute blast. We would have stayed longer but two hours of standing, swimming and being pummeled by crashing waves will give you a whole new appreciation of water power and leave you pleasantly exhausted.
Coming Soon: Hawaii Part 3