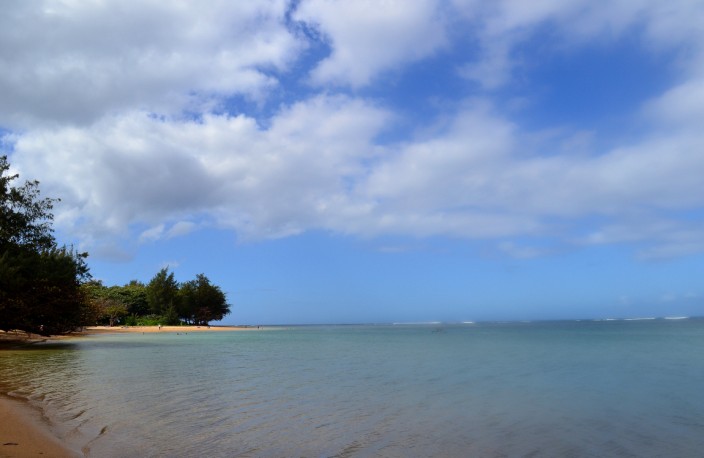 (Just another perfect Kauai beach)
So, you want to go to Hawaii, huh? Well, there's maybe a few things you should know that they don't tell you in the travel brochures. Now don't get the wrong idea. Hawaii is a beautiful place, fabulous beaches, warm breezes, stunning colors and lush, otherworldly terrain, all that stuff you've heard is absolutely true. But there's also idiot tourist drivers gawking at the scenery instead of oncoming traffic and running you off the road, there's head colds that hit the day you arrive and last most of the week, there's rain that can wash out entire days of your stay, there's motion sickness that can turn your boat cruise up the Napali coast into a five hour ordeal spent draped over the side feeding the fishes. In short, it ain't all a 24/7 paradise.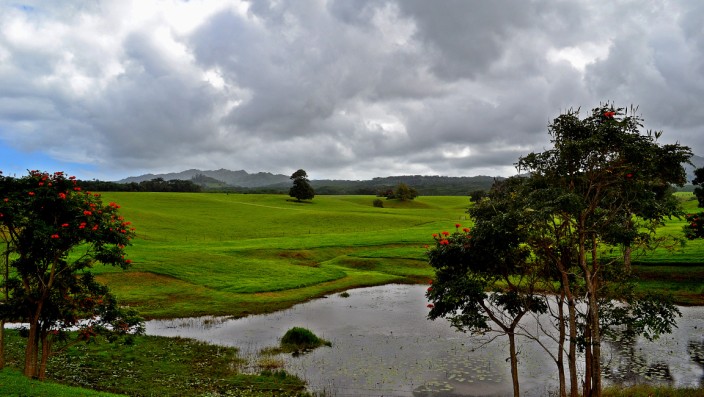 (Kauai landscape)
Just don't expect any sympathy when you come home and try to give an honest account of your trip, especially when you travel in January from somewhere like Seattle on the heels of one of the worst snow/ice/slush/wind storms in recent decades. Better if you just come back and when someone asks how your trip went, smile and jump up and down and clap your hands and squeal like a tv game show contestant while exclaiming "It was wonderful! It was paradise! It was heaven on earth!" over and over until they tell you to stuff a sock in it. Because if you tell the truth, that it was a mixture of great and not so great, people will simply think you're churlish and ornery and ungrateful for the lovely break you just had and want to punch your lights out. I know. I tried this and 1, people are jealous to begin with, and 2, they're not going to believe you anyway. So just go with the paradise scenario, tell them what they want to hear and everybody will be a lot happier.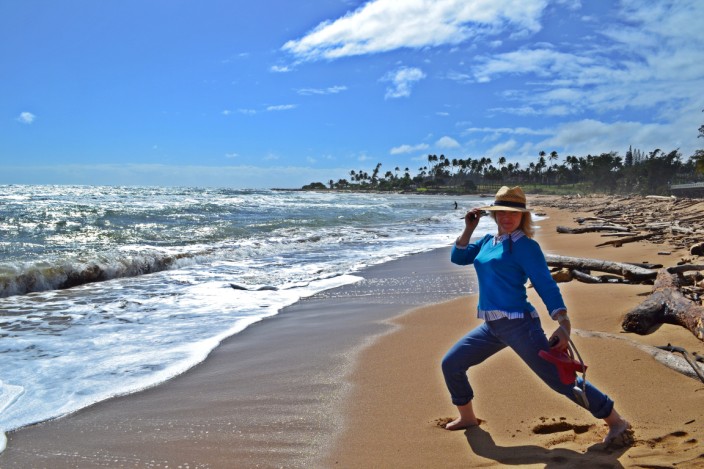 (Our first Hawaii beach!)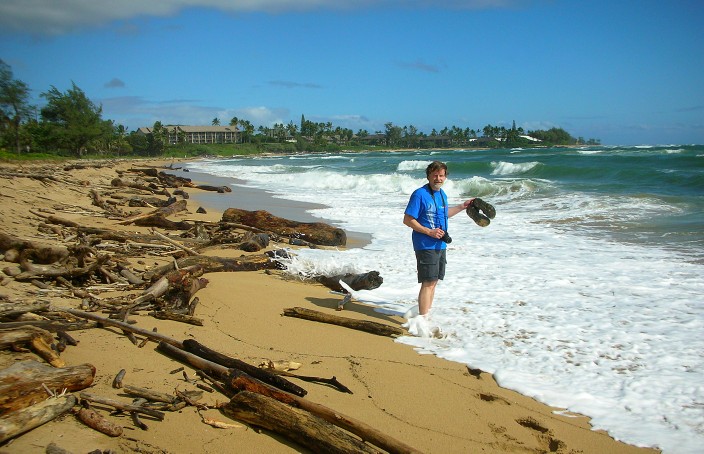 (That water feels good)
So with all those disclaimers out of the way, if you're interested in reading about the reality of a one week trip to the Island State, here it is.
First off, getting to Hawaii entails a long plane ride from somewhere. In our case, from Seattle, it's a six hour flight. Unless of course you encounter 70 mph headwinds which add half an hour to that. So it's a lengthy jaunt, but as a veteran of several 9 to 10 hour USA to Europe flights, not an unendurable length.
But for us the joy of travel really starts at the security checkpoint. It's not enough you strip halfway out of your clothes, now they want to run you through the new high-tech scanners for an extra dose of radiation and five years from now they'll discover it makes your whatchmacallit fall off. You can opt out of course, as both my wife and I do, and then be subjected to the added indignity of a complete criminal patdown right there in front of God and everybody. Irina, however, has discovered it's all okay with the right attitude. She just treats it like her own personal free massage courtesy of Homeland Security. In fact she enjoys it so much that on our final flight home when they performed a mere thirty second cursory patdown, she was disappointed.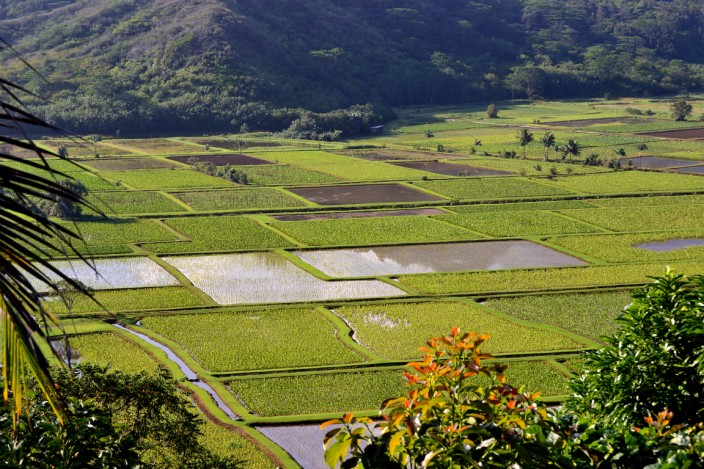 (Taro fields)
Once on board it didn't take long for the real fun to begin, with the nonstop crying screaming coughing kid seated directly across the aisle from us along with her mom who also sounded like she belonged in a tuberculosis ward and never bothered to cover her mouth once, and soon that six and a half hour ride began to feel more like twelve.
Unfortunately it wasn't just the one sick, crying kid. There must have been three or four others in our vicinity as well, so many that we felt like we'd mistakenly gotten seated on the Seattle to Honolulu Nursery and Day Care flight. Irina and I have come to the conclusion that no one should be allowed to fly with children under the age of ten, or maybe eight if the kid can pass some sort of quietness and obedience test. Either that or the airlines need to build a soundproof section in the rear and all parents and kids under said age are quarantined and locked in there for the duration of the flight, no exceptions. Add to this the usual airline complaints of cramped quarters, no food, not enough toilets and it really does become an endurance contest.
I know, I know, no one forced us to do this, so shut up and stop complaining.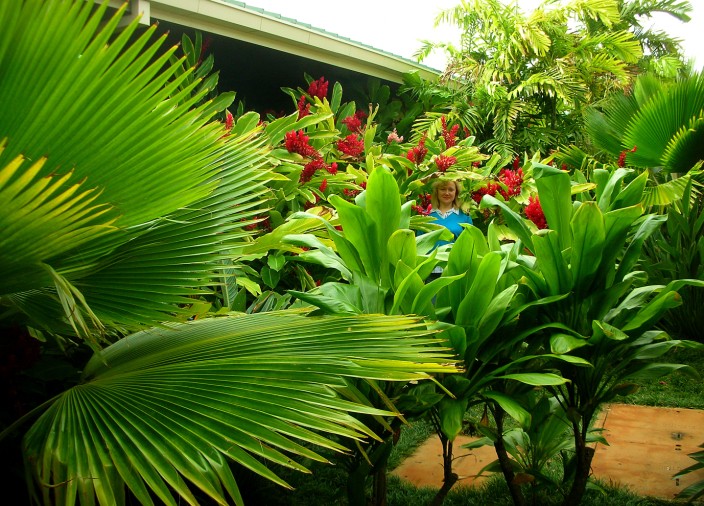 (Lost in the jungle? No, it's just Lihue airport)
We landed in Honolulu late, about 10:20 p.m., and grabbed a hotel room in Honolulu near the airport as we had an early flight next morning to Lihue and the island of Kauai, our final destination. Upon waking in the a.m. I soon realized that the dry scratchy throat I had felt the previous night was not simply a case of "jet throat" as I'd tried to convince myself, but in fact the first symptoms of what would become a full blown head cold. Could there be a more perfect example of Murphy's Law? It got worse the next day, reached its peak the third day, then gradually subsided but never disappeared for the duration of our stay. Meanwhile, my wife came down with the same thing just about the time mine got a little better so that we never had a single day where we both felt completely well at the same time. As the French would say, "C'est la vie," which I think means "Life sucks."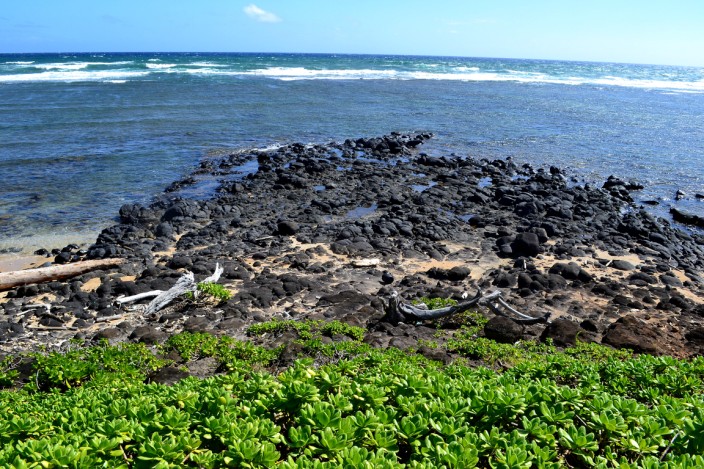 (Our second Kauai beach)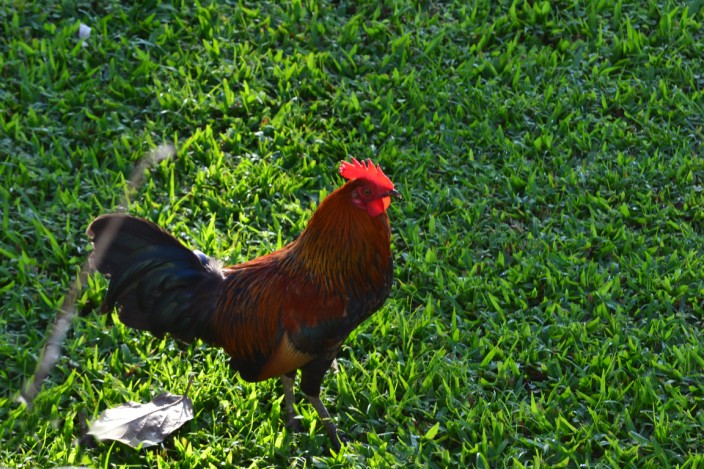 (Our friendly neighborhood rooster)
Upon arrival on the island of Kauai, one of the first things you will notice are the feral chickens. Roosters, hens, chicks, they are everywhere, they are ubiquitous, they are legion. You'll see them on the street, on the golf course, in the Walmart parking lot, under your sofa. Okay, maybe not the sofa, but it wouldn't surprise me to at least find some eggs incubating under the cushions.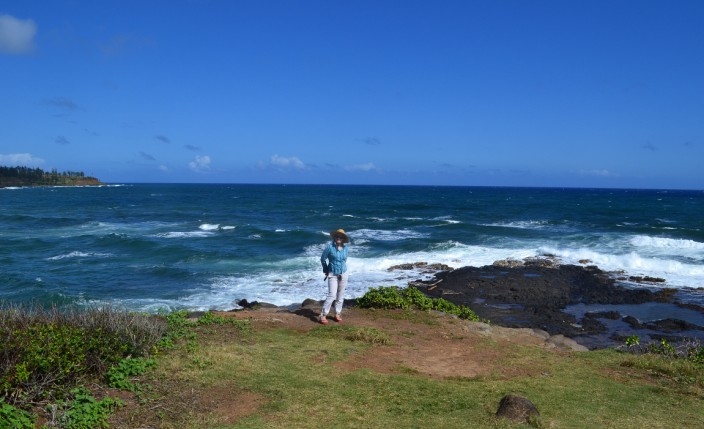 (Blue Hawaii)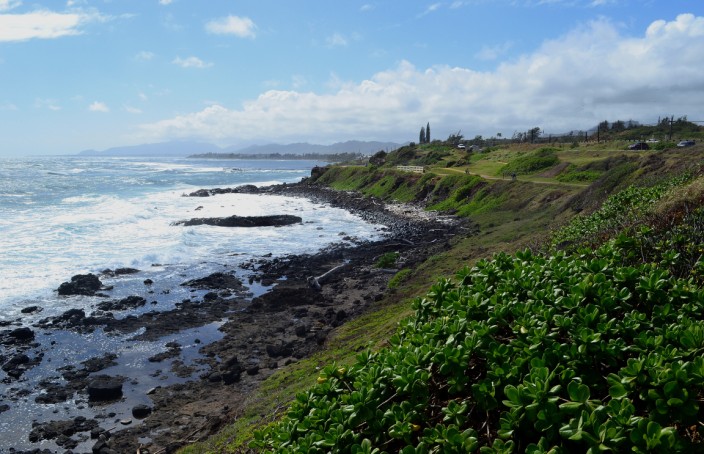 (Another lousy beach)
The other thing you can't escape are the helicopters. Only ten percent of Kauai is accessible by road, so the best way to see the primitive mountainous and rain forest areas is by helicopter and I can tell you the whirlybirds run the roosters a close second in sheer numbers. During one hike we took along the "hidden" Na Pali coast I counted four different copters droning overhead along the same shoreline route within about a two minute span, which does dampen the whole primitive aspect to some degree. These two phenomena beg the question: Which is the state bird of Hawaii, the rooster or the helicopter? I never learned the answer, but I'd rate it a tossup.
The airport on Kauai is located in the town of Lihue, also the largest city on the island but as the total population of Kauai is only 60,000, Lihue is still a pretty small town. In fact the entire island has a very laid-back, rural vibe to it that is surely one of its most charming and attractive aspects. If you want the non-urban Hawaii experience, Kauai is the place for you.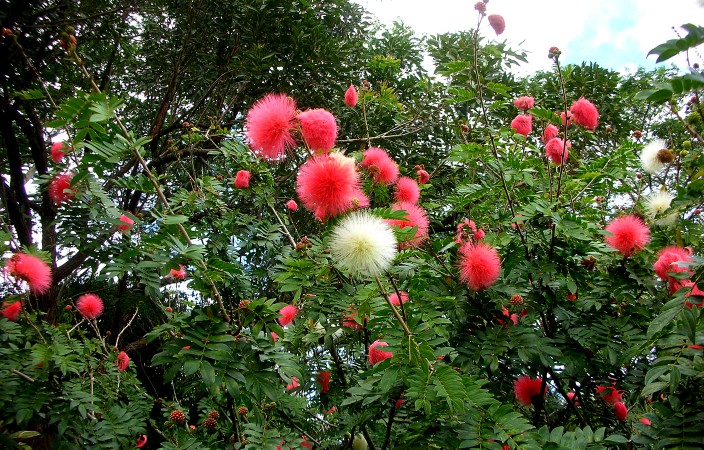 (I think these are called Pink Spiky Puffball flowers. No, really)
Leaving Lihue and heading north along the eastern shore to our rental condo, we took our time, stopping to stroll and get our feet wet on numerous beaches on the way, taking pictures and soaking up the blissfully perfect 78 degree sunshine, the turquoise water and golden sands, with a steady breeze ruffling our hair. It really was an almost postcard-cliche Hawaii experience, but for a couple of island first-timers like us, it was a great introduction and some of the best hours of our week, and served to wash that Seattle slush right out of our hair.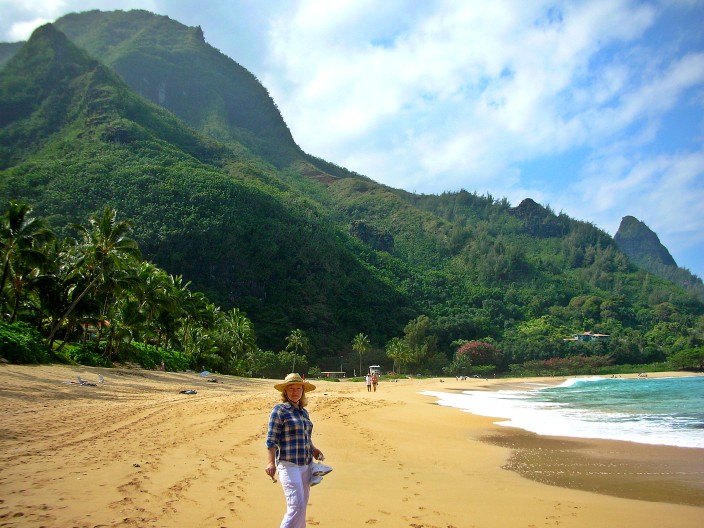 (On the beach)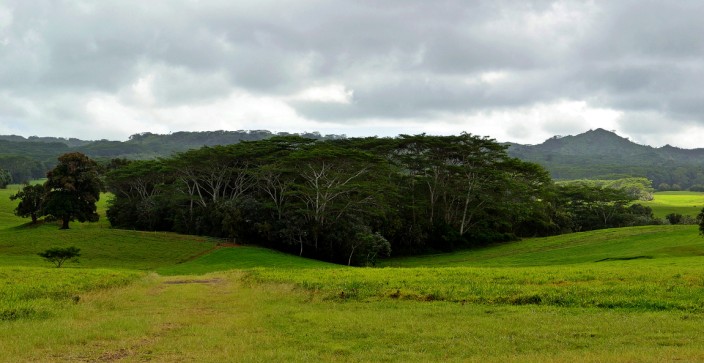 (Afternoon clouds roll in)
We arrived at our condo in Princeville by mid-afternoon and it proved to be a real jewel. With three bedrooms and baths, it could have comfortably housed four or even six people. For just the two of us, it was very spacious, impeccably maintained and appointed and situated in a high rent district that continually made me feel like someone would knock on the door at any moment and tell me to get the hell out of their fancy neighborhood. The only thing that could have been an improvement would be if it fronted on the ocean (it didn't) but there was a gorgeous view from our lanai of mountains beyond the golf course located directly across the street. It was such a nice place we almost felt bad about spending so little time there.
(View from our lanai)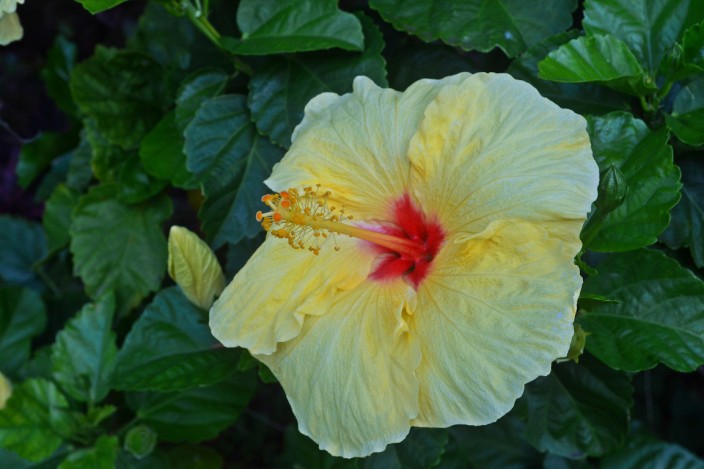 (Nice flower)
Next day my head cold ramped into high gear and I didn't feel up to anything too strenuous, so we mostly kicked back and laid on the beach a lot, soaking up the sun and lolling in the goldilocks not-too-hot-not-too-cold-just-right-temperature waters of Anini Beach.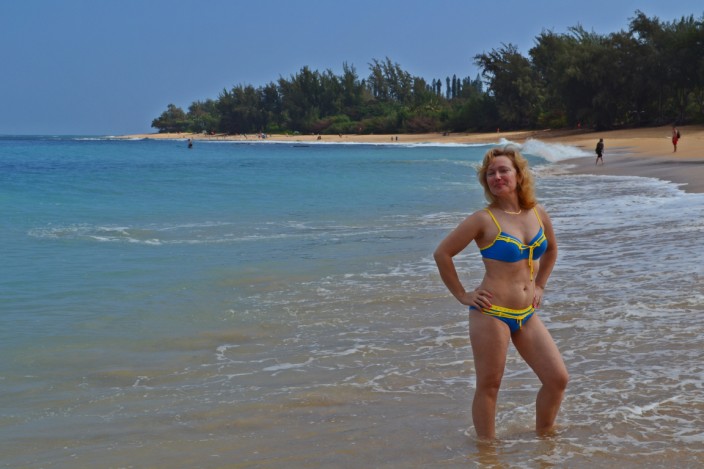 (Isn't that one of those Sports Illustrated swimsuit models ?)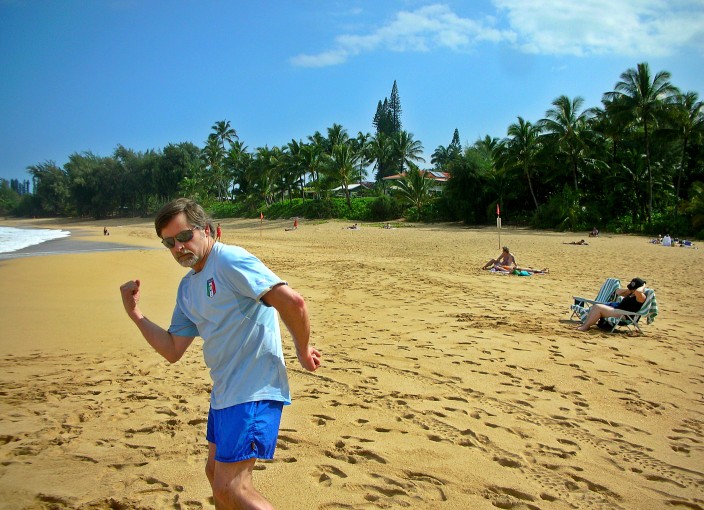 (Some posing knucklehead)
When finally we left to head home I was feeling stuffed-up but relaxed as we navigated the twisty-turny narrow beach road. About halfway up a hill a minivan rounded the corner ahead of us and kept right on listing across the center line, careening downhill directly at us, the driver obviously rubbernecking at the lovely view over the hillside instead of watching the damn road.
I had maybe two seconds before this idiot laid waste to our rental car. I laid on the horn, started shouting "Hey, hey, HEY!!" like that was going to help anything, hit the brake and steered as far right as I could, but with only six inches of shoulder to play with and a steep hill beside us, I braced for impact. Less than a few feet before impending disaster, Gawking Moron finally woke up, steered left and avoided the head-on. Great, I thought, we'll only get sideswiped instead of killed, and why oh why didn't you opt for the full no-fault rental car insurance coverage instead of the minimum, you cheap bastard?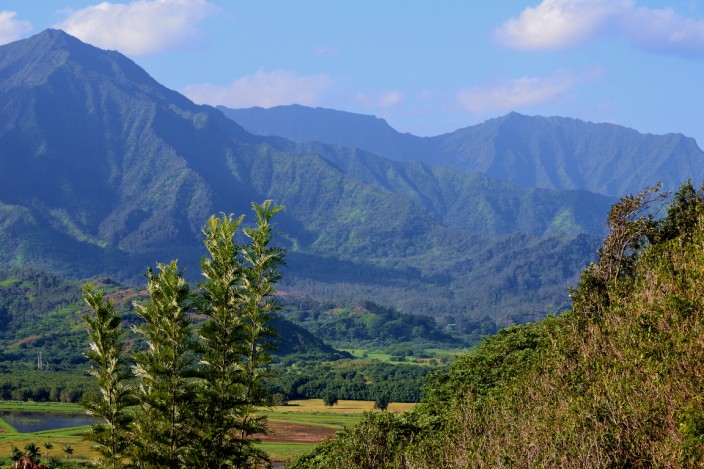 (Along the road from Princeville to Hanalei)
Somehow – and I will never understand how other than attributing it all to the Guardian Angel of Vacation – we survived. I slammed the tranny into park and jumped out, a blue cloud of profanity streaming from my mouth, and watched as Gawking Moron kept on driving and disappeared around the corner. Never even hit the brake.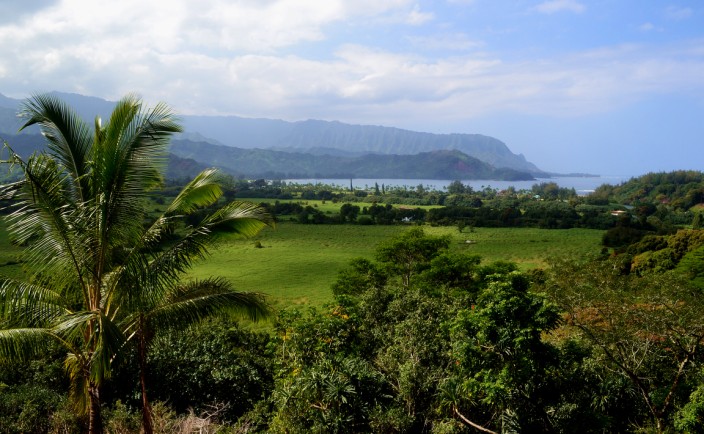 (Hanalei Bay in the distance)
I swore some more, then turned back to our car to survey the damage, expecting to see major scrapes or at the very least thinking the rear view mirror must surely have been decapitated, but it was completely intact. All we had were a few dark streaks, probably where some rubber or hard plastic moulding had dragged along the side of the car. Bad enough, but considering what might have been, it felt like we'd dodged a major bullet.
And on the plus side, all that adrenaline pumping through my system did clear my head for a while. Next time you're all plugged up, give this a try.
See, if you just look for it, there's always a rainbow in Hawaii.
Coming soon: Hawaii Part 2