Day Three – Tuesday, September 14: Pocatello to Moab, er, Green River
We dallied a bit in Pocatello before hitting the road at 9 a.m. and streaking south toward Utah. We sped across the border into our fourth state of the trip and zoomed right past Ogden and the whole Salt Lake City metropolitan area. I'm sure Salt Lake is a nice town, with the looming Wasatch mountains providing a spectacular backdrop, but it wasn't on our agenda to stop and investigate its charms, as wonderful as they may be.
This is the third time I've done the drive-by on Salt Lake City and frankly I'm beginning to feel a little guilty about it. There's got to be some good reason all of those nice Mormon folks decided to settle on the shores of a dead lake. You telling me they didn't stumble across some green, verdant valley somewhere along the way on that long, westward wagon trek?  This dry, dusty flatiron where it's 100+ degrees for months on end and a lake with five times the saline content of the ocean is the best place they could find?  Maybe they spent a few too many months out in the sun broiling their brains on the way there, I don't know. I'm just saying it could affect your judgment. It could.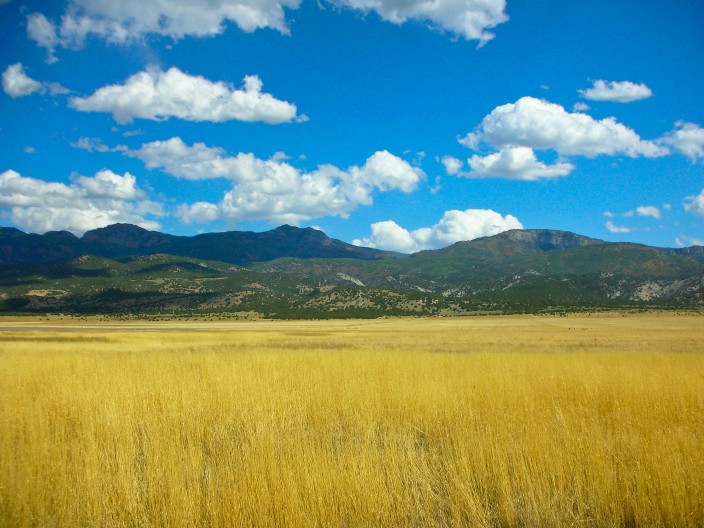 (Farmland in central Utah)
We continued south on I-15 to Nephi, then branched off on state highway 28 on  what was marked as a scenic byway on my road map. You know, with the little green dotted line paralleling the highway.  I don't know who designates these things, but I didn't see anything more scenic along this stretch of road than a few hawks circling the endless farm fields in search of lunch. It wasn't an ugly piece of highway, don't get me wrong, but in retrospect it wasn't worth the detour. We could have made better time and missed nothing of interest staying on I-15 all the way south to the I-70 junction and then heading east, and that's what I would advise anyone going that way.
We did in fact get on I-70 eastbound near Salina, and this was a real treat. Not Salina, a dusty and rather shabby little farm town, but I-70.  We were entering red rock country and for the rest of the day the views just kept getting grander and more spectacular with nearly every bend in the road.  Crossing the San Rafael Swell, a stunning, coruscating upheaval in the earth's crust, we must have stopped the car half a dozen times to take pictures and simply gape open-mouthed like the tourists we were.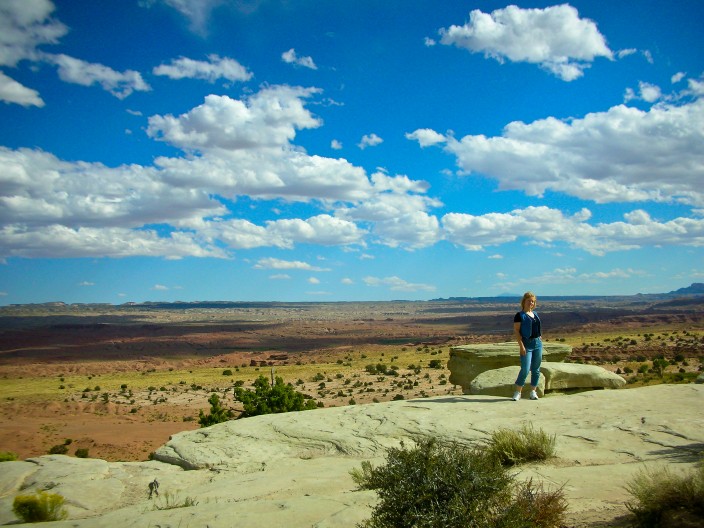 (San Rafael Swell along I-70)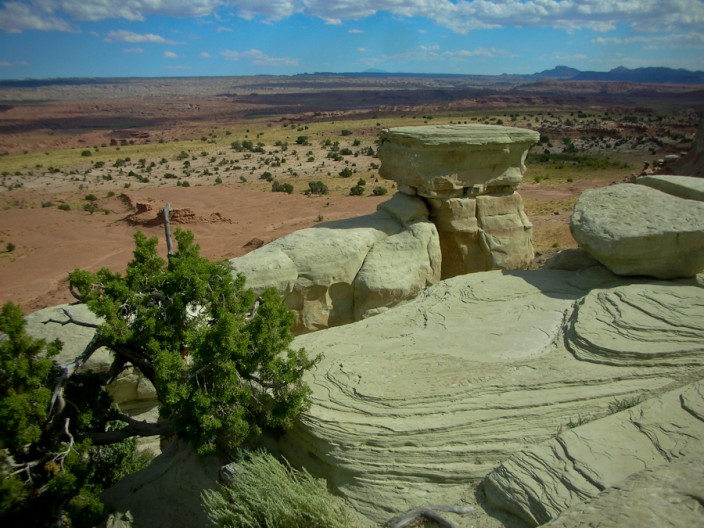 (Along the San Rafael Swell)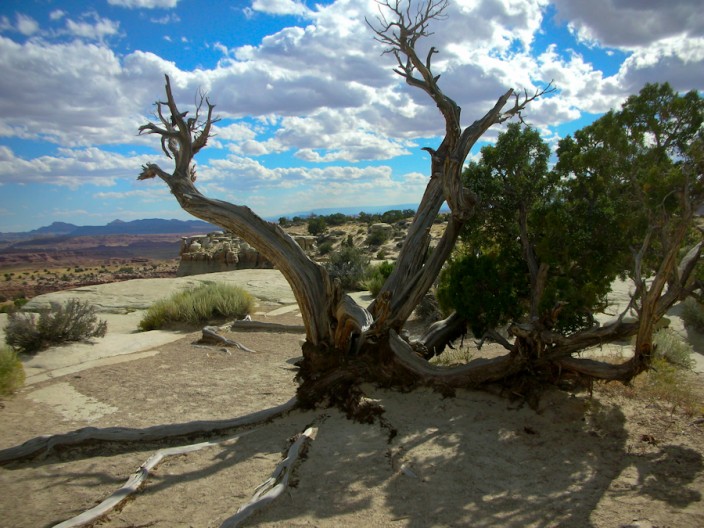 (Along the San Rafael Swell)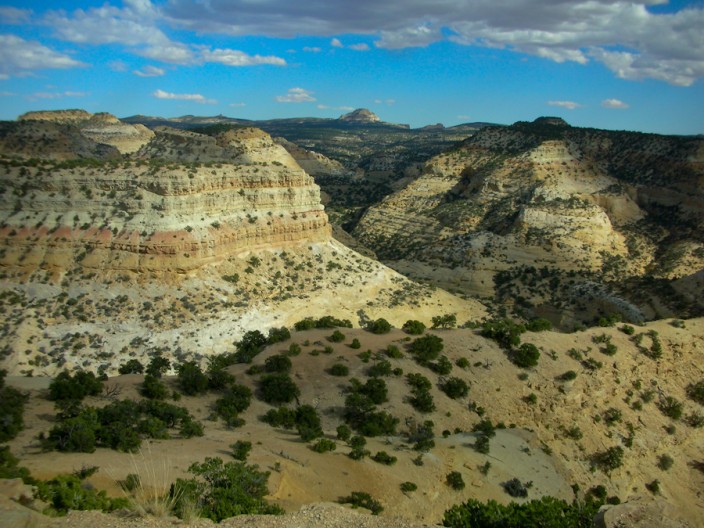 (Canyons of San Rafael)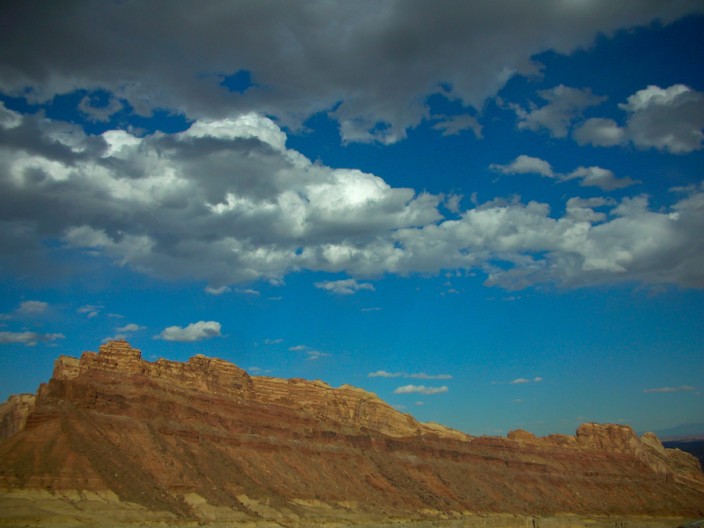 (Earth and Sky, San Rafael)
The San Rafael Swell is a kidney shaped geographical anticline about 50 miles in length and 30 miles wide. I-70 is the only paved road in its entire 600,000 square miles and bisects the Swell quite neatly into northern and southern halves. I'd never heard of it before we drove through, but if you like huge vistas of mesas, buttes, domes, washes, draws, slot canyons and towering rock formations of just about every hue and size and description, don't miss it. There are many unpaved roads, accessible to most vehicles, leading off the freeway into a number of these canyons, as well as more rugged four wheel drive and ATV trails.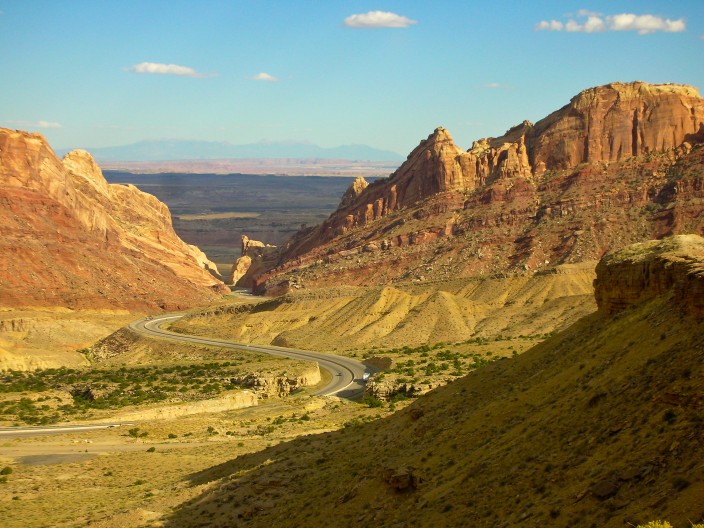 (I-70 snaking through Spotted Wolf Canyon near eastern edge of San Rafael Swell)
Just beyond the eastern edge of the Swell is the small town of Green River, a place I paid no attention to as we zipped past, little knowing then that we would meet again. Fifteen miles further east we left I-70 and headed down Highway 191 toward Moab, thirty miles south. Moab (a Ute Indian word, I believe, meaning "barren land of really freaking huge rocks") is not a big town, owing its existence entirely to one industry: tourism. And judging from our experience, business is booming.
Coming into town about six o'clock, we passed right by the entrance to Arches National Park and then came the motels, hotels, inns, B&B's, RV parks, etc. Irina had done her usual thorough research of our discount coupon books and we had a couple of places in mind. Since ninety percent of the motels are located right on the main drag, they weren't hard to find. What was hard to find – impossible, in fact – was a vacancy.
First we tried the places we'd picked out of the travel booklets. We entered the air-conditioned lobby of the rustic (read: faux log-cabin) Ponderosa Inn, a welcome respite from the ninety-something heat outside, and waited patiently behind a nice young German couple. She spoke to the receptionist in heavily accented English, then would dialog with her male companion in German. This pantomime continued for a few minutes until they'd finished their transaction. I smiled at them as they went out, not yet aware they had rented the last available room. Not just the last room in the Ponderosa, but in Moab. Of course we didn't know that yet, so it was only slightly annoying to think we'd missed out on snagging a room by a matter of a couple of minutes. How could I know then that an hour later I'd be cursing them as a couple of Hitler Youth who had no right to go stealing rooms out from under the nose of real tax-paying Americans. Stinking Nazis.
The receptionist at the Ponderosa was nice enough to call several other establishments for us, none of which had anything available. By her third call, I started to feel the first stirrings of panic seizing my innards. She kept up a cheerful enough façade, assuring us we'd find something. We left there and proceeded down main street, stopping at every single motel along the way. Every one, that is, except the ones which already had their "No Vacancy" signs lit up, which, we suddenly noticed, was almost everyone.
It's funny how quickly your standards begin to fall by the wayside when you realize you might have to spend the night sleeping in your car outside the park entrance. Normally, as I've detailed before, we're looking for a few non-negotiable things in a place to spend the night. Suddenly, everything became negotiable. Smoking rooms only? Fine, we'll take it. A room next to the dog kennel? No problem. How about a pillow and a blanket on the floor of the laundry room? Sounds swell.
Price concerns flew out the window as well, but even that didn't help. Inside the Excessively Priced Inn I again stood waiting my turn while some over-dressed, gaggingly-perfumed bimbo from Tennessee yakked on and on with the guy behind the counter. She finally finished her transaction and I stepped up and asked the man if they might still have a room available for tonight. He then spoke what had suddenly become the six most chilling words in the English language.
"Do you have a reservation, sir?"
"Um, well, no, not exactly."
He threw me a pained expression. "I'm sorry, then, we have nothing open."
To his credit, he did call a couple places as well, but no go. He also said if we cared to wait around until after eight o'clock they might have some reservation no-shows, and we could put our names on their waiting list for those possible vacancies. I asked him how many people were on the waiting list.
"Five," he said, smiling. "You would be number six."
"And how many no-shows do you typically get a night?"
"Oh, it varies."
"Typically."
"Maybe a couple."
I gave him my name and cell phone number but figured I stood a better chance of winning the lottery and getting struck by lightning while being crowned Miss America than having this guy call me for a room.
He did give me one decent idea. The Starfire Motel was a block off main street and often overlooked, he said. We tried it. Nada, zip, zilch. They suggested one more place, the Super 8, back down the highway where we'd first come into town.
"Biggest hotel in Moab," the clerk told us.
I was more than skeptical by then, but it was true, we hadn't tried there when we entered Moab. I pulled up to the entrance of the Super 8 while Irina waited in the car. I  trudged inside with the resigned yet somehow still hopeful air of a death-row inmate awaiting that last minute reprieve from the governor. Two clerks at the desk waited on two other customers. Finally it was my turn.
"You got anything for tonight?"
By now I expected the clerk to laugh in my face, but to my surprise, he said, "Yes, we have two vacancies."
"Seriously?  How much?" Stupid me, asking a question like that.
"They're both suites, sir. One-hundred ninety-nine dollars each."
He said this like maybe I'd take them both.
"Um, yeah," cough, choke, "I, uh, don't need a suite, one room is plenty for us. Maybe I could just take half a suite."
To his credit, I think he laughed at my feeble joke and not just at me. "I'm sorry, sir, but it's the whole suite or nothing."
"Any wiggle room on that price?"
"I'm afraid not, sir."
I really didn't want to blow three or four night's motel budget on one place, but neither did I wish to spend the night like a couple of homeless vagabonds. And then he threw me a lifeline.
"We do have another Super 8 in Green River."
I perked up just a bit. "How far is that?"
"It's about a forty-five minute drive. I could give you their phone number."
Which he did. I called. They had rooms. Fifty-five bucks. Budget trumps everything. We drove back to Green River.