Day Four: Wednesday, September 15
Moab and Vicinity – Dead Horses And A Lot Of Really Big Rocks
By nine a.m. we had gassed up the car and were heading back toward Moab, already able to laugh at our previous night's motel misadventure with only a slight undercurrent of grumbling. Okay, truth is, I was still grumpy while Irina had already shrugged it off.  I  couldn't get past the idea that a town that lives entirely on the tourist trade could be completely maxed out of rooms.
I mentioned this to the clerk as I checked out of the Super 8 in Green River  (which, by the way, I would have rated a 4 out of 5 but downgraded to 3.5 for our room being on the second floor and a long walk down the corridor toting a cooler and two bags). When we'd arrived at about 8:30 Tuesday night, the place was maybe half full. Loading the car Wednesday morning, the parking lot now teemed with vehicles.
"Looks like you got busy,"  I said.
The heavy-set lady behind the desk smiled ruefully.  "Happens all the time when Moab fills up. We're the next closest place."
'So why don't they build more motels in Moab?"
Her head bounced like a bobblehead doll, jowls quivering.  "Oh, they have."
"Well." My mind spun its wheels, searching for a crushing riposte, but the best I could manage was, "They need more." Yeah, that's telling her.
I often wonder how people from more crowded, urbanized regions of the country react to the vast, empty stretches of land in the western U.S. I've lived in the Pacific Northwest for most of my life – you know, damp, green, stand in one place too long and mildew starts to grow on you – and Washington also has some long distances between outposts of so-called civilization, but most of that area is covered with trees and nice, green living things. It's a little different, to put it mildly, in parts of Utah and Nevada where if you don't like rocks and dirt, you're not going to find much to like.
The stretch of highway from Green River to Moab certainly qualifies as some of the most barren I've ever encountered. There's the road and then there's a lot of rocks and hard baked dirt, and, um, more rocks and more dirt. No trees, no livestock, no humans, scarcely even a tumbleweed to keep you company. And there is every conceivable variant of the color brown ever invented. You could fill an entire 48 count box of crayons with just the different hues of brown out there. At least they have that brilliant blue sky for contrast, which is good because otherwise you might think you went to sleep last night in Utah and woke up on Mars. Seriously, I read somewhere that a number of television and film sci-fi productions have shot footage in this region because of its otherworldy visual qualities.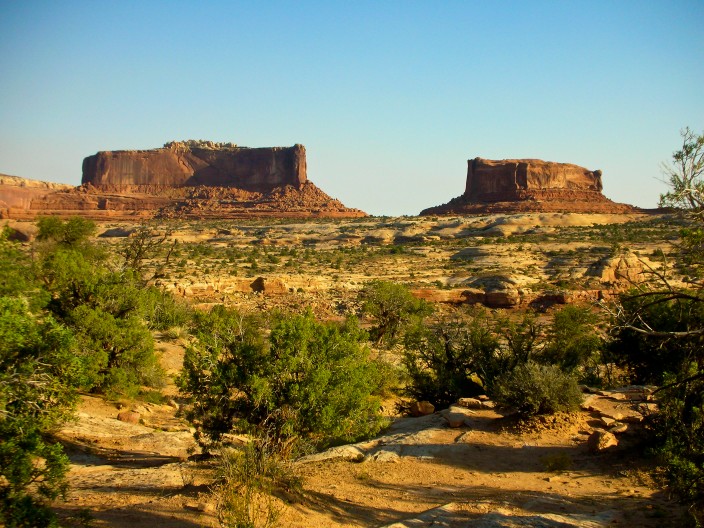 (The Monitor and The Merrimack, sandstone monoliths along the road to Dead Horse Point)
We didn't actually drive all the way back to Moab, turning off instead on SR313  to Dead Horse Point State Park. This is also the road to Canyonlands National Park, but that was a little farther afield and not on our agenda. Gotta save something for next trip, right? Immediately upon making the turn onto 313 you want to stop and take pictures of the immense red sandstone monoliths that surround you on three sides.
We hit every turnout along the 18 mile drive to the park, and they were all worth the stop. The road gains elevation with spectacular vistas back the way you just came, eventually topping out and crossing a broad mesa. We stopped at the visitor center, which is well worth seeing with great displays and information, then headed out to the point itself.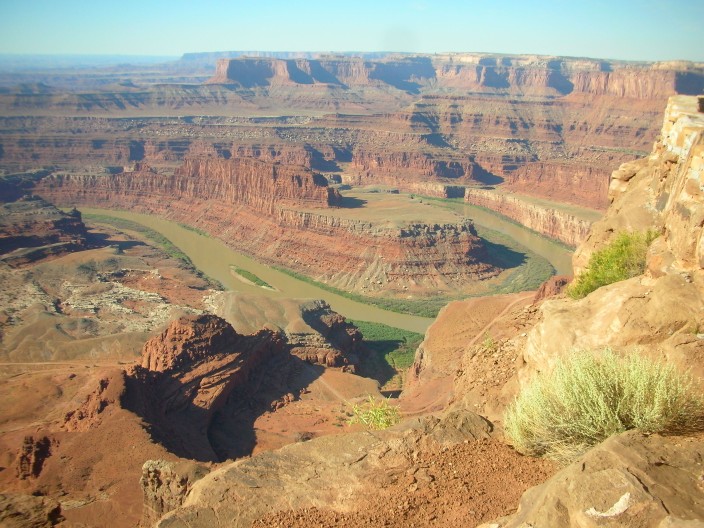 (Dead Horse Point and the Colorado River)
How Dead Horse Point acquired its name is one of those stories which, whether it's true or only a legend, makes a great western tale. Seems wild mustangs used to roam free on the mesa, and from time to time cowboys would drive the horses onto the promontory which provided a natural corral where the neck of the point is only 30 yards wide. They would fence them in there, select the pick of the herd and break them, either for personal use or for sale to others. The fence would then be opened and the rejects left to find their own way back onto the mesa. For some unknown reason, a group of these culls stayed out on the point one time and died of thirst within sight of the Colorado River . . . 2000 feet below. Why these horses stuck around and died is anyone's guess. Maybe they couldn't live with the rejection.
I've been to the Grand Canyon and I'm not exaggerating when I say the view from Dead Horse Point rivals it. Not as deep or vast as the Grand Canyon, but just as awe-inspiring in a similar way, with the muddy Colorado River snaking its way through immense, sheer red-rock canyon walls. For the adventurous there are jeep trails – visible  from the viewpoint – down on the canyon floor. In fact, I watched one intrepid four-wheeler come to a fork in the road far below us, stop for a minute, drive one way, stop again, wheel around and head back the way he'd come, apparently thinking better of continuing any farther, so maybe he wasn't all that intrepid.
My advice: if you're ever in the Moab area doing the national park thing, don't pass up Dead Horse. It's well worth a few hours of your time. We took lots of photos, videos, and a short walk around the perimeter of the point before leaving for our next stop, Arches National Park.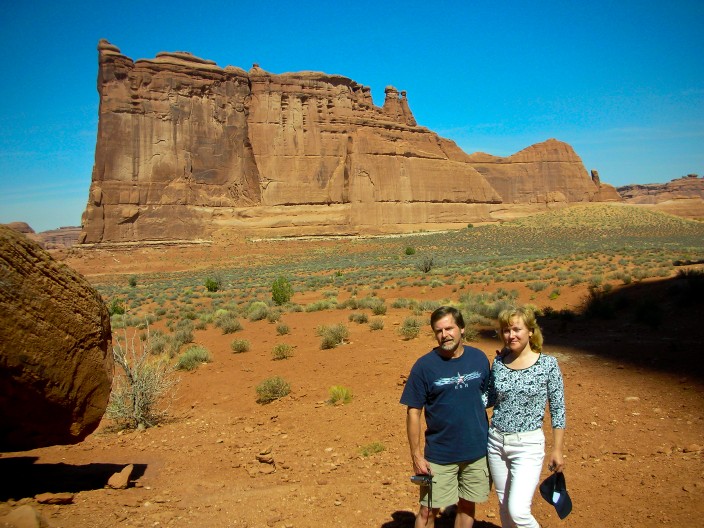 (In Arches National Park)
There are plenty of resources available to anyone wanting to learn about the history, topography, geology, etc. of Arches National Park, so I won't go into a lot of  detail on that. What I will give you is my own take on the place, that of just another gawking, camera-toting tourist trying to get in, see some highlights of the place, and get out. My first impression was, man, there's a lot of big-ass rocks in there. My second was, damn, it's hot. And believe me, there's NO shade. Trees? What are those?
Okay, I'm exaggerating a teensy bit, but if there's any one word to describe it, for me that word would be desolate. Of course it's desolate in a beautiful, jaw-dropping, unique way, a harsh and unforgiving landscape that doesn't sustain an awful lot of life, and in fact does its best to hammer the life out of anything caught in that kiln-like environment. I guess you can tell I'm not a hot temperature guy, and we were there in mid-September when the temps were in the 90's. Just imagining walking around there in July or August when the average daily temperature exceeds 100 makes me want to go stick my head in the freezer right now.
The road through the park is busy but not bumper to bumper Yosemite type traffic, and it passes fairly close to many of the parks most famous landmarks, with one disappointing exception. We wanted to see Delicate Arch, probably the most well known of the bunch – it's the one on the Utah license plate – but it was a two to three hour round trip hike in that unrelenting sun over bare rock all the way. Irina wanted no part of it, but encouraged me to go alone. Now I'll admit the thought flitted through my mind that perhaps she was trying to be rid of me without looking like she had anything to do with it, but two things told me no. Number one, my life insurance policy isn't that good, and number two, although I wanted to see Delicate Arch up close, I also had no desire to be baked crisp like a chunk of human cookie dough. We viewed it from the far vantage point, about a mile and a half distant, and drove on.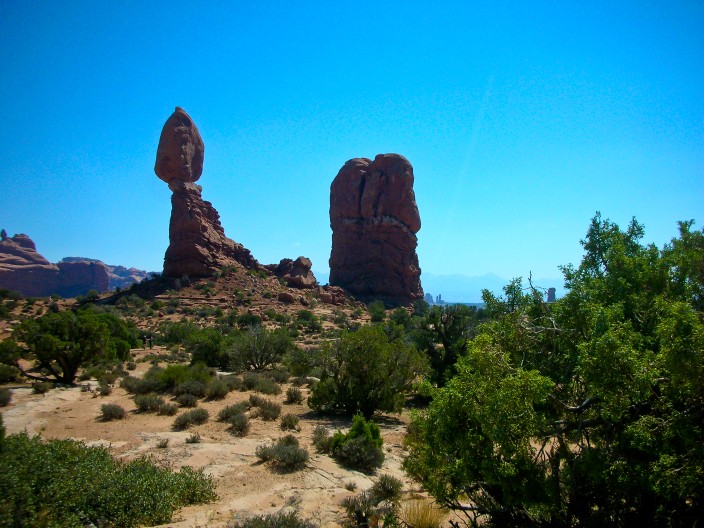 (Balanced Rock in Arches National Park)
Balanced Rock is truly amazing. You can see it from quite a way off when approaching, and the closer you get the more you see how big it is and start scratching your head and wondering just when is that thing going to fall down? It looks like any stiff breeze would do the trick. You can walk all the way around, which we did, and get quite close to it, which we also did, and not without some trepidation. Every little noise and whisper of wind had me looking wide-eyed over my shoulder expecting it to topple and squash me like a bug on a windshield, nothing but a grease spot left on the sand to mark my passing.
At the north end of the road there is a looparound parking area and a long trail leading off to several more arches. We took the trail and almost wished we hadn't. We'd just about had enough with the heat, the rocks, the dust and sand and general lack of flora and fauna, looking at yet another towering rock formation (or two or six) as we went along the trail with me snapping pictures left and right. Eventually Irina strode off ahead of me. I caught up with her only when she finally stopped in the meager shade of a large boulder to rest. I handed her the water bottle and kept right on walking. I spent about fifteen minutes getting my pictures of Landscape Arch – at 290 feet across it's the longest natural arch in the world and the coolest thing I saw in the entire park – and walked back to where I'd left her.

I found her still waiting beside the same boulder and smiling about something. As we retraced our steps she related what had happened while she waited for me to return from my picture taking.
It seems she was standing there trying to cool off in what little shade the boulder afforded, fanning herself with her baseball cap. After a minute, a man walked by. She paid no attention at first, but when he stopped and took a couple steps toward her she looked at him. He had a quizzical expression, looked at her cap, then at her, reached into his pants pocket, hesitated, and then walked away. It wasn't until several minutes later she realized she had been standing there holding her cap by the brim, upside down, and this guy probably thought she was panhandling. We both had a good laugh, mostly at the ludicrous notion that someone would drive twenty miles into a national park, hike a mile and a half, and stand on the side of a dusty trail in 95 degree heat to beg for spare change. I guess on the plus side you wouldn't have much competition.
On the way out of the park we did manage to find a nice, quiet spot to have a picnic lunch and I have to admit that sitting there in the shade with a slight breeze blowing it wasn't half bad. It's also one of the few places I've ever had a picnic and didn't spend most of my time shooing away insects. You know you're in some seriously barren country when even the flies don't want any part of it.
We said bye-bye to Moab (actually I think I said "stuff it" or words to that effect) and drove south toward Monticello. From there it was a left turn eastward on Highway 491 toward the greener pastures – literally – of Colorado. What an amazing difference less than a hundred miles can make. Faster than you can say Rumplestiltskin there were once more trees and fields of green something or other growing and horses and cows grazing and flying monkeys, with nary a red rock in sight. Okay, I made up the monkey part, but it was refreshing to come back into the land of living things.
Don't get me wrong, the canyonlands of Utah are some of the most spectacular natural wonders I've ever seen, and quite unlike any other landscape I've ever encountered. For some folks, it would probably be close to paradise. But – and it's a big but – both Irina and I found that we grew tired of it all more quickly than we'd expected. For us, it was a classic case of a nice place to visit, but we couldn't imagine living there.
We pulled into Cortez, Colorado at about 8 o'clock and took a room at the Mesa Verde Inn, a decent enough $55 motel I'd rate at 3.5.  For dinner, the motel clerk steered us to a nice little Italian place called Nero's which was only a few blocks away. After our meal, which was tasty and filling, we made a quick stop for sunburn cream and headed back to our room, exhausted by our day in the sun and wanting only a good night's sleep. And, believe it or not, we got one.
Miracles do happen.