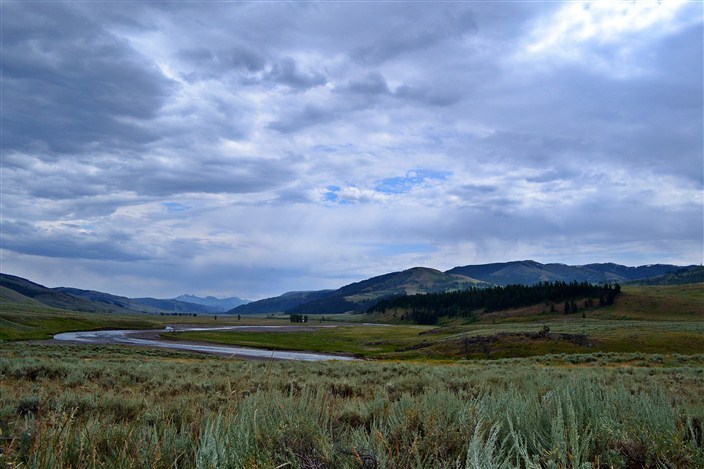 (Yellowstone beckons)
Day Two of our summer road trip found us heading for the northern entrance to Yellowstone National Park for a bit of an odd reason. Not that there's anything particularly odd about going to Yellowstone in the summer. Thousands of people do. In fact I think they all showed up the same day we did. To say it's a popular destination is like saying McDonald's sells a few burgers. As we sat just east of Mammoth Hot Springs in a traffic backup – and I mean bumper to bumper, dead stop, rush-hour type stuff – which stretched for several miles, I couldn't help asking myself the question: if all these  folks, including me, are visiting Yellowstone to "get away and escape to nature" but we end up trapped in our vehicles sitting in horrible traffic jams, what exactly have we accomplished?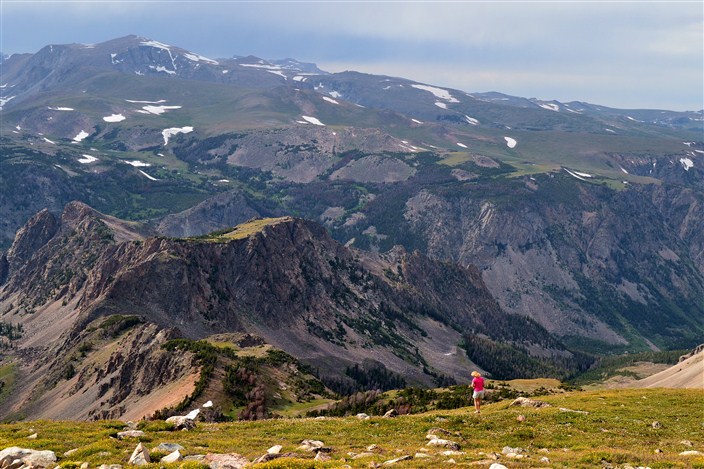 (On the Beartooth Highway near 11,000 feet elevation)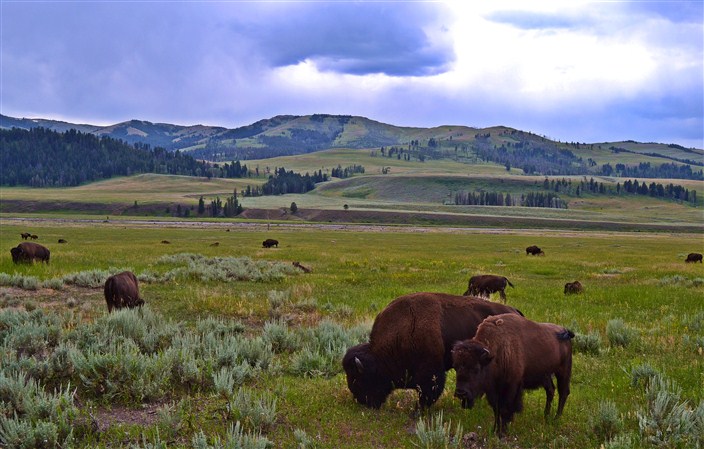 (Yellowstone, where the buffalo roam…)
I never reached a satisfactory anwer to that question, but it did cause me to make a solemn vow to never again visit Yellowstone in the height of summer. It's a fabulous place but I'm afraid it's being loved to death. I felt doubly foolish because we hadn't even come to really see Yellowstone. My wife and I had paid the park an extensive visit back in 2009. The odd reason which I spoke of earlier for us coming through the park this time was to drive U.S. Highway 212, commonly known as the Beartooth Highway, from Cooke City, Montana to Red Lodge, Montana, and the only way to drive it west to east is through the northern edge of Yellowstone and then head north to Cooke City.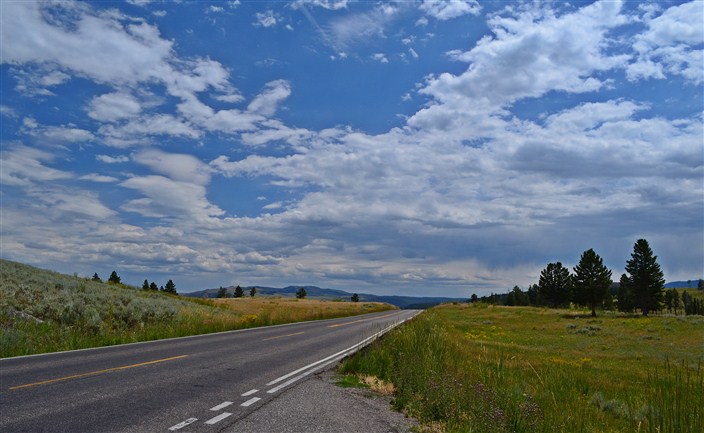 (The rarest sight in Yellowstone – an empty road!)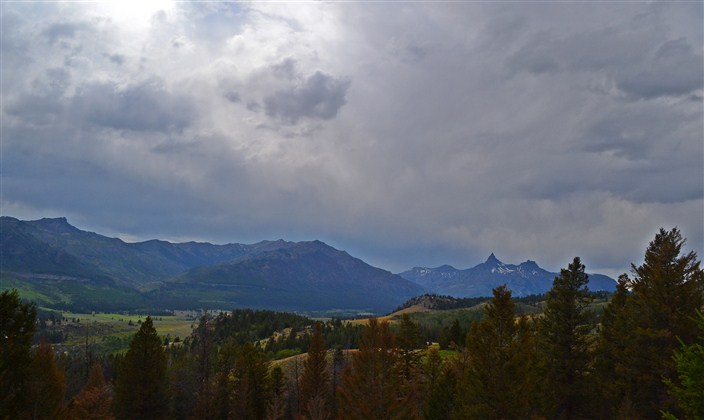 (Driving the Beartooth)

Why all this, you ask, just to drive a sixty-eight mile stretch of mountain highway? Good question, and believe me, about half an hour into the constipated Yellowstone traffic I was not only asking myself that, I was seriously questioning my sanity, or at least my myopic lack of foresight in coming this way at this time of year. In the end, I got my answer by simply doing what we'd come to do. Drive the Beartooth and you will understand. It was worth all the trouble to get there and then some.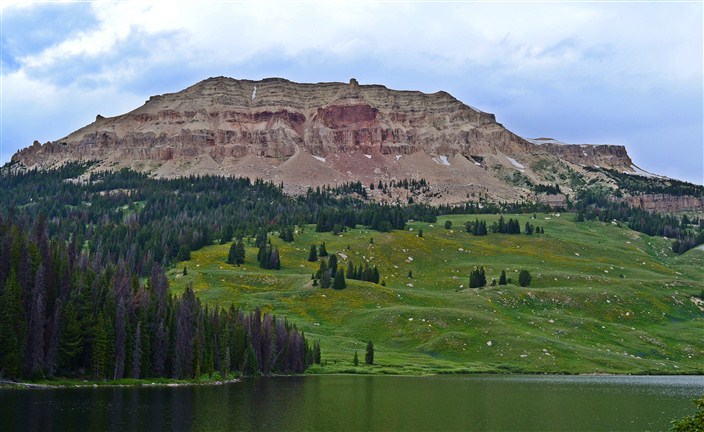 (Beartooth scenery)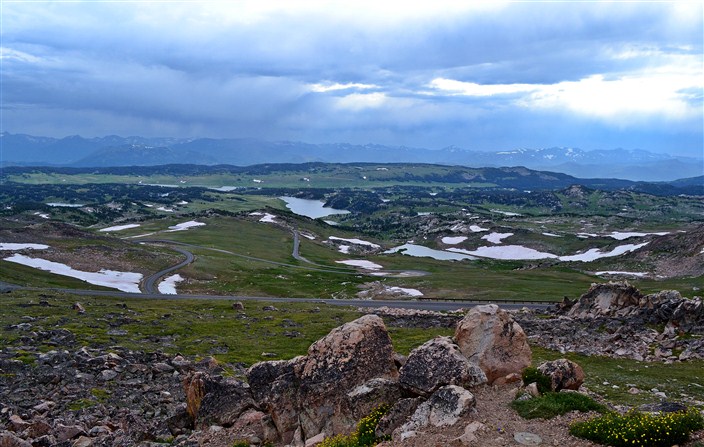 (A few bends in the road)

Mountain drives are one of my very favorite activities in all the world by virtue of combining two of my favorite things, mountains and driving. Simple, right? I'd heard, read, and dreamed about the Beartooth Highway for many years, so when I first began planning this year's road trip, I knew this was the time to work it into our itinerary as we were already going to be in the general vicinity.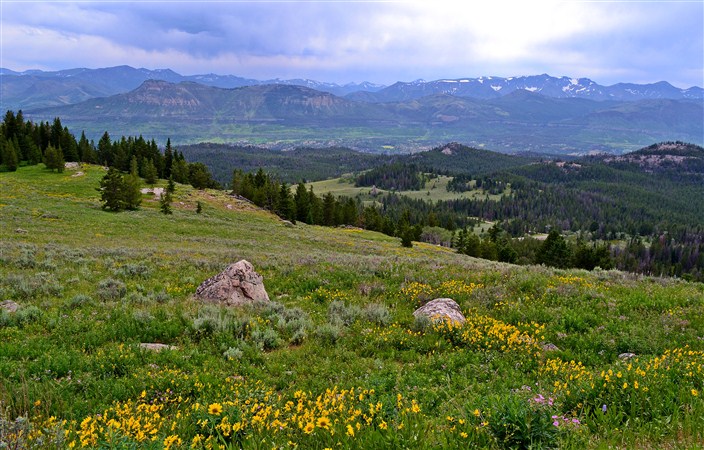 (Though we never saw any bear on the Beartooth we did see lots of wildflowers)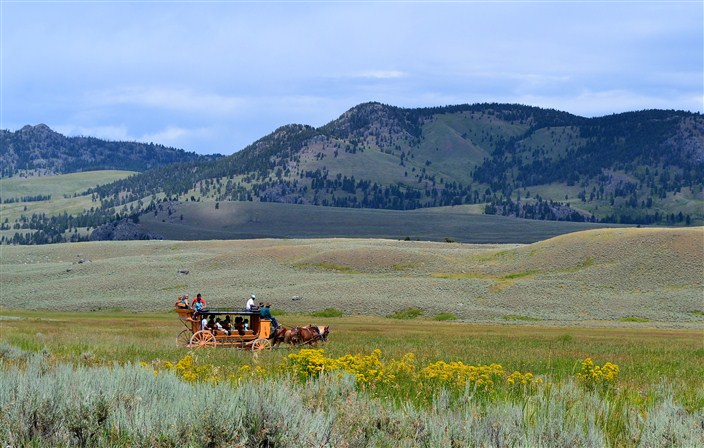 (Here's one way to beat the traffic in Yellowstone)

But before the Beartooth Highway, there was Yellowstone to deal with. Yes, the traffic sucked, and yes, the crowds around Mammoth Hot Springs are, um, mammoth. Just trying to walk around the boardwalks and overlooks surrounding the hot springs, I felt like I was elbowing my way into a New York City subway car. But it eventually got better the farther we drove away from Mammoth. Herds of buffalo do roam, though I never saw any deer and antelope play, and I uttered plenty of discouraging words and the skies were, in fact, cloudy all day. Nevertheless, there were enchanting moments to be had parked near a sylvan lake, watching a huge, shambling bull buffalo clop alongside us on the road, or just soaking in the sprawling, pristine vistas on every side.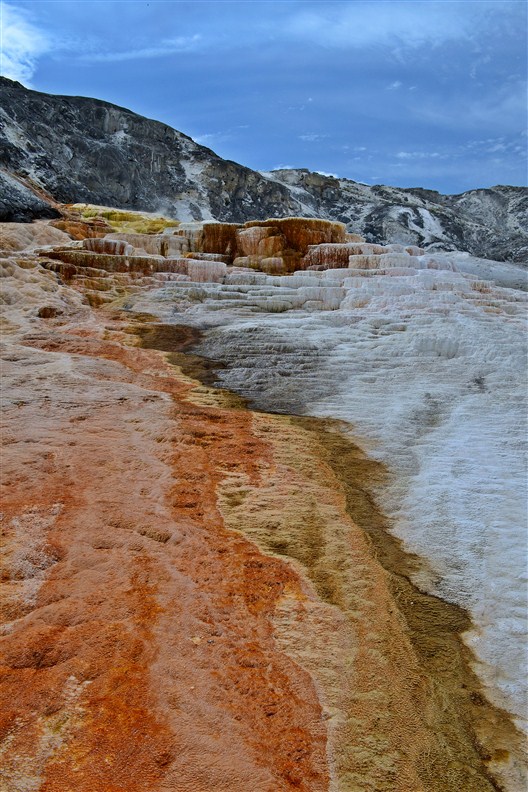 (Mammoth Hot Springs in Yellowstone)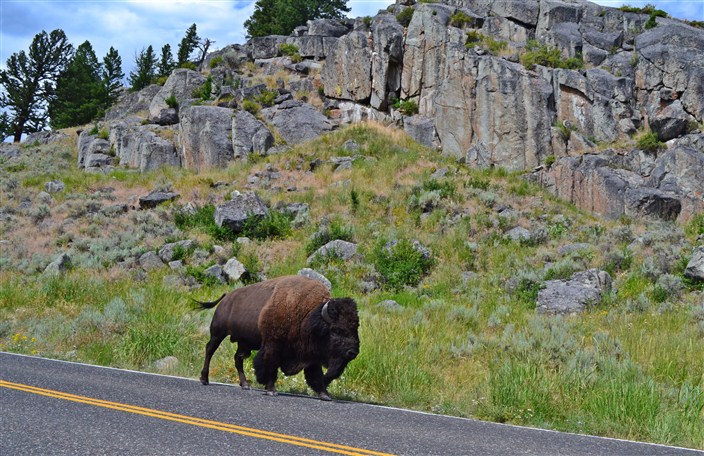 (This guy doesn't care about the traffic – everyone yields to him)

We said goodbye to Yellowstone Park and started climbing toward Cooke City, Montana, which is the western terminus of the stretch of Highway 212 known as the Beartooth Highway. The Beartooth has been designated a National Scenic Byways All-American Road and winds it's serpentine sixty-eight miles through the Absaroka Mountains of southwestern Montana and northwestern Wyoming. Called "the most beautiful drive in America" by the late CBS correspondent Charles Kuralt, it more than lives up to its reputation.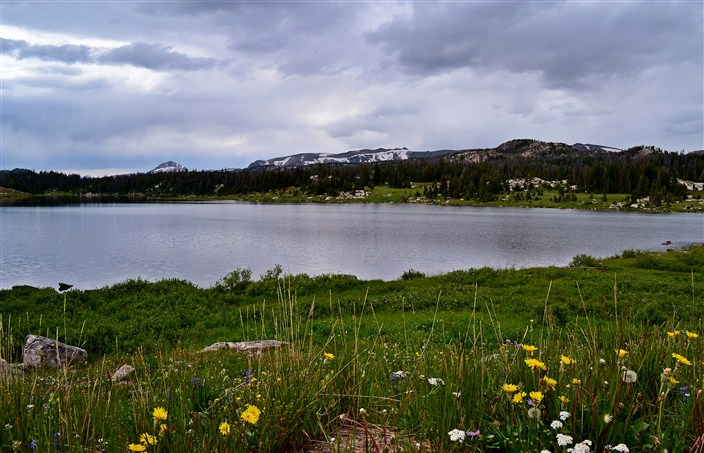 (LIttle Bear Lake)

One word of warning: if you have vertigo or any fear of heights or steep zigzagging roads with sheer, several-thousand-foot dropoffs, switchbacks and hairpin turns, DO NOT go anywhere near this highway. You will spend the entire time cringing in a corner of the car with your eyes glued shut and sobbing in fear and loathing. If, however, you enjoy such things and love expansive views of mountainous peaks, valleys, meadows, lakes, rivers etc., you will absolutely love the Beartooth.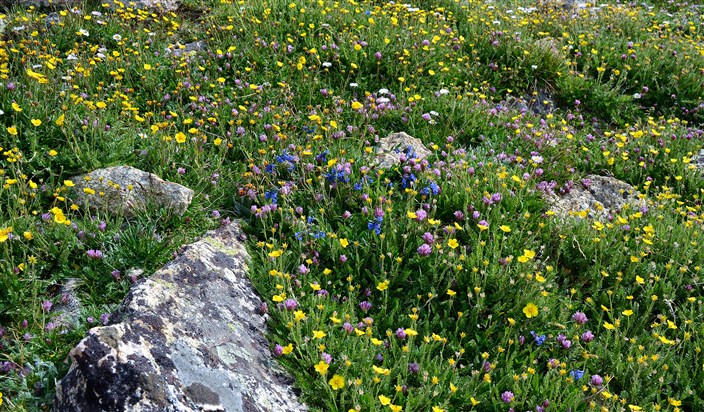 (WIldflowers at 10,000 feet)

The most challenging part of the whole experience for me, as it usually is on a beautiful mountain road, is to pay enough attention to my driving so that we don't go plunging over the side to a horrible fiery death. This would no doubt get you to the bottom of the road a lot quicker, but perhaps not in the best of condition to enjoy the rest of your vacation.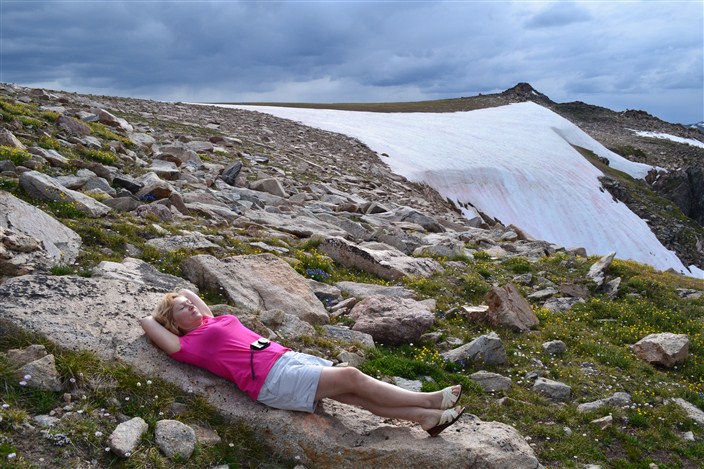 (Nap time)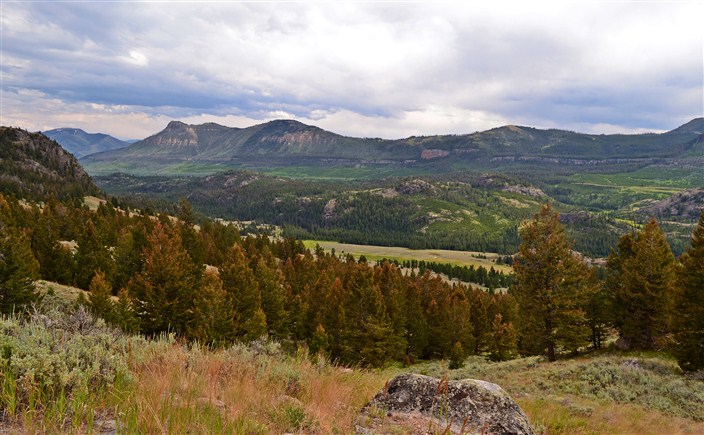 (A vista around every bend on the Beartooth)

The road winds through parts of Custer, Shoshone and Gallatin National Forests,  cresting at 10,947 feet at Beartooth Pass. At this elevation, a sudden snowstorm cannot be ruled out even in summer. The day we drove over it was, unfortunately, cloudy the entire time and we encountered some sprinkles more than once. Sunny blue skies would have been nice, yes, but even under not-so-ideal conditions the scenery was never anything less than spectacular.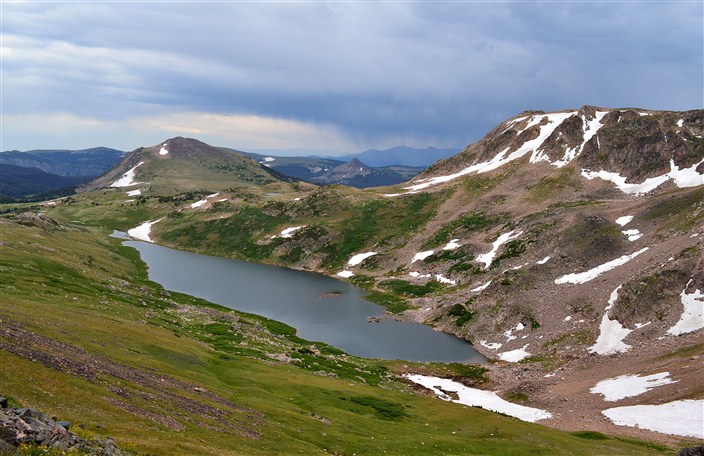 (So many small lakes I couldn't keep track of the names)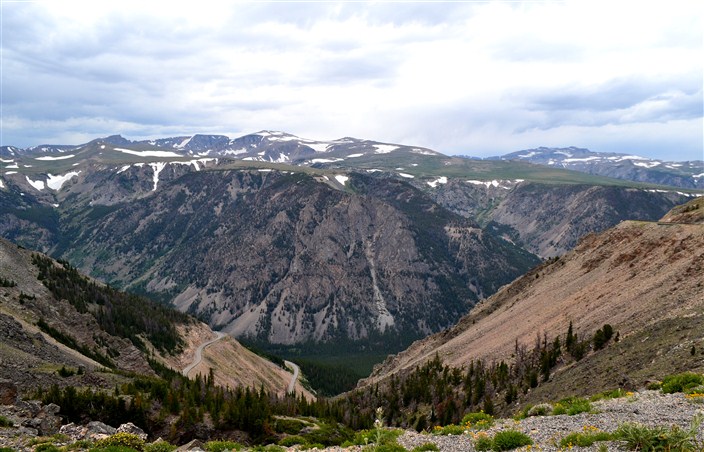 (The road starts down)

You could probably drive the entire stretch in about ninety minutes, but why would you want to? We took our time, stopped a lot – there are plenty of turnouts – and took advantage of every possible opportunity to park and gawk and take it all in. The air doesn't get any sweeter than this and neither does the scenery. If you're ever in the Yellowstone area, take an extra day and drive the Beartooth Highway. You'll thank yourself forever.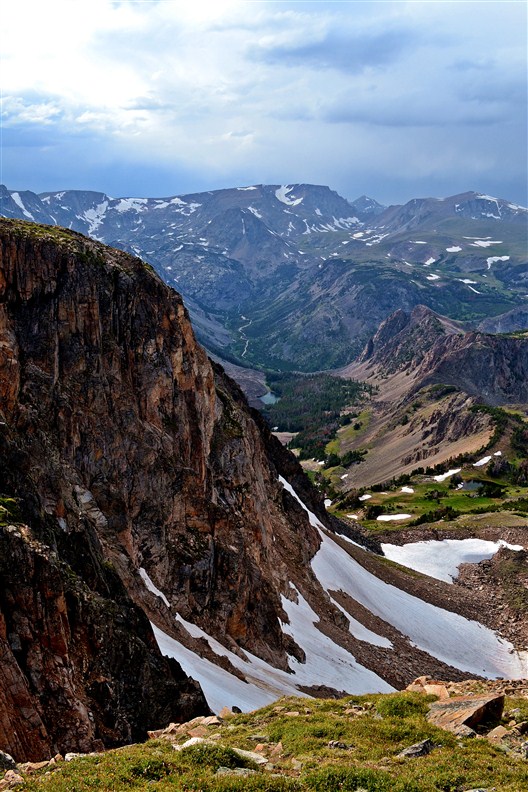 (One last shot from the top)