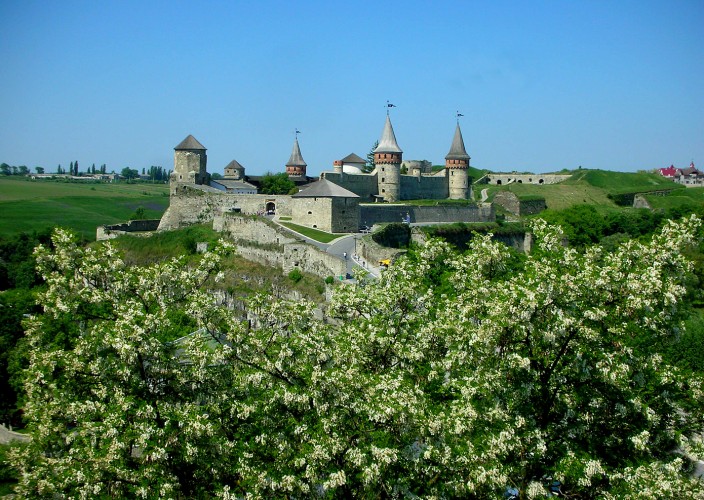 (Kamianets-Podilskyi Castle)
Kamianets-Podilskyi is a city of 100,000 people in western Ukraine situated on the Smotrych River, and while it may not count as one of the country's main tourist attracting cities, there is one big draw worth your attention. Kamianets-Podilskyi castle is an ancient, imposing stone edifice originally constructed in the 14th century and as is usually the case, reconstructed, remodeled, rebuilt and added to several times over the centuries. It is by far the primary – some might say the only – reason for out of towners to come to the city of Kamianets-Podilskyi.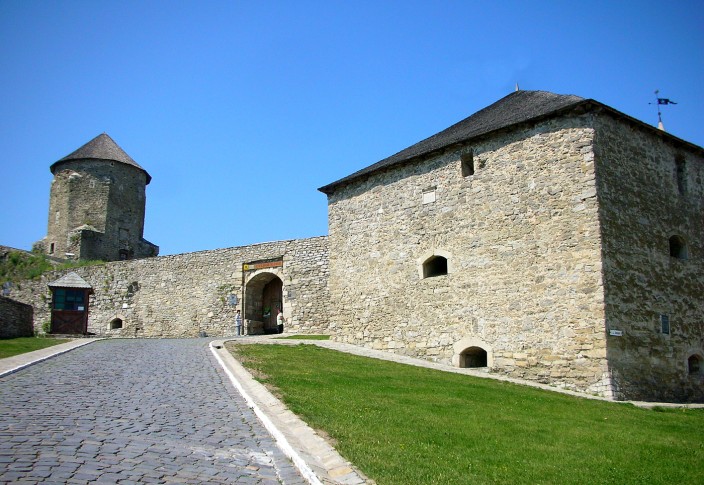 (K-P castle entrance)
Getting to K-P is best accomplished by bus, which is the method we chose. It was about a two and a half hour ride south from Khmelnitskiy, accompanied all the way by an annoying pop music soundtrack over the radio courtesy of our bus driver. This happens a lot aboard buses in Ukraine, where the passengers are subjected to an unending barrage of whatever the driver's musical taste encompasses. In cases like this I always try to remind myself it could be worse. At least it's not country-western.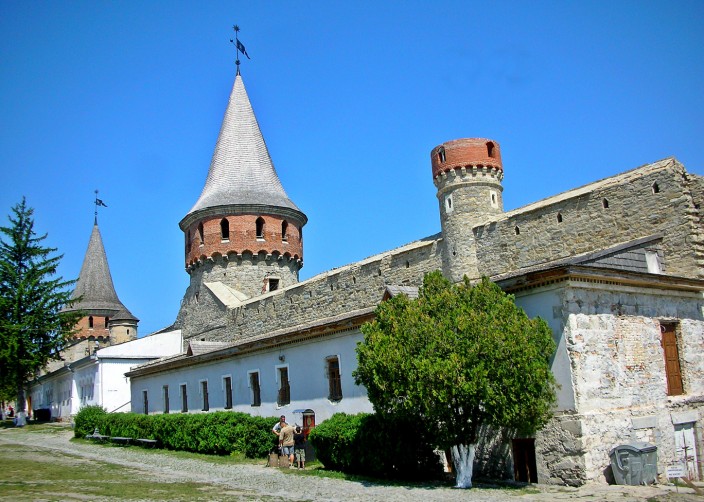 (The interior courtyard)
K-P castle served as a major and crucial defensive bulwark for many centuries, having survived attacks by Cossacks, Ottoman Turks, and Tatars, and boasts the unheard-of feat of having successfully repelled fifty-one – 51! – attacks by the Mongol hordes of the 15th and 16th centuries, an accomplishment very few if any European castles or cities can match.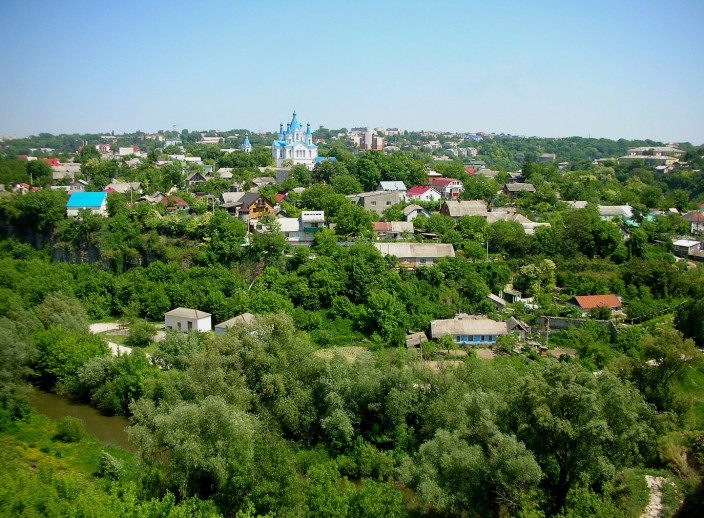 (View of the city from tower)
(Hark! Who goes there?)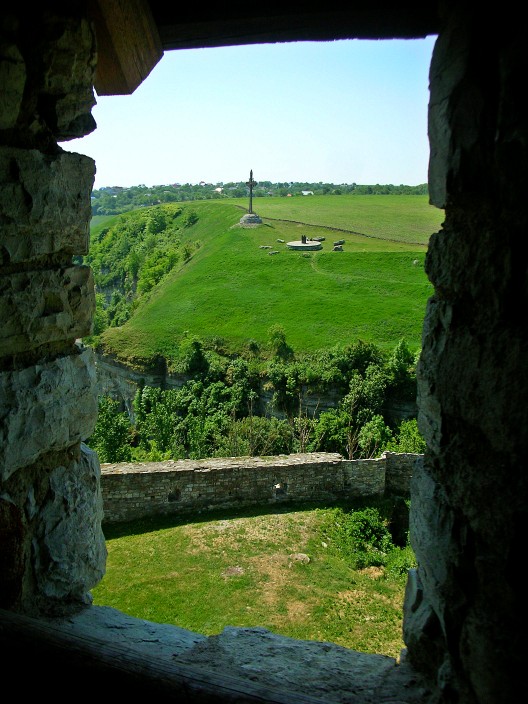 (Looking out my window)
From the main bus terminal you can catch a city bus to the fortress or do it the hard way, as we did, walking to the castle from the city center. We had all day and I always like to get the feel of a new city from ground level. It's only a couple of kilometers and if you have a good pair of walking shoes it's not difficult at all. On the way you will cross a bridge over the Smotrych river canyon which is worth a stop and a few photos. Crossing the river you then hoof it uphill into the old town and after winding through the streets and passing a couple of old cathedrals, you round a bend in the road and there it is spread out in all its glory, one of the most well preserved medieval castles not only in Ukraine but all of Europe.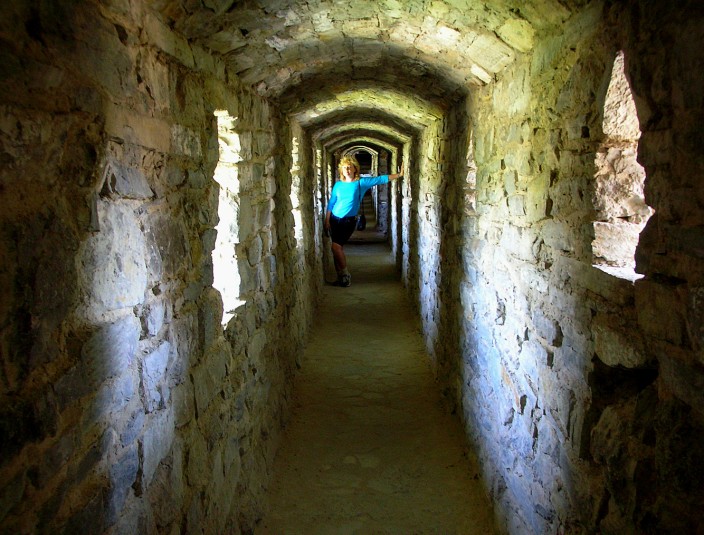 (Inside the ramparts)
K-P castle at one time featured no less than twelve towers, but only seven remain intact today. Still, what's there is impressive as it sits across the river sprawled over the hillside inviting you to take a few photos, or maybe a hundred. You cross yet another bridge over the winding Smotrych River and approach the only entrance into the fortress, pay a nominal entrance fee and bingo, you're inside.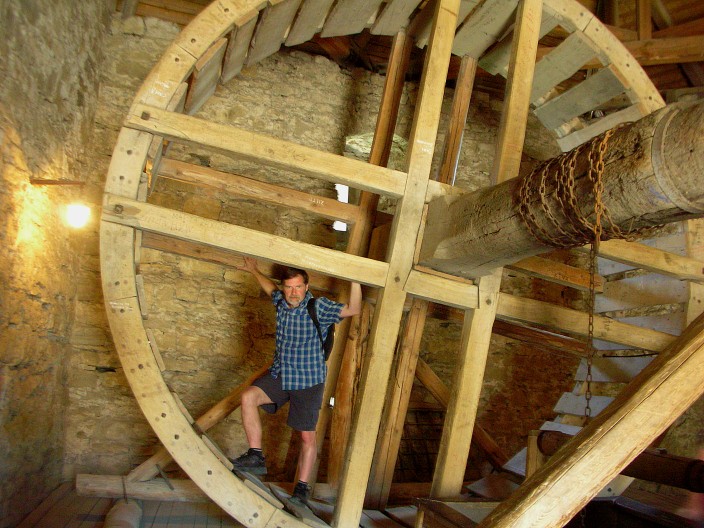 (Wheel of Fortune?)
For an extra five hryvnas – less than a buck – you can get a guided tour of the interior which lasts about fifteen minutes and is instructive of the local history. It's all in Russian of course, so while my wife did that I wandered back outside and spent my time circling the edifice doing what I love best, taking pictures and soaking in the atmosphere.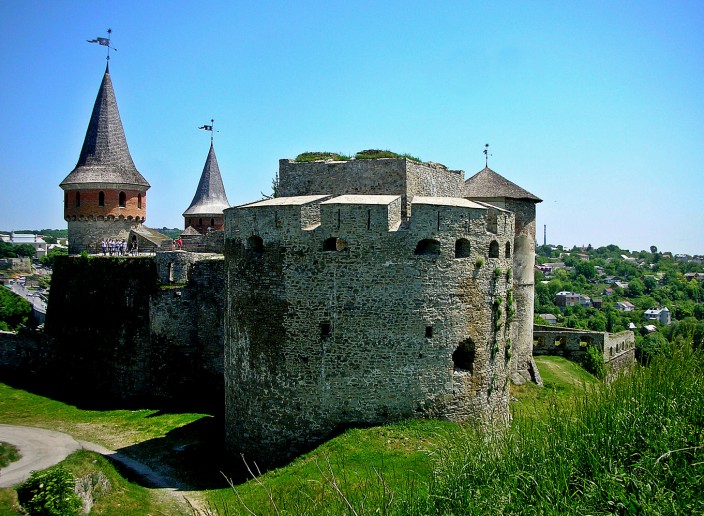 (View from the other side)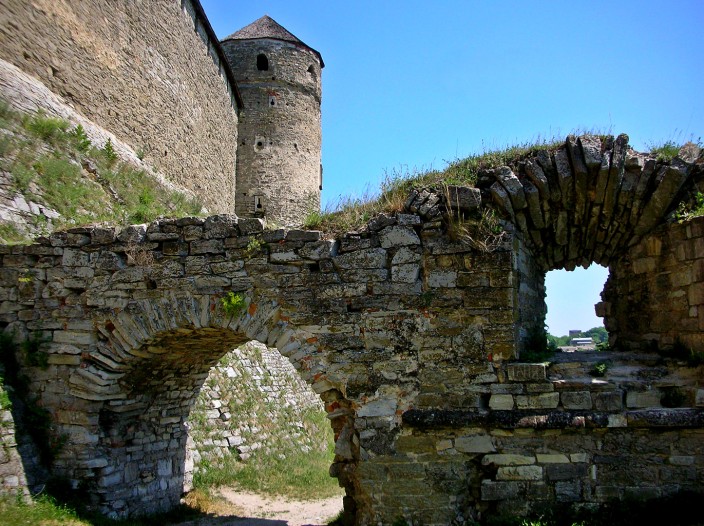 (Stone archway detail)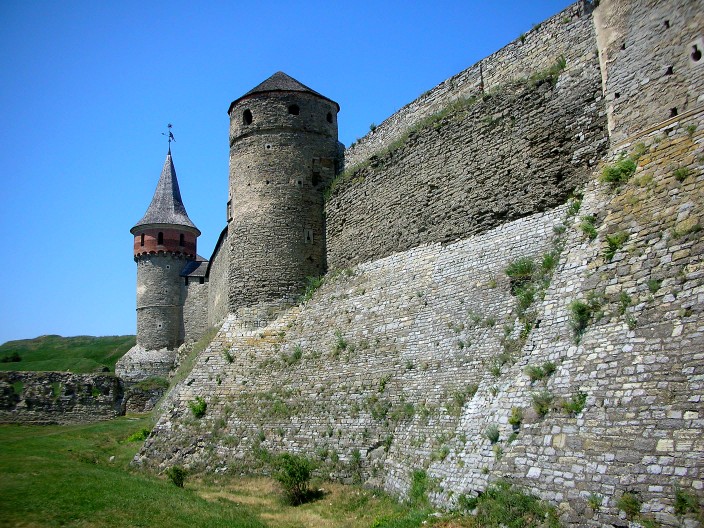 (A beautiful day to storm a castle)
The weather was perfect, sunny but not too hot and I couldn't have asked for a better time, standing at the base of the 15 meter high (45 feet) stone walls and envisioning them being stormed by one invader after another, the bloodshed, the madness, the terror this bastion had withstood in mute witness throughout the centuries. The bleating of a few goats was the only sound borne on the wind and reaching my ears that afternoon, but in that breeze I'd swear I could almost hear the screams of battles past, smell the smoke and fear of ancient sieges, and despite the sun on my back, a chill ran down my spine. For me, this is what travel is all about.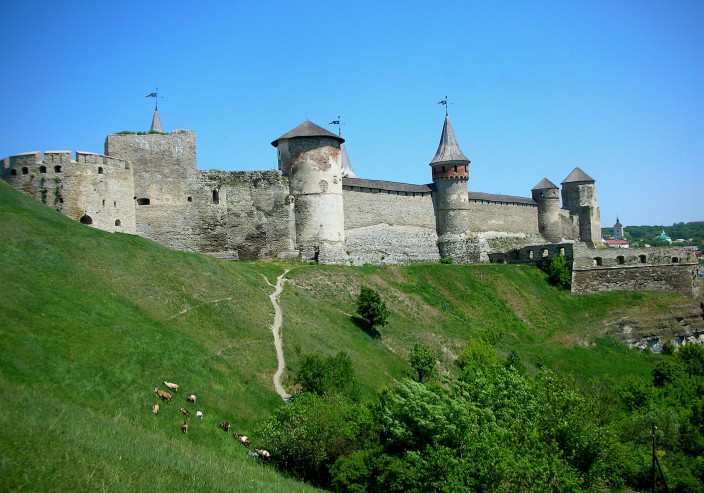 (Attack of the goats!)
We spent another couple of hours investigating everything we could inside the castle walls: dark corridors, dank basements and dungeons, lots of stone passageways.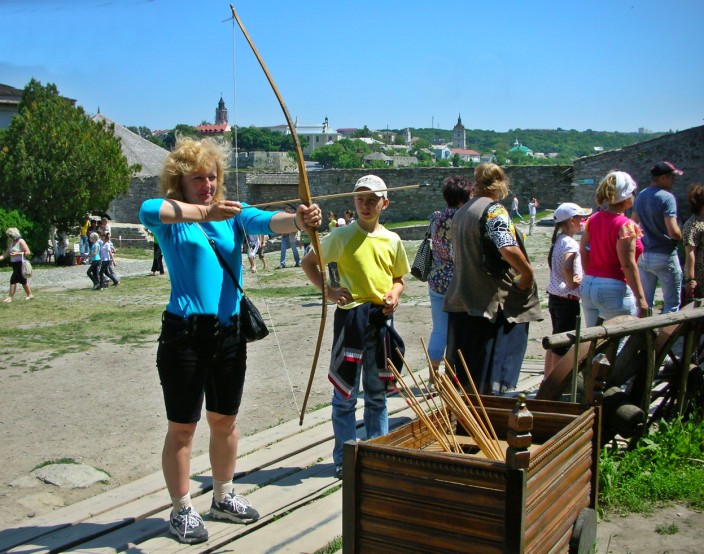 (The next Robin Hood?)
Irina stood in line and paid a couple of hryvnas for the chance to shoot a few arrows into a straw target, and we listened to minstrels wearing traditional costumes, singing and playing authentic medieval harps.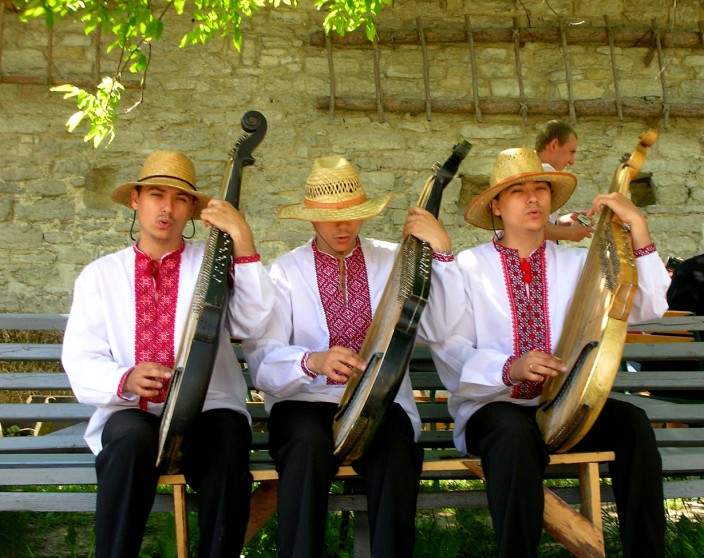 (The three minstrels)
Their music was ethereally lovely, but the most amazing thing was watching these guys perform and seeing not double, but triple. Three brothers who, if not identical, were as close as humanly possible to being identical triplets.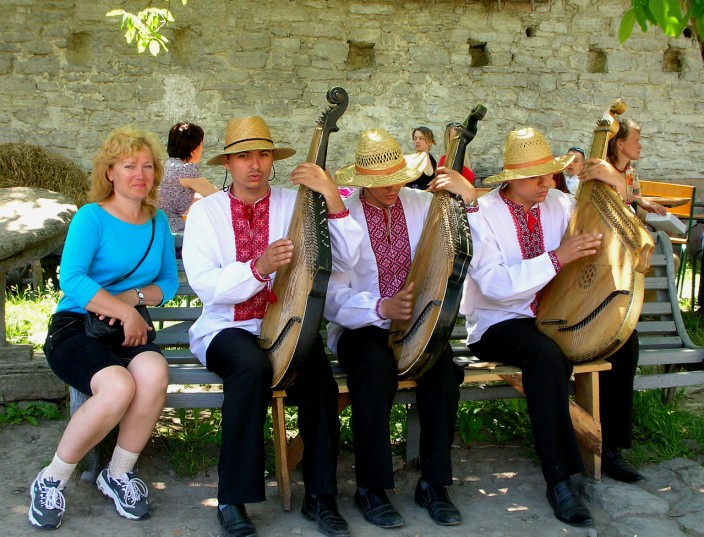 (Minstrels and guest star)
We took the bus back to town and were soon on our way home, so while I can't say a lot else about the city of K-P, if you're a medieval castle junkie like me, it's a trip well worth taking.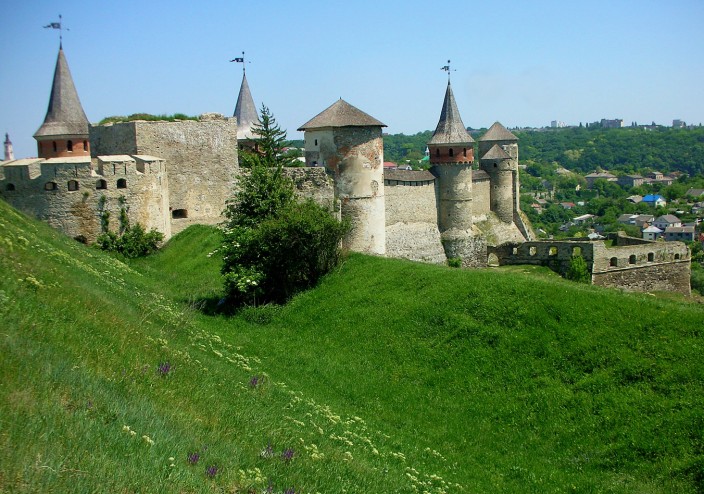 (The castle of Kamianets-Podilskyi)
Coming Soon: Mykolaiv