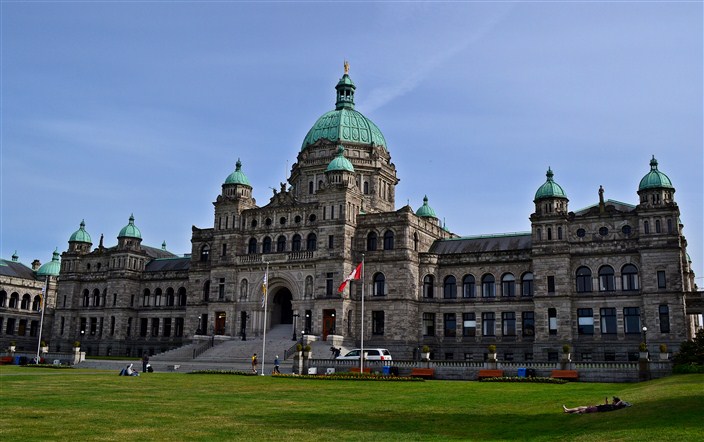 (The Legislative Building, seat of the provincial government of British Columbia)
Once again it's time to visit our neighbors in the Great White North, aka Canada. This time we're off to the beautiful provincial capital of British Columbia, Victoria.
Victoria is the capital city of British Columbia, Canada, and is located on the southern tip of Vancouver Island off Canada's Pacific coast. The city has a population of about 80,000, while the metropolitan area of Greater Victoria has a population of nearly 350,000, making it the 15th most populous Canadian urban region. It's also the third most expensive city in Canada to live in by average home prices, trailing only Toronto and Vancouver, the latter by far the priciest with median home values now well above a million dollars. In Victoria an "average" home will cost you in the neighborhood of $650,000. Of course, that's Canadian money, which means it's about 300 bucks U.S.  Just kidding. It's still expensive, and if you spend some time roaming around town it's easy to see why. It really is a lovely city with a relaxed pace, mild temperate climate, generally snow-free winters and sunny but not too hot summers. It's extremely popular with retirees and was recently ranked as one of the top twenty cities in the world for livability by Numbeo.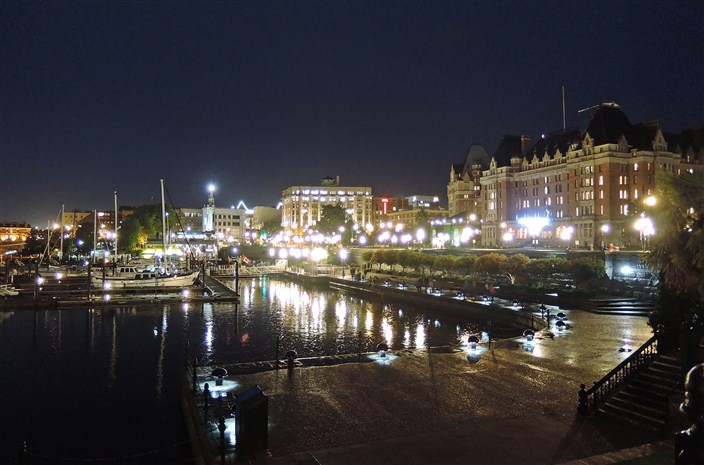 (Victoria, the Inner Harbor at night)
Named after Queen Victoria of the United Kingdom, Victoria is one of the oldest cities in the Pacific Northwest, with British settlement beginning in 1843. The city has retained a large number of its historic buildings, in particular its two most famous landmarks, the Legislative buildings (finished in 1897 and home of the Legislative Assembly of British Columbia) and the Empress hotel (opened in 1908).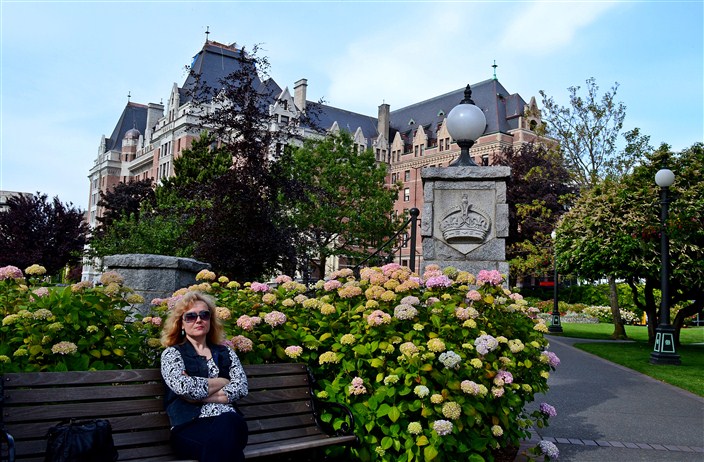 (The Empress Hotel…somewhere behind the flowers)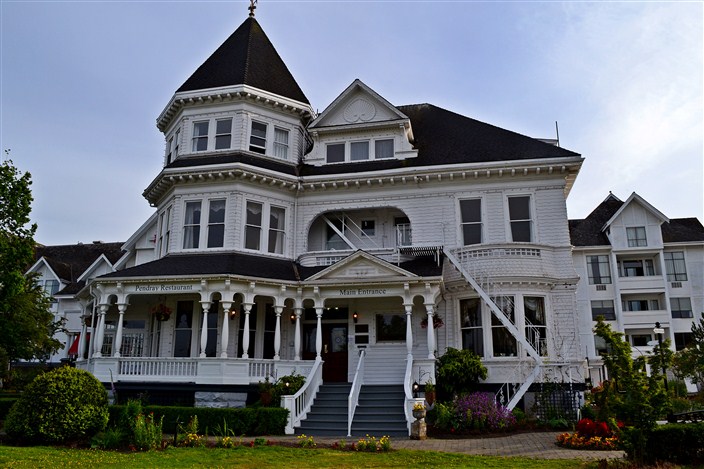 (One of many well-preserved, historical buildings in Victoria)
Here at Prohltravel we like Canada. A lot. And we like Canadians a lot, also. On the whole they seem to be genuinely good-natured people, friendly, and helpful to a fault. And they speak English, eh. They're like that extended family, distant cousin you don't see very often, but every time you do you say "Why don't we visit with these people more often?"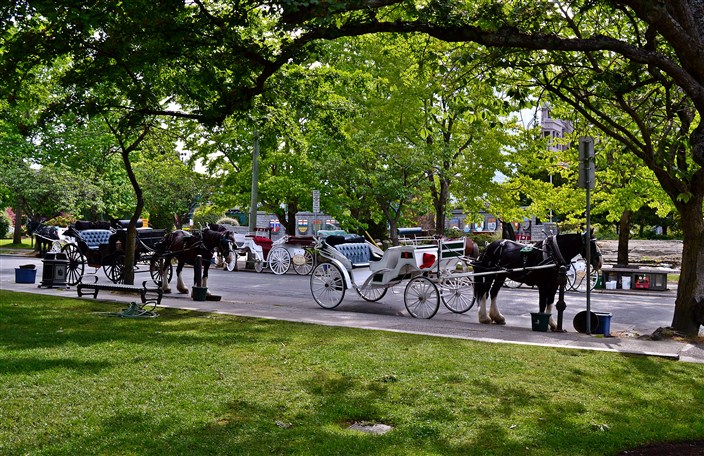 (Carriages are standing by)
A good case in point was our tour bus driver, an affable, informative guy with a great sense of self-deprecating humor. An example: while driving to Butchart Gardens, he was pointing out all manner of interesting tidbits, then segued into a rumination about the Canadian national character and how Canadians are perceived around the world. "One thing people say about us," he said, "is that Canadians are afraid of offending anyone and always apologizing…and we're very sorry about that."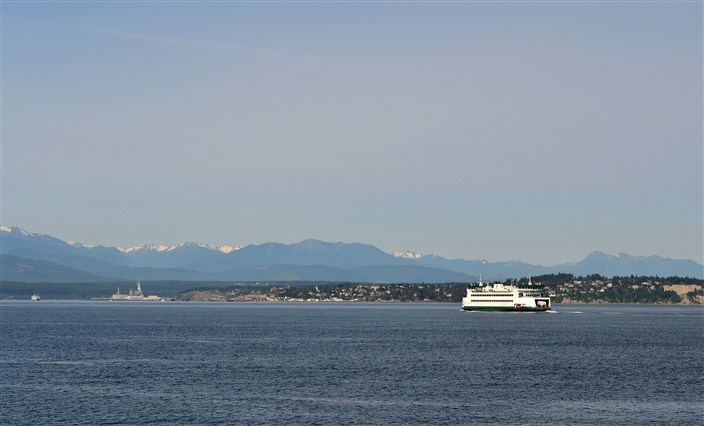 (On board the Clipper, looking west as Washington State Ferry heads into Port Townsend, Wa)
As Victoria is located on Vancouver Island, getting there from our home base near Seattle isn't a simple case of jumping into the family car and driving north. Well, you could, but sooner or later there's all that water you have to cross and since we don't own an amphibious vehicle and there are no bridges to Vancouver Island, that means you're either flying into town or taking a boat. We opted to take the water route, which gives you several choices. There's the Victoria Clipper from downtown Seattle's waterfront, the Black Ball ferry from Port Angeles, Wa., or you can drive to Vancouver and take a ferry across from there. We chose door number one, the Victoria Clipper.
The day starts early when you do this, a 7:30 a.m. departure from Pier 70, which means a 6:30 arrival at the dock, which means a 5 a.m. wakeup for us, as we live some distance from downtown Seattle. We managed to arrive on time, queued up with a lot of other sleepy-eyed folks to board, and departed right on time. It's about a two and a half hour to two hours and forty-five minutes crossing, depending on water and weather conditions, traveling at thirty knots per hour through Puget Sound and across the Strait of Juan de Fuca. The day we went it was a smooth ride with pleasant scenery. A lot of people snoozed. We went out on the back deck a couple of times for fresh air and photo taking and immediately got blown overboard. Okay, not quite, but given the wind and wave action of the boat I wouldn't recommend standing too near the railing without a decent handhold.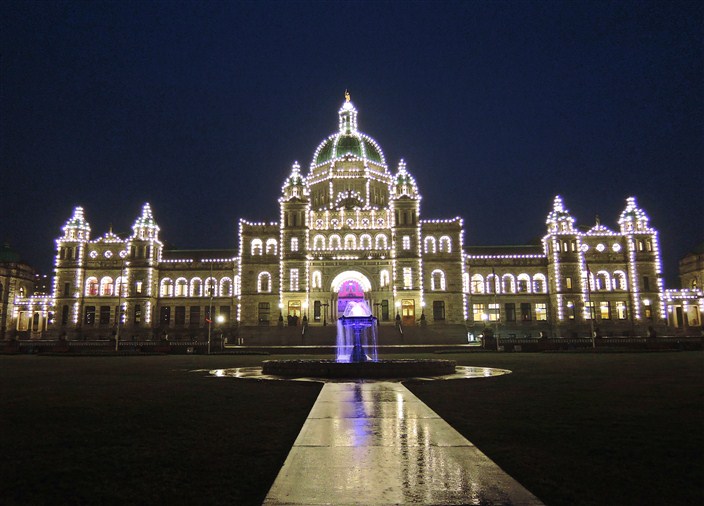 (The Legislative Building at night)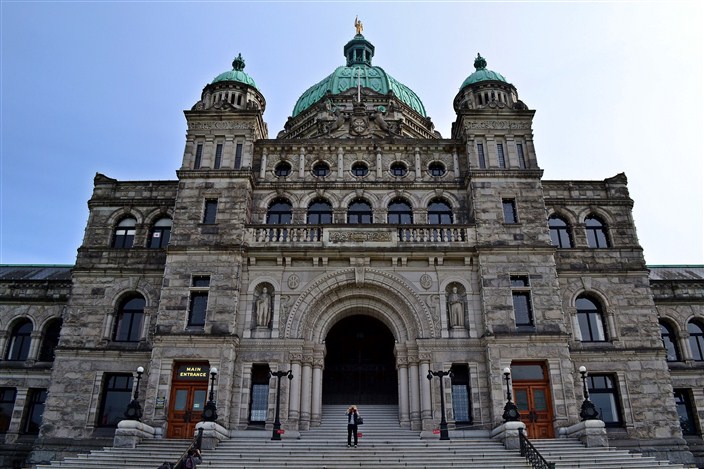 (Legislative Building, ready for its close-up)
Once docked in Victoria we boarded our bus for a drive-through of the city highlights. We passed the impressive Legislative Building, the Empress Hotel, famous for its veddy British High Tea ceremony (we declined to partake – $27 bucks for a cup of tea and a crumpet isn't my idea of a good deal) and wove around the downtown core, the historic wharf district where Victoria was first established as Fort Victoria, and then into Chinatown.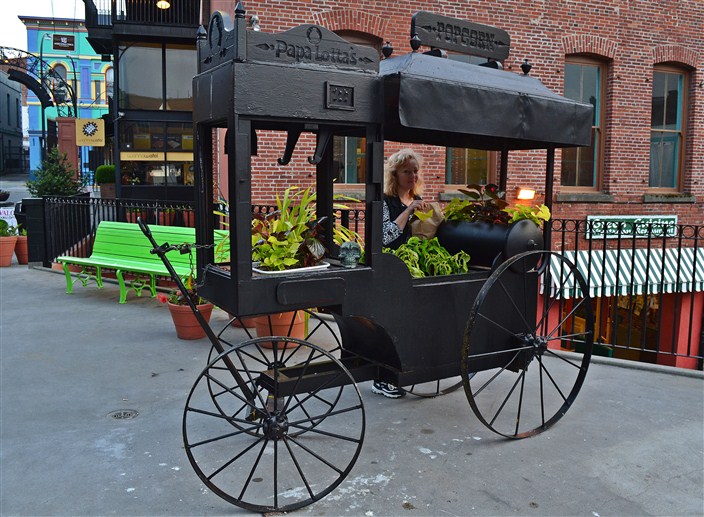 (In Market Square)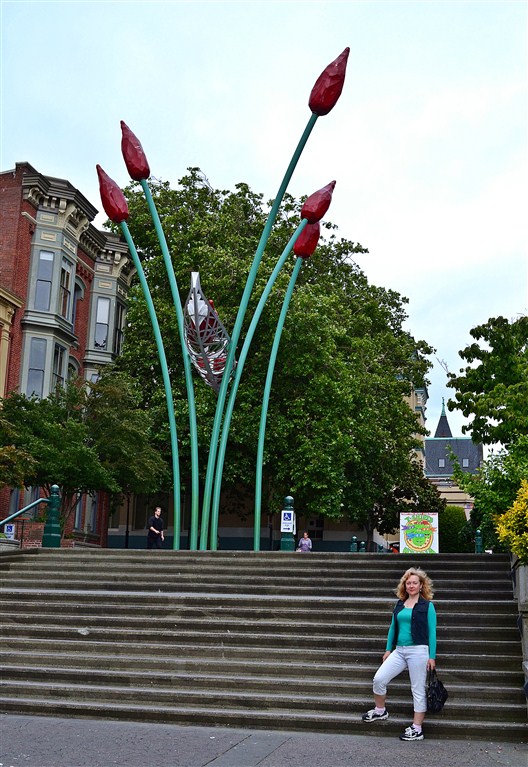 (Stepping down to Wharf Street)
Although not very big (it's really only a few blocks) Victoria's Chinatown is the second oldest in North America after San Francisco's. Another of our bus driver's jokes as he drove us through Chinatown was about the pair of famous stone lions which guard the entrance to the district's main street. According to legend, if an honest politician ever walks between the two lions, they will come to life. "As you can see," he told us, "they are still made of stone." Is there any country in the entire world where politiciams are not the butt of jokes? I'm certain this says something profound and universal about human nature, even if I don't know exactly what it is.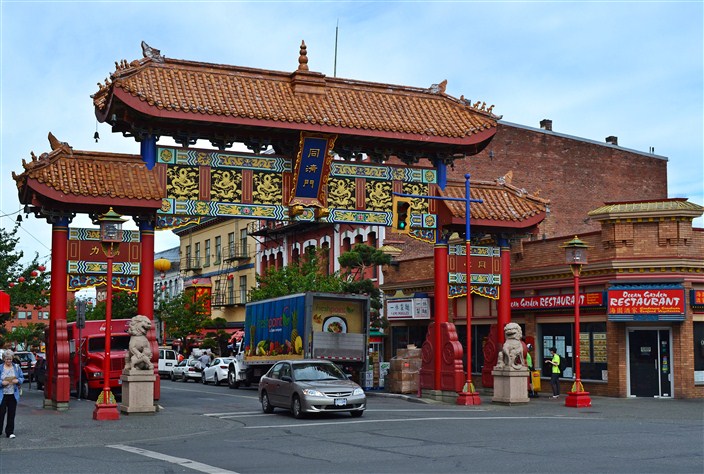 (Chinatown gate)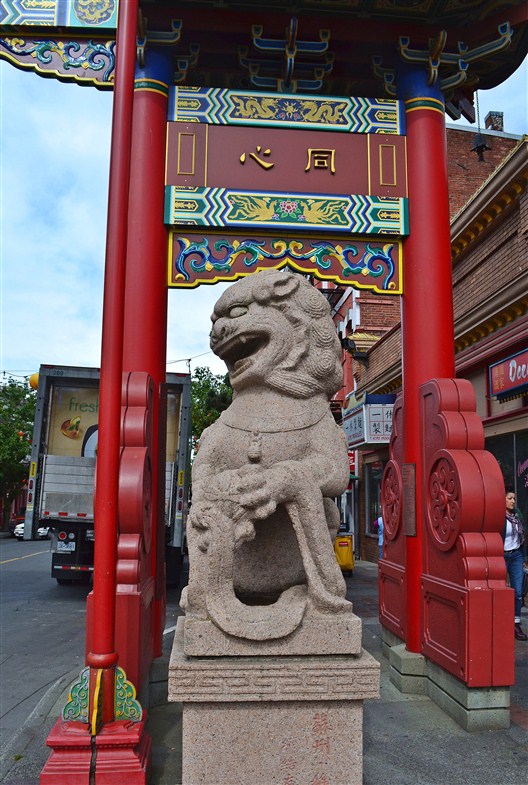 (No, they still haven't come to life)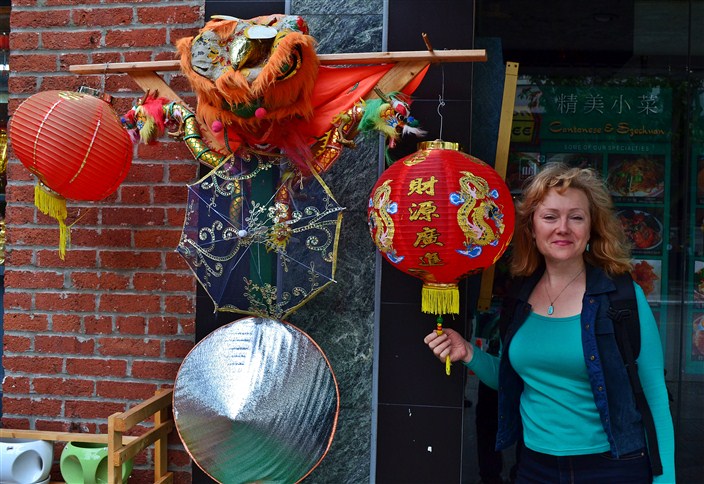 (It's a colorful place, that's certain)
One of the great things about visiting Victoria, especially if you stay in the downtown core, is the complete lack of need for a car. Everything of interest is within easy walking distance of the Inner Harbor where the Clipper docks. Our hotel, for instance, was about a half mile away. There is a very nice trail that meanders along the inner harbor past all the major sights and attractions and lots of benches to sit on and watch the boats and seaplanes come and go. There are plenty of shops, boutiques and the Hudson's Bay Mall downtown if you like to shop, and the Royal B.C. Museum if you enjoy learning about local history. We spent about four hours there and loved it.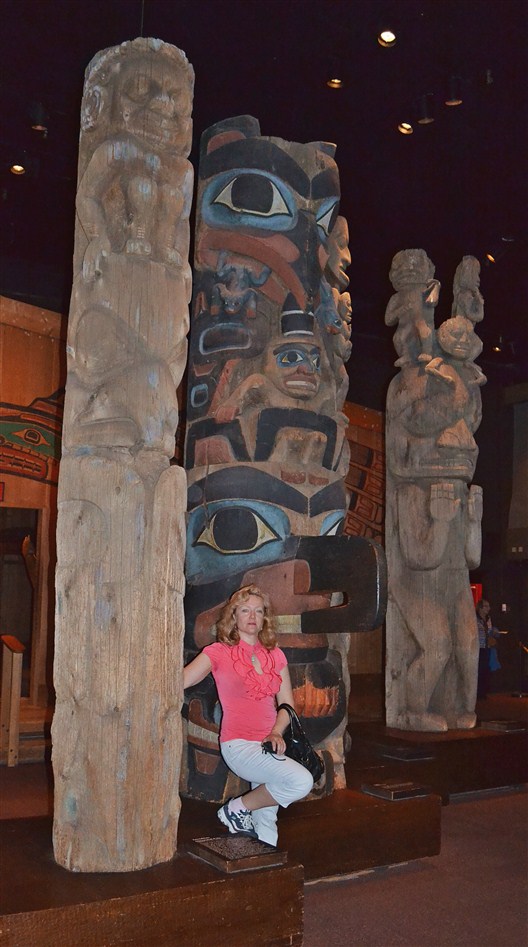 (Native American totems in the Royal B.C. Museum)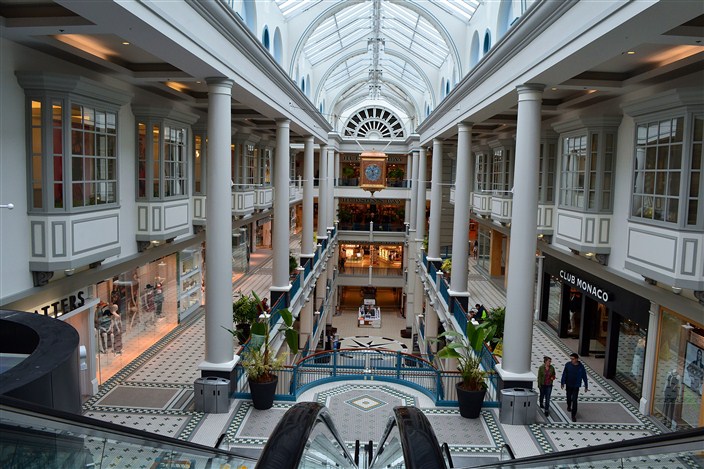 (Want to shop? Inside the Bay Center Mall)
Even if you plan on getting out of town and seeing some of the many other sights on Vancouver Island, I would recommend coming by boat and renting a car in town. I think it would still be more convenient and cheaper than paying to ferry your own vehicle over and trying to find and pay for somewhere to park it.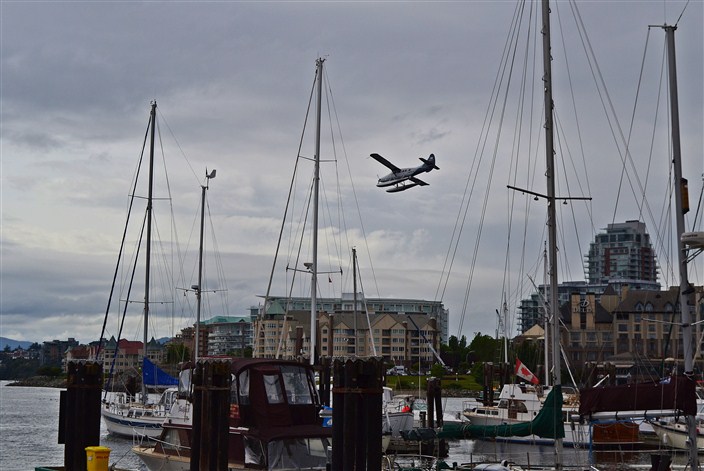 (Getting buzzed by another seaplane landing in the harbor)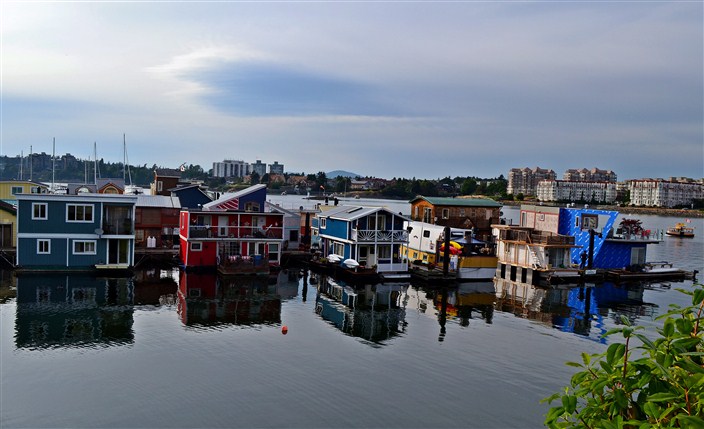 (Houseboats in the Inner Harbor)
Of course the elephant in the room which I've so far avoided talking about when it comes to visiting Victoria, is the world famous Butchart Gardens. The Gardens are easily the number one tourist destination on the island and often the main reason people come here to begin with. But since Butchart Gardens is such a huge attraction in itself, I'm going to do a separate article about them next time. Until then, happy trails.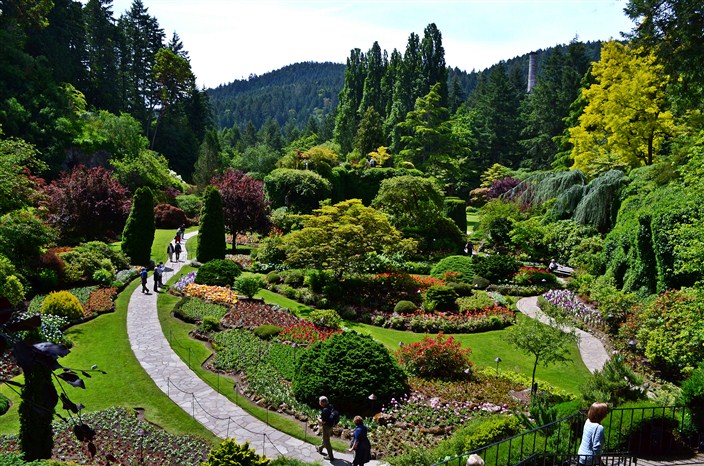 (A preview for next time – The Butchart Gardens!)