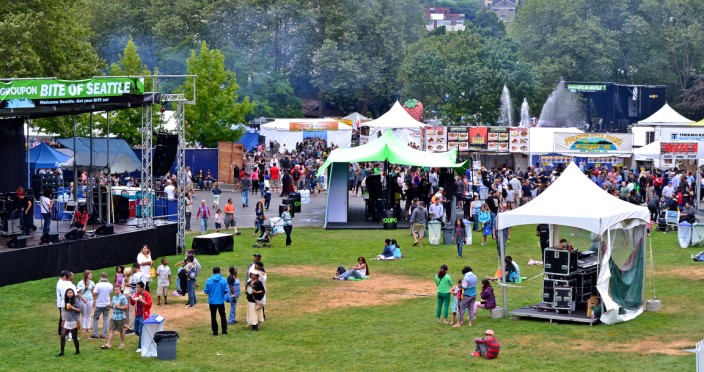 (The crowd settles in)
What exactly, you ask, is the Bite of Seattle? Although the name conjures visions of some 1950's sci-fi film with a giant octopus devouring half the city, no, that isn't it. Neither is it a tale of yuppy Northwest vampires sinking their fangs into tourists (hmm, I think I see a screenplay materializing here.) No sirree, the Bite of Seattle is, simply put, one of the nation's largest food festivals, a three day eating extravaganza held annually on the third weekend in July.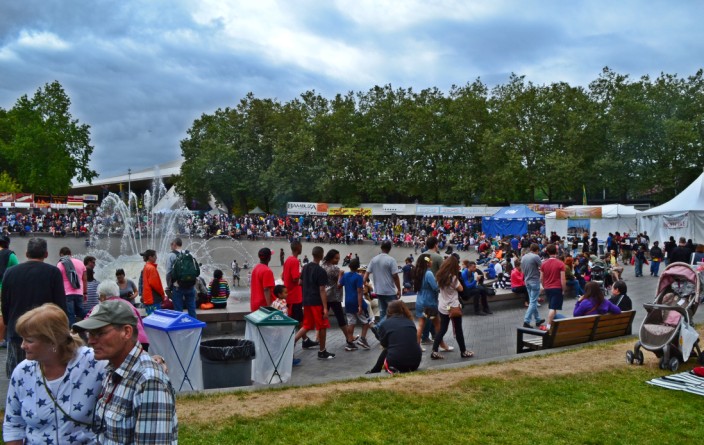 (International Fountain in the middle of it all)
What began as a modest event in 1982 on the shores of Green Lake featuring about twenty-five food booths, has now evolved into a sprawling, complex, multi-faceted affair covering most of Seattle Center grounds. It's a simple idea, really. What could bring together a couple of hundred thousand people to one crowded place all united in one common goal? The answer is obvious: FOOD! Everybody has to eat and as anyone with the gift of sight can attest, your average oversized American loves to (over)eat.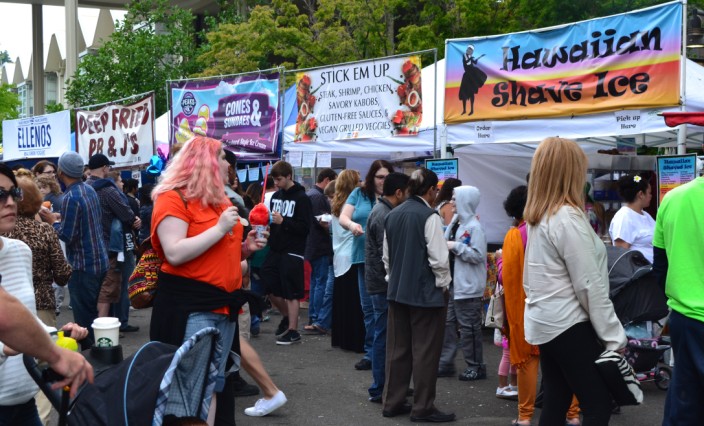 (What to eat first? Too many choices!)
While the focus still falls primarily on eating, the Bite of Seattle has expanded its range over the years to include a wide spectrum of things besides just food. There are beer gardens and wine tasting rooms and cooking exhibitions with some of Seattle's top chefs. There are three or four stages set up for a variety of live music. Face painting and balloon artist clowns entertain the kids. Kiosk sellers hawk a little of everything from hippie tie-dye clothing to water-bubble pistols to build-it-yourself lamps to raingutter cover systems, always a big seller here in the Northwest. Free stuff abounds, from bite-sized food and drink and spice samples to a chiropractic spine check in case all that heavy-duty chewing and swallowing has thrown your sacroliliac out of whack. Enter to win a free Hawaiian vacation, a free Texas vacation, a new car. What they should really be providing free samples of is antacid.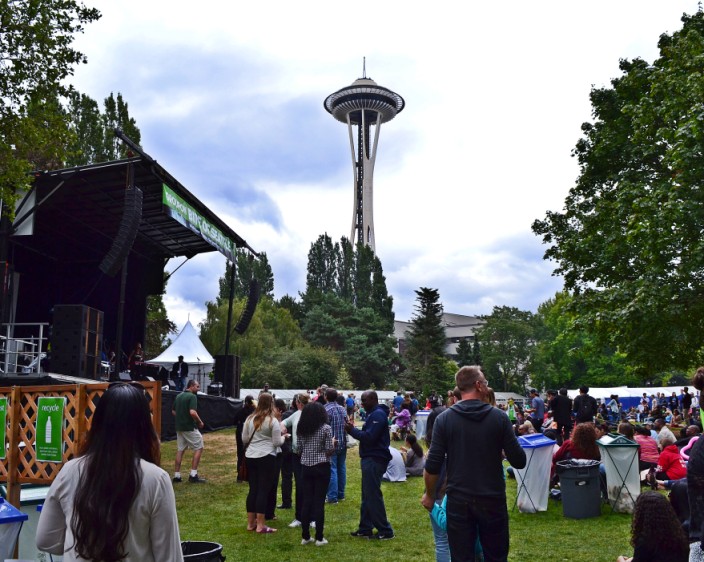 (Live music in the shadow of the Space Needle)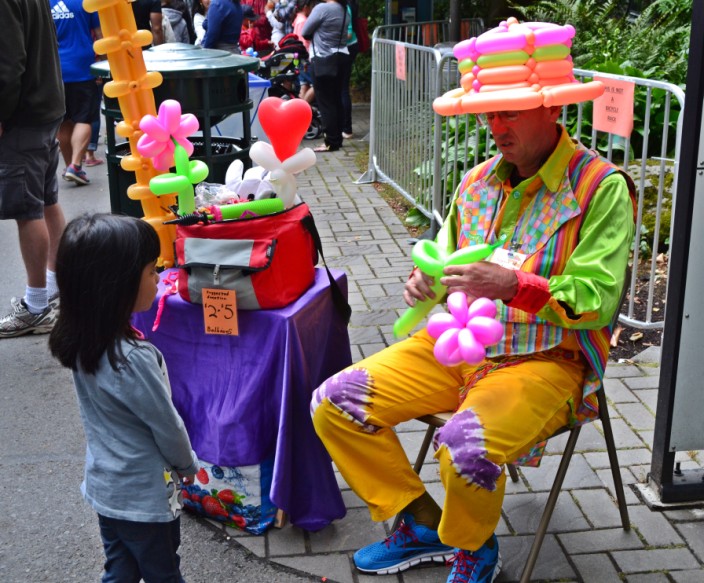 (Balloons for the kiddies)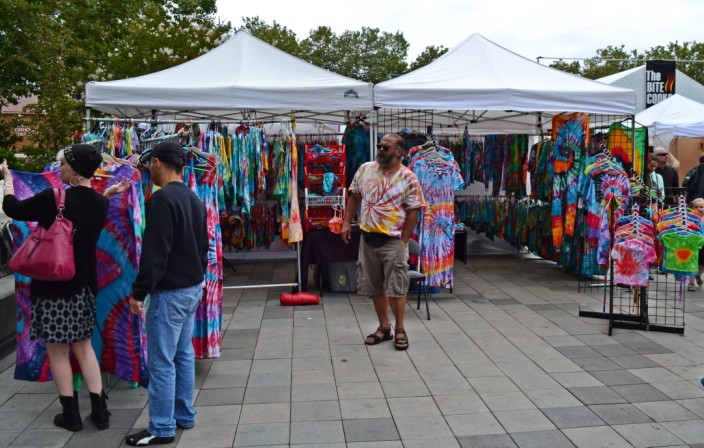 (Tie-dye never gets old – only the people wearing it do)
Or just keep eating and get a not so free stomach ache. Because in the end, despite all the other attractions and distractions, it's really all about the food. That's what draws everyone there, that human craving to find something different, unique, untried and unheard of before, something to stuff your face with that just might tickle your taste buds in ways you can't imagine. You'll find plenty of that. Or if you're looking for the familiar and the comfortable, they've got that, too.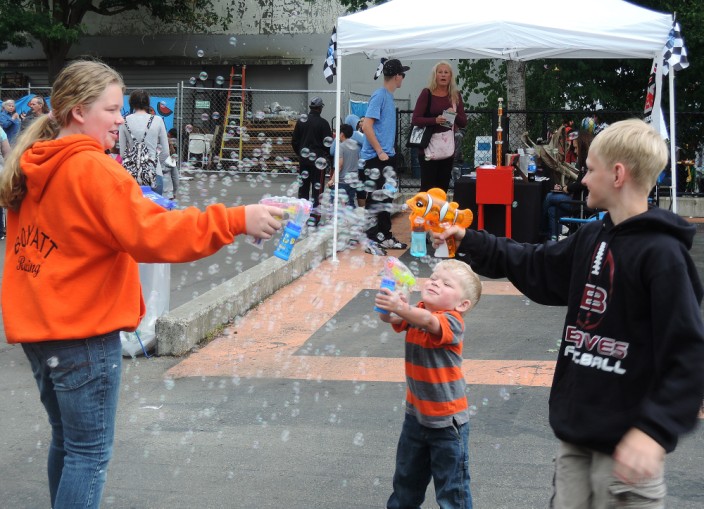 (Fun for the kids)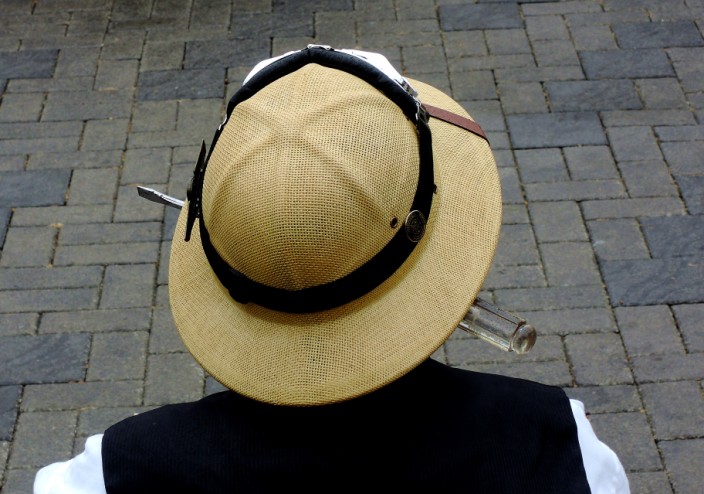 (This is the hat for people who have a screw loose somewhere)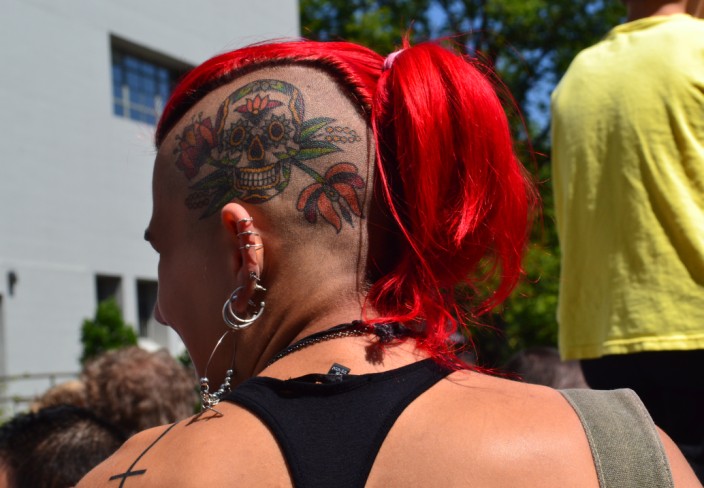 (Speaking of having a few screws loose…it's a colorful crowd, that's for sure)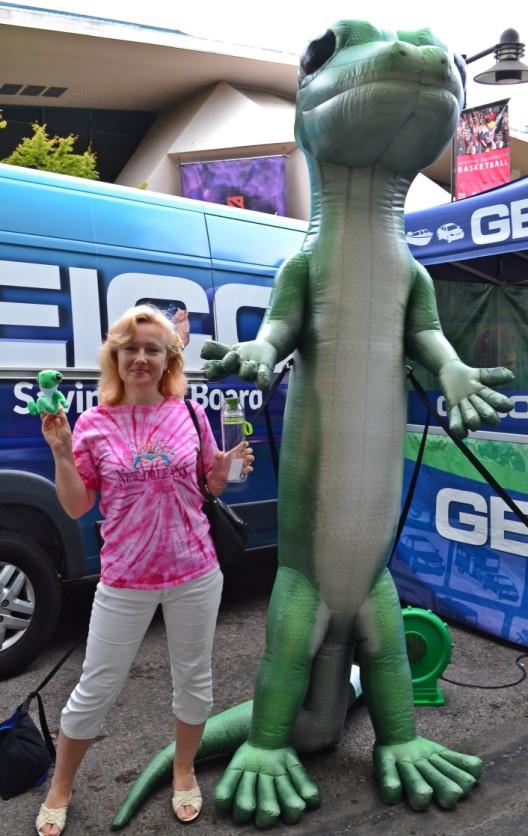 (You meet all sorts of interesting, um, people?)
You want meat on a stick? Corndogs of the World is the place for you, a variety of sausages – Mexican Chipotle, Polish Keilbasa, All-American Beef Dog, among others – all covered in corn batter and deep-fried. Of course, it's hard to screw up anything that's battered and deep-fried.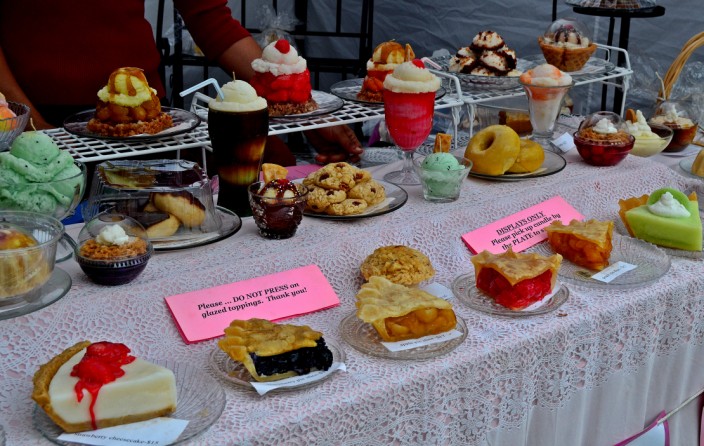 (Yummy pie? Not so fast. Those are candles! Seriously)
Craving some alligator on a stick? New Orleans Cookery is what you want. Etouffee, jambalaya, red beans and rice, and the aforementioned gator, and yes, it does taste a little like chicken. Like a prehistoric, predatory, swamp-dwelling chicken.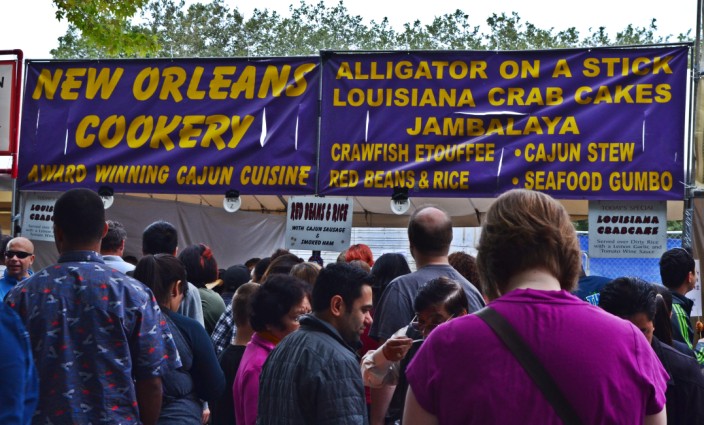 (Yes, indeed, get your 'gator right here)
Elsewhere you can find Thai food, Vietnamese, Korean BBQ, Mexican fare, Filipino food, Russian Piroshki, Ziegler's Bratwurst Haus, Indian cuisine, Greek gyros. You could just about drop your finger on a map of the world and find food from wherever it lands. Or if you want some basic Americana, there's corn on the cob, strawberry shortcake, pizza, fries galore and burgers of every stripe. Lots of our famous Northwest seafood, too: salmon, chowder, fish tacos, etc. You could easily come to the Bite all three days of the festival, spend a couple hundred dollars and still not sample everything.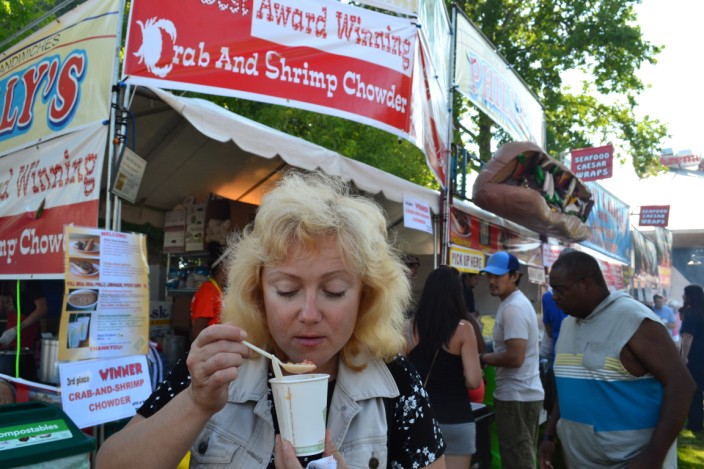 (Chowder…mmm)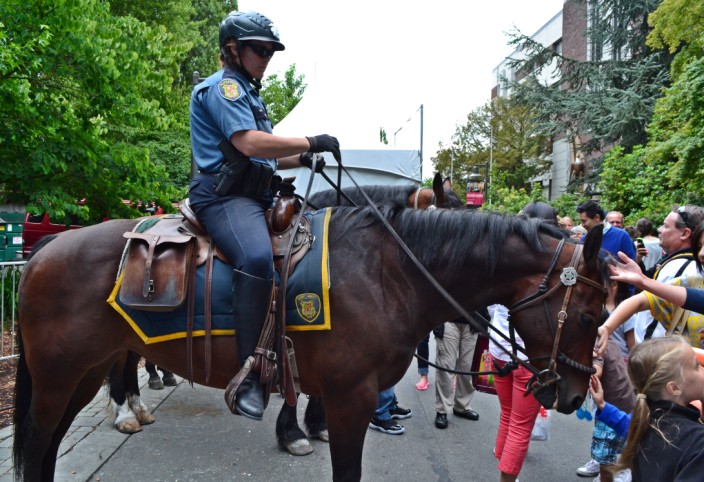 (No, this isn't a booth for horsemeat)
As an old hand at this – I've been attending almost annually since the late 80's – it's fun to see old favorites returning year after year, but it's also nice to see and sample something you haven't had before. Case in point, one new item we saw this year: deep-fried peanut butter and jelly sandwiches. Seriously. Didn't try one, but the line was lengthy and no one looked disappointed.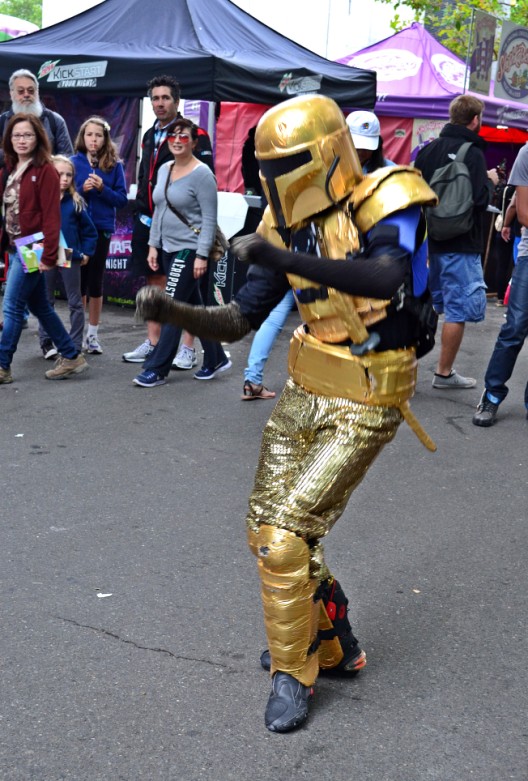 (The food's so good here, even the storm troopers are dancing)
If you're looking for something more upscale and gourmet oriented, try The Alley, one of the unique and most popular features at the Bite. Here, ten bucks gets you a sample of fine dining fare from ten different Seattle area restaurants. The line is usually long but the food is some of the best around and for ten bucks, it's a deal that can't be beat.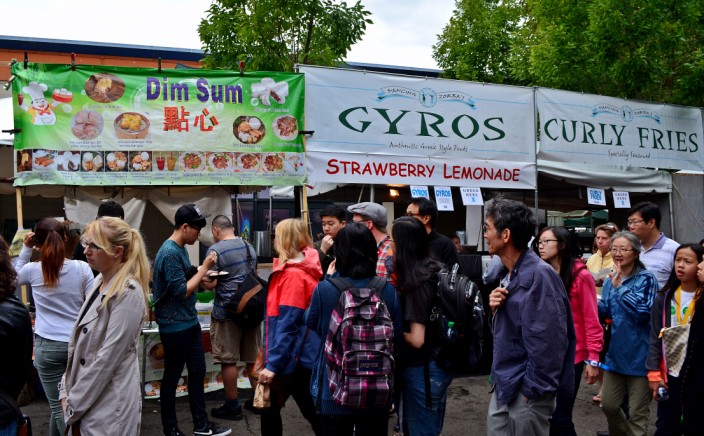 (Still hungry? Keep looking and get in line)
With all that hot, spicy, salty food being consumed, you're going to need something to wash it down. As I mentioned before, there are a couple of beer gardens and a wine tasting area, over 21 of course, and cordoned off from the general public. Now while you might think mixing alcohol and large crowds of people jammed together in confined spaces to be a recipe for trouble, I have to say I've never personally witnessed any truly bad, drunken behavior around the beer or wine areas. In fact, the same holds true of the entire festival in general. It's Seattle, after all, unfailingly polite and reservedly good-natured for the most part.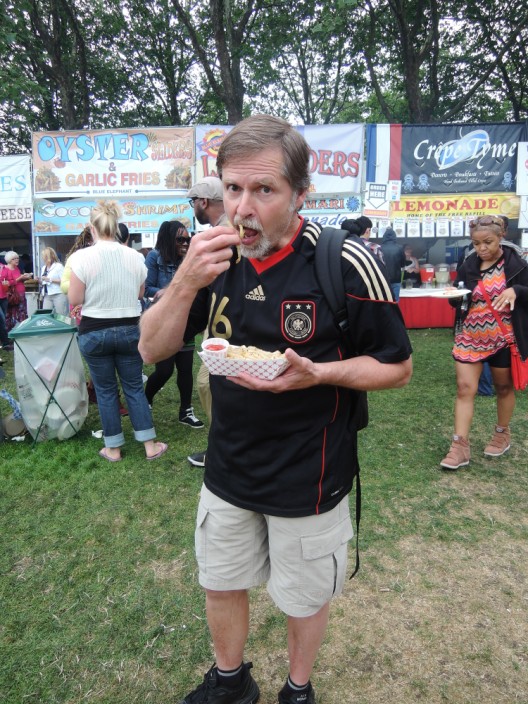 (Gotta have some garlic fries)
Overall, if you're ever in Seattle in July and you like to eat and you can tolerate crowds, check out the Bite of Seattle. Your stomach will thank you.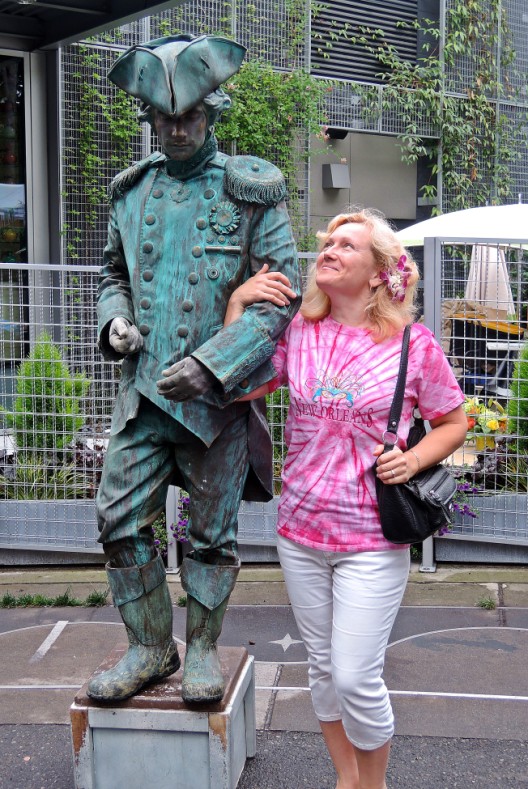 (Just be careful you don't eat so much you end up a statue like this guy)