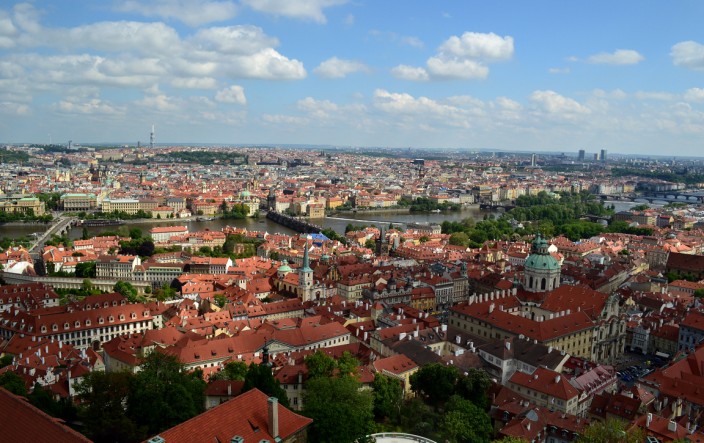 (Prague vista)
Arrival in Prague.
We left Krakow, heading for the Czech Republic and Prague, on a ten o'clock night train, which was both good and bad. Good because we would not lose a day to traveling. Bad because a) I don't sleep well on trains, planes, buses or any sort of transportation device, and b) we wouldn't get to see any of the Polish countryside. Again. We'd come into Poland from Ukraine at night and saw only a little of the country under dreary, gray rainy skies in the early morning. This time the weather was better but it was dark, of course, when we left, and by the time daylight arrived, we would be in the Czech Republic.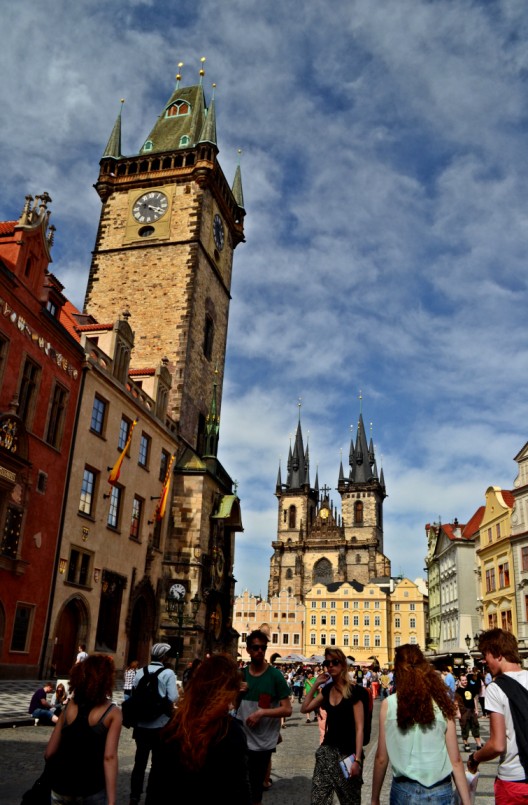 (In Old Town Square)
While settling into our train compartment – a six person sleeper – we were joined by three young Asian men, two of them dressed in the robes of Buddhist monks. Turned out the third guy, dressed in regular street clothes, was only there to help them board and say goodbye. No one else showed and so our six person compartment became a four person. This was a good thing as the top two berths – ours – were so high up that you would literally have to climb a small ladder and slide in sideways and couldn't sit up at all without risking a concussion. So my wife and I figured we could take the two middle bunks instead.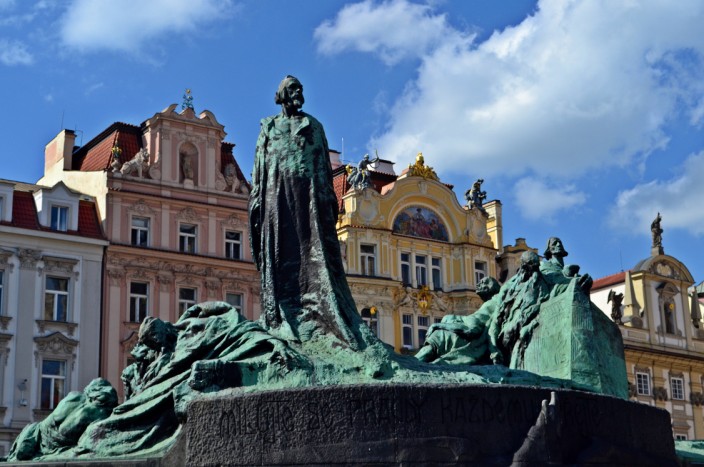 (Monument in the Square)


The two Buddhist monks turned out to be Vietnamese. The younger of the two spoke passable English and was talkative, while the other said maybe ten words the whole trip, which was fine by me as I planned to try sleeping. Right. Noisiest train ever. Horrible squealing brakes. At least there was no border drama this time. In fact we never even knew we'd crossed a border. No stop, no passport check, nothing. Chalk up one major point in favor of the EU.
Things got even better as the two monks not only volunteered to take the upper berths, they seemed downright eager to do so, and we were more than happy to let them. The young monk told us of their mission in the Czech Republic assisting other Vietnamese people who now lived there. They had been in Krakow on holiday for a couple of weeks and were now returning to work. Eventually we all drifted off to sleep, or in my case, attempted sleep. The train stopped often and as I said, very noisily. Think of the worst metallic screeching sound you've ever heard and amplify it by a factor of four. Our compartment was right over the wheels which made it even louder.
Morning came and with it a sunny day. We chatted with our conductor for a few minutes asking him for hotel recommendations and general sightseeing info. I had done my research on all this beforehand, of course, but always like to get ideas from the locals to supplement guide books and such. Arriving at the station, we grabbed a quick bite, found a tourist assistance center and booked a tentative hotel reservation and exited the station.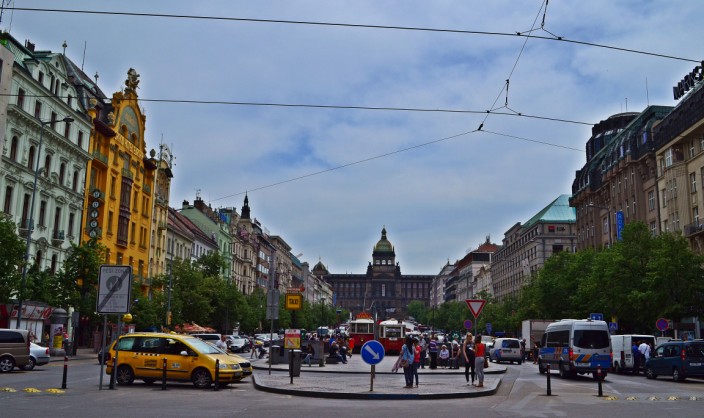 (Wenceslaus Square)
I think it's fair to say you should never judge a city by the neighborhood surrounding a train station, but the first sight which greeted us outside was benches full of seedy-looking vagrants. And not to be too harsh – Prague is a beautiful city overall – but this was to become somewhat of a common theme throughout our stay. We saw little of this while in Krakow, whereas Prague seemed if not overrun, then at least well represented by "street people" to use the p.c. nomenclature. (When I was a kid we called them bums, but that's another story.)
At any rate, once we'd walked a few blocks toward our hotel things improved. We'd been told it was only a fifteen minute walk to the hotel and having read multiple horror stories of extortionist Prague taxi fares, we walked. It turned out to be more than twenty minutes through New Town and Wenceslaus Square to the Antik City Hotel, but part of that was due to unfamiliarity with our surroundings and having to stop and check my city map a couple of times.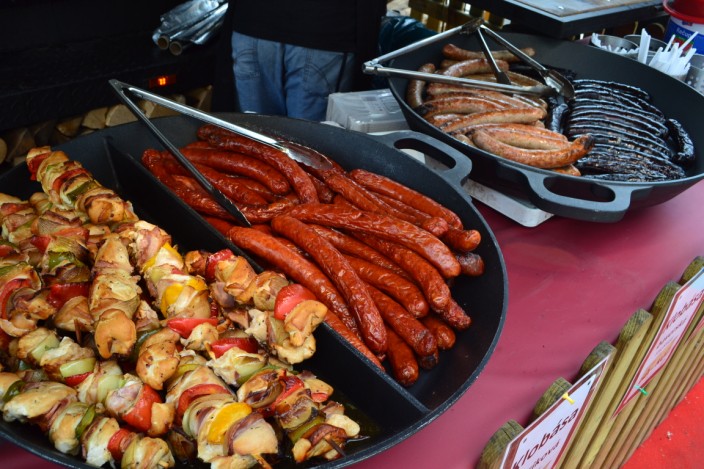 (Street food)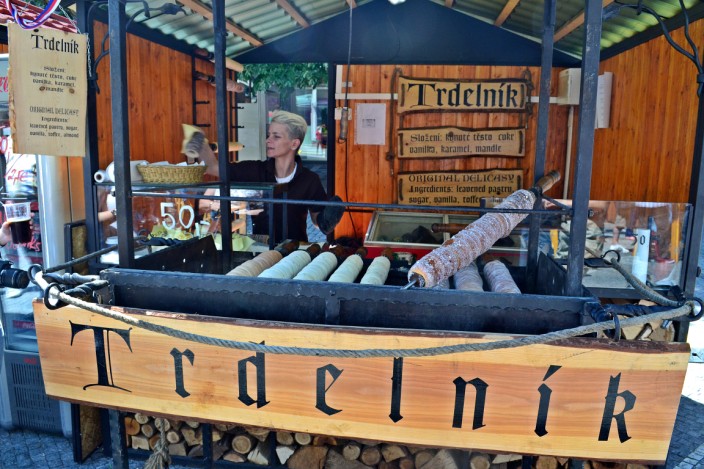 (Ready for some tasty pastry? Try a trdelnik)
Check-in went smoothly and after a shower and unpacking we eagerly headed out to explore the city. The first thing on my mind was food and it didn't take long to find it. Strolling downhill through Wenceslaus Square toward Old Town we came to a block-long area thick with food carts featuring a wide variety of tasty and (mostly) inexpensive items. Lots of sausages, kebobs, and our favorite, trdelnik, a conical, sugar-coated pastry cooked on rollers while you watch.
If you were so inclined, you could eat well and cheaply right on the street and not even worry about restaurant prices, though you don't really have to worry anyway because there are numerous cafes and restaurants that are very affordable. There are also plenty where you will pay through the nose. Just depends on your budget and what you're willing or able to pay to keep your stomach full.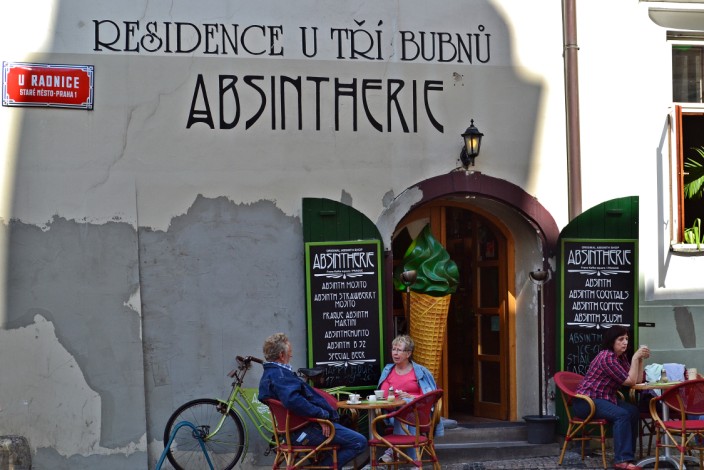 (Feeling dry? Nothing like a little absinthe to quench your thirst)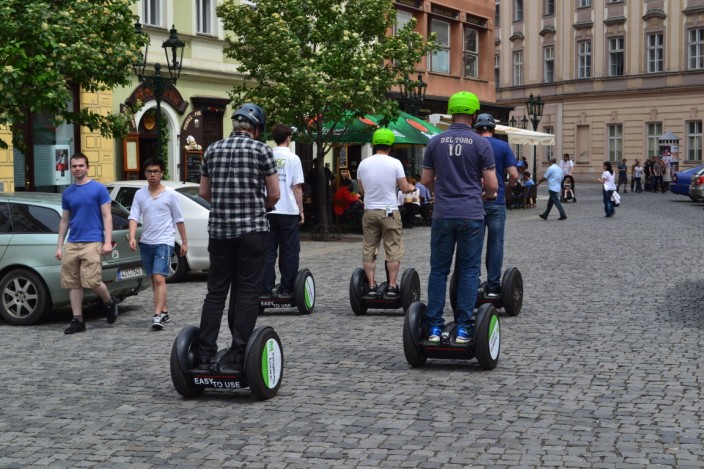 (If you're tired of walking, you could always do this)
After eating, we headed into Old Town and promptly got lost. Okay, not lost lost, but let's say sidetracked. I was looking for the main square but turned out we wandered a bit to the north side. This was fun, too. We found the Powder Gate, one of several old towers scattered throughout Prague which served as gates into the city in medieval times. Right alongside the Powder Gate is the Symphony Hall where I hoped to get lucky and catch a performance by one of the several world-class orchestras which call Prague home (didn't happen.)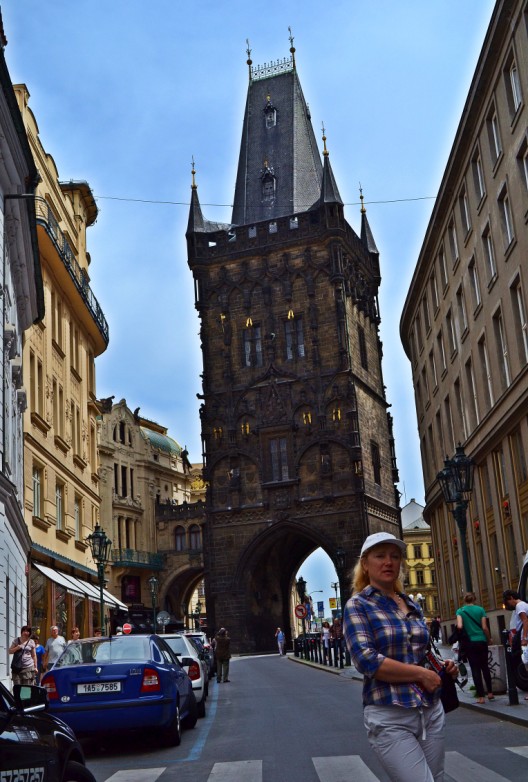 (The Powder Gate)
I finally figured out how to find the main square by dead reckoning when I spotted the twin steeples of Tyn Church looming over the rooftops and simply kept them in sight and walked in that direction. Who needs maps?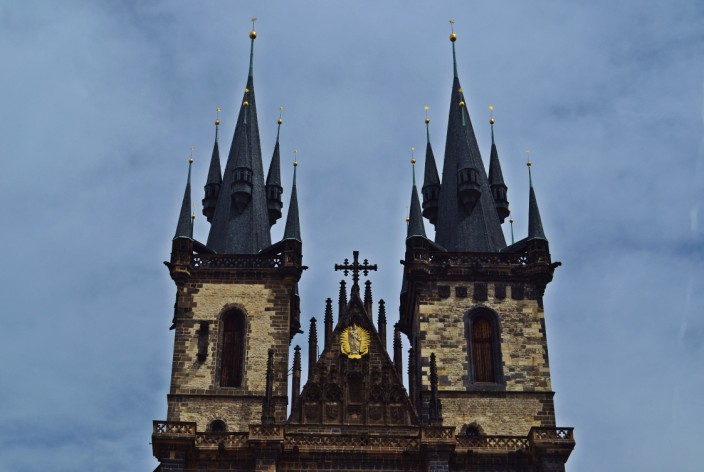 (The twin steeples of Tyn Church)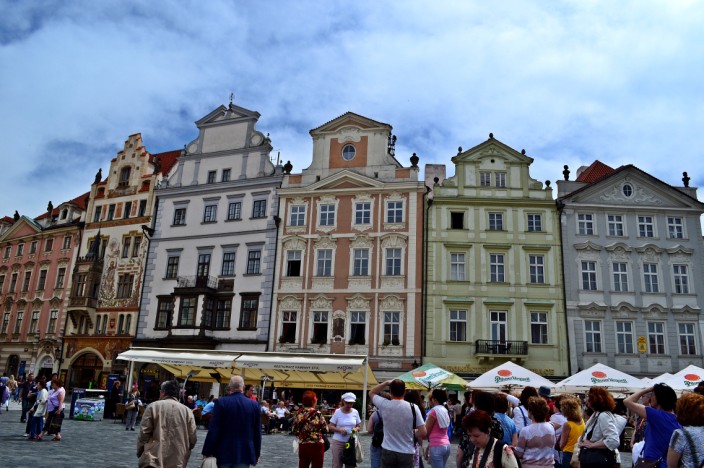 (Colorful architecture of Old Town Square)
We got to the square and gawked and took our photos along with about a hundred thousand other folks. Exaggeration? Well, let's just say Prague is a really popular place. This was only the middle of May and there were hordes of people just about everywhere we went, and for good reason. It is a lovely city, easily one of the most beautiful, photogenic and just plain interesting cities I've ever visited, full of historical sites, fabulous architecture, great live music and culture, and tons of shops.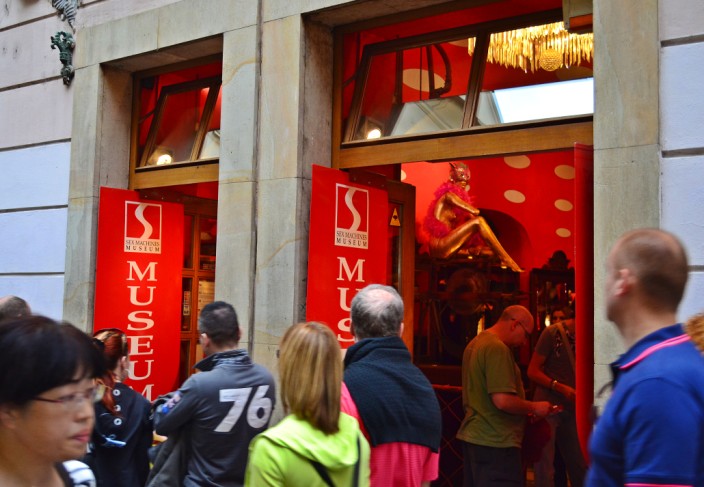 (It's exactly what the name says)
The shops range from the incredibly tacky and weird – the Museum of Medieval Torture Instruments and the Sex Machines Museum being two of my favorites (those are two separate places, by the way) – to the ultra-expensive Bohemian crystal shops which seem to be on every corner. It's lovely stuff, some of the finest crystal in the world, I'm told, but I mostly looked at these crystal palaces through their windows, cringing just at the thought of walking in and bumping some $5,000 knick-knack off the shelf and watching it shatter into a hundred tiny shards of very pricey rubble.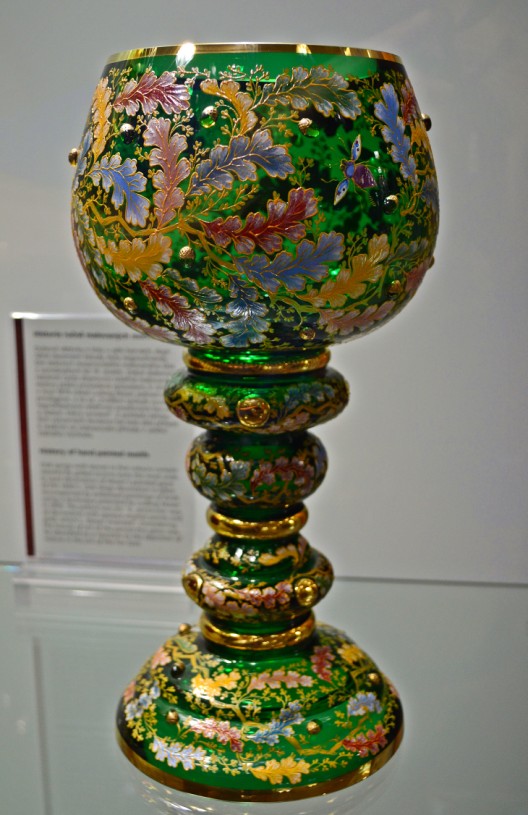 (Crystal artwork)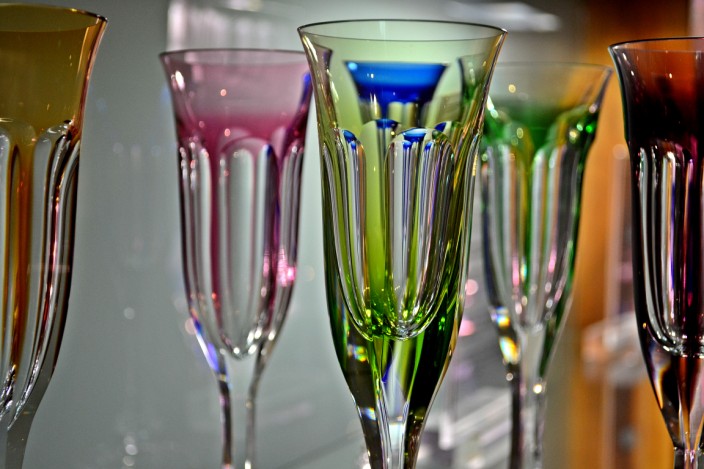 (More crystal)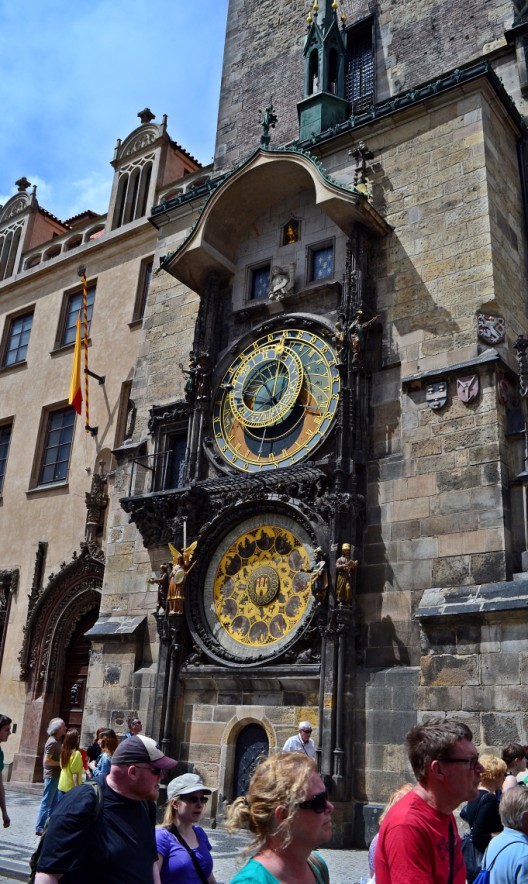 (The famous Astronomical Clock)
One of the big attractions in the square is the world famous Astronomical Clock. What can you say about the Astronomical Clock that hasn't already been said? It's famous, it's complicated, lots of people gather around it in the square every hour to watch it go off. I actually had more fun watching all the hubbub surrounding it than the actual clock itself. I've had the clock and its workings explained to me several times, what all the different dials mean, etc. but I still don't really understand, or care whether I understand it. The best part of the show are the wooden carvings of the twelve apostles who rotate by two windows, each of them holding various items of symbolic significance, as the hour strikes. Then out pops the rooster from another window just above them for a rather weak cock-a-doodle-doo and the show is over until the next hour.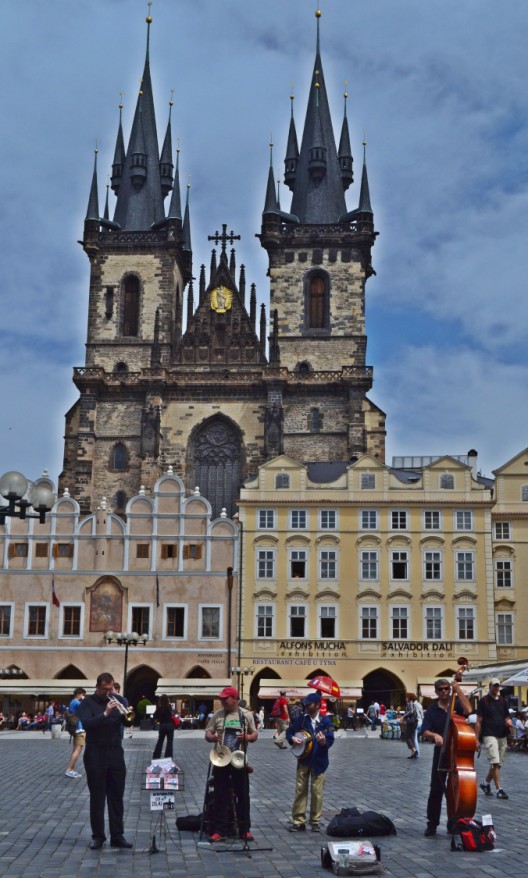 (Buskers in the Square)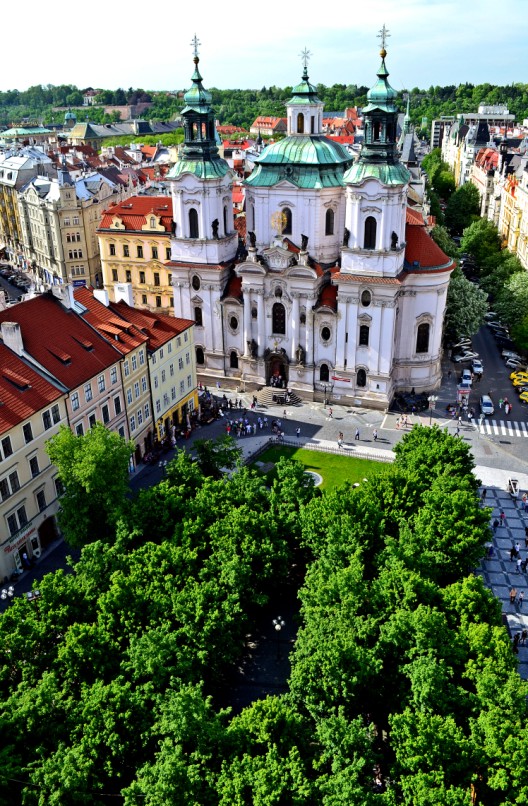 (Birds-eye view from Astronomical Clock Tower)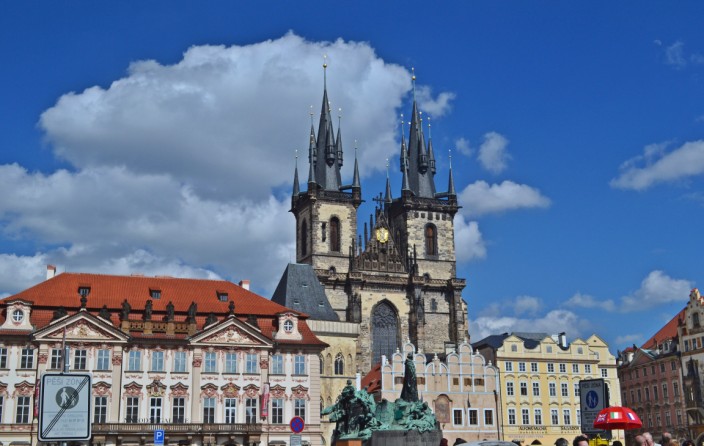 (Tyn Church in Old Town Square)
There's plenty of other things to do and see in the square after you've made your obligatory stop at the clock. You have your horse-drawn carriages, your street performers of every stripe, jugglers, dancers, musicians, etc., guided tours galore. You can climb the tower of the church above the Astronomical Clock for a birds-eye view of the city and the square. Or you can simply find a spot to sit and relax and watch the human parade walk by, listen to the babble of languages and soak up the atmosphere of one of Europe's great cities. And that's what we did, knowing there were plenty more discoveries awaiting us in the days to come.