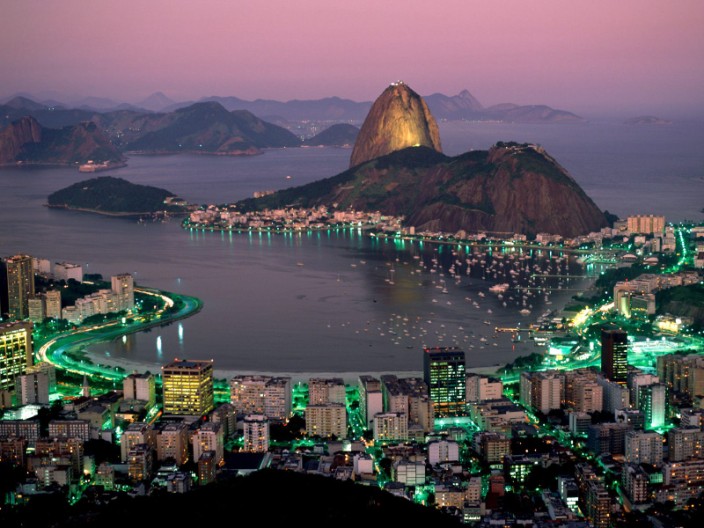 (Rio de Janeiro at night)
As this is a travel site, I have to say right off that this article's title is more than a little misleading, so in the interests of full disclosure let me set the record straight: no, I haven't been to Brazil. Not lately, not ever, and I'm not planning on going anytime soon. But…a lot of people are headed there in the next few weeks to experience not only what Brazil offer to travelers all the time – the beaches, the parties, the itsy-bitsy bikinis – but something very particular that only happens every four years. Yes, I'm talking about the soccer World Cup 2014, the biggest sporting event on the planet, the solar system, maybe the whole damn universe for all we know.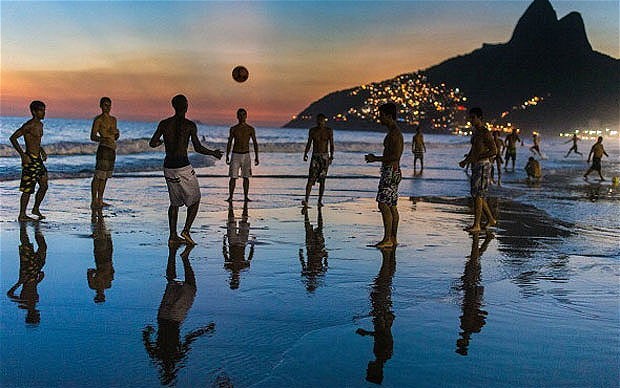 (Beaches and futbol, two of Brazil's most famous attractions)
World Cup 2014 kicks off on June 12 in Sao Paulo with hosts Brazil taking on Croatia, and the tournament will finish one month and one day later on July 13. No one knows now, of course, who will be playing in that championship match, but if one of the two finalists is not Brazil, you can be certain this will constitute a national tragedy of epic proportions for every Brazilian futbol fan, which is basically the entire population of 200 million people.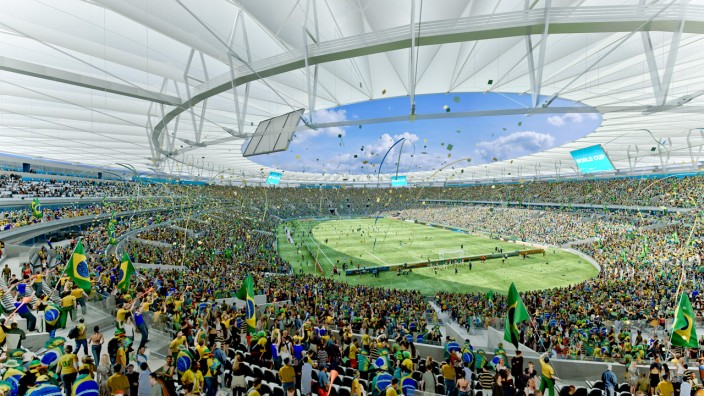 (The fabled Maracana stadium in Rio, site of 2014 World cup Final)
Brazil is a country which ranks fifth in the world in both population and area, but it undoubtedly ranks first in its passion for the "beautiful game". This is the land of Pele, of samba futbol, a country where soccer is such a dominant part of the culture that you cannot separate the people from the sport. It is often said that in this devoutly Catholic country, soccer is the true religion and you would be hard-pressed to find anyone who would offer much of an argument against this idea.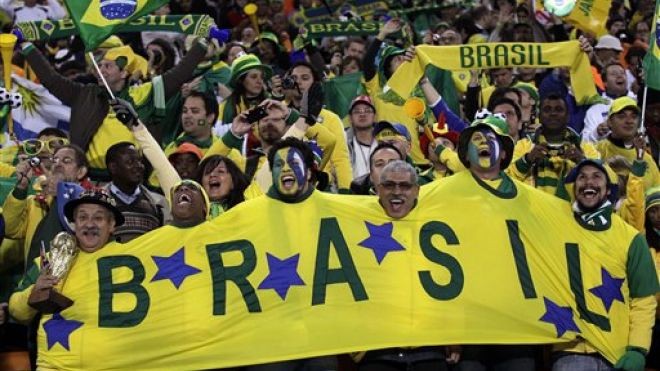 (The colorful and passionate fans of the Selecao, Brazil's national team)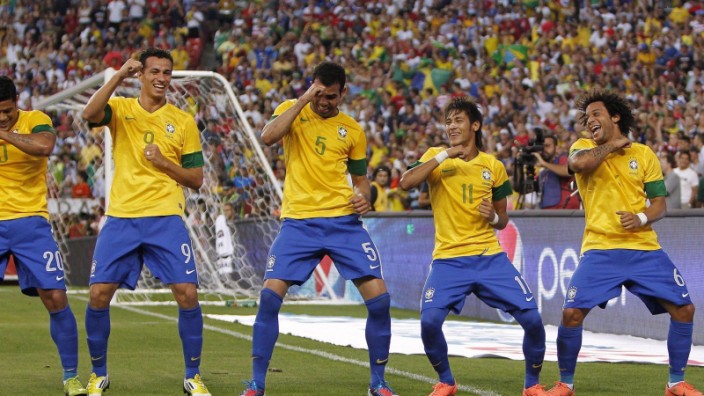 (Samba goal celebration: expect to see a lot of these when Brazil scores)
The Brazilians enter every World Cup tournament as one of the clear favorites to win it all (they've done so five times, more than any other nation) and with the added advantage of playing this time on home soil, the expectations for them to win will be enormous. Indeed, many pundits have opined that the supposed home-field advantage will in fact place such tremendous pressure on the players, where nothing short of claiming the trophy will be acceptable, that it could backfire on them.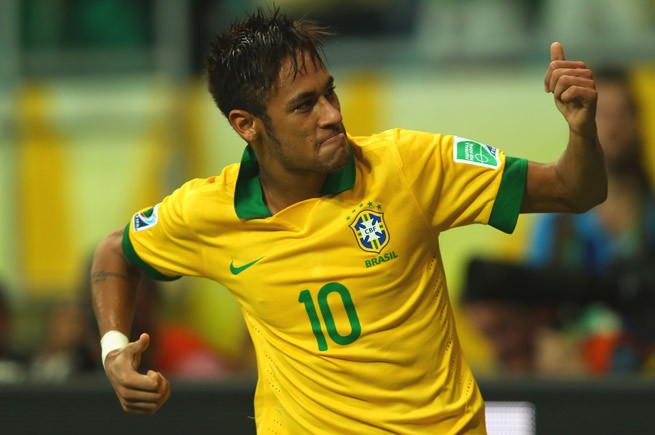 (Neymar leads the attack for Brazil – will the weight of expectation be too much to handle?)
The history of the World Cup offers little clarity on this topic. The only other time Brazil hosted the tournament, in 1950, they lost in the final game in a stunning upset to neighbors Uruguay. Other host nations have fared better in winning the Cup on home ground, notably England in 1966, West Germany in 1974, Argentina in 1978, and France in 1998. But plenty of others have failed to win the trophy when hosting, so whether this role offers a boon or a curse is difficult to say.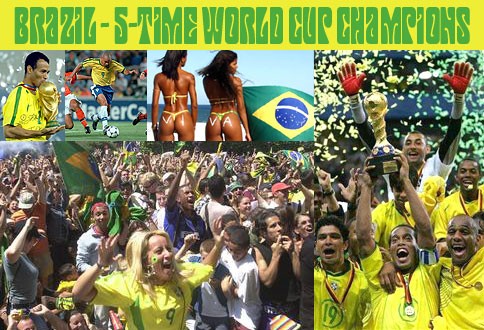 (Can Brazil lift trophy #6 in Rio on July 13?)
As an American fan of the world's most popular sport, I and all my fellow fanatics of Team USA have quite a different relationship to the game and our national team than do the soccer powers of the world. Americans love a winner and have a hard time accepting anything less, which I believe is one of many reasons soccer has never caught on here like the rest of the world. Americans want to dominate at everything. We count medals at the Olympics and consider it a national disgrace if we don't top the charts at the end. Our baseball and basketball and American football champions call themselves "World Champs" which is ludicrous since almost no one else in the world plays those games and they only compete in their own domestic leagues and not against the rest of the world.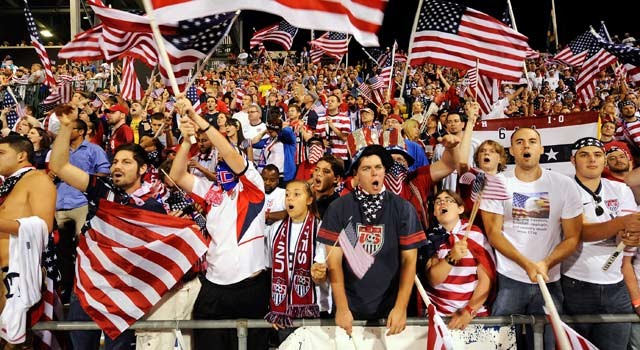 (Team USA will have plenty of support in Brazil with more game tickets sold to Americans than any other foreign country)
In soccer, Team USA is a big dog only in our North American region, with Mexico as our only true rival. But on the world stage, we are perpetual underdogs with no realistic chance of winning the tournament this year or anytime in the forseeable future. We are getting better as a footballing nation in small, incremental steps, but the idea of seriously contending for a World Cup trophy is still a distant dream for some future generation.
Every four years when the World Cup rolls around and the typical American sports fan (non-soccer variety) starts to pay a minimal bit of attention to the sport, I'm invariably asked the same questions: why isn't the U.S. better at soccer? And why do we get our butts kicked by all these other puny little countries? I could write a dissertation on this topic (and someone probably has) but to me, it all comes down to a couple of things, namely money and talent going to the other big three sports.
(Clint Dempsey embodies Team USA's scrappy, hard-nosed, never-say-die attitude)
I am convinced if ninety percent of our best athletes grew up playing only one sport from the time they were toddlers, and if that sport were soccer, that the USA would be a perennial world power. But that isn't the world – or the country – we live in. The big three American sports of baseball, American football and basketball dominate the sports landscape and are so firmly entrenched in the American sports culture and psyche that I doubt this will ever change. There is one reason for that and simply put, it's money.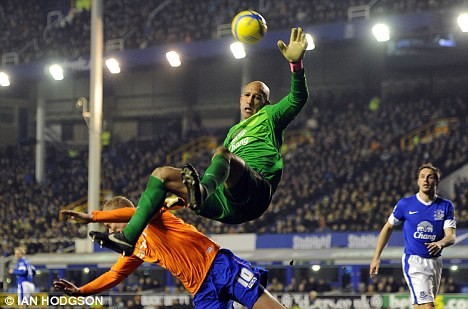 (Tim Howard will have to be stellar in goal for USA)
If you're an American youngster with professional level talent at multiple sports, which would you pick? The sport which can potentially earn you hundreds of millions of dollars over the course of your career or the one which might earn you ten to twenty percent of that? It's a no-brainer for most from a financial standpoint. Yes, there is the possibility for soccer players to make huge amounts of money overseas, primarily in the European leagues of England, Spain, Germany and Italy, but few Americans have been able to crack that market. Frankly, apart from a very few players, we're just not good enough. And our own domestic league, Major League Soccer, has only in the last few years begun to cough up million dollar contracts to attract top-tier talent, a situation unlikely to change for a long time due to sensible financial constraints in place if the league doesn't want to go bankrupt.
So what's an American soccer fan to do when the world's largest quadrennial competition rolls around? Well, if you're me, you hope for the best, prepare for the worst and just sit back and enjoy the games. All of them, not just the U.S. games. This year more than most, the USA is in deep waters right from the start with one of, if not the toughest first round group in the tournament. Grouped with European heavyweights Germany and Portugal, along with the best African team in Ghana, the U.S. could play well and still lose all three games and go home early.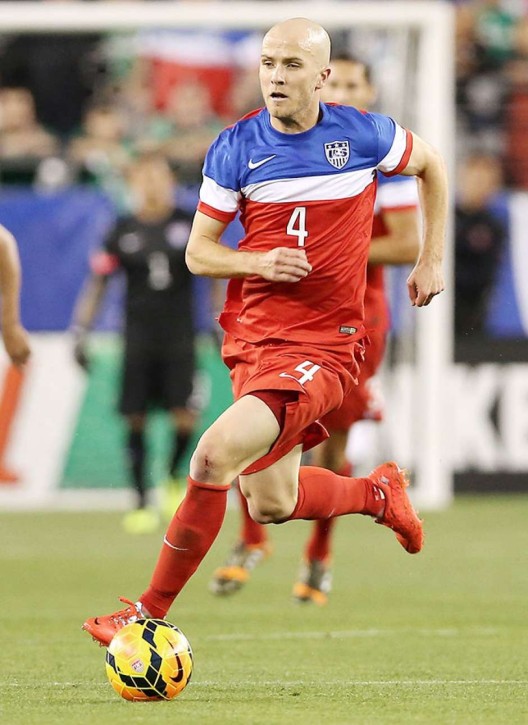 (Michael Bradley, USA's midfield general and the link between defense and attack)
Since no one expects the U.S. to get out of this group to the knockout rounds, we will once again be playing in our accustomed underdog role. Maybe that's best after all. Low expectations, less pressure to win and who knows? We might pull off an upset and advance, generate some excitement here at home for a week or two and garner a little love for the red-headed stepchild of American sports. Maybe a few six or eight or ten-year-old American kids with real talent will be watching and fall in love with the sport and dedicate their lives to it and fifteen or twenty years from now they will find themselves playing in a World Cup and bringing the trophy home to America.
Hey, I can dream can't I?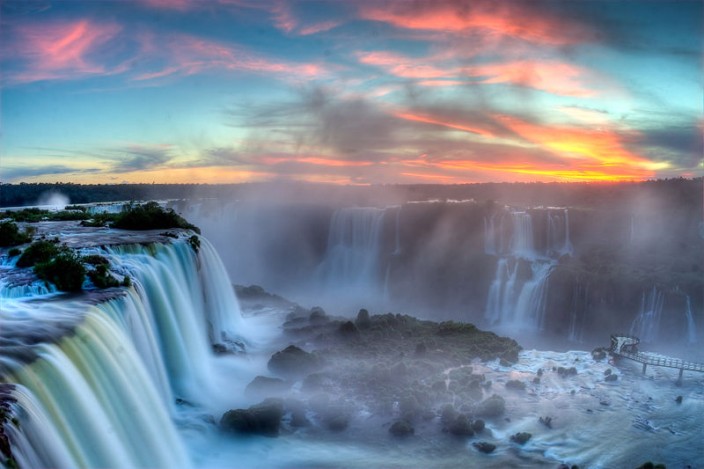 (Of course, there are other sights to see in Brazil besides football matches)
At any rate, come June 12 the world's biggest sporting event kicks off in the world's biggest partying country. Brazil is sure to put on a great show and I think a splendid time is guaranteed for all. If you've ever had a hankering to visit the land of Carnival and needed one extra reason to go, this could be the time.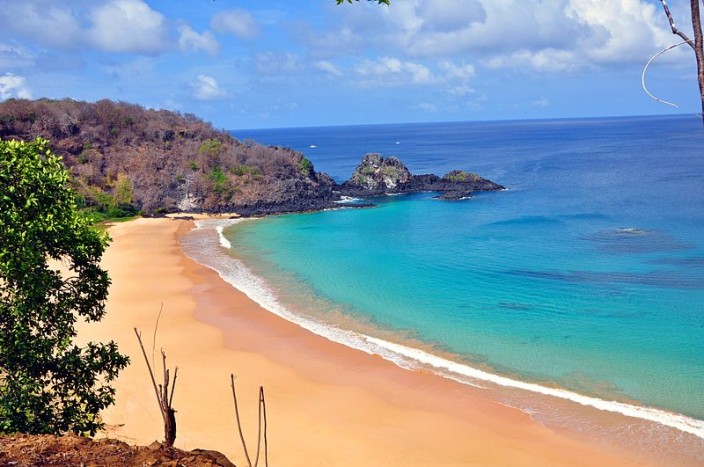 (Just one of Brazil's innumerable stunning beaches)