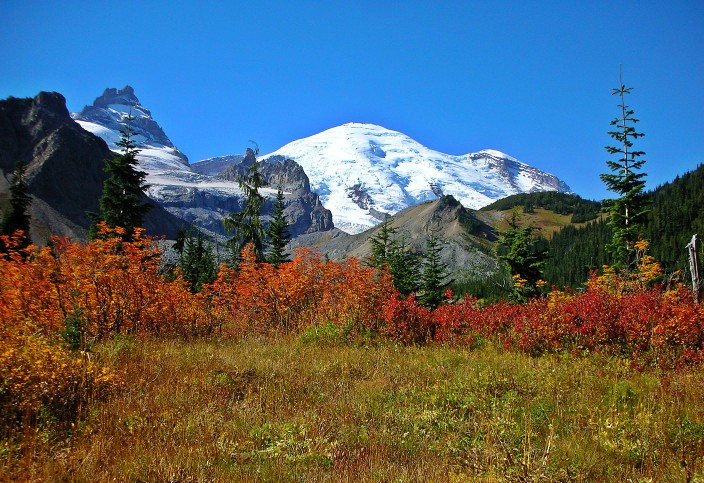 (On the Summerland trail – Mt. Rainier in autumn)
So what do you do when it's the middle of January and every time you gaze out the window you're slapped in the face by endless days of gray drizzly gloom and depressed by the prospect of another six months before the snow recedes enough to hit the high country? For me, one remedy is to go for a digital hike down memory lane and revisit some of my favorite footsore stomping grounds via my photo libraries. So sit back, feast your eyes and salve your soul with some photos and stories of hikes gone by and maybe get some ideas for spring and summer this year. Whether you live near or far from these beautiful places, it's never too early to plan a hiking getaway!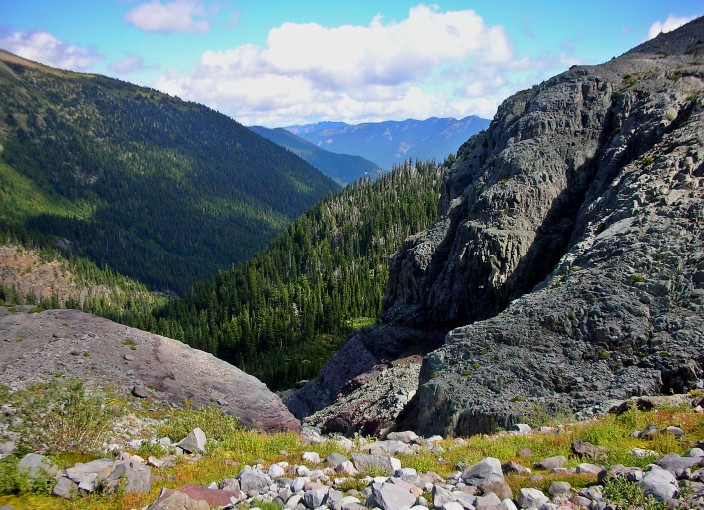 (Along the Summerland trail)
Mt. Rainier is always beckoning me for two reasons – the sheer spectacular awesomeness of the Great Mountain, and it's proximity. Lucky me being an hour or so from the mountain's doorstep. I've already opined on these pages about the Eunice Lake-Tolmie Peak day hike and it's splendors. This time I'm highlighting another all-time fave of mine, the Summerland-Panhandle Gap trail.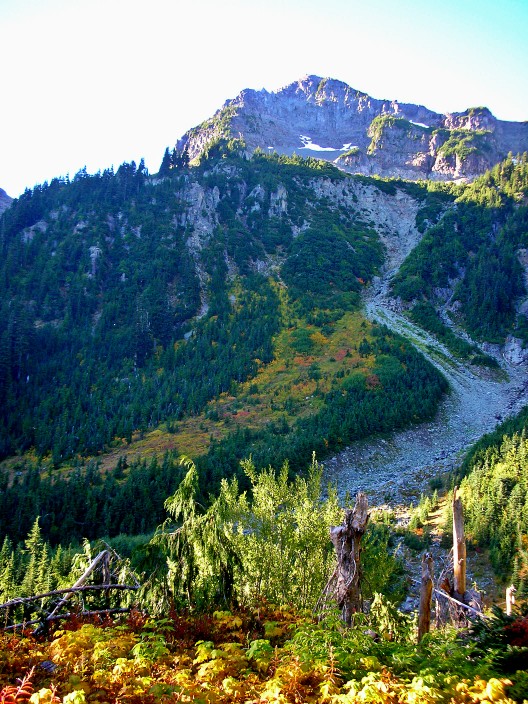 (Out of the trees and under blue skies)
To reach it you once again drive Highway 410, passing through Enumclaw, then continue on past Greenwater and into the Mount Rainier National Park boundaries just beyond the Crystal Mountain turnoff. Here the speed limit drops to an official 45 mph, the road narrows and gets twistier and climbs more steeply. You leave 410 at the Sunrise turnoff, stop and pay your park entrance fee at the ranger booth and drive another couple of miles to the trailhead. If you're coming during peak summer hiking season, I'd recommend arriving early if you want to get a parking spot anywhere near the trailhead.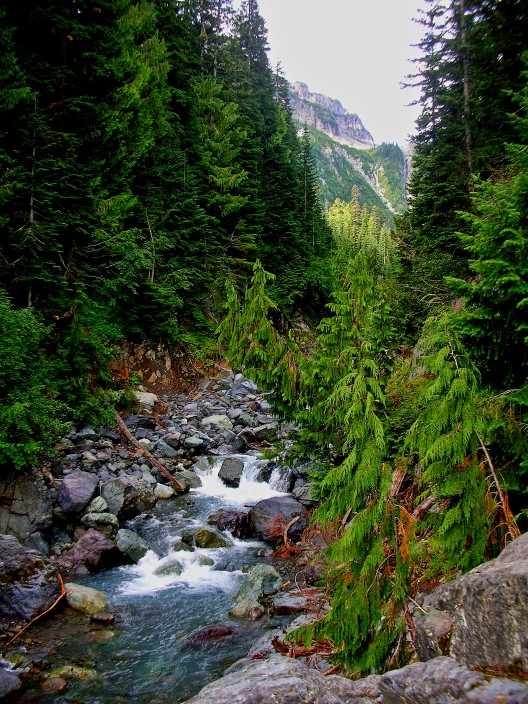 (Streams and waterfalls are abundant)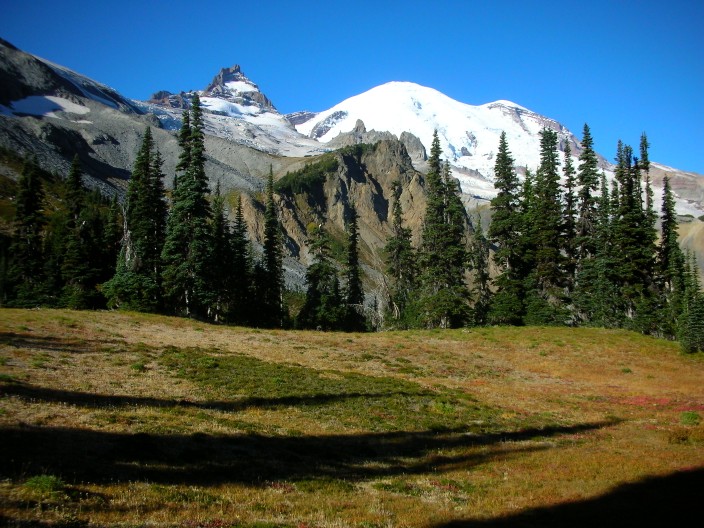 (Lots of stunning views on the Summerland trail)
Another reason to get up with the crows is to potentially avoid the entrance fee altogether. I've done this a couple of times, passing the ranger booth before 6 a.m. while it was still unmanned. Admittedly this was years ago and it may not be the case anymore. Not only that, but I wouldn't want to advocate flouting the rules or anything illegal, so let's just say, um, I've heard about people doing this. Yeah, that's it.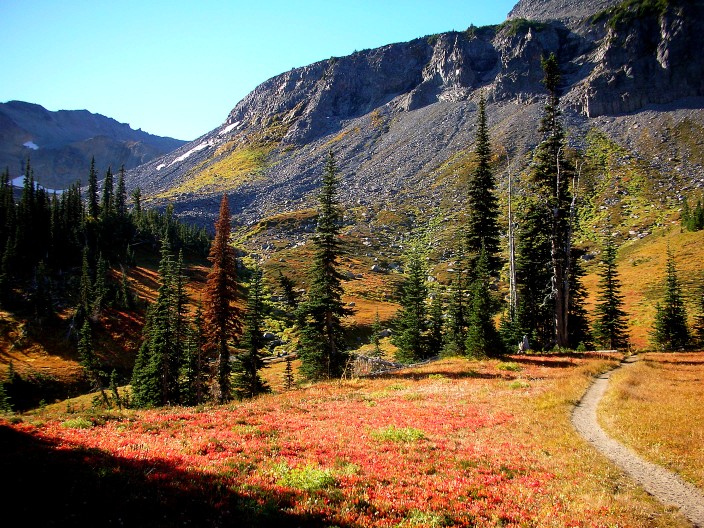 (Summerland…in autumn)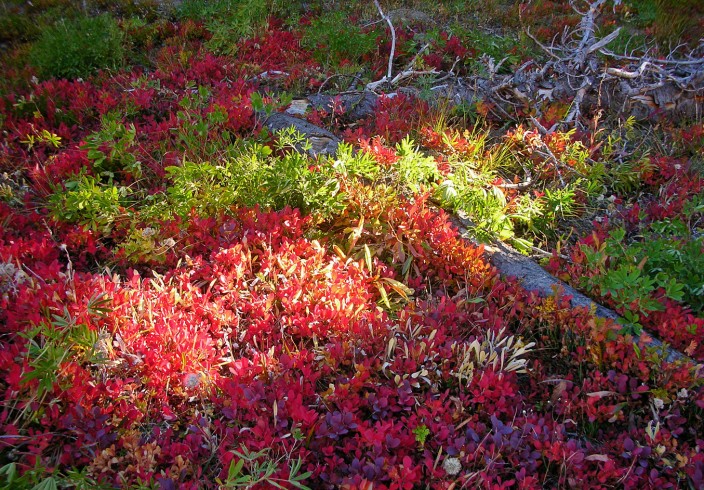 (Blazing autumn ground cover)
I've hiked the Summerland trail a number of times, but like many things in life, I seem to remember the first time the best. I arrived in the park about an hour past dawn, with the stately Douglas Firs and massive old-growth cedars shrouded in early morning fog. This might scare off the novice Pacific Northwest hiker, but experienced folk will tell you to just relax. The fog will burn off, hopefully sooner rather than later. Many times I've left the lowlands of Seattle and suburbs under a cloak of leaden gray clouds only to begin my hike an hour or so later bathed in brilliant sunshine and blue skies. This is especially true in the summer when the marine layer of low clouds typical of the lowlands simply isn't very thick. You climb a couple of thousand feet and poof, like magic you're up above the clouds.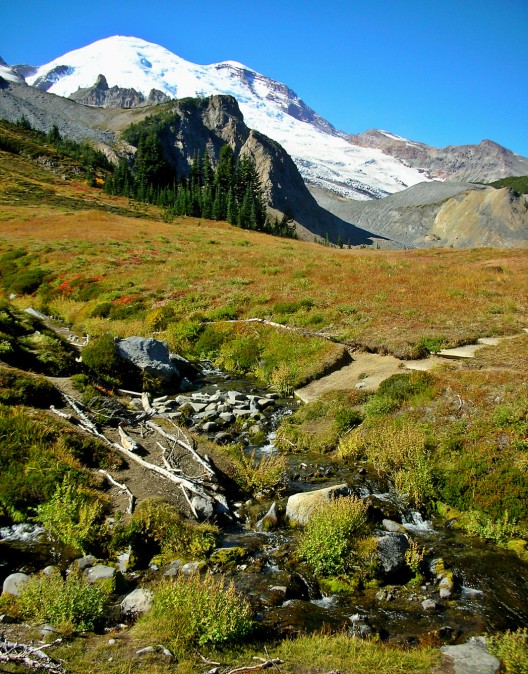 (It doesn't get much better than this)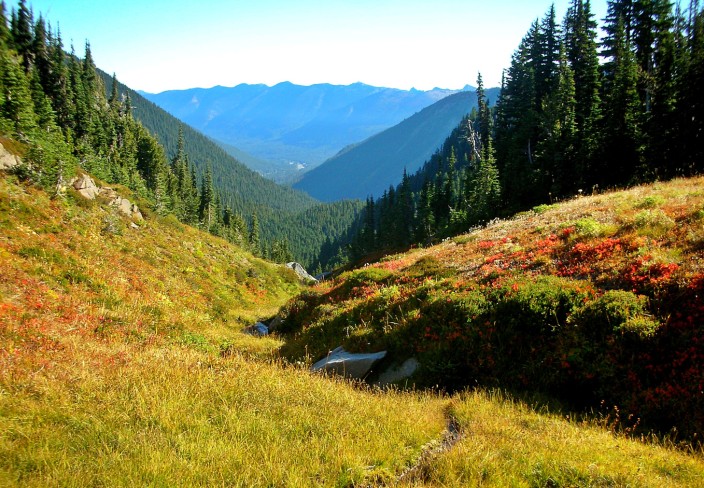 (Valleys without end looking east)
That first time up the Summerland trail began, as I said, with fog and mighty chilly temperatures, barely cracking the 40 degree mark. I put on every piece of clothing I'd stuffed into my daypack and shivered on down the trail for about the first twenty minutes at a quick-step pace to generate some warmth.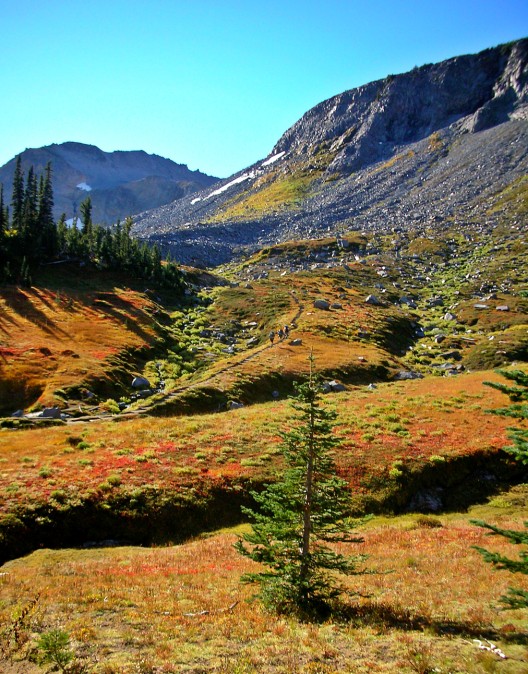 (The trail heading up to Panhandle Gap from Summerland)
People often ask me, "What's a good day hike around Rainier?" Not to avoid the question, but I invariably answer them with another question, which is "How hard do you want to work for your reward?" In other words, are you willing to put in the hours, the sweat, the burning thighs and aching feet to reach some truly spectacular high alpine scenery, or are you content to meander the paved trails within a mile or so of the visitor's center while rubbing elbows with a few hundred other folks? For some, especially those with physical limitations, the latter is a perfectly legitimate alternative. But if you are able-bodied and enjoy pushing yourself a bit harder, Summerland is just about the perfect Rainier day hike.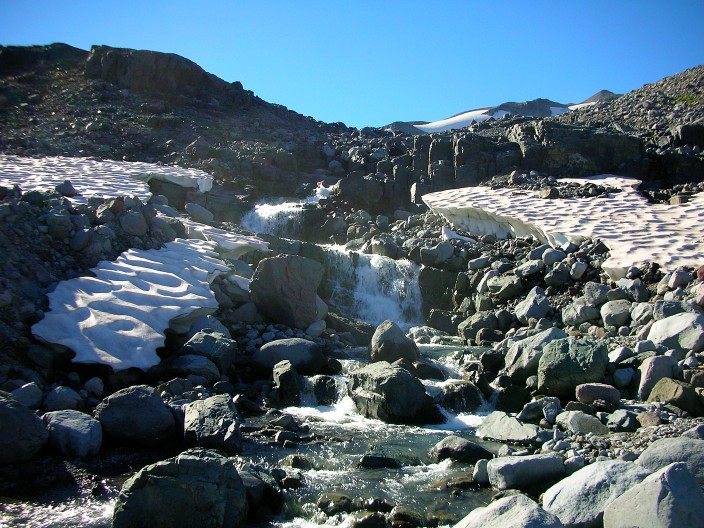 (It's a rocky trail to Panhandle Gap)
One of the things I love about this particular trail is it's really like three hikes in one. You begin with your classic Northwest lowland hike meandering among the Really Big Trees at a moderate rate of elevation gain for about the first mile and a half. Then for the middle third you encounter a couple of loud, gushing, decent sized waterfalls, come out of the heavy forest and into more open, rolling meadows cut by streams, followed by a heavy-duty series of steep switchbacks that last about a mile. Finally, you end at the top with spectacular views of Rainier and it's glaciers in the Summerland area. If you follow the trail on to Panhandle Gap – and I strongly recommend that you do – you will scramble across rocky moraines and late summer snowfields above treeline with unobstructed views in all directions. You don't often get all that in one hike.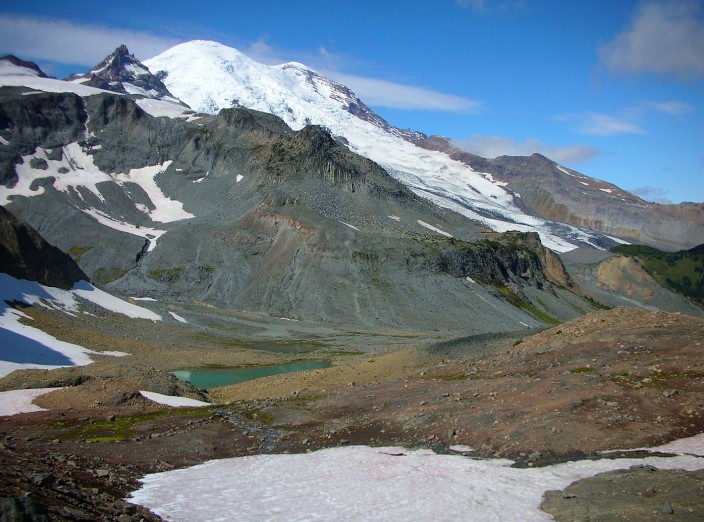 (Above the treeline, and then some)
Like most high-country trails in this part of the world, it's a short hiking season unless you plan on scampering over a lot of snowfields. The snowpack often doesn't recede until some time in June, occasionally as late as early July. And by early October the snows can return. This often results in a bit of a traffic jam on some of the more popular trails, of which Summerland is certainly one. This is yet another reason to roll out of bed early and hit the trail before everyone else. I always find it satisfying to be halfway down the trail on the way back to the car and be passing others just on their way in.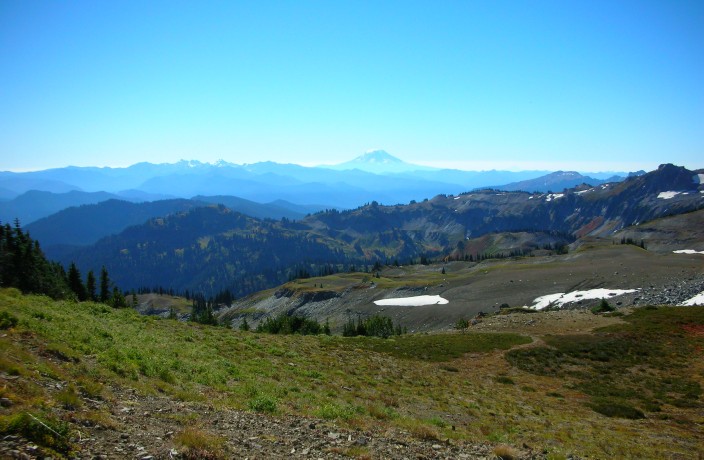 (In the Panhandle Gap – view to the south of Mount Adams)
Although anytime is a good time to go there, I prefer hiking Summerland as late in the season as possible, late September and early October, when you will encounter some fabulously blazing autumn colors of an almost unnatural brightness and intensity. Marmots are often visible and sometimes will let you get quite close, almost as if posing for a portrait. If you're lucky they might even favor you with one or two of their famous ear-piercing whistles.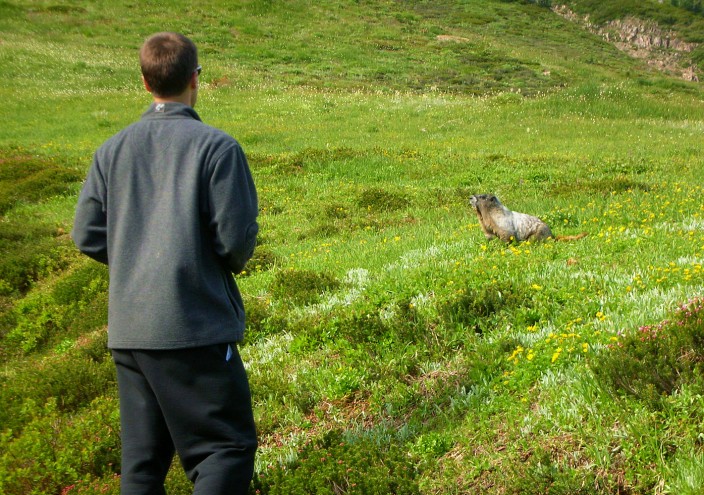 (Getting up close and personal with Mr. Marmot)
I can't urge you too strongly to push on from Summerland the extra mile and a half up to Panhandle Gap. Your feet might scream at you later, but Panhandle Gap will afford you a magnificent view to the south of Mount Baker in the distance, and an excellent chance of encountering one of Rainier's largest herds of mountain goats. The last time I went up I waited around the Gap for half an hour, taking photos, snacking and drinking some water, hoping to catch a glimpse of these marvelous, shaggy-white-haired denizens of the rocks. No dice.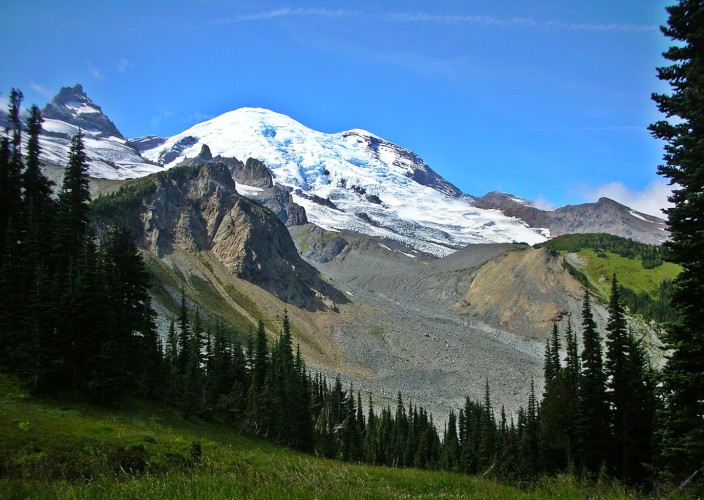 (A last good look on the way down)
No sooner had I descended a half mile back down the trail toward Summerland than I peered up to the saddle of Panhandle and there they were, a group of more than twenty goats wandering across the same snowfields I'd trodden only a short time earlier. I cursed my luck and watched them from afar until they'd vanished from sight. Maybe next time.
And if you come to Summerland, I guarantee you'll want to come back and have a next time.