Here on Prohltravel it's time for something completely different (as Monty Python used to say), something we've wanted to do for some time, our first guest article. Authored by my fellow writer and travel enthusiast Marilyn Kamcheff, this is part one of her Egyptian Adventures. Enjoy the trip!
Egypt, Part One – Witness to History
Text and photos by Marilyn Kamcheff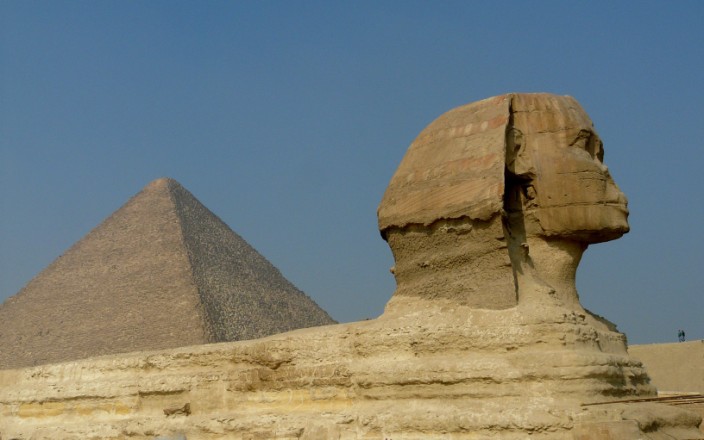 (The mighty Sphinx and pyramid, timeless symbols of Egypt)
Egypt – 5000 years of history and mystery, interpreted by scholars, massaged by dreamers and sensationalized with unimaginable treasures discovered in the barren hills.
In the late 1800's and the early 1900's Egypt was the "coming of age tour" for the young aristocracy of England. The journey to manhood was linked to the decadence of the past, sparking an interest in trinkets and mummies and other pilfered artifacts sold on the black market.
The most famous find of all times, the tomb of the boy king Tutankhamen, was discovered by Howard Carter in 1922, focusing the world's attention on Egypt. A love affair for this desert country was born and has only grown more passionate through the years.
My own adventure began as I departed Sea-Tac International Airport on a Lufthansa Airway airbus to Frankfurt, Germany. Arrival in Frankfurt preceded a five hour layover before boarding a cramped Boeing 747 for the final four hour flight to Cairo, Egypt.
One of our Egyptian guides, Mohammed, met us with a modern tour bus and after loading our luggage aboard we set off for the "about" 30 minute trip to our hotel. This was our first lesson in "Egyptian time." The about 30 minutes stretched between 60 and 90 minutes.
Nonetheless, the trip was fascinating. A modern freeway that had donkey carts trotting along the road's edge, under the freeways and on the exit ramps, the carts laden with fruits, vegetables, bundled rags, or sacks of garbage. Cars in various states of disrepair also were parked next to the jersey barriers.
Lane markers in Egypt are basically a simple suggestion – not to be taken seriously. Speed limits were discretionary and the "happy horn" was the rule of the road. I never figured out if there was a system to the horn honking – one beep meant one thing, two another, etc.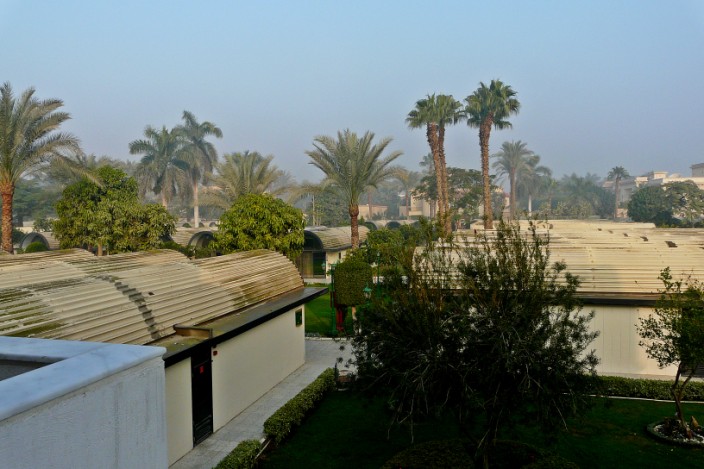 (View from our hotel patio)
The Oasis Hotel grounds covered many acres and were landscaped with petrified rocks, grass and seating areas with chairs and umbrellas on the green expanse between the rooms. Although most of the units were Quonset hut style, our room the first night in Cairo was in a building bordering the rounded huts and on the third floor. On our return a week later, we were housed on the ground floor in an interior group of units.
Early on Sunday morning, around 4:30 a.m., we were awakened by a keening, wailing sound of voices, rising and falling in cadence in a ritual we soon discovered was the first of the day's prayers at a nearby Mosque. Each time, the call to prayer was announced on loud speakers for the faithful to stop and pray or attend the mosque.
(Mosques are numerous and varied in design)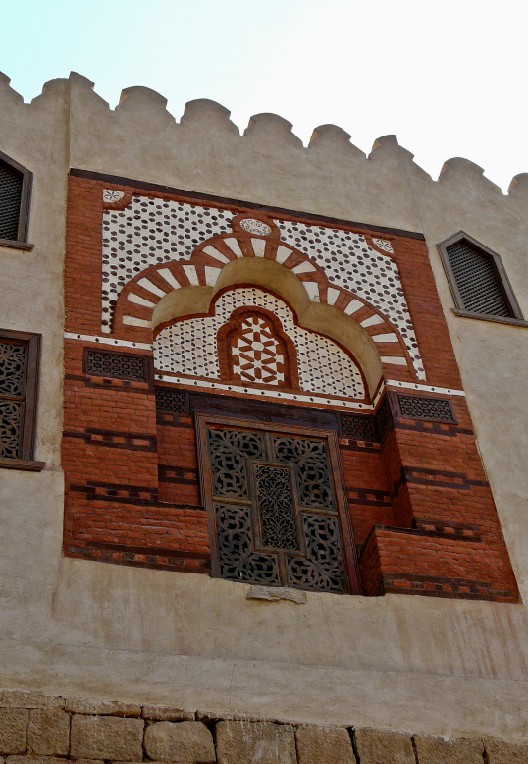 (Mosque detail)
Mohammed I, our Egyptologist, explained the chanting and what they said which was basically thanking Allah for their lives, their bounty, and to ask for protection from evil.
Mosques range from beautiful structures to simple colorful buildings. We were never privileged to go inside. These are two different styles of what we saw. Detail on the right picture of the wall was not typical of what we observed.
After a hearty breakfast at the hotel, we trooped to the tour bus where Mohammed, our Egyptologist, waited and we were introduced to Mohammed II, the tour coordinator from Kadmar Travel. The bus driver was identified, and then a security guard, the local Tourist Police, came on board, armed with an AK47.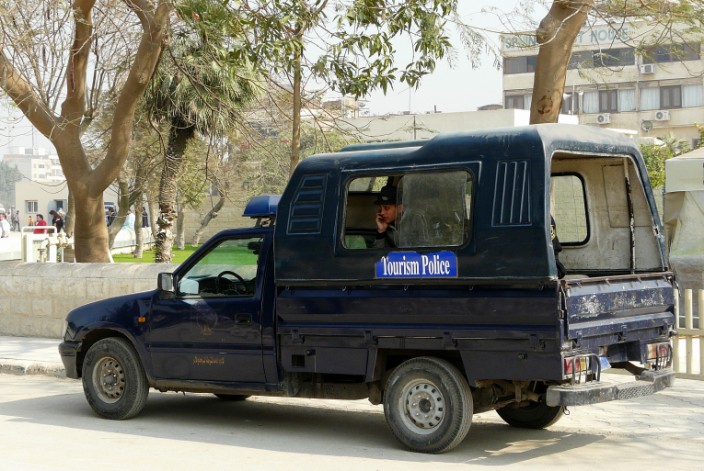 (Tourism police van)
Our hotel was located in the Giza Plateau area of Cairo and a stones throw from the great pyramids. When we pulled into the area reserved for tour buses (and there were at least 50 or 60 already there), Tyson Verse, Alki Tours escort, explained the general plan to be observed throughout our tour: Mohammed I would exit the bus and walk to a spot where all of us could gather around him. We were to keep our eyes on Mohammed and not engage with the many vendors who flock to the tour buses. Tyson explained that if we didn't make eye contact and we ignored them they would move on to another group and we would be able to hear Mohammed explain what we were about to see. To a person Tyson's instructions were observed. Once our group broke up and moved freely around the plaza to look at the pyramids and take pictures the vendors moved in like flies on dung.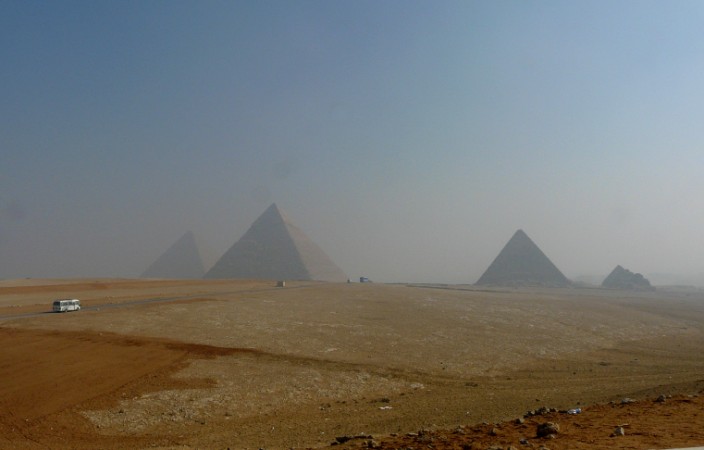 (Pyramids (somewhat obscured by smog))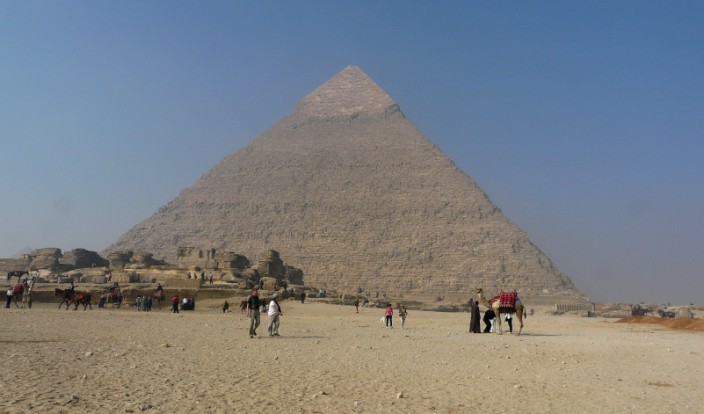 (Pyramids of Giza)
Pollution was heavy, hanging like a yellow cloud around the pyramids, and yet their simple beauty could not be denied. Egyptian men dressed in a galabiya, the local long sleeved, floor length garment worn in Arab countries in years past mostly by peasants but now by vendors and tourists, would try to maneuver into your camera range and then demand an American dollar for taking their picture. It often became a challenge to get your photo without a charge.
Once reloaded on the bus the ritual of "bus shopping" began. Our guides would allow the vendors to come to the door where they would negotiate the best price for "whatever" and any of us that wanted to buy could. This added amenity proved to be extremely helpful and relieved the stress of fighting off the aggressive vendors.
(Hi-yo, Silver! The author tames a wild camel)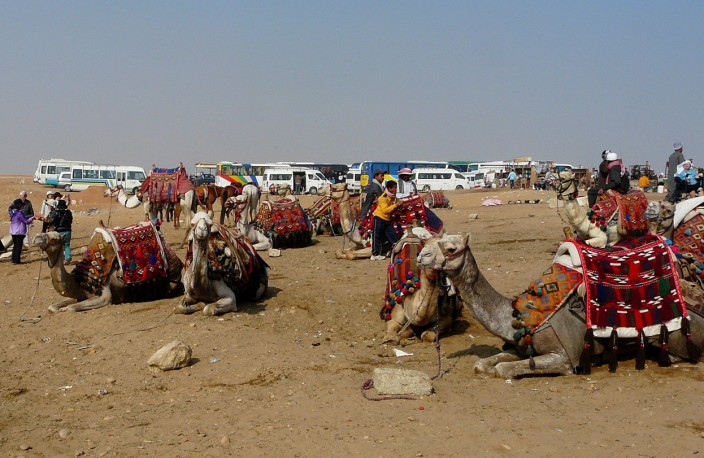 (Modern vs. ancient transportation)
Our next stop was to view the pyramids from a different angle and take a camel ride. The 10 minute camel ride was $10 American and a $1 to $2 tip afterwards. The camel "corral" was a mix of vibrant reds, oranges, purples and greens. The dromedary camels seemed small and thin. Although there was evidence of camel dung everywhere, there was no offensive smell. The camel saddle was a make-shift platform somewhere crossed between a pack saddle and a wooden crate and covered with colorful robes. Unlike a western pleasure saddle there is no "rise" on the back and little support. Beneath the colorful blankets was stored a hay-like green bundle for feed.
Mister Camel voiced his opinion of having to go to work! Once he bellowed his displeasure he settled down to his duties. I asked if a camel kicked and was not given a clear answer, so made sure I was not behind them close enough to be a target.
Camels are known for their nasty disposition but these guys didn't seem to mind us at all. Once aboard, the camel driver snapped a small switch against the camel and the awkward ascend to full height was under way. In all my years of horseback riding, having been thrown from a bucking horse, I never experienced anything like this. One leg came out from under the belly of the camel, his hoof on the sand and he levered upward, with the second front leg appearing to repeat the movement. About the time I thought I was going to pitch forward off the beast, the hind legs unfolded and the camel was upright. There was a stirrup to use for climbing on board but my short legs didn't even come close to reaching it once I was in the makeshift saddle. I thanked my lucky stars that I'd grown up riding bareback and was able to grip with my knees against the print wool rug as we trotted off into the desert.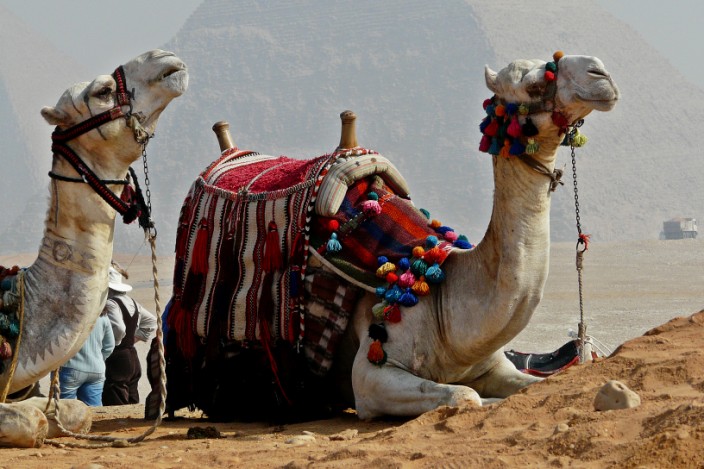 (Posing in front of the pyramids)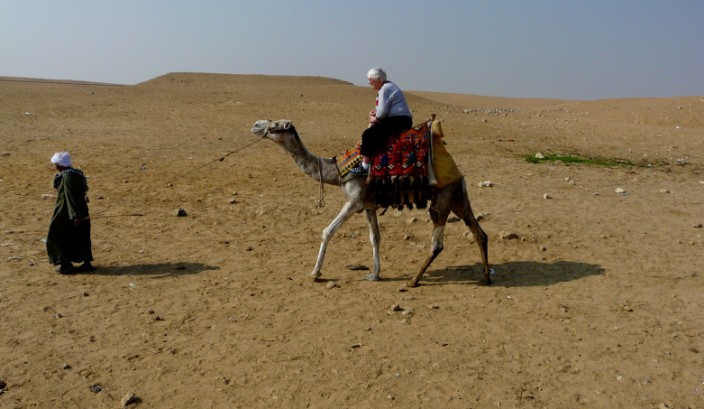 (How do you stop this thing?)
About two blocks from the starting point, the driver stopped and offered to take my picture. I declined, mostly because I didn't want to hand over my camera. On the return trip I braved letting go of the rope-wrapped "saddle horn" and snapped a picture of Janet on her way to the first stopping point. I was lucky enough to get a fairly good shot and not fall off.
The descent to ground level when we returned was even more challenging that the ascent. The driver told me to "lean back and hold on." Right! I was nearly parallel and it still felt like I was going to be pitched on my head. Once on the ground I offered the driver a $1 tip and he asked for more.
Before the trip to the camel ride, we experienced our first potty breaks. The entire toilet routine is a business that requires haggling to get the best price, while jumping from leg to leg to stave off wetting your pants. At this first stop, none of us had any small Egyptian change so dollar bills were falling like snowflakes onto the table barricade, staffed by two women in burkas and two men in galabiyas. Having been forewarned before leaving on our tour, I had rolled individual portions of toilet paper and put them into quart sized plastic sacks to carry with me. When I had change I gave it to the attendant without taking the paper they offered, but if I didn't have change I walked in anyway which often wasn't appreciated.
At this particular stop, Tyson came to the rescue and negotiated a price for all of us to use the bathroom and paid upfront. I have no idea what it cost and he said "this one's on the house."
On the street in front of the restroom there was a tourist police truck and a number of uniformed men with it. We regrouped and went to see the mighty Sphinx.       Evidence of acid corrosion from pollution marred the Sphinx, the Father of Terror for the ancient pharaohs.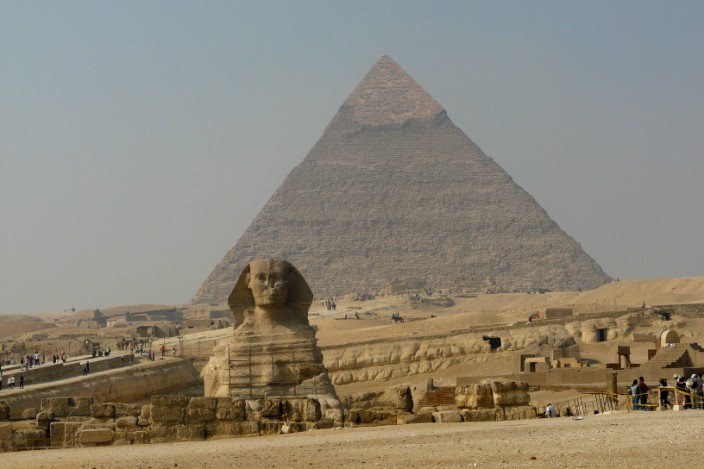 (Sphinx and pyramid)
(The corrosion of centuries on the Sphinx)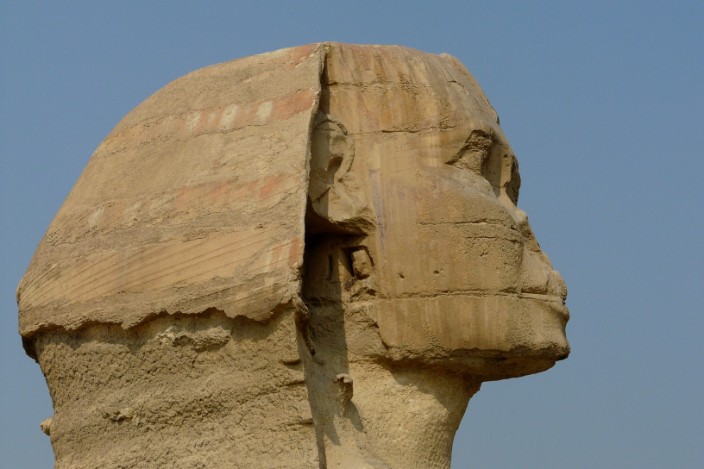 (Side view)
After a busy morning of sight-seeing and riding camels, we went to a local café for lunch. The food was served family style and was a variety of local dishes, all spicy and very tasty.
As if this wasn't a full enough day, we left lunch to go to the Cairo Museum of Egyptian Antiquities. The guide gave us a brisk thumb-nail swing through three floors of treasures and then allowed us about 30 minutes to continue looking at other things. Going into the mummy section required an extra ticket and we opted to not do that since our time was limited, and since we'd both seen many other mummies. We did go into the King Tut treasure room and saw hundreds of artifacts that weren't included in the huge traveling exhibit that had been to Seattle many years ago.
Like many of the areas we visited, the exit was through a gift shop, or a collection of small vendor shops. The items at the Gift Store of the museum seemed very pricey to me, but I soon realized the problem was they were in pounds Egyptian (LE) and needed to be divided by approximately 5 to get the U.S. price. Some things were more reasonable than others.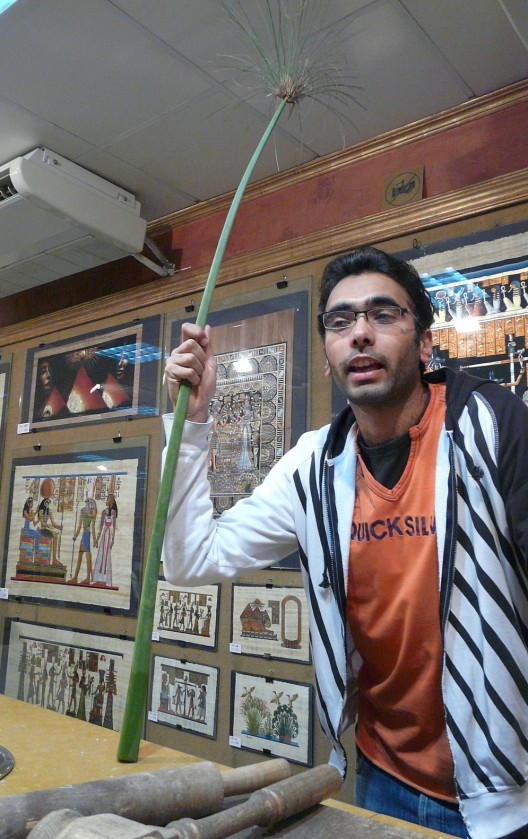 (The papyrus maker)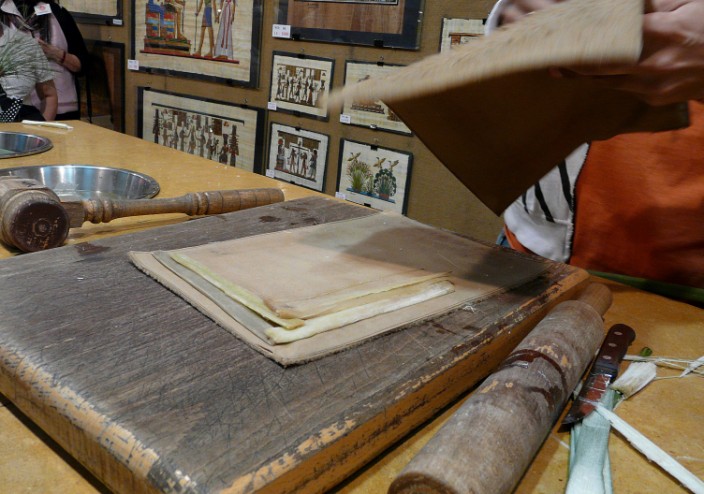 (Sheets of papyrus)
Once back on the bus, the driver took us around Cairo and then a stop at a papyrus shop. A young man demonstrated how papyrus has been processed for centuries. The green stalk is cut when it is in bloom, the outer layer is cut away leaving the inner "meat" which is white and full of water and sugar. The stalk is cut into a desired length, then pounded with a wooden mallet and rolled with a rolling pin. The strip is then laid down vertically, another strip is prepared and laid horizontally and the process is repeated until there is usable sheet. The sheet is then transferred to a press to continue extracting the moisture from the plant. The soon-to-be paper is left for a determined amount of time. The longer it's left, the darker the finished product.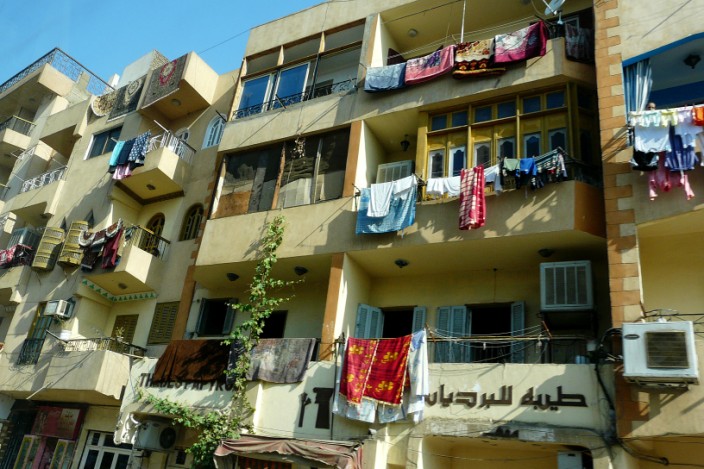 (Egyptian clothes dryer)
On the way back to the hotel I saw what I soon learned were typical apartments, with clothes hung outside over the balcony. Why would anyone need a clothes dryer in Egypt?
Coming Soon: Part Two of Egyptian Adventures, including the temples and ruins of Luxor.