| | | | |
| --- | --- | --- | --- |
| Travels In Ukraine, part 1 | | | |
Written by Greg Prohl
Wednesday, 17 August 2011 18:49
Travels In Ukraine
Among Americans traveling to Europe, you have your Anglophiles, your Francophiles, your Italy lovers. But for the traveler looking for something different and off the over-trodden tourist path, let me suggest Ukraine.
I think if the majority of Americans give Ukraine any thought at all, it's with the mistaken notion of a land still carrying the taint of former Soviet Union cliches, a sort of grim eastern European backwater full of peasants laboring in collective farm fields under the sinister glare of  secret police. These misconceptions can be laid to rest, for the most part, with one visit.
First off, don't call it the Ukraine. The country is called Ukraine, just as France is called France, or Spain is called Spain. You wouldn't say "I'm traveling to the France this summer," now would you? So let's get that right for starters.
There is actually good reason for avoiding this misnomer and it's tied in with another common mistake, which is identifying Ukraine and the other former Soviet republics under the mentally lazy banner of all being "Russian." There is a long, tangled, and often tragic history between Ukraine and Russia, with the larger nation dominating the smaller for most of that history. But Ukrainians have their own unique language, customs, and culture and are justifiably proud of their tradition of separateness and resistance to their northern neighbors, despite their freedom from Russia occuring only sporadically and at a heavy cost.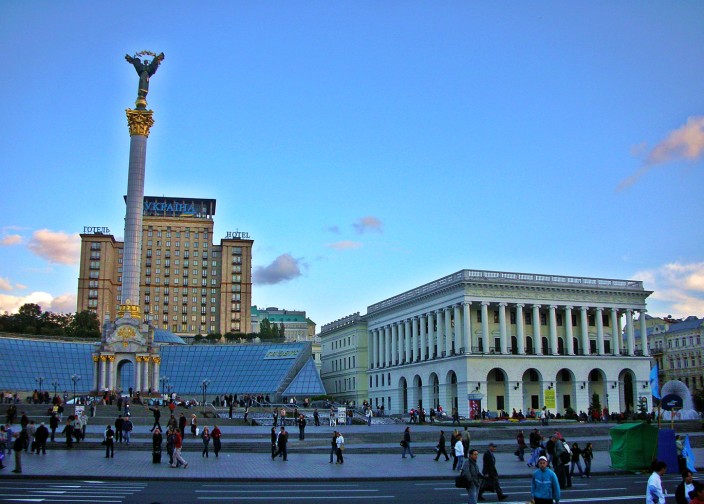 (Kyiv)
From the Russian perspective, they have always thought of Ukraine as a sort of southern province belonging to them, and so the tradition of referring to Ukraine as the Ukraine is part of this belief, that by calling it the Ukraine it becomes something less than a sovereign entity of its own, just another region of Russia, much as we Americans might refer to "the South" or "the Pacific Northwest."
Now, having said all that, there is a great deal of bleedover between the two countries in terms of language and culture. All Ukrainians speak Russian as a native language, and many speak it exclusively, particularly in the eastern and southern regions of the country where there is a higher proportion of ethnic Russians. In the north and especially western Ukraine, they primarily speak Ukrainian. To my uneducated American ears, there is little to no discernible difference. Both languages use the Cyrillic alphabet, which is one of the main challenges to getting around the country. I've been there five times and can almost read it now, albeit very slowly, so deciphering the signage can be difficult and intimidating. Of course I have one major advantage as my wife, Irina, is Ukrainian so all the tour guide and language heavy lifting is handled by her. Nice perk if you can get it.
A quick word on Cyrillic transliterations into English. Just about all the names we grew up with were Russian transliterations, i.e. Kiev. Nowadays you will see it sometimes written Kiev, the Russian way, or sometimes as Kyiv, which is from the Ukrainian. This is true of just about all place names in Ukraine. Lvov is now Lviv. Nikolaev is now Mykolaiv, and so on. It's a lot like the switcheroo played on us by the Chinese, where I grew up with Peking but now it's supposed to be Beijing. A little confusing but hey, it's their country, I guess they can spell things any way they want. I only ask that they make up their mind already and leave it alone now.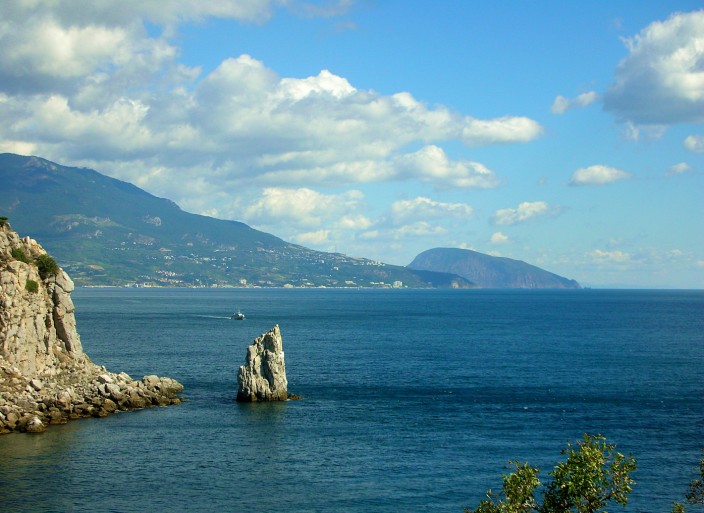 (Black Sea Coast of Crimea)
This east-west language split also carries over into the political and philosophical arena. The eastern industrialized regions of Ukraine are more closely aligned with, and desire closer economic and political ties to, Russia, while the primarily agricultural western areas look to the west, favoring a more American style democracy and leaning toward joining the European Union. This is a deep and divisive difference among Ukrainians, and stands at just about a fifty-fifty split, reflected in the last two extremely close presidential elections.
But aside from all this, why would you want to go to Ukraine and spend your hard-earned vacationing dollars? What's there to see and do to make a long and not always easy trip worth your time and money? That's always the bottom line for any traveler, of course, and I hope to provide some answers to those questions as I share my personal travel experiences in Ukraine and perhaps even persuade you to give it a shot and discover for yourself this beautiful and charming eastern European country, a land rich in history and full of delighful surprises.
A Little History
Ukraine has been invaded, overrun, occupied and basically torn to pieces innumerable times throughout the centuries by Russians, Tatars, Turks, Poles, Austrians, and any number of self proclaimed potentates, emirs, and other assorted grand poobahs, an unfortunate and bloody history owed primarily to two geographic quirks.
First, as part of the vast steppes which stretch unbroken from mid-Asia to the Carpathian mountains, the majority of Ukraine is flat or at best rolling fields and forests with little in the way of defensible natural barriers to invaders.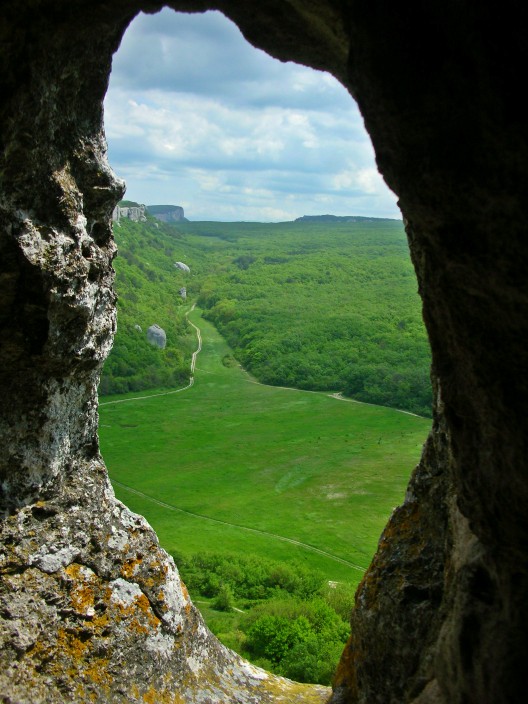 (Caves in Esky Carmen)
The second thing is the chornozem, the black earth, some of the richest, most fertile soil on planet Earth, for which the country has always been famous. For the entire history of the Soviet Union, Ukraine was known as the breadbasket of the nation. It's often said you can drop a seed anywhere, especially in central and western Ukraine, and it will not only grow but flourish without any care given to it. Naturally, this has made the land a tempting prize worth fighting over and a magnet for foreign invaders looking to expand their boundaries and fill the bellies of their own people.
This has understandably taken a toll on the national psyche and produced a populace with a unique and sometimes contradictory national character. Any seasoned traveler knows you don't go to another country and expect the land, the people, or the customs to be "just like home." But it always bears repeating and remembering: when you step off that plane, you ain't in Kansas anymore, Dorothy, so if the folks don't act like Americans, or sound like Americans, or even look exactly like Americans it's because they're not Americans! I've heard other Americans say that Ukrainians don't smile enough, that they're too abrupt, that they don't say "Please" and "Thank you" often enough. There is some truth to all of these comments, but as stated before, if you project your American values and customs and national character traits on another people, you will only harvest disappointment.
Here's my take on Ukrainians. All those centuries of invasion, occupation and oppression have bred a people who are patient, resilient, pragmatic without being cynical, who have a great, mordant sense of humor, and if they don't walk around with a goofy smile plastered on their faces all day (a peculiarly American trait I could live without) and are not always "surface friendly," let me tell you something. Once you get to know a Ukrainian and are invited into their home, they will literally share their last crust of bread with you, accompanied by their last drop of vodka. You will never enter a home without immediately and repeatedly being offered and all but force-fed whatever food and drink is in the house. Protests that you are not hungry or thirsty fall on deaf ears, and this is just for a drop-in visit.
If you should be fortunate enough to enjoy a dinner invitation, come hungry and don't expect to leave without needing a wheelbarrow to roll you home. The dishes are heaped high with impeccably prepared and incredibly tasty food, the toasts flow early and endlessly, and all of it is accompanied by plenty of friendly, spirited conversation and laughter. And if you should favor your hosts with a few words or phrases spoken in mangled Ukrainian or Russian, you will be feted as some kind of American genius.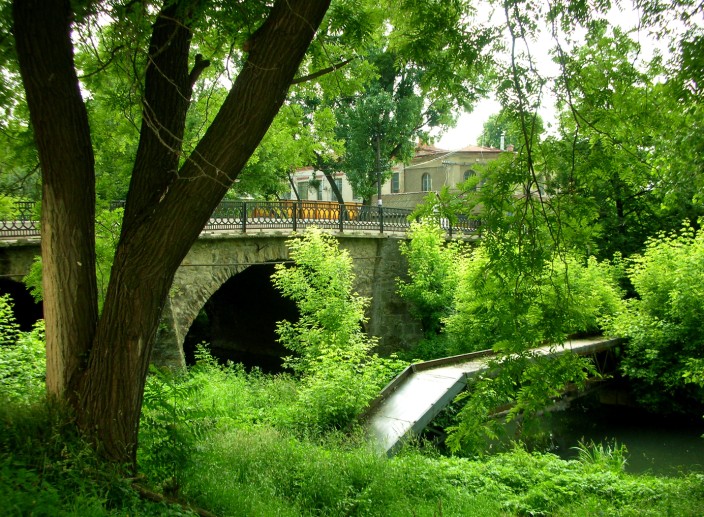 (Berehove, western Ukraine, near the Hungarian border)
That's another thing I love about Ukrainians: they actually like Americans and still think the U.S.A. is some kind of promised land where everyone is rich and if perhaps the streets are not actually paved with gold, at least they are paved. Everyone likes to be liked or at least not sneered at or not to feel threatened at every step just because of your nationality, and this is a rare enough occurrence for Americans traveling abroad nowadays as to seem positively refreshing.
To be continued....