| | | | |
| --- | --- | --- | --- |
| The All-American Road Trip | | | |
Written by Greg Prohl
Wednesday, 19 January 2011 19:46
The All-American Road Trip 2010, or How I Survived Three Weeks Driving 6,704 Spine-Crushing, Butt-Numbing Miles From Seattle to New Orleans and Back Again.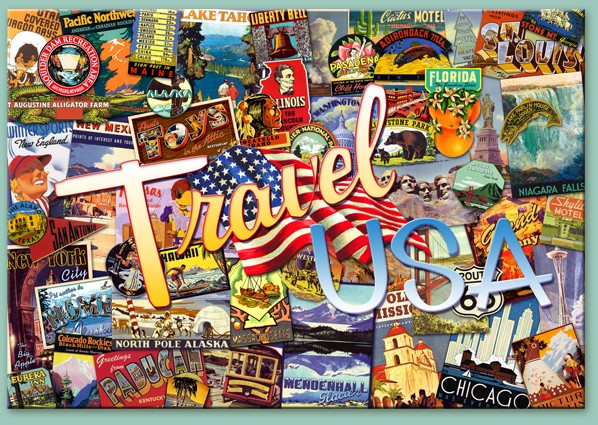 I don't remember exactly when the thought first occured to me that it would be a good idea to drive from Seattle to New Orleans.  Perhaps it was after a night of heavy drinking, or maybe during an acid flashback. Whatever the cause, they say it's a thin line between madness and genius, and in this case perhaps the line dissolved altogether. Now before I overstate my case, let me say I do realize that a couple weeks of long distance driving is not so big a deal for a lot of people, i.e. truckers, rv-ing retirees, etc. But for regular folks like us, and just about everyone I talked to, 6,000 plus miles is a mission not to be taken lightly.
That said, if you like to drive (and drive and drive) and see the country at ground level (as much as you can see through your bug-splattered windshield, anyway) it's a fabulous trip that covers just about every variant in scenery and terrain that this grand country has to offer. So, if  there is someone else out there who might be considering a similar trip, this site is here to help and inform and maybe even entertain you along the way. I'll tell you where we went, what we saw, how much it cost, how long it took, what we liked and what we didn't like, the good, the bad, the awesome, the weird, and just about everything inbetween, and let you decide if it's for you.
Why New Orleans, you ask?  Simple.  My daughter lives there, along with her husband and two of my grandkids.  I've flown there three times and what with security issues, baggage fees and lost luggage, transportation to and from airports, connecting flights through another city, rental cars, and all the other attendant hassles associated with present-day air travel, the idea of driving there sounded appealing.  So I said to my wife, Irina,  "Maybe we should consider driving."
After thinking about it a while (maybe not long enough) we decided to combine this year's New Orleans visit with a scenic U.S.A. tour.  Sure it's a long way, we reasoned, but we both enjoy driving vacations and after last year's Northwest Loop Tour – eight states in eight days – the idea of something a bit more ambitious sounded like an interesting challenge.  This, as you might suspect, turned out to be a monumental understatement, and something which caused morer than a few people to question my sanity. As an example, take the following conversation, paraphrased, between my daughter and I.
Me: "Hey, we're coming to New Orleans."
Her: "Great. How much did your airline tickets cost?"
Me: "Nothing."
Her: "What?"
Me: "We're driving."
Her: "You're what?!?!?!"
When she told her in-laws, who are all native New Orleanians, about our plan, their reaction was nothing short of incredulous. You have to understand that New Orleans is a very insular, self-contained city. It's surrounded by Lake Ponchartain on one side, the Mississippi River on another side, and swamps, bayous and wetlands on all other sides.  As my daughter likes to say, you're never more than a fifteen minute drive from anywhere (and as I like to say, you're never more than two steps from being up to your kneecaps in water).  So, for folks around there, the idea of voluntarily driving a week to get somewhere is serious grounds for an immediate psychiatric assessment.
Nonetheless, undeterred by the skepticism of all, we entered the planning stage.  We checked out library books.  I bought maps.  We consulted the internet.  Irina is good at this sort of research, and nothing if not thorough.  Soon we had enough library books to start a used book store, and I had compiled a list of places to see and things to do that would take us more like three months to accomplish than three weeks.  No matter.
We planned the itinerary loosely with plenty of time to "stop and smell the sagebrush" wherever and whenever it might strike our fancy. This approach may not work for everyone, but it's how we like to do things and I certainly recommend trying it  sometime if you've never traveled this way.  For us it adds an extra element of relaxation to not be tied to some rigid, clock-watching schedule of a certain number of hours or miles that must be driven every day. If a side road looks intriguing, we can take it. If a particular view entrances us and we want to spend half an hour staring into the distance and letting the wind blow up the mountainside through our hair, we can do that.  And if the prairie dogs start chattering to me and I begin understanding them, well, maybe it's time to stop for the night.
Naturally, this type of travel neccesitates a flexibility in where you stay each night, i.e. no motel reservations.  This caused us a problem only once on the entire trip (more on that later) but even that blip – though a hassle at the time – turned out to be only a minor annoyance.  And if, like us, you are traveling on a budget, this can actually save you money on motels.  My wife is a coupon-cutting queen and saved us twenty to forty dollars a night by scouring the travel discount coupon booklets you can find free at rest areas, gas stations and truck stops, welcome centers, etc.  However, these coupons are generally good only for walk-ins, no advance reservations, hence you actually save money by not planning where you will stay too far in advance. It sounds counterintuitive, but it works.
For me, in the weeks before our departure, the anticipation built even more than it normally does for a vacation. I couldn't wait to see my daughter, my almost four-year-old grandson and eleven-month-old granddaughter, who I'd only seen once as a newborn.  I dreamed of all the fantastic scenery that awaited us, and tried not to dream of all the endless miles of yawn-inducing, not-so-fantastic scenery that I knew also awaited us.
Soon, all our weeks of planning and days of packing were over and the big day arrived.  The bags were stuffed in the trunk, the cooler was stuffed full of ice and food, and the car, my trusty 2002 Honda Civic, was stuffed with us.  We were on our way.